How to choose an action camcorder
Find the right camcorder for your active lifestyle
Before joining the Crutchfield team, Eric Angevine began his education in great sound as an announcer and studio engineer for a radio station in his hometown of Lawrence, Kansas. He is the author of Hinkle Fieldhouse: Indiana's Basketball Cathedral. He loves college basketball, music, cooking and traveling with his family.
More from Eric Angevine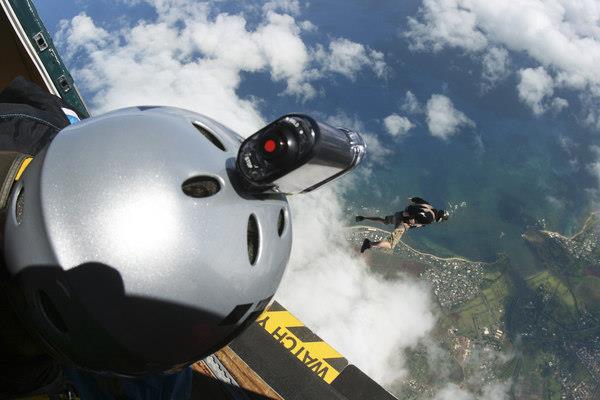 Is your camcorder ready for this? We'll show you how to find one that is.
When you're using your hands to swim, balance, or steer a mountain bike, a hand-held video camera won't get the job done. That's where an action video camera can come in very handy (or should we say "very hands-free"?). Here's everything you need to know when choosing a camera to take along on your next adventure.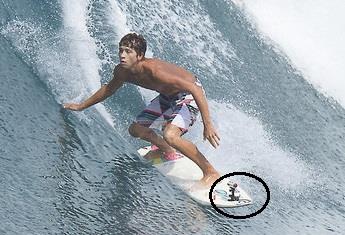 Make sure your camera is tough enough before you take it surfing.
Make sure it's tough enough
All action video cameras are rugged, but there are varying degrees of toughness. Each product is clearly labeled with specific information on what it can tolerate: how deep underwater it can be submerged, how far you can drop it and expect it to still work, and how hot or cold it can get. If you're doing something really extreme, make sure you choose a camera that's rated to handle it.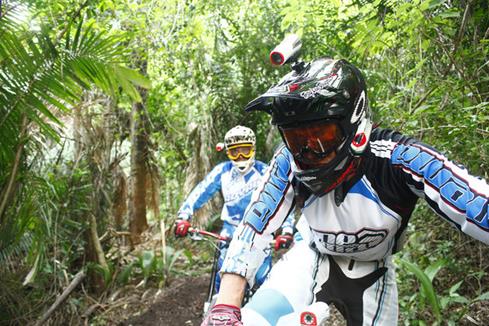 Helmets and handlebars provide excellent mounting locations.
Mounting options let you go hands-free
Action video cameras are commonly mounted to handlebars or on helmets. It always pays to find out how the mounting system will work before making a final choice. You will likely see methods that use straps, clamps, or adhesives to keep the mount in place. In addition, you'll want to know if the mount is fixed in one position, or if it can be tilted and pivoted when necessary.
Share your adventure via Wi-Fi®
Many action cameras have built-in Wi-Fi so you can make your sedentary friends jealous, or inspire them to plan their own adventure holidays. Some cameras let you control basic functions via a wireless connection as well, so you can start and stop recording with a compatible smart device. Very useful if you've mounted the camera on a nearby railing so you can film skateboard tricks.
Tag exotic locales with GPS
If you're surfing off Maui, running the Boston Marathon, or biking Moab, location is an important part of the experience. A GPS-enabled camera can automatically tag videos with all-important geographical details, so you can remember exactly where you were when that one awesome thing happened.
Geotracking software can show you exactly where you were when the best waves rolled in.
Track important details
Some cameras give even more information about you and your surrounding environment. An advanced camera may include an altimeter, compass, heart rate monitor, pedaling RPM tracker, barometric pressure indicator, and more.
Get artistic with special shooting modes
Many cameras offer special shooting modes so you can create more artistic action videos. The most common options are slow motion and time lapse footage. Check the details when choosing a camera, and make sure it will give you the creative control you want.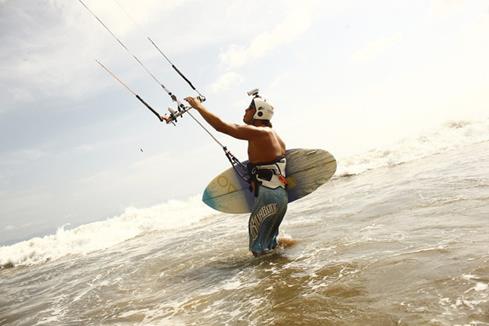 Some adventures require a camera that's ready for anything.
Look for long battery life
Odds are, if you're using an action camera, you won't be near a power outlet for some time. Check to see how long a camera can go on a full battery, and consider taking an extra with you so you don't miss a thing. Goal Zero offers some solar charging devices that can help keep small electronic devices going strong.
Keep plenty of memory on hand
Generally, video cameras record to some type of SD card, but some have limited internal memory as well. As with batteries, you'll want to know how long each card can last, and keep spares handy. You'll also want to make sure you get memory cards with a high speed class for recording video—we recommend Speed Class 10.
Accessorize for versatility
Action cameras require a range of accessories that standard video cameras won't typically need. These include a wide variety of mounts for different activities, special casings for snorkeling, and more. Since these items tend to be made specifically to fit individual models, your best bet is to check the accessories link on the cameras you're considering. There may be something there you've never seen before that becomes indispensable.