Recipe for Fun: Enjoy music, photos and videos in your kitchen
Tara W. has worked for Crutchfield since 2004. She writes about whole-house music and video gear, and works on Crutchfield's video team.
More from Tara W.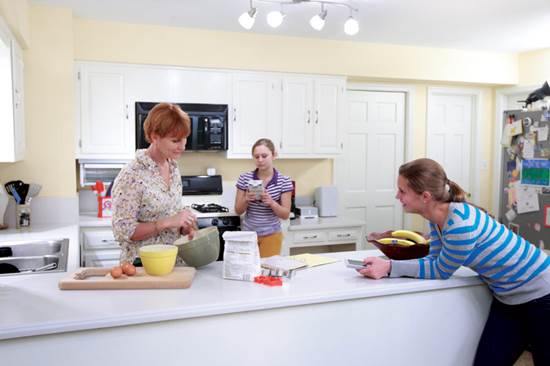 Serving up entertainment in the kitchen is easy, thanks to one secret ingredient: your wireless network.
Let's face it — the kitchen is usually where the action is. That's why more and more people are looking for ways to listen to music, watch TV, see photos and home movies, and connect to the Internet from the kitchen counter — without plugging a computer in next to the toaster. Turns out this isn't just a Jetsons-type vision of the future — it's something you can do today. Read on for our suggestions on how to mix great entertainment with good eats.
Spice up your TV watching with a pinch of Internet
Adding a TV to the kitchen might not seem like an innovation — but if you pick out the right model, you can get more than soap operas, cartoons, and the nightly news.
Option 1: Get an Internet-ready TV
Want to catch up on the last season of 30 Rock while you mix up a meatloaf, or stream family photos during your next birthday party? A growing number of flat-panel TVs can play the usual content you'd expect from a TV (cable, satellite, or over-the-air broadcasts) and can also connect to your home network to show you goodies like Internet-powered news and weather, YouTube™ channels, and instant movie streaming from Netflix®.
Keep in mind that Internet capabilities will differ by manufacturer and even by model within a single brand. It's best to check specifics on each model that you're considering to make sure it'll access the sites and videos that you want. For example, one TV may give you access to Netflix instant streaming but won't let you access videos on YouTube. If you're not a Netflix subscriber and you're a web-video fanatic, this could be a deal-breaker.
Most TVs can even interface with your home computer, by way of your home network, to let you play your digital music, photos and videos. Basically, there are a lot of flavors for you to sample before you make your choice.
Option 2: Supercharge your existing TV
If you're hoping to assign an older TV to kitchen duty, you can still get Internet connectivity. One option, of course, would be to simply connect a computer. If you're looking for a potentially simpler and cheaper option, you might want to consider other Internet-ready devices.
For example, you can add a Blu-ray player or gaming system that also connects to the Internet. This is a great solution when you've got nearby cabinet space where it can hide.
With a Blu-ray player, common Internet features include Netflix® and PANDORA® Internet radio streaming. Netflix streaming lets you access your instant queue and play movies. PANDORA lets you create customized music stations based on artists or songs you like.
The logistics of installing gear in your kitchen
Wondering how to connect your TV without having wires draped along counters and splashing into the soup? You can't get rid of all the wires (the TV needs to draw power from somewhere) but you can certainly cut down on clutter.
Start by finding the right spot. You'll likely want to place your TV near an AC outlet, unless you're planning to rewire your kitchen. And you'll need to connect to your home network. Many TVs have built-in Wi-Fi® so you can connect wirelessly. If your TV doesn't, then you'll want to invest in a wireless adapter or maked a wired connection to your network. If your home is pre-wired with Ethernet cable, this step should be as easy as plugging in a phone — find the Ethernet jack in your kitchen and run the cable.
One final reminder: don't forget that your TV also needs a cable, satellite, or antenna connection to get TV broadcasts. If your current cables are not close by, you may be able to get a cable or satellite technician to your house to rewire them. You can also switch to white paintable cables that will be much less obtrusive running along the edge of your backsplash.
Just want music?
If the combined audio and video options are more than you need, no worries; there are some cool and easy ways to enjoy music in the kitchen.
One of the easiest ways to access all your digital music is to pick a radio or music player that wirelessly connects to your home network. That way, every song stored on your computer is instantly available, so you can match your tunes to your cooking mood or your audience. Even better, these players don't involve overhauling the existing wiring in your home. Instead, they become an extension of your existing wireless network. See our article on creating your own network for more info.
You can choose a player that lets you bring music to one room, or expand to create a multi-room music system to send your favorite songs to multiple locations of your home.
A really cool thing about Sonos: if you have an iPhone® or iPod touch®, you can download a free app that will let you control your Sonos system's playback. It looks nearly identical to the interface on the Sonos Controller. In a blog post, one of our editors Amanda
took the Sonos app for a spin
.
A popular option
For several years now, one of the most popular choices has been a Sonos system. Along with being shockingly easy to use, a Sonos system is pretty unobtrusive — you'll just need speakers, the exceptional Sonos Controller, and a small Sonos player to add music to your kitchen.
Sonos gear works beautifully as an option for music playback in the kitchen, but it doesn't have to stop there. Many people add players to even more rooms, and then use the Controller to steer song selections in specific rooms, or to send music throughout the house.
The logistics of adding music to your kitchen
Just like a TV, these audio systems and players will need to connect to power, so you should place them near outlets. Keep in mind that players differ drastically in size and shape, so you'll want to plan for your space. Some players have built-in speakers and others require separate speakers. (See specific models for details.)
Fortunately, most of the music players we offer have built-in Wi-Fi® so you shouldn't have to run wires for the Internet connection. For information on creating a wireless home network, see this article.