Have your buddies over for a listening party!
Discover a different kind of song-sharing
Steve Kindig has been an electronics enthusiast for over 30 years. He has written extensively about home and car A/V gear for Crutchfield since 1985. Steve is also a volunteer DJ at community radio station WTJU, where he is a regular host of the American folk show "Atlantic Weekly," as well as the world music program "Radio Tropicale."
More from Steve Kindig
When was the last time you listened —
really
listened — to music at home? I?m not talking about having music on in the background while you?re reading the paper, or cooking, or doing other chores. That?s pleasant enough, but it doesn?t allow you to really focus on the tune and lyrics, or the interplay of instruments and vocals.
The notion of simply sitting and listening to music has grown more and more out of fashion in recent years. The convenience of digital music formats, and especially the rise of compressed formats like MP3 and WMA, has turned music into something that is consumed rather than savored.
And there?s certainly no shortage of other forms of entertainment to occupy our downtime: DVDs, videogames, surfing the Internet, etc. But music engages the mind, body, and soul in unique ways. Focused listening amplifies the pleasures of casual listening, and can be a great stress reliever, too.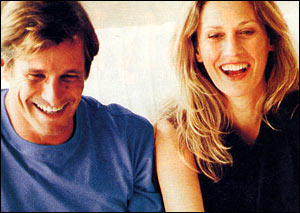 When you put your favorite people together with your favorite music, good things happen.
These days, people do a lot of solo listening, whether it's in the car or through a portable player. But there's a really fun way to share your music with others that doesn't require downloading files or burning discs (or the risk of a lawsuit from the RIAA!). Get together with friends and have a listening party!
BYOT — Bring your own tunes
You've joined a bunch of folks for a Super Bowl party, right? Or invited friends or neighbors over to watch a DVD movie on your big-screen TV? It?s a lot of fun. Music-lovers can join in a similar-spirited gathering: a listening party. I?ve been having them for years at my house. It's actually a more interactive kind of get-together because attendees are always encouraged to bring some of their favorite music to share.
Crutchfield is a natural place to find willing participants — it seems like at least half the local musicians work here, not to mention a few radio DJs and sound engineers, plus dozens of music-heads with very eclectic tastes. A couple of weeks ago, two of our A/V writers, Jim and Barry, came over for a listening session. Armed with fistfuls of discs and suitable frosty beverages, we descended to my basement listening room. (Note: If the notion of people sitting around listening intently to music and not saying much strikes you as hopelessly geeky, this may not be the article for you.)
Over the years, I've upgraded my audio system bit by bit to the point where it presents a high-resolution picture of whatever is on a recording. The soundstaging can be impressive, especially if you?re sitting in or near the "sweet spot." Instruments and voices are clearly separated, and sounds extend above and well to the sides of the speakers. The apparent depth of the sonic picture can sometimes extend several feet beyond the wall behind the speakers. Biamped speakers combined with a powered subwoofer give the system enough juice to really "get a grip" on the room. The overall sound remains balanced and crystal-clear even with the volume cranked to Beavis and Butt-Head levels. Listening this way is an immersive experience — Jim refers to it as a "sonic bath."
The better your audio components are, the more real music will sound, but you don't have to spend a fortune. These days, it's not that difficult to assemble a moderately-priced system that — with a little attention to setup — will wow all but the most "golden-eared" audiophiles. One easy way to improve the sound of any system is to optimize the placement of your speakers. If you've positioned your speakers based solely on keeping them out of the way, check out these
speaker placement tips
.
I?m currently evaluating (and loving) Denon?s mighty DVD-5900 universal player. It allowed us to listen to not only CDs, but also SACDs (Super Audio Compact Discs) and DVD-Audio discs. My system is 2-channel only, so we weren?t able to check out the multichannel mixes available on some of the SACD and DVD-Audio titles. But several of these titles had been re-mastered and that, in addition to these formats? higher resolution, made some of the tracks a revelation compared to the original CD versions.
As usual, we listened to an entirely fresh batch of tunes. Here's a brief rundown of some of what we heard.
We kicked off the proceedings with ?Humpty Dumpty? from
Aimee Mann's
Lost in Space
SACD. The lush pop orchestration had an extra degree of tonal precision I didn?t remember from the CD version. And her liquid voice had extraordinary presence.
Barry mentioned that he?d once seen Aimee Mann open for
Bob Dylan
, so the next track up was "Ballad of Frankie Lee and Judas Priest," from
John Wesley Harding
, also on SACD. This spoken-sung parable about the perils of temptation has very sparse, shuffling instrumental accompaniment (acoustic guitar, bass, drums), highlighted by a couple of exuberant harmonica solos.
Jim had the next pick, and he cued up ?Thela Hun Ginjeet,? from
King Crimson's
Discipline
CD. This slightly manic cut has two guitars interlocking polyrhythmically, anchored by funk-inflected drums and bass. It has a wet, shimmering guitar-feedback solo section that sounded extremely vivid and textured. The song features Adrian Belew talking through an apparent firsthand account of a New York City mugging. ("Thela Hun Ginjeet" is a word-scramble for "Heat in the Jungle.")
I keep my car radio locked on XM?s African music channel, ?Ngoma.? One of the most striking songs I?ve heard is by a band from Madagascar called
Feo-Gasy
. I played "Ramano be Galona" from their
Ramano
disc, and the gorgeous blend of acoustic guitar and hymn-like vocal harmonies demonstrated that CD's sonics could hold their own compared to the new high-res formats. (This disc is hard to find in the U.S., but is available overseas.)
Barry's next choice was "Do You Like Worms?" which was only officially released on the
Good Vibrations: 30 Years of the Beach Boys
CD box set. This track was collaged from a number of very different sections. Some parts feature identifiable layered
Beach Boys
harmonies (albeit with a pretty trippy bent), but the majority of the track is instrumental. One section suggests Hawaiian music on quaaludes, with mock-Hawaiian nonsense lyrics and a Theremin shimmering in the background.
Jim played
Radiohead?s
menacingly captivating, piano-driven "Karma Police" from
OK Computer
. As the final notes faded, nobody could move, so we listened to "Fitter Happier," the spoken-word follow-up, with its creepy robot vocal.
Switching to acoustic music, I played "Flight Home," from
Mark O'Connor's
30-Year Retrospective
live double CD. Featuring O?Connor on fiddle, Nickel Creek's Chris Thile on mandolin, and Bryan Sutton on guitar, the picking on this track is superhuman — the audience didn't make a sound until their applause explodes at the end.


Denon's DVD-5900 universal player sounds superb playing CDs, SACDs, and DVD-Audio discs.
The day of the listening session, Barry had received several of the recent
Bob Dylan
re-masters on SACD — the next track we heard was "Most of the Time," from
Oh Mercy
. The recording quality was noticeably more polished than Dylan?s earlier work. This atmospheric song features several reverb-drenched guitars — one using tightly controlled, droning feedback — and the drums play in circular patterns. Dylan's mournful vocals are gravelly and hushed throughout.
Jim's next selection was "Hear My Train A Comin'" from the
Live at the Fillmore East
CD by
Jimi Hendrix (Band of Gypsys)
. This is a slow, funky blues, but a double-shot of Jimi's soaring, pyrotechnic guitar had us pinned in our seats. The better your audio system is, the more the loose spontaneity and lack of studio polish on most live recordings become sonic advantages.
I had seen Boston-area singer-songwriter
Kris Delmhorst
perform locally recently, and picked up her 7-song
Oddlot
CD at the concert. We listened to "Marylou," one of the tracks recorded live at a radio station. The 3-D presence of her clear voice and acoustic guitar was actually startling.
"Pink Moon" and "Place to Be" — like all the tracks on
Pink Moon
— are stripped down to their bare essence. It's just
Nick Drake's
whispery voice accompanied by his own acoustic guitar (except for a brief, one-finger piano melody overdubbed on "Pink Moon"). This was the recently re-mastered CD version of this album, which sounded amazingly clear.
It seemed like a no-brainer to follow Nick Drake with another Brit folkie,
Richard Thompson
. His latest CD,
The Old Kit Bag
, can stand with some of the finest work from his long and stellar career. It''s easy to see why it made Crutchfield Advisor's list of
10 CDs to put your mobile system through its paces
.
It seems like every listening session gets around to
James Brown
at some point, and on this evening we heard "Since You've Been Gone" from
Motherlode
. Bootsy Collins' rubbery electric bass lines and Clyde Stubblefield's drums interlock in a phenomenally tight groove. (Jim's comment was, "You think Fela listened to James Brown?")
"Sankarabaranam Pancha Nadai Pallavi" from Peter Gabriel's "Passion Sources" CD has
L. Shankar
(violin) and
Zakir Hussain
(tabla) communicating telepathically through their instruments in this short, virtuosic piece.
The lone DVD-Audio cut we played was from a re-mastered version of
Leon Russell's
classic first album. The disc includes a bonus-track version of "Shoot Out on the Plantation" that sounds like a demo, with Leon's vocals panned hard right and his piano hard left. It was like he was standing where the right speaker was, belting it out — you could practically feel the spit spray.
The short bebop track "Countdown" starts off with
John Coltrane's
saxophone weaving a line through unstated chord changes at a blistering pace, accompanied only by drums. A few bars later the piano begins to fill in a bit more of the harmonic picture; finally, the walking bass kicks in and the whole band briefly fleshes out the tune before coming to the ending flourish.
Throughout the evening, the Denon DVD-5900's overbuilt disc transport and audiophile-grade Burr-Brown audio DACs helped it deliver CD playback that kept pace with higher-resolution SACD and DVD-Audio discs. There was rarely any noticeable dip in sound quality from CDs — in fact, we all agreed that several of the most sonically impressive cuts were on CD.
Do try this at home
When the music is flowing, it's easy to lose track of time. By the time Jim and Barry had gathered their discs and headed out the door, it was close to midnight (on a school night!). But instead of feeling tired, we were all energized by the collective talent, intelligence, and creativity of the musicians we'd been listening to.
If you're constantly on the lookout for new music, or if it's been awhile since you've heard something that really grabbed you, put together a listening party. Despite the thin, generic playlists of most commercial radio stations, there's never been a richer variety of music available. The hard part is finding out about it, and that's where a listening party comes in. Everyone who's ever attended one of mine has discovered artists — and sometimes entire musical genres — that he/she found totally new and compelling. And at the very least, this is a different way to connect with your friends and with music.
Happy listening!
Complete list of tracks:
"Humpty Dumpty," Aimee Mann, Lost in Space SACD
"Ballad of Frankie Lee and Judas Priest," Bob Dylan, John Wesley Harding SACD
"Thela Hun Ginjeet," King Crimson, Discipline CD
"Ramano be Galona", Feo-Gasy, Ramano CD
"Do You Like Worms?", Beach Boys, Good Vibrations: 30 Years of the Beach Boys CD
"Karma Police" and "Fitter Happier," Radiohead, OK Computer CD
"Flight Home," Mark O'Connor, 30-Year Retrospective CD
"Most of the Time," Bob Dylan, Oh Mercy SACD
"Hear My Train A Comin'," Jimi Hendrix/Band of Gypsys, Live at the Fillmore East CD
"Marylou," Kris Delmhorst, Oddlot CD
"Visions of Johanna," Bob Dylan, Blonde on Blonde SACD
"Pink Moon" and "Place to Be," Nick Drake, Pink Moon CD
"A Love You Can't Survive," Richard Thompson, The Old Kit Bag CD
"Since You've Been Gone," James Brown, Motherlode CD
"Sankarabaranam Pancha Nadai Pallavi," Shankar and the Epidemics, from Peter Gabriel's Passion Sources CD
"Shoot Out on the Plantation," Leon Russell, Leon Russell DVD-Audio
"West Palm Beach," Palace Music (Will Oldham), Lost Blues and Other Songs CD
"Escalay," Kronos Quartet, Pieces of Africa CD
"Wassiyé," Habib Koite, Ma Ya CD
"I Don't Believe You," Bob Dylan, Another Side of Bob Dylan SACD
"Overture," The Who, Tommy — Deluxe Edition SACD
"Countdown," John Coltrane, Giant Steps CD
"Chim Chim Cheree," John Coltrane, The John Coltrane Quartet Plays CD
"Layla," Eric Clapton, Unplugged CD