Klipsch history and legacy
Even if you're unfamiliar with Klipsch®, there's a good chance you've heard their speakers in action — one in every two new movie theaters today installs Klipsch professional cinema gear. Paul W. Klipsch founded the company in 1946 on four main sonic principles: high efficiency, expanded dynamic range, controlled directivity, and flat frequency response. These principles continue to drive the design of every new Klipsch speaker today, and the result is rich, detailed, lifelike sound for music and home theater.
FEATURED PRODUCT
Klipsch is known for producing high-quality, compact headphones that are very affordable — and a significant upgrade over the earbuds that came with your smartphone. Their R6i in-ear headphones offer detailed sound, a comfortable fit, and controls for your Apple® portable device.
FEATURED PRODUCT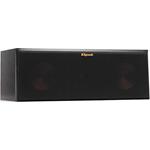 Klipsch has been busy refining and improving its designs to create loudspeakers that blow the doors off of its loyal followers' expectations. The new Reference Premiere Series builds on the acoustics and technologies of Klipsch's classic Reference Series, with important enhancements that provide an even more intense listening experience.