Your window to the world
Images so true-to-life, it's like looking through a window. Visit tropical rainforests, with every vine and flower in lush detail. Cheer on your favorite team from the 50 yard line, with sharp, defined contrast that puts you a step ahead of the ref. That's Sony's X-Reality™ picture engine at work. This sophisticated circuitry optimizes each object's color, contrast, and texture. Each scene pops with rich color and crystal clarity, creating Sony's most lifelike picture yet.
Shop Sony TVs
Watch more on the web
Sony Internet TVs plug you into a world of entertainment. Sony Entertainment Network, Netflix®, Hulu Plus™, and YouTube™ let you access thousands of TV shows, movies, online videos, and music. And while you're watching TV, you can use apps to catch up on Facebook® and Twitter®, check the weather, and more.
Shop Sony TVs
Razor-sharp, blur-free action
If you've seen a touchdown pass in real life, you know that the players don't blur as they sprint for the endzone — so why should it blur in your living room? Sony's Motionflow™ XR technology can keep up with fast action, from the fastest athletes to a camera's pan across the stadium. You'll feel like you're right there in the stands.
Shop Sony TVs
Rugged good looks
This elegant design may look delicate, but it's tough enough to withstand the bumps and bruises that come with everyday use. Sony pairs durable, lightweight Corning® Gorilla® Glass with their OptiContrast™ panel, boosting the TV's contrast and clarity while minimizing distracting.
Shop Sony TVs
Large image sensor, small camera body
Sony's NEX cameras are some of the smallest interchangeable lenses to boast their Exmor™ APS HD CMOS sensor. This mega-sized image sensor delivers gorgeous detailed images and well-lit shots, even in low-light situations.
Crisp, detailed images
At 24.3-megapixels, Sony a77 and a65 cameras boast one of the highest resolutions among APS-C DSLR cameras. The advanced Exmor™ APS HD CMOS sensor lets you capture images that can be turned into gorgeous prints. Each frame captures a massive amount of detail for greatly reduced noise and vibrant images that explode with clarity and richness.
Unprecedented speed
Shoot with speed and precision thanks to Sony's revolutionary Translucent Mirror Technology™ when you select certain Sony digital SLR cameras. While traditional DSLRs use a mirror that flips up and down with every shot, Sony's award-winning technology uses a fixed-position, translucent mirror design. The result? You'll enjoy minimal hesitation between shots for continuous shooting at up to 12 frames per second (depending on model selection).
The right lens for every situation
Whether you're shooting a landscape, a portrait, or fast-action sports, having the right lens makes it easier to capture the perfect shot. With a wide variety of available lenses designed specifically for your Alpha DSLR camera or NEX camera, you can choose the perfect piece of glass for every composition and shoot with greater freedom and creative control.
Carry a mobile movie theater in your pocket
Project your child's winning goal on the side of the house while you celebrate the team's victory over a family cookout. Select Sony Handycam models include a built-in projector that can project images up to 100" (diagonally), and built-in speakers let you hear the sound of your recordings. All you need is a flat surface and you're ready to roll.
Your life in Full HD 1080p
From baby's first steps, to a cross-country road trip — capture life's adventures in stunning HD. And watching your footage is a snap. Just connect your camcorder to your HDTV to share clear, detailed videos with family and friends.
Always something on
Forget channel surfing — Sony Blu-ray players let you tap into a wide selection of entertainment. Enjoy Blu-ray in gorgeous Full HD 1080p, or instantly stream TV shows, movies, music and videos from online sources like Netflix®, YouTube™, Video Unlimited, Music Unlimited, Pandora® Internet Radio and more.
Discover Sony Entertainment Network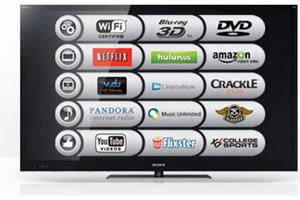 A house full of music
Some Sony Blu-ray players, home theater systems, and home theater receivers can use your home Wi-Fi® network to stream songs from online sources like Music Unlimited, Slacker®, Pandora® Internet Radio and more. Activate the PartyStreaming™ feature, and compatible DLNA devices will play the same song throughout your home.
Shop Sony home theater systems Shop Sony home theater receivers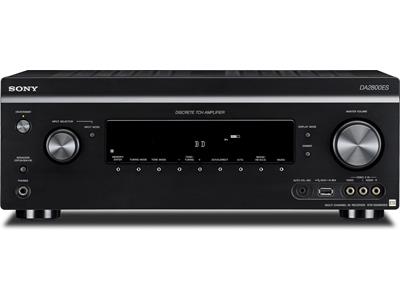 Control from your smartphone
Download the free Sony Media Remote™ app and you can use your iPhone®, iPad®, or compatible Android™ phone as a remote control with compatible Sony TVs, Blu-ray players, and home theater systems. You can change channels, scroll through a playlist, or find info about the movies and shows you're watching.
Explore Media Remote app for iPhone/iPad
Explore Media Remote app for Android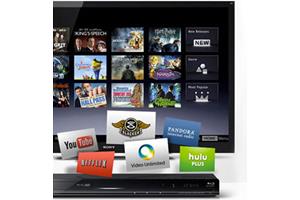 Sony and MirrorLink™
Sony's new DVD receivers — smartphone-friendly and future-ready with MirrorLink
These new DVD receivers offer what you'd expect from Sony:
user-friendly touchscreens
cool graphics
seamless hands-free phone calls
awesome interaction with smartphones and iPods®
But now Sony's first in line with two receivers that work with the MirrorLink system, which gives you touchscreen control over select smartphones, including the extremely popular Samsung S3. Once connected, you'll see a simplified app menu on your receiver's screen, giving you access to the music stored on your phone, select navigation apps, and more. In the future, you'll see more phones and more car stereos using this technology but, as usual, Sony's first out of the gate.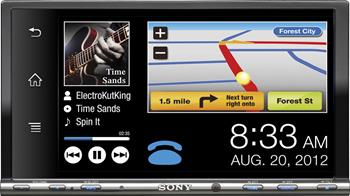 Sony's new XAV-701HD DVD receiver
How the MirrorLink system will work
With your phone connected and in "car mode," you'll see its interface replicated on the Sony receiver's touchscreen. That's your gateway to your music, app-based GPS, and Bluetooth functionality.