Kicker and Crutchfield roll out crowd-pleasing Polaris ATV
Robert Ferency-Viars is the managing editor for the Crutchfield car A/V learning content, and has been with the company since 1999. A Virginia native from the heart of the Blue Ridge Mountains, he loves spending time with his wonderful wife and sons, listening to music, writing, and playing games with friends. Robert's love for car audio began at 16 when he installed his first car stereo.
More from Robert Ferency-Viars
I recently added an article describing Crutchfield's new Polaris Ranger ATV to the Customer Car Showroom on our website, and I wanted to tell everyone about it. I really enjoyed this assignment, and not only because it got me out of the office for an afternoon. The ATV is so much fun that you can't help but have a good time when you're around it. It has a great Kicker sound system, in-dash navigation, and a T-shirt cannon. What's not to like?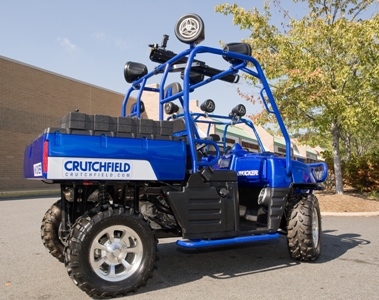 As I mention in the article, this party wagon came about as a benefit of our partnership with Kicker. Thanks to them, we have a cool way to entertain local crowds, and it surprised me to learn how much our company actually uses this unorthodox show car. I knew about the college football games, but they also drive it in local parades and other community events. That's pretty cool. This thing is loud and bright, so there's no missing it, and at this point, it's something of an icon on the local scene.
While I'm on the topic of show cars, be sure to check out the Customer Car Showroom from time to time. We update it regularly with anything from straight speaker or head unit installations, to some incredible, professional-quality stereo systems. I love seeing the submissions we get, especially when they involve custom subwoofer installations. It's great to see how people incorporate their amps and subs into the vehicle's interior. After you check out some of the recent additions, don't hesitate to submit your own profile – we always have room for your car in our virtual parking lot.