Choosing speakers for your iPhone and iPad
Ralph Graves is one of Crutchfield's blog editors, and part of the company's social media team. He writes about home audio/video gear, specializing in Apple-related and wireless technologies. Ralph holds a master's degree in music composition, and his works have been released on various labels. He's served as product manager for an independent classical and world music label, produced several recordings, and worked extensively in public broadcasting. Since 1984 he's hosted a weekly classical music program on WTJU, and is also active as a blogger and podcaster.
More from Ralph Graves
The Bowers & Wilkins A5 powered AirPlay speaker easily fits on a bookshelf.
There are many ways to get the music, video soundtrack, or gaming sound effects from an Apple® iPhone®, iPad®, or iPod® to play through a speaker.
First, you could get a speaker with a dock that connects your device to the speaker and charges it. If you'd rather not confine your wireless Apple device to a dock, there are home and portable wireless speaker systems.
Which option is for you? Read on.
At home
iPod speaker systems tend to be quite compact, making them a comfortable fit for just about any space. However, there are a few design features that make certain models better suited for some rooms.
Home office or den
Whether you're doing some serious telecommuting or just balancing the checkbook, music can make the task easier. A simple shelf system and your Apple portable are a great choice for a den, home office, or workshop. Most speaker docks fit comfortably in an office — on your desktop, bookcase,or filing cabinet.
Some systems include two small stereo speakers that flank your computer screen, making them a great option for your desktop. A few also include a separate subwoofer giving you fuller bass, plus that extra dose of energy you may need to make it through last quarter's earnings report.
These systems are still compact enough to fit on a side table or credenza, but offer fuller, clearer sound. While some of the smaller speakers are best for "near field" listening, the larger and more powerful high-fidelity speaker systems can fill a whole room with sound.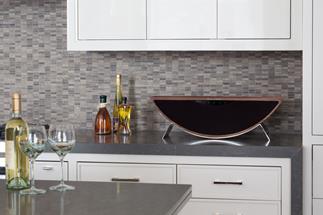 A beautifully crafted wireless speaker system like the MartinLogan Crescendo can complement your room's décor.
Bedroom
With an iPhone-compatible clock radio, you can play some soothing music as you're falling asleep and wake up to your favorite song or radio station. Listen to the news or a podcast while you get dressed. Most have build-in docks, which offer another advantage. When you go to bed, you can dock your device so it can charge overnight — and you'll know exactly where it is when you wake up.
Kitchen
A wireless portable speaker can be a good solution for music in the kitchen. In addition to their small size, many feature rechargeable batteries. So they won't use the power outlet you need for your stand mixer, and you can place them just about anywhere. Need music as you're working at the sink? Water-resistant models will withstand a splash or two with no problem.
[Shop Crutchfield's selection of water-resistant wireless speaker systems]
The Russound AirGo AirPlay speaker system is weather resistant and made for outdoor use.
Deck or patio
Portable wireless speaker systems are also a great option for occasional outdoor listening – during dinner on the patio, or while you're weeding the flower bed. A few iPod speakers — such as the Russound AirGo™ powered outdoor speaker — are more rugged and weather-resistant, making them a better option if you'd like to listen poolside or get in the groove while you wash your car.
[Shop Crutchfield's selection of portable wireless speaker systems]
---
On the go
Power and playback time
Some portable wireless speakers have built-in rechargeable batteries, while others work with regular batteries. A few models are even solar powered for easy recharging at your next family picnic, beach trip, or other daytime adventure. Once portable speakers are fully charged or have fresh batteries, most models will provide between five and ten hours of playback time. Some models can also provide backup power for your iPhone or iPad.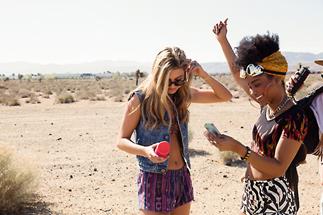 The UE Boom portable speaker and your iPhone is all you need for a party just about anywhere..
Size and weight
Portable wireless speakers come in a wide variety of shapes and sizes. Some are truly tiny and weigh a pound or less — easy to toss in a purse or backpack for impromptu music on the go. Others are larger and more ruggedly built, and may weigh up to ten pounds or more. These models are great for providing music for a party, as they create a wide soundfield.
Larger systems often provide better sound quality and more bass than smaller models. And they usually have higher volume levels than ultra-portables.
[Shop Crutchfield's selection of portable wireless speaker systems]
---
Connection options
Go Wireless
Apple's proprietary AirPlay technology makes it a snap to listen to music stored on your device, as well as music streamed from compatible apps like Pandora® and MOG. Just make sure both the speakers and your device are on the same Wi-Fi® network. See our Intro to Airplay for more info.
[Shop Crutchfield's selection of AirPlay-compatible speakers]
Many wireless iPod speakers use Bluetooth® technology to allow you to listen to any audio being played by your Apple portable. Some Bluetooth-capable models also feature "talk" buttons, so that you can use it as a high-quality speakerphone system.
[Shop Crutchfield's selecton of Bluetooth wireless speakers]
Comparing AirPlay and Bluetooth in iPod speaker systems
| | Airplay® | Bluetooth® |
| --- | --- | --- |
| Range | The range of your Wi-Fi Network | 30 feet |
| Device compatibility | Apple devices only | Any mobile device that has Bluetooth audio streaming capability (A2DP) |
| Sound quality | Good | Fair to good |
| Portability | Some models can be easily carried around the house, but most aren't small enough to take on the road | Some models are small enough for easy travel |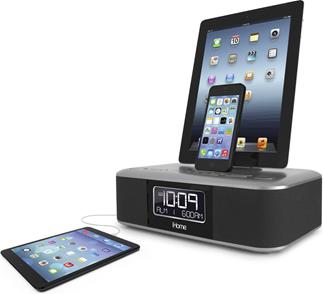 The iHome iDL100 lets you charge three devices simultaneously — two through Lightning connector docks and one through a USB charging port.
Dock It
Many speaker systems include dock connectors that can accommodate your iPhone or iPad.
[Shop Crutchfield's selection of speaker systems with docks]
Use the headphone jack
Although it may not seem as high-tech as the other connection routes, using your device's headphone jack opens up some additional options, such as hi-fi desktop speakers. These systems are primarily designed for use with desktop computers and laptops. Usually these systems can be connected to the computer through its headphone jack. And you can connect your Apple portable to such a system the same way. You'll likely need to provide your own stereo minijack cable to connect your device.
These systems can offer true stereo separation for better imaging — placing the speakers a few feet apart creates the illusion that the band you're listening to is playing right in front of you. Plus, if you own an older iPod or iPod touch that doesn't have wireless capability, you can still enjoy great audio with your device.