Overhaulin'
Behind the Scenes at SEMA
A circuitous path, involving England, New York, rural Michigan, Indiana, and lots of parts in between brought Matthew Freeman to Charlottesville, where he's been writing about mobile audio/video for Crutchfield off and on since early 2000. He fosters an eclectic taste in film, and is fond of a wide range of music. A native of Albuquerque, New Mexico, he found his way to the University of Notre Dame, where, in an act of charity unsurpassed in the history of Western civilization, he was given a B.A. in English.
More from Matt Freeman
TLC's
Overhaulin'
has gathered a large and devoted following, and with good reason. Each episode showcases a limitless supply of creativity and technical skill, all spearheaded by the show's chief designer, the famous Chip Foose.
Oh, and thanks to co-hosts Chris Jacobs and Courtney Hansen (don't forget to check out our interview with them on the last page of this article), it's pretty dang entertaining, too.

Chip, Courtney, and Chris all help make Overhaulin' a huge hit.
If you've never seen the show (and judging by their ratings, if you're reading this, you've almost certainly seen it), here's the premise: a family member or friend of someone with a beat-up old car secretly arranges to have the
Overhaulin'
crew take the car and completely restore and customize it. Chip Foose designs the project, and a crew of some of the best technical specialists in the country make it happen. The catch, though, is the prank: the "mark," as the car owner is called, has no idea what's happening. He or she is told that the car has either been stolen, or taken for a specific, and false, reason. Chris perpetrates the prank, dressing up in disguises, pretending to be someone else. So far, each prank has worked.
For this year's SEMA Show, the producers of
Overhaulin'
decided to try an exciting project: they taped an entire episode of the show right on the Convention Center floor. What's more, they put up a set of grandstands in front of the set so that showgoers could watch as much of the show's activity as they liked.

A view of the grandstands and the live studio audience from the SEMA set of Overhaulin'.
Over the course of four days, the crowd witnessed as a 1970 Ford Mustang was transformed from a pile of rusting parts to a Chip Foose signature work of art, right before their eyes. Chris and Courtney entertained the crowd daily, giving them updates on the progress of the car and the status and effectiveness of the prank, and taking pictures and signing autographs.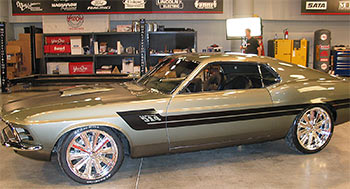 In the course of five days at SEMA, Chip Foose worked his magic on an out-of-shape 1970 Mustang and produced this masterpiece.
I was lucky enough to be able to go behind the scenes a bit, getting a close-up, first-hand look at much of what goes into making
Overhaulin'
the hit that it is.
The SEMA Show began on Tuesday, but the car was actually "stolen" and brought to the convention center to be stripped and prepared for painting on Monday. The car's owner was told that the car was taken to cover a $20,000 gambling debt (appropriate for Las Vegas) his son had acquired (his son, naturally, was the one who set everything up with Chip and his crew). Chris spent the week playing a bookie, keeping the mark at bay while Chip and crew worked their magic.
On Tuesday (day one for me and the showgoers), everything seemed reasonably quiet. The car was taken out of the booth to be painted (they had set up a mobile painting studio outside of the Convention Center). This gave me an opportunity to tour the set and check out the incredible equipment they had on hand.

The seemingly quiet Tuesday-morning set of Overhaulin'.
Because it was at SEMA, and because there was a live audience, they decided to go all out on the Mustang's transformation, to make it unlike any vehicle
Overhaulin'
had ever done.
Executives and designers from BF Goodrich were there
hand-carving
a custom set of tires for the car (they also donated a set for everyday driving). This process alone engrossed me for a large part of the day. A template was drawn in chalk on a racing slick (a tire with no tread), which the designer then meticulously carved in to the tire. The whole process took about three days. I marveled not only at the skill involved in creating something so intricate, but also at the patience required to get each one done.

The tread pattern of each tire was meticulously carved by hand.
Also on the set was a big wheel-making machine. Yes, they decided to make their own aluminum wheels by hand, right on the set. The machine carved out the pattern on a
tabula rasa
of aluminum. The results: a set of four gorgeous, one-of-a-kind wheels, and an impressive pile of aluminum slag.

This impressive machine cut custom wheels from solid aluminum discs.
Hard at work were the folks from Ford Racing, who were supervising the assembly of the new engine. "How big is the motor," I asked. "It's a 514," came the reply. Five hundred and fourteen cubic inches.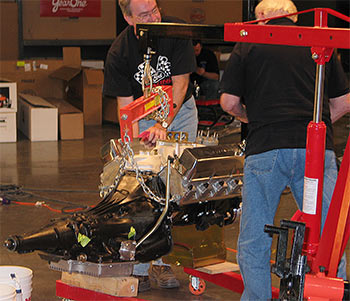 The engine and transmission, on the rack and ready to be installed.
Luckily, they had plenty of tools on hand to help get my jaw back in place after it hit the floor. This car, when finished, was going to possess some serious power. I was impressed.
The transmission was tended to by Art Carr of California Performance Transmission. Art is one of the top transmission men in the country, and has been in the transmission business for decades. He even designed the transmission for the original Batmobile. Clearly, I was in the presence of a legend, and felt both quite lucky, and quite honored.
In another corner, the upholsterers set about the task of stitching new leather upholstery for the front and back seats. As with everything else, this was all hand-made, cut from sheets of raw leather. And again I was stunned and impressed by the meticulous patience they exhibited.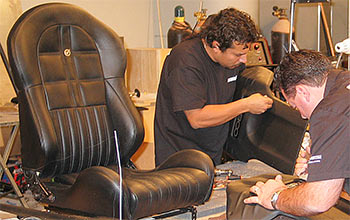 The leather upholstery for each seat was stitched by hand.
I mentioned before that the set
seemed
quiet. Walking around it, however, it was abundantly clear that there was a lot going on...and necessarily so. With only four days to build a car from scratch, there wasn't a moment to lose. Later in the day, Chip's original design drawings were put up, giving everyone a chance to see firsthand just how incredibly imaginative and talented he is. Would the car turn out the way he intended? That's what the crowd couldn't wait to find out.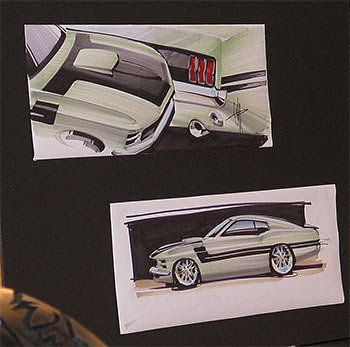 Chip Foose's freehand drawings of his concept for the SEMA Mustang.
Much of the great fun of the live experience was getting the chance to watch Chip sketch. He'd get an idea of what he wanted various parts of the car to look like, then set about drawing them. Freehand. Clearly, the man not only has an active imagination, but the incredible artistic talent to go with it. As accurate and detailed as his sketches are, it's no wonder that his cars turn out they way they do; instructions that good are easy to follow.
Wednesday
Day two saw the triumphant return of the car with its brand-spanking new paint job, much to the delight of the crowd. Then the work began in earnest.

The Mustang after its triumphant return from getting its new custom paint job.
With the motor and transmission still out of the car, the techs began to rewire the entire thing and to put in the air conditioning lines, brake lines, fuel lines, and more. The low hum of activity from the day before was replaced with a constant buzz as the crew scrambled to get everything done in anticipation of installing the new engine and transmission. They knew how much in a given day needed to be finished in order to come in on time, and they were certainly doing their best to get it done.

Much of the interior wiring was done before the engine was installed.
Meanwhile, Courtney and Chris continued to engage the crowd (which had gotten steadily larger when the car had come back; people dropped in much more frequently to see how everything was going). They would offer updates on the progress of the car and the effectiveness of the prank, then pose for more pictures and sign more autographs.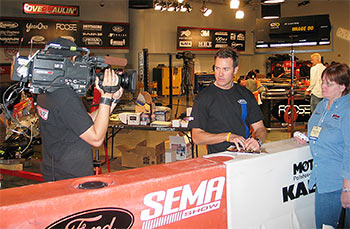 Chris mugs for the camera as he signs autographs for the fans.
To the casual observer, it's a steady, if slow pace, and much of this time during the broadcast is dedicated to showing the execution of the prank, so it's easy to forget how much work has to be done in these critical early days. But walking around the set, I could immediately see that the activity was absolutely nonstop. Every moment was precious, and every detail had to be nailed down, if they were going to get it all done.
On day three, everything really got kicked into high gear. Most importantly for the day, the motor and the transmission were finally put in. Now the heavy duty work could be done, connecting everything to the motor, installing the custom-made driveshaft, putting the new MagnaFlow exhaust in place. The area around the Mustang was a constant stream of activity; the techs were clearly starting to feel the pressure of getting the car done in time for it to be revealed to its owner.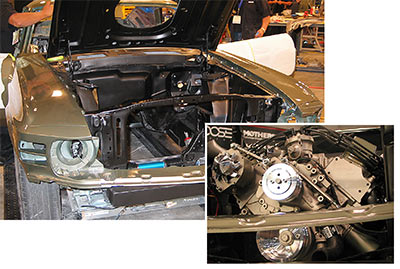 The Mustang, before and after the engine was installed.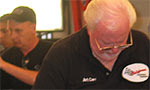 Legendary transmission expert Art Carr.
I was able to speak briefly to Art Carr that afternoon, and I asked him about how they felt about the impending deadline.
"Oh, we won't panic until Friday," he laughed. He admitted that, like most projects, it can be tough to stay on schedule, especially when so much has to be done. There's always something unexpected that comes up, some unforeseen snag that costs precious time. But the crew was made up of consummate experts, and he had no worries that it would be finished in time. They may have to pull an all-nighter, and there would definitely be some tense moments, but it'd get there.
That afternoon, I watched Chip as he moved around the set, checking up on everything that was going on. Clearly, he maintained total control over the set, aware of the exact status of every project at just about every moment. He was like a field general, brilliantly organizing his troops and getting them to perform to the best of their abilities, so that they would triumph in the end. He's simply a solid, hands-on commander who infects his crew with his enthusiasm, encouraging them to get the job done beautifully, and on time.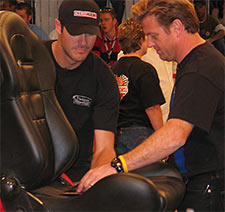 Chip Foose kept a close eye on every aspect of the restoration.
But what amazed me even more was how dedicated to the fans Chip turned out to be. Keep in mind that this is usually taped on a closed set, with no one but the cast and crew around. So dealing with fans and curious onlookers in a set of grandstands was definitely a new experience. But Chip, along with Chris and Courtney, relished it. Chip took time out of his busy schedule to interact with the fans, signing autographs and taking pictures.
The best moment: a young fan told Chip that he'd been waiting for two hours to see him, and that he was so excited finally to meet him. Chip spent the next ten minutes creating a custom drawing to go along with his signature on the boy's
Overhaulin'
T-shirt, then thanked him for being so patient. The boy was clearly overwhelmed, and the crowd loved Chip's generosity, and applauded him loudly. The boy walked away telling people proudly that he was going to frame it and hang it in his room. It's a moment I felt lucky to witness.
Friday
The last day introduced something that had been merely lurking at the edges: palpable tension. Most of the big work had been done, but so much little stuff remained, that it was easy to sense the worry that it couldn't get done in time. The reveal was set for three in the afternoon. By noon, the car hadn't even been started for the first time, so there were no guarantees that it would even work.
The crowd at this point was huge. This was clearly the event everyone wanted to see. To accommodate the overflowing crowds, the barricades that formed the boundaries of the set were drawn in a bit; hundreds of eager fans crowded into a relatively small space. On set, the activity was at a fever pitch, everyone scrambling madly to finish the car.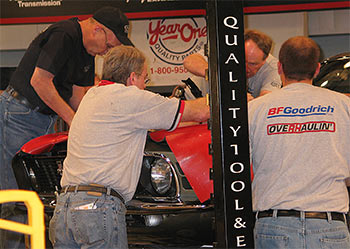 The crew scrambling to get the engine ready to fire up.
When the time came to start the engine for the first time, everyone, including the crowd, drew their collective breath. A tech jumped in the front seat, turned the key, and?the motor cranked, but didn't fire up.
The Ford guys scratched their heads; you could see the confusion and frustration on their faces. They couldn't figure out why it didn't fire up. Until Chip admitted that he had removed the ignition rotor as a little joke. The crowd laughed. The Ford guys laughed in an I'll-get-you-for-this kind of way. They replaced the rotor.
And the motor roared to life. The crowd erupted in cheers, and the crew on set jumped around, giving each other high fives, more, I think, from relief, than from excitement (although there was plenty of that, too).

A happy crew listens to the new engine roar for the first time.
Mere minutes before they brought the car's owner, Barry, out to see it, the Mustang was finished. Well, mostly finished. There were some minor details that needed to be taken care of, but it was in good enough shape for him to be able finally to see it.
He was led out onto the set, in front of the giant crowd, and saw his "new" car for the first time. And he was rendered speechless.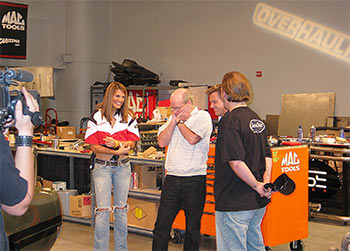 Mustang-owner Barry stunned by his first look at his "new" car.
When he finally did speak, he said that "this is the most beautiful thing I've ever seen." The crowd cheered him on enthusiastically. He started the car, and was amazed by the sheer power it clearly had. He hugged his son, who had arranged it all.

Barry turns the key and starts his Mustang for the first time.
Eventually he met and thanked everyone who worked on the car, then delivered the show's signature line: "My name is Barry, and I've been Overhauled!" (Unrehearsed, he delivered it perfectly, much to the delight of both the crowd and the show's producers.)
Witnessing Barry's reaction to seeing his new car, the Mustang that had been a rusting pile of spare parts just one week earlier, was an experience I'll certainly never forget. The show is so well produced that on television you definitely get a very good sense of the joy and surprise
Overhaulin'
brings to these car owners. But seeing it live was simply magical. You could feel the mixture of joy, shock, and surprise emanating from Barry, and it's exactly that sense of immediacy that television can't quite capture.

Chip Foose and his supercrew transformed the Mustang from a pile of rusting parts into a gorgeous work of art.
The
Overhaulin'
gang has definite plans to do an even bigger and better show at next year's SEMA event, and its easy to understand why. Their first experience with a live audience really helped them understand what a phenomenon their show has become. They know now how devoted their fans are, and they certainly were able to pull a lot of energy and enthusiasm from the crowd.
Of course, being in the crowd and watching as Chip and his crew completely transform a vehicle has a profound effect on the fan as well. It's a spectacle that sets the imagination racing, encouraging one to look at his or her vehicle in a new way, to devise plans for making it truly a car of his or her own, like no other around.
In fact, I can safely assume that to a person, every audience member at some point thought, "yeah, I could do something like that to my car." But such is the effect of watching this Foose-ian dedication to one's craft unfold so marvelously and seemingly effortlessly.
It can even evoke nostalgia. Certainly, this son of a gifted mechanic harkened back to summer days in his youth spent working side by side with his father, learning the art of taking a car apart and putting it back together, then experiencing the joy of turning the key and hearing the engine fire up. It's a skill, and a gift, I'll always treasure. And Chip and the gang definitely helped me remember that.
Now, if you'll excuse me, my car is calling, and I've got some work to do.
Overhaulin'
clearly focuses on the amazing talents of Chip Foose and his team of builders, painters, and techs. But it probably wouldn't quite have become the phenomenon it has without the charm and energy of its co-hosts Courtney Hansen and Chris Jacobs.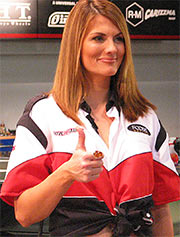 Courtney and Chris interacted enthusiastically with the crowd at SEMA.


Courtney keeps the audience involved over the course of the show, and, as evidenced by the crowds at SEMA, has many, many an admirer (a fact that I found quite easy to understand).
Chris engineers the pranks, which are as vital to the show's dynamic as the redesign itself.
At the end of a busy day, Courtney and Chris were gracious enough to take a few moments to chat with us.
Crutchfield Advisor:
So how's SEMA treating you?
Courtney:
SEMA is awesome. I didn't realize how truly enormous this was going to be. It's overwhelming, in a good way. It's really an honor be here, and to have this kind of response. I also didn't realize that
Overhaulin'
had such a devoted fan base.
Chris:
I'm having a blast. I'm a kid in a candy store here. It's my first time at SEMA, and I can't believe how huge it is. Anything that has anything to with cars is here, and that's my favorite thing.
CA:
You don't usually tape in front of a live studio audience. How do you like it?
Chris:
I love it, absolutely love it. It gives you a sense of how popular the show is. You can read the numbers, but that doesn't really give you a sense until you start meeting and talking to the people who actually watch the show.
Courtney:
And it's just been a total joy, the fans are really cool?they've added to the excitement.
CA:
Do you think you want to do it again this way?
Chris:
We're already talking about doing it on an even larger scale next year. Building some bigger grandstands and having a bunch of
Overhaulin'
cars so people can look at them.
CA:
How's the show dynamic? Do you get along off camera as well as you get along on it?
Courtney:
Absolutely we get along. Chip Foose kind of sets the tone, and he does not believe in conflict. There are lots of other shows on TV that are all about that, and I guess they believe that adding drama is going to make it so much more exciting. In this case, Chip doesn't go for that, and everyone kind of rises to his level, not only of his work ethic, but also his disposition.
Chris:
For his level of talent, he's the most humble guy I've ever met. He's absolutely unflappable, and so gracious with everyone he talks to. He'll take the time for anybody, and try to help them out any way he can.
Courtney:
And you find that we're all working crazy hours, under time constraints, and we're exhausted, but there's never a moment that we're in conflict. It's always about camaraderie, and doing this for the common goal.
Chris:
[Chip's] an amazing guy; his brain never shuts off. He sits down for lunch, and starts redesigning the salt shaker. That's the way he works. If he had 40 hours in a day, he wouldn't be able to get done everything he needs to get done. Walking around SEMA, he understands and appreciates how much he's loved in the industry. Because he can't walk ten feet without someone walking up and telling him how great he is, and it's absolutely true. He's Jimmy Page, Robert Plant, and Eric Clapton all rolled into one.
CA:
Tell me about the pranks. Who creates them?
Courtney:
It's a collaborative effort between Chris Jacobs and the producers, and the writer. Everyone works to come up with what fits each mark.
Chris:
It's my favorite part of the show. Producer Bud Brudsman and I brainstorm. we fish it around and throw it back and forth. We don't think about it too much in advance because we don't want it to get stale. But they're a blast.
CA:
I'm sure there are some lines you talk about not crossing?
Chris:
Absolutely. I try and tip-toe up to that line and we maybe stick a pinkie toe across it, but?you gotta have an element of messing with the person so it's entertaining, but at the same time, if I screw up, it's over?and this whole thing is for naught.
CA:
How's this prank going?
Chris:
This particular prank is going really well?this guy is actually buying it, which amazes me because I had this bad Mafioso outfit on the other day when I was pranking him.
I don't know...some of these get-ups I have on, I don't see how some of these people aren't laughing and calling me out. In the Challenger episode I had a wig and a mustache on and looked like a reject from the Village People. Like the guy who couldn't figure out what he wanted to be. But we pulled it off.
CA:
How many weeks a year do you shoot?
Courtney:
We shoot every other week. Our third season will have 22 episodes, which is pretty much every other week.
It's very intense, but we thrive on it. We're this unit working for the common goal of making a mark's dream come true. And everybody is passionate about building: all these guys and the women are top notch, and you feel that in the air constantly and it gives you that adrenaline push to work that much harder and do what ever it takes.
CA:
How did you get hooked up with the show?
Chris:
I auditioned. I'm an actor, and they were looking for someone to play the pranks on the show. It was an added bonus that I'm a big gearhead myself, so...
Courtney:
I'd been working on a hosting career, and my father, Jerry Hansen, had raced on the amateur circuit and owned a raceway in Brainerd, MN, so I grew up a pit kid, a garage girl, and all that. When the show came up, my agent called and said, Courtney, you gotta do this, it's the ideal fit, if there's a job for you, this is it.
And in addition to what I knew, I'd worked as a spokesperson for Dodge and Rolls Royce, and I combined that knowledge with what I found on the internet — I went to Howstuffworks.com and made sure my knowledge was solid, and I tried to blow them away in my audition.
CA:
Has the shine worn off?
Courtney:
Heck, no! It gets brighter and brighter every day. I'm constantly learning, I'm constantly intrigued by Chip Foose's talent and what the builders can do and it's always something different in each build. The mark is different, obviously, the cars are all unique, so it's always exciting, and I think we're always growing in our roles in the show, which makes it fun.
CA:
You can see yourself doing this for a long time?
Chris:
As long as they'll have me.