Kevin Costanzo's 1967 Ford Fairlane
A classic car custom installation
Erin Blanton wrote about mobile A/V gear at Crutchfield for several years, and worked as a Sales Advisor in our contact center before that. She left Crutchfield to open her own toy store, Pufferbellies, in nearby Staunton, Virginia, which continues to keep her busy.
More from Erin Blanton
Kevin Costanzo grew up around cars; his dad is a mechanic who specializes in vintage Chevy Impalas. Since the age of 15, Kevin knew exactly the car he wanted: a 67 Ford Fairlane. He loved the car's classic lines, and could picture the modifications he wanted to make. He bought the car even before getting his driver's license, and started working on it the very first day!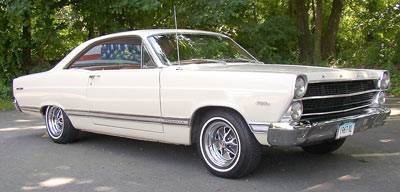 Kevin's 1967 Ford Fairlane
Kevin started his project with performance modifications, bodywork, and cosmetics. He loaded the engine compartment with plenty of chrome, and added new wheels, tires, bumpers and trim to the exterior. Inside, Kevin redid the upholstery and headliner, dropped in a replacement dash and new visors, and installed gauges from Sunpro. The performance mods include an Edelbrock carburetor and intake manifold, Pertronix ignition, Hedman ceramic-coated headers, a Mustang 4-speed transmission, positraction, and a high-performance Centerforce clutch. A local bodyshop handled the bodywork and exterior paint, and the car was starting to look — and drive — pretty hot.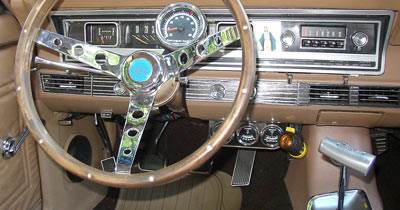 Aftermarket gauges add style and functionality
Kevin gives us a peek under the hood
Even with the cosmetics and mechanicals done and the acceleration factor under control, Kevin still felt that something important was missing: the sound system. The Fairlane came stock with an AM radio and single speaker, and for a car with a show-caliber exterior and serious performance modifications, this pathetic audio "system" just wasn?t cutting it. Although Kevin was fanatical about keeping the stock look of the car's interior, he wanted the sound system to smoke.
First things first: the head unit. He didn?t want to cut the Fairlane's dash, so Kevin installed his Clarion ProAudio DRX5675 CD receiver in a custom, leather-wrapped sleeve in the glove box. The remote control helps him make audio adjustments while on the road.
Hidden in the dash, the Clarion receiver pumps out the tunes.
With the head unit under control, Kevin moved on to the speakers. A pair of Cadence 6"x9" speakers are hidden below the rear parcel tray. Kevin built custom kick panels to house a pair of Infinity Reference 452i 4" speakers.
Cadence speakers below the rear deck and Infinity 2-ways in custom kick panels round out the mids and highs.
His final touch up front was a pair of Infinity Reference 1001t tweeters, hidden in the dash, to round out the upper register. Now Kevin had CD playback with clean, clear sound and a strong stereo image — but what about the bass?
He started out with a modest Bazooka bass tube, but soon realized that if he wanted lows that could "shake a baby out of its crib," he would have to do more. A pair of 12" Rockford Fosgate HE2 subwoofers fit the bill just right, and he decided to power them to the max with Rockford's Power series 800.2 amplifier. (The subs are wired to create a four-ohm load, and the amplifier pumps out 800 watts RMS.) As Rockford fans might remember, the Power series amps come with a handy wired remote bass boost control. Kevin installed his remote in a custom-made, leather-wrapped console for extra style points.
Kevin originally installed the subs in a ready-made box — it sounded great, but took up most of his trunk space. And, he notes, "a big box lying in the back doesn't really appeal to the eye as much as a custom job." So, Kevin spent hours in his high school's woodshop designing and building a pair of custom enclosures for the HE2 subs — they fit snugly against the sides of the trunk, and with the help of OEM-style gray carpeting, blend in perfectly.
Kevin put in his time in the woodshop to create a pair of high-performance custom sub enclosures.
The finishing touch in the trunk was the custom-built amp rack, which also houses a one-farad capacitor. Kevin used Monster Cable 4-gauge power and ground cable for maximum current flow, and Monster RCAs for optimim sound quality.
A view of the amp rack and passenger's-side sub enclosure
The trunk installation in all its glory
Kevin finished off his audio installation with vibration-killing Dynamat on the license plates and door panels and in the trunk, plus a pair of bass blockers to keep his small front speakers sounding clean. The best part of all, says Kevin, "is that even with everything I've done to my car, I have never chopped or drilled into it. If I wanted to go back to stock, I could."
Kevin, you've got a classic ride you can be really proud of. Congrats, and thanks for sharing the results of your hard work with us.