Adam Daley's 2002 Nissan Frontier pickup
Tim Sprinkle is a talented writer and car audio enthusiast who wrote for Crutchfield for several years before life took him away from Virginia to Colorado, and onward to greater things.
More from Tim Sprinkle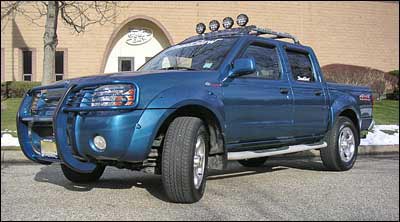 Adam Daley's 2002 Nissan Frontier.
Talk about a "looker!" Adam Daley's 2002 Nissan Frontier pickup has been turning heads in the northeast for years; and with its custom brush guard, neon exterior lighting, and strobe taillights, it's no surprise. But Adam's truck didn't always look like this. When he bought it in May of 2002 he knew he had a special machine on his hands, but it took months of planning and customizing before the neon beast emerged from its shell.
For Adam, the first step was installing the Viper 550 ESP security system. "There's no sense in installing all sorts of electronic goodies without a way to protect them," he says.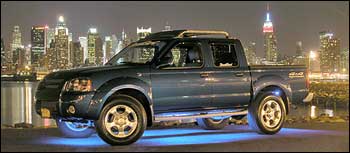 On display: This Frontier never fails to turn heads.
Next, he designed and installed a complete neon system — from the undercarriage tubes to the HottWirez door accent wire, no detail was overlooked. As a StreetGlow employee he'd always been fascinated with mobile lighting, and he had no intention of showing off his new truck without the full neon treatment, starting with a neo-blue StreetGlow Gold Series undercar kit. But, since most kits are designed for smaller cars, he had to get a little creative when fitting the long Frontier frame. Two short tubes per side in place of the usual 51" tube solved that problem, and the StreetGlow power transformer didn't even know the difference.
Moving inside, he installed some 9" mini neons (the same neo-blue color, of course) under the dash and in the map pockets on both doors. As for the underseat glow, all it took was a pair of neon blue license plate kits. "They provide a good amount of neon light," he says, "and dollar for dollar, they end up being cheaper than putting a bunch of neon tubes under the seats."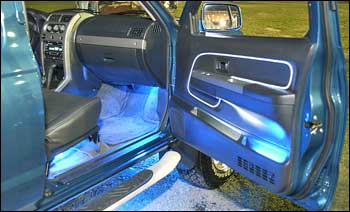 With matching neons and white door accents, the light show doesn't stop when you get in the truck.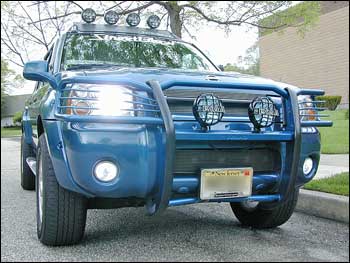 These roof-mounted lights don't just look cool, they give Adam plenty of visibility for off-road driving.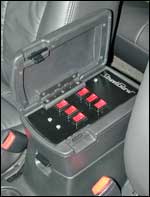 This custom switch panel keeps the lighting controls close at hand without dominating the interior.*
Once the neon was in place, he went back to work on the exterior, adding Whelen strobe lights to the taillights — three bulbs per side — and a row of PIAA spotlights on the roof. Behind the grille, he installed a StreetGlow linear strobe — a long rectangular strobe that produces an incredible amount of light — to match the taillights. It's the ultimate show toy!
Since the Frontier was destined from the start to be a daily driver, Adam didn't want a lot of switches cluttering up the interior. His solution was to fabricate a custom switch panel to fit inside the center console armrest. It has switches for the neons, strobes, and the PIAA lights, and even a neon StreetGlow logo that lights up when the system is activated. And the whole thing tucks nicely out of the way when not in use.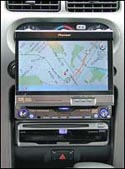 Adam's Pioneer AVIC-90DVD and AVH-P7500DVD navigation system.
The mobile A/V system is anchored by a Pioneer AVIC-90DVD — a voice-activated navigation/video system that Adam calls "the best feature in the truck." With its built-in GPS receiver and mapping software, he is able to get point-to-point directions anywhere in the U.S. without taking his hands off the steering wheel (it even accepts voice commands like "find home"). Right above it, he has a Pioneer AVH-P7500DVD touch-screen CD/DVD receiver with an in-dash monitor to handle his mobile video needs.
Powering the electronics array is a complete Kicker system — a KX500.3 3-channel amplifier and a pair of 8" 2-ohm CVR8-2 subs in a custom box behind the seats. Wired in series, the amp's mono output powers the bass, while the stereo outs drive Kicker's RS6c and K525 component speakers in the front and rear. "The setup may only have two 8" subwoofers," Adam says, "but Kicker knows what they're doing. These subwoofers sure pack a mean punch; the entire truck vibrates."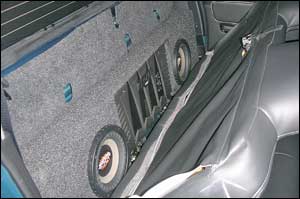 This custom amp rack keeps the entire system tucked nicely out of sight behind the seat.
Great job, Adam, thanks for letting us take a look!
Multimedia system:

Pioneer AVH-P7500DVD CD/DVD/MP3 with in-dash monitor
Pioneer AVIC-90DVD DVD navigation
Pioneer GEX-P910XM satellite radio tuner
Kicker KX550.3 amplifier (40W x 2 + 200W x 1)
Kicker CVR8-2 (2) - 8" subwoofer
Kicker RS6c 6-1/2" component system
Kicker K525 5-1/4" 2-Way speakers


Exterior

Viper 550 ESP alarm system
WAAG brush guard
WAAG taillight guards
PIAA 540 series lights
PIAA 525 series lights
PIAA Super White corner bulbs
StreetGlow linear strobes in front grill
StreetGlow strobe lights in rear lights (6 White)
StreetGlow H.I.D. conversion kit
StreetGlow Gold Series neo-blue under car kit


Interior

StreetGlow 12" Chrome Series mini-neons (white)
StreetGlow 9" Chrome Series mini-neons (neo-blue)
StreetGlow license plate frames (neo-blue)
StreetGlow HottWirez (white)
Custom aftermarket leather seats
Custom floor mats
Custom designed switch panel in center console