Taking Your Toys to the Tailgate
Crutchfield helps a football fan build the ultimate game day party spot
Matt Holliday was one of Crutchfield's ace car enthusiasts for several years. He brought a lifetime of knowledge and experience to our team. He has since left the company to join the family business and pursue other interests.
More from Matt Holliday
With big screen TV's, instant replay, easy access to the fridge, and, of course, a controlled climate, it's getting harder and harder for the avid sports fan to forego the comforts of home to actually attend a football game. Parking is always a nightmare. You're so high up in the nosebleeds, that you can't tell if the team or the band is on the field. It takes ages to get any sort of refreshments, and when you do reach the head of the line, you're shelling out this month's rent for a bottled water and a hot dog.

One University of Toledo fan built the ultimate tailgating accessory.
But you've got to be there to support your team, right? So which do you choose? Save your money, avoid frostbite, but feel like a fair-weather fan? Or brave the elements and the line to experience the thrill of victory with 40,000 of your closest friends? Why not both?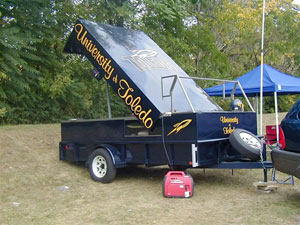 Chris Kisor's Rocket Trailer now entertains fans at every Toledo football game.
University of Toledo alum Chris Kisor found a way to have the best of both worlds. Not satisfied with the run-of-the-mill tailgate, Chris opted to step up his game. The result is a 12' x 7' trailer that is stocked with every refreshment need to beat the lines, as well as a complete A/V set up to catch every play over the air. The Rocket Trailer was born.
In the days before the Rocket Trailer, Chris, wife Deanna, and a few other friends and Toledo fans had always split responsibilities when it came to the tailgate. Since every one was responsible for one aspect of the party, if one member of the crew wasn't able to make it, the party lacked something. Chris had an answer: Bring the entire party behind his truck, every time.

The Rocket Trailer opens to reveal everything a tailgater could ever need, and closes for easy transport.
The idea started simple enough: build a trailer that could haul all the necessary goods to a tailgate. With the help of a number of friends and family, the idea became a reality. All of the traditional tailgating necesseties are there. A built-in cooler keeps food and drinks fresh and cold. There's a grill for cooking burgers and dogs, and plenty of storage for tents, chairs, team flags, and supplies.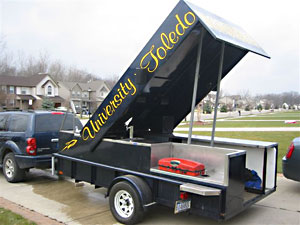 The grill keeps the fans full and happy.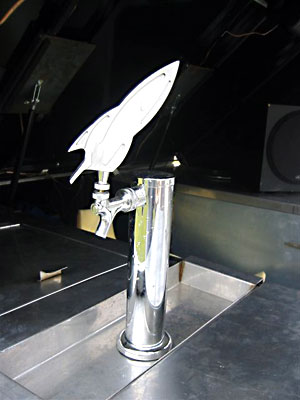 The custom Rocket tap keeps the golden beverages flowing.
What makes the Rocket Trailer great is that little something extra. A fully functional keg, complete with CO2 tank and custom rocket tap, gives the patrons of the trailer a little more team spirit. A power generator and lights make night games brighter. And for the complete at-home experience, a full theater setup, complete with television, satellite, and five speaker sound system bring the game out into the parking lot.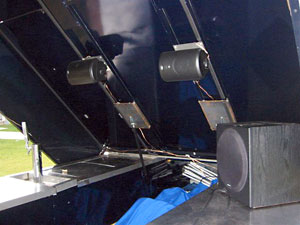 A full set of Polk speakers pull audio duty for games and music.

The Polk speakers perform great, in every type of weather.
A neighbor turned Chris on to Crutchfield in high school, and he knew it was the only place to to get everything he would need to make the Rocket Trailer sound great. Chris got in touch with Crutchfield Sales Advisor Bryce, who happend to know a few things about football and tailgating, being an avid University of Virginia fan. Bryce selected products from Kenwood, Polk, and StreetWires to give the trailer a killer system that could be removed in the off-season and enjoyed in Chris' home. The result is a system that is rugged and weather resistant, as well as powerful with a crisp, clear sound.

A Kenwood receiver delivers plenty of power to the speakers.
The Rocket Trailer now has its own parking spot at every University of Toledo home game, and draws quite a crowd of admirers everywhere it goes. People are always taking pictures of Chris and his trailer, and it has been a great way to make new friends, even with fans of the opposing teams.

Even if Chris goes to the game alone, he's sure to make more than a few new friends.
This fall, Chris will begin his 15th season of attending Toledo games, both at the Glass Bowl and on the road. And while Chris has to leave his home in Brownstown, MI, to see his beloved Rockets hit the field, he'll always have a little piece of home with him. A little piece of home with a killer stereo, a TV, and a tap.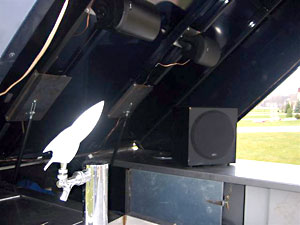 Chris' creation is certainly an inspiration to tailgaters everywhere.