A Sizzling Summer Ride: Borla's 2003 Ford Expedition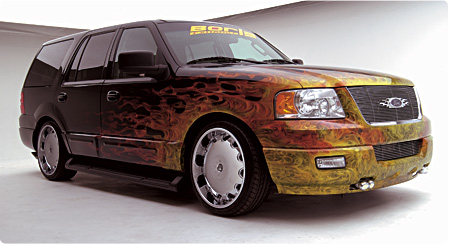 Borla's award-winning Inferno
Enjoying the record-setting heat this summer? Well, grab your sunglasses and some SPF 45 and get ready to catch even more rays as Borla's Inferno hits the streets. Designed for the modern "active lifestyle," this customized 2003 Ford Expedition has been revamped both inside and out with the latest and greatest features to make sure your jaw stays on the floor.
From back to front, the Inferno is unlike any Expedition you've ever seen.
The Inferno's most head-turning attribute is without a doubt the hand-airbrushed paint design and tailor-made flame graphics, created specifically for Borla by Starbucks Graphics. In addition, 22" TIS rims and Trenz billet accessories accentuate the outside, giving the car that sleek and polished chrome look. Finish everything off with Street Glow undercarriage neon lighting and you can be sure the Inferno will be one of this year's most unique and eye-popping rides.
Custom airbrushing from Starbucks Graphics gives the car its scorching name.
Within the Inferno's blistering exterior lie some equally wicked features. Under the hood, the car sports a supercharged Allen engine, complete with re-flashed ECU (Engine Control Unit) and a dual injected Nitrous Xpress system to give it an extra boost. And while this Expedition may be built for extreme driving, Firestone Air Ride suspension guarantees a smooth drive whether you're off-roading or driving to Grandma's house.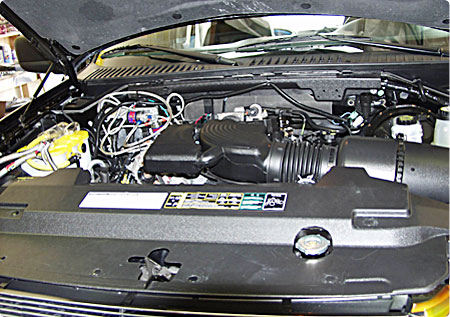 A supercharged engine ensures power to the max.
Borla has also equipped the Inferno with one of their high-performance exhaust systems. Made durable (not to mention easy on the eyes) thanks to its aircraft-grade stainless steel frame, the exhaust is not only lighter than factory models, but will also last much longer. Borla's patented mamximum-flow design also increases the car's horsepower and torque by up to ten percent, while maximizing the Inferno's fuel economy.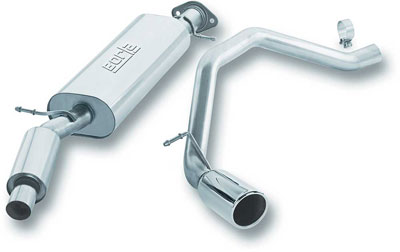 Borla Exhaust System for Ford Expedition 2003-up (4.6- and 5.4-liter V8 with automatic transmission). Buy it now at Crutchfield.com.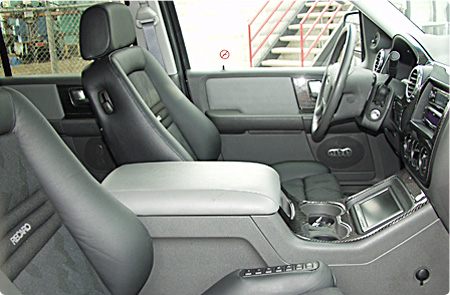 With an interior this nice, you'll want to move out of your house and into your car.
While the outside may scream rough and tough, the refurbished interior makes sure you ride in style and luxury while taking on the sweltering summer temperatures. Recaro captain seats and an Auto-Max dash kit make this unlike any SUV you've seen before. Not that it's possible for someone to get bored in a car named the Inferno, but just in case, Borla has outfitted the car with a top-of-the-line Blaupunkt audio/video system.
A dynamic and poweful system helps fill the Inferno with tasty grooves.
Three 7" monitors, along with an in-dash DVD player, provide a feast for the eyes, while four Overdrive-series 5"x7" speakers assault the ear drums from the front to the back of the Inferno. Six, 200-watt TSw1200 subwoofers lay down pounding bass from inside a trunk-mounted fiberglass box, custom-made to minimize rattling. And to ensure precision and optimum performance, Serenity Sound-installed Scosche wiring connects everything together. It takes a total of nine amps to power this monster system--six for the subs and three for the front and rear speakers--altogether a scorching 2200 watts!
A fiery Ford. (Marshmallows not included.)
The Inferno, created by Borla Exhaust, and sponsored by Pepsi, MTV and Dub Magazine, is one of the headlining vehicles in 2005's Pepsi Street Motion Tour. The tour, which runs through the end of the year, brings the industry's hottest cars, celebrities and musicians to a city near you.
Later this summer, one lucky winner will even get the chance to set their garage ablaze by taking the Inferno home with them.--

Click here to enter the sweepstakes.
Borla's Inferno...adding a little more heat to your summer.