Brendon McQuighan's 1992 Ford Thunderbird SC

The Crutchfield writing team is a group of full-time, in-house copywriters who share a passion for consumer electronics. In addition to creating the articles and videos you find in the Research area of the Crutchfield website, these hard-working and talented people write the informational copy for the products on our website and in the Crutchfield catalog. Our writers constantly research the latest products, technologies, and industry trends, so that we can bring you the most helpful information possible.
More from Crutchfield Writing Team
Items installed:
Aleis MEQ-230 converted to 12 volt
Knu Konceptz.com wiring, power speaker and patch cables
Home Built Sub Boxes
Installation Description
Well I had a system in my old car so I was pretty set on what I wanted to put in this one. I put in my head unit with the kit from Crutchfield. I decided that a 5x7 speaker was too small for the midbass I wanted so I cut my factory holes slightly larger in the front doors to accept a 6x9 speaker. I had some components laying around so I figured I'd put them in the front doors as well for extra sound. The back seat in the t-bird is not very passenger friendly so I just put a set of 5x7s there for rear fill. In the trunk I made a custom amp rack and 2 large ported sub boxes for my subs. My power antenna broke, and I had always wanted satellite radio, so I just made the upgrade to XM.
Q&A Section
Why did you decide to upgrade your A/V system?
I love listening to music.
What's the first thing you show people about your installation?
I like to show off the sub boxes.
Why did you choose these products?
I haven't heard any speakers better than the Infinitys and the Rockford subs were a good deal.
What was the most difficult part of the installation?
Hooking up the eq and making sure it ran through to all the amps.
What plans, if any, do you have for future upgrades?
Maybe a Pioneer head unit, lighter sub boxes.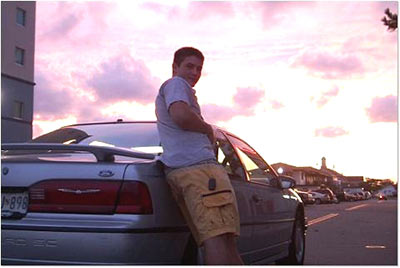 Me and the T-bird

Door Speaker Installation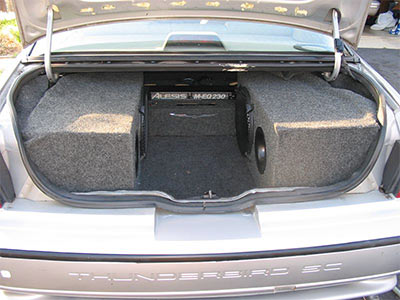 Subs and Amp Rack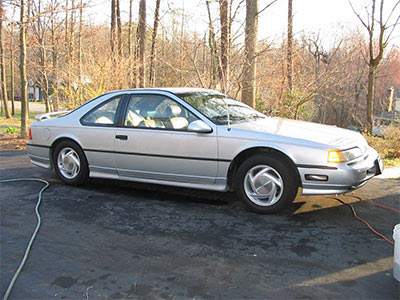 Side View of The Car

Interior Shows Tweeter and XM Location