High-def Lineup: A Comparison of the Panasonic HDC-SD9, Sony HDR-SR10, and Canon HF10
Kristen is a former copywriter for Crutchfield. She wrote copy for both the web and catalog, covering a variety of home A/V products that included speakers, camcorders, and Blu-ray players. She also wrote a number articles and blog posts for the Crutchfield Know Zone.
More from Kristen Schaub
I was excited when I found out that my niece's spring ballet recital was on the same weekend that I had planned on visiting my family. She'd been taking classes for a little over a year, but I'd yet to see her perform. However, I felt a little under-equipped with only my 3-year old Olympus digital camera. I really wanted to film some videos this time, instead of just having silent still images, and I wanted something that would take advantage of my new HDTV's high-resolution screen.
So I borrowed the Panasonic HDC-SD9 from our photo studio to take with me. I'm mainly a camera user, and I haven't had much hands-on time with camcorders. I thought that recording a smooth, high-def video could't be as easy as snapping a photo, but I was actually pleasantly surprised with the experience. I loved how easy the cam was to use, and thrilled that I was able to show my boyfriend the high-def AVCHD 1080i footage in gorgeous color and stunning clarity on our TV.
But I started wondering: how would other high-def cams compare? So I picked up two more — the Sony HDR-SR10 and the Canon HF10 — and decided to put them to the test.

In order from left to right: the Panasonic HDC-SD9, the Sony HDR-SR10, and the Canon HF10. See our comparison chart for a quick overview.
The Panasonic HDC-SD9
Lightweight design
The Panasonic 'SD9 uses an SD® memory card to record high-def footage. The first thing I noticed about it was the small size and light weight. At just 11.8 ounces, it was one of the more convenient cams of the three to carry around. I have small hands, so the Panasonic 'SD9 was a perfect size for me. I could easily reach the zoom, photo, and record buttons with either my right index finger or thumb. And there wasn't a separate mode button for shooting video or for taking photos. They were conveniently combined into one record mode that made it really easy for me to operate the cam.
The Panasonic 'SD9's small size made it perfect for me to hold. It also fit easily in my purse when I went to my niece's recital.
Simple menus and helpful suggestions
The Panasonic 'SD9's menus were easy to navigate, although the toggle that I used to make menu selections took some getting used to. It was located on the inside panel of the cam under the flip-out LCD screen, so I had to cross my hand over the screen to make changes. It also wasn't very comfortable to use; the hard, ridged plastic tended to leave a dent in my finger.
I have to applaud the Panasonic 'SD9 for its helpful suggestions. They made it extremely easy for me to choose the right setting for the environment that I was shooting in. When I took this cam to my niece's recital, it appropriately recommended a low-light setting that made my video look clear in the dark auditorium, even without a video light.
Vivid colors and smooth zoom
With three CCD image sensors — one each devoted to red, green, and blue — the Panasonic 'SD9 produced gorgeous hues. My niece's tutu appeared bright sapphire in stunning contrast to the warm shades of the stage. And the Panasonic 'SD9's optical image stabilization performed superbly at 10x zoom — my video of the recital looked as smooth as if I'd used a tripod.
The Panasonic 'SD9 even delivered 5.1-channel surround sound that sounded great on my home theater system. The built in mic zoomed in with my footage, so as I zoomed in closer on my niece I could hear the music from the stage better. The mic even picked up on the sounds of her dancing on the hard wood stage from way back in the audience, lending a more natural, realistic sound to my videos. The zoom slider also doubled as a volume control when I reviewed my footage, so I didn't have to go into the main menus to change the volume.
The Sony HDR-SR10
Solid design
The Sony 'SR10 has a 40GB hard-drive and a Memory Stick® Pro memory card slot for recording high-def footage. It also had a very distinctive design with a black ridge on the right side that's higher than the rest of the cam. Most of the buttons are located on this ridge, and although it gives the cam a wider grip, I could still reach the buttons.
I really liked the on/off button that was integrated with the video/photo mode slider. I could easily turn the cam on or off, and slide into video or photo mode with just my right thumb. I also liked that the input covers on the Sony 'SR10 cam were weighted slides instead of the more common pull-out covers connected by thin plastic strips. It's a little detail, but it made the cam seem more solidly built and made the covers seem less likely to break off and be lost.
The Sony 'SR10's touchscreen controls made it really easy to use.
Easy touchscreen navigation
I especially liked the touchscreen on the Sony 'SR10. It cleaned up the inside panel where most other cams have buttons. It also consolidated all of the functions into one easy-to-use menu that was simple to navigate and left few fingerprints and smudging.
There were a number of settings that I could adjust to customize my footage, like tweaking the focus and exposure. But I still liked the "easy" mode for quick shooting — it adjusted all the settings for me to best suit the environment I was in, so all I had to do was press "record." The cam also offered a cool nightshot mode to help me see in the dark, though it reminded me of military nightvision goggles and gave my footage a greenish hue.
Natural-looking video
The Sony 'SR10 uses a single CMOS image sensor with excellent light sensitivity and more pixels than are generally found in a CCD image sensor. It produced very natural color schemes and images, so my footage of the gorgeous summer flowers outside my apartment appeared just as I saw them. Although I did like the video quality, I wasn't as impressed with this cam's optical image stabilization. It was pretty shaky at just 15X, so I had trouble zooming in too much without a tripod or other device to steady the camcorder.
Reviewing my video footage and photos was really easy — the Sony 'SR10 pulled up my files very quickly. Sony also supplied a docking station in the box — a handy extra that's rarely seen with most other camcorders. I could leave the dock plugged into the wall next to my computer, and simply put the cam on the dock whenever I needed to charge it or transfer footage to my computer's hard drive.
The Canon HF10
Sleek and attractive design
The Canon HF10 has a 16GB internal flash memory combined with an SD memory card slot. With it's sleek black finish, it was the most attractive cam. It's not one of the smallest camcorders on the market, but it still looks compact and slim. I liked the placement of the control toggle, function button, and playback buttons on the flip out screen. It really freed up the inside panel of the cam, and made it easy to browse through the menus and make selections without having to cross the screen with my hand. My only gripe was the ridged wheel on the right-hand side of the cam that I had to use to switch between video playback, photo playback, record mode, and photo mode. It took longer for me to get used to this setup, because I had to remember to switch to the right mode before shooting videos or taking photos.
I loved the Canon HF10's sleek, stylish black finish.
Extensive options
The Canon HF10 offered a variety of manual choices that provided more flexible recording options. This came in handy when I was trying to create the right effect in a shot of a butterfly on a flower. I could play with the shutter speed and aperture settings, the exposure, and the focus to capture my footage just as I wanted it. A decibel meter in the left hand corner was also a nice touch, because it told me how much sound the cam was picking up. And when it got windy outside, I could manually adjust the audio recording level to pick up more or less noise.
A number of traditional preset modes, like "Daylight," "Cloudy," and "Fluorescent lighting," let me capture beautiful footage in just about any situation without having to adjust all the manual settings. And I really liked playing around with the digital effects, like the black and white and "art tones," for creating a truly unique video.
Crisp, clear video
The Canon HF10 also uses a single CMOS image sensor, so my video footage looked incredibly natural. It devotes just over two megapixels to video, so the results are not only very natural, but also very well defined. I was the most impressed by my flower videos that I took with this cam, because I could see every detail of the leaves and of the insects that landed on them. I also enjoyed the clear definition between colors and objects during recording, which made this some of the most gorgeous high-def footage that I viewed on my HDTV.
The Canon HF10 only recorded in stereo, but was the only cam of the three to offer a devoted mic input. It was also the only cam to have a video lamp. I doubt that I would ever use these inputs, since I don't do much serious recording, but they're definitely a plus for someone who wants more advanced video options.
A simple comparison test
To get a better feel for the similarities and differences between the video that these cams produced, I decided to conduct an experiment on some of the summer flowers outside of my apartment.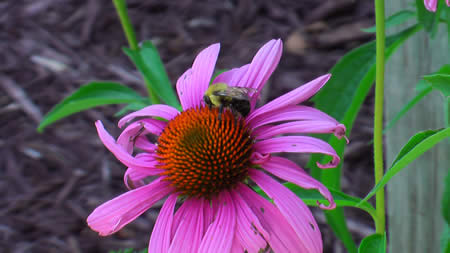 The Panasonic 'SD9 produced the warmest hues, possibly due to the three CCDs, which tend to let in more light for more vibrant colors. The video was very clear and smooth, although I admit that the light weight of the cam helped me keep a steadier hand.
The Sony 'SR10's footage was quite true to life. The touchscreen made it really easy for me to shoot and review my video, so I could quickly make any needed changes and start recording again before the shot passed. It was a little harder for me to hold this cam steady during zooming though, due to its heavier weight at 19 ounces.
The Canon HF10 produced very natural, clearly defined footage. The zoom was very smooth, and shooting in automatic mode produced some nice results. Of course I also had fun experimenting with the manual settings, which allowed me to get more creative with my video.
Playing your high-def footage
Beautifully recorded high-def footage doesn't do you any good unless you can watch it on a high-def screen. All three of these cams have mini HDMI outputs, which made it easy for me to play my videos and photos on my HDTV. All three also have mini USB outputs, so I could play my footage on my computer and save backups to my hard drive. (I also had to plug all three into an AC outlet to give them power while I transferred or viewed my footage.)
It was also really convenient to use my memory card reader at home to play footage from the Panasonic 'SD9's SD memory card. The Sony 'SR10 and Canon HF10 also have Memory Stick Pro and SD card slots (respectively), so I could easily record photos exclusively to the memory card, and then plug the card into my card reader for a quick transfer.
A few software considerations
Keep in mind that if you want to watch, edit, or make DVD copies of your high-def footage using your computer, then you're going to need some software that's AVCHD compatible. AVCHD is a pretty new high-def video recording format, and so far software developers have had some trouble keeping up.
The Sony HDC-SD9 came with an AVCHD player and Picture Motion Browser that played my footage well, but it didn't offer any serious video editing options. The Canon HF10 came with ImageMixer™ 3 SE, which offered more editing options, and unlike the other two, was compatible with both Macs and PCs.
Panasonic packages Pinnacle® Studio 11 Plus with the HDC-SD9, but I found it to be very clunky on my computer. The video was slow and choppy, and the audio quickly fell out of sync with the video. A call to Panasonic's customer service revealed that my computer's graphics card wasn't up to par with what the software required to display my high-def AVCHD footage. So don't forget to make sure that your computer meets all of the operating requirements of the software. You can find this information on the software's packaging, or on the developer's website.
If your computer doesn't meet the correct standards, then you can either update your computer's software and/or hardware, or either buy or download some different software. For more information on choosing software and editing your video, check out Tara's article on editing your home movies.
Here's another high-def shot taken using the Canon HF10. The colors are very true to life, and I could see every vein in the wings of the dragonfly.
My Recommendations
Since the Panasonic HDC-SD9 combined the picture and video modes, and had user-friendly suggestions, I would recommend this cam for beginners. I loved its light weight, as well as the gorgeously vivid hues it captured, and found it to be easier for on-the-fly recording.
If you'd like more true-to-life colors, but still want some beginner-friendly features, then I'd recommend the Sony HDR-SR10. You'll get a little more flexibility with the settings and an easy-to-use touchscreen. It's also a good choice if you want something that will give you the chance to grow as a videographer, since you can experiment with some manual settings like the focus and exposure.
If you're really into shooting video and want a lot of flexibility and control, then the Canon HF10 is a great choice. I really enjoyed the crisp, clear quality of the video and photos. For me, the internal flash memory was also a plus. It's quite battery efficient and has no moving parts, so it should last a long time. And with an accessory shoe and mic connections, you'll be able to expand the cam's capabilities for some more serious filming.