Introduction to car stereo
Robert Ferency-Viars is the managing editor for the Crutchfield car A/V learning content, and has been with the company since 1999. A Virginia native from the heart of the Blue Ridge Mountains, he loves spending time with his wonderful wife and sons, listening to music, writing, and playing games with friends. Robert's love for car audio began at 16 when he installed his first car stereo.
More from Robert Ferency-Viars
A car stereo is the centerpiece of any car audio system. Also known as a radio, receiver, or head unit, today's car stereo performs a variety of complex functions so that we can better enjoy our drive time. To understand these functions, it's helpful to think of a car stereo as having three different sections: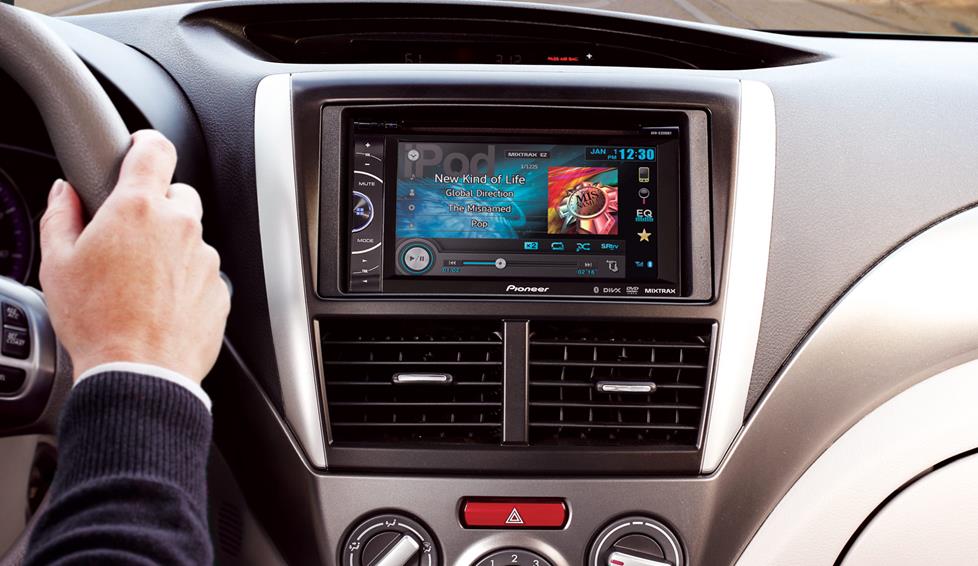 Modern stereos are full of useful features and look great in your dash
Source — This is the part that let's us choose what we want to hear. Sources may include a standard AM/FM tuner, CD or DVD player, satellite radio, iPod® or smartphone, or a USB input.
Preamp — This is where all sound adjustments are made. The preamp section includes controls ranging from simple volume, balance, fader, source selection, and tone adjustments to sophisticated crossovers, equalizers, and time correction.
Amplifier — The amplifier section boosts the small (low-voltage) audio signal coming from the preamp section into a larger (high-voltage) audio signal that's sent out to the speakers.
Why would I want or need a new car stereo?
A new stereo will give you better sound and more playback options than the typical factory stereo.
Better sound quality — Superior built-in power and better circuit design mean that an aftermarket car stereo isn't just louder than the typical factory stereo, it also produces cleaner, richer, more detailed sound. Enhanced tone controls in the preamp section mean that you can do a better job fine-tuning the music.
New sources — One of most common reasons to get a new stereo is to expand your system's music playback and other capabilities. Aftermarket stereos offer advanced capabilities, such as:
MP3/WMA/AAC playback
iPod® and iPhone® support
Support for Android™ phones
Satellite radio
HD Radio™ reception
DVD playback
Bluetooth® connectivity
GPS navigation
Support for Pandora® Internet radio and other app-related sources
We're also seeing increased integration of smartphone apps with both iPhones® and Android smartphones.
Other popular reasons for purchasing a new car stereo include:
More features — Advanced features on new stereos include full-color animated displays, customizable color schemes, touchscreen monitors, and precision sound controls like digital time correction and parametric equalization.
Cool cosmetics — Aftermarket car stereos, with their high-tech displays and cutting-edge layouts, can enhance the appearance of your car's interior.
Expandability — Auxiliary inputs, USB connections, and audio/video outputs let you expand your system by connecting portable music players, rear seat video screens, external amplifiers, and powered subwoofers to your new stereo.
Security — Features like detachable face plates and security codes help protect your investment from theft.
What kind of car stereo is right for you?
It's easy to feel overwhelmed by the sheer number and variety of models in our car stereo listing. How do you know which one is right for you? Our expert shopping guides can help. Click on the links to learn more.