What are component car speakers?
And why do they sound so much better?
Ken Nail has written about car audio for Crutchfield since 2003, after four years as Crutchfield Sales Advisor, and 10 years as a music teacher. He's an avid music listener, whose favorites are classical and film music. When not chained to a desk, Ken spends most of his time training for triathlons and marathons, and likes getting outside for backpacking, downhill skiing, and bicycle touring. He attended West Virginia University, where he received a Master's Degree in Music Performance and a Bachelor's Degree in History.
More from Ken Nail
Component speaker systems (also called "separates") feature separate woofers, tweeters, and crossovers. Components deliver realistic sound with outstanding imaging in the car, making them the choice of serious audio enthusiasts.
Separate woofers and tweeters
Normal coaxial speakers, whether factory-installed or aftermarket, combining the woofer and tweeter into one speaker. It's a convenient way to get great sound from a single speaker opening, but the design of the woofer and tweeter are both compromised in this arrangement. Also, a tweeter mounted on top of the woofer cone will always, to some degree, interfere with the sound waves produced by the woofer.
In a component speaker system, the woofers and tweeters are mounted independently — each component can operate to its full potential, eliminating the problem of the tweeter impeding woofer performance. More importantly, independent tweeters can be positioned for optimum imaging and soundstaging, which results in better sounding music.
The crossovers
Component systems typically use passive external crossovers to achieve clean separation between the frequencies sent to the woofer and tweeter. The woofer and tweeter don't waste energy by trying to reproduce frequencies they're not intended to reproduce. As a result, you'll enjoy cleaner, more efficient sound reproduction.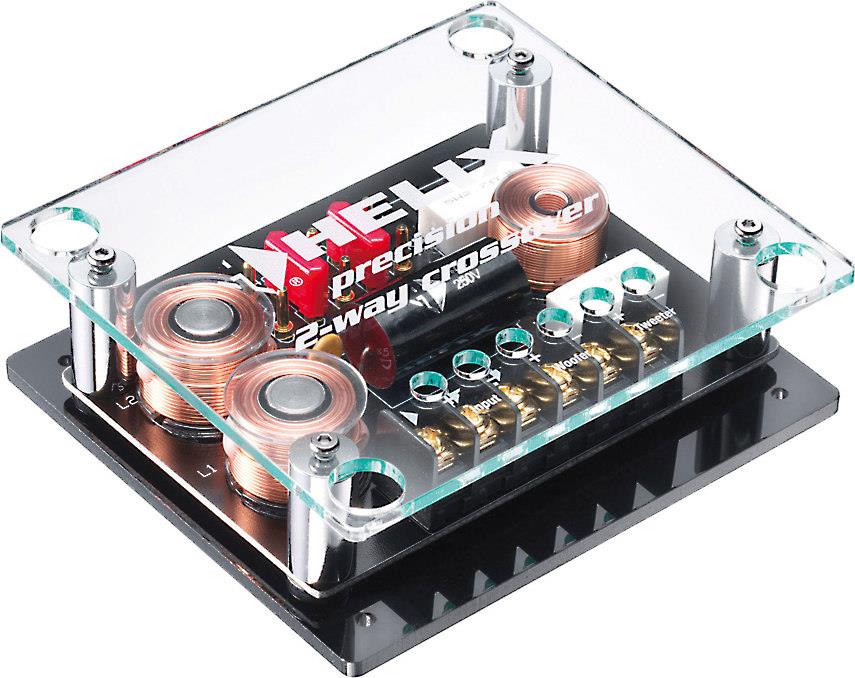 High-quality internal components, like those in this crossover, make a big difference in the quality of your sound.
Many crossovers have extra input terminals to allow bi-amping. Instead of driving the woofer and tweeter with a single channel of amplification, you can connect two sets of cables, with each set carrying the signal from a separate amplifier (or amp channel). This way, both low-frequency drivers (woofers) and high-frequency drivers (tweeters) receive dedicated amplification. Look for this feature if you're planning to put together a serious high-performance system.
Give them the power they need
Often, component systems are designed to handle higher amounts of power than their same-brand coaxial counterparts. They'll work fine when powered by an aftermarket stereo, but they'll really sound their best when powered by an external amplifier. Keep this in mind when you're planning your system. If you don't intend to add an outboard amp, then make sure the component speakers are rated to perform well on just deck power.
More questions about component speakers?
Our car speakers buying guide, goes into a lot more detail about how to choose the right speakers (whether a component system or coaxials) for your car audio system. Be sure to check it out. And then use our vehicle selector to find out which speakers will fit your car.
If you have any questions about your options, contact our advisors via phone, chat, or email (all found at the top of this page). They're here to help.