Multichannel Music in Your Car

The Crutchfield writing team is a group of full-time, in-house copywriters who share a passion for consumer electronics. In addition to creating the articles and videos you find in the Research area of the Crutchfield website, these hard-working and talented people write the informational copy for the products on our website and in the Crutchfield catalog. Our writers constantly research the latest products, technologies, and industry trends, so that we can bring you the most helpful information possible.
More from Crutchfield Writing Team
You sink back into your seat and pop in your brand-new DVD-Audio edition of The Beach Boys Pet Sounds. All of a sudden you find yourself surrounded, no, immersed, in the intricate harmonies and airy melody of "Wouldn't It Be Nice." On one side you hear sun-drenched guitar, on the other bass, while the surging drums, accordion, and saxophone are each distinctly located behind you. Best of all, the sweeping strings and lush harmonies pour in all around you, filling up your car with the sweet sound of the Boys at their best. Yes, you're driving down the road experiencing one of the greatest albums of the last century in an entirely new way, thanks to your in-dash DVD player and 5.1 surround sound set-up. Sound like a nice dream? Not so, for surround sound is quickly going mobile.
Throughout the history of car audio, enthusiasts have pushed their car stereos to produce the best possible sound. AM radio's static-filled broadcasts gave way to clearer, better-sounding stereo FM. Bulky, fragile 8-track tapes were replaced by more durable and compact cassette tapes. Nowadays, many of us have made the move to digital formats, with a CD player or changer spinning the tunes. Or perhaps you're enjoying the digital signal of satellite radio. It's reasonable to wonder what the next step in the evolution of car audio is going to be. To a growing number of listeners and audio experts, the logical next step is multichannel surround sound in the car.
Most of us are familiar with multichannel surround sound. Whether at the movies or in our own homes, the superiority of watching a movie in true surround sound versus the squawky stereo (or mono!) sound from our TVs is stunningly clear. The same transformation is beginning to take shape for music. With their incredibly high resolution, extended dynamic range, and capability to include enveloping surround sound layers, formats like DVD-Audio and SACD have the potential to revolutionize how we listen to music. Suddenly, you're in the middle of the band, or experiencing the excitement of being in the crowd at a live concert! The restricted confines of a car's interior are an ideal environment for enjoying the intensely realistic musical experience presented by multichannel surround sound. Since an increasing number of busy music lovers now look at their daily drive time as an excellent opportunity for serious listening, the combination of multichannel surround sound and car audio looks like a perfect match.
Is multichannel music the wave of the future? Let's look first at some of the different formats that are, or soon may be, available. As with any new technology, there's a lot to learn!
Multichannel music formats can put you in the middle of the concert.
A Multichannel Music Primer
Multichannel music is moving into the mainstream, with many musicians and studios exploring the possibilities of the medium in their recordings. Studios are also beginning to reissue older recordings, "remixed" to multichannel formats. The audio advantages of multichannel surround recordings are many. If you're listening to a "live" performance, a multichannel recording will put you in the middle of the audience. In-studio recordings can capture the acoustical ambiance of the studio or concert hall in which they are recorded, or put you right in the middle of the band itself. Let's examine some of the different formats that are available now for multichannel music, as well as some that are on the horizon.
DVD-Audio.

DVD-Audio has improved on PCM audio technology used in CDs by taking advantage of higher sampling rates — up to 192 kHz, compared to 44.1 kHz for standard CDs. Plus, DVD-Audio discs use the Meridian Lossless Packing (MLP) system that allows discs to hold up to seven times as much information as standard PCM CDs. The result is richer, more detailed sound.

More importantly, for our discussion, nearly all DVD-Audio discs are engineered for surround sound with up to six discrete channels of high-definition audio. Most DVD-Audio discs also contain a compressed Dolby® Digital version of the music for backwards compatibility with standard DVD players. DVD-Audio discs typically contain added video and graphics content, although DVD-Audio is primarily a hi-fidelity audio format. As of early 2004, several manufacturers have DVD-Audio car receivers in development or ready for market, including models from Kenwood, Rockford Fosgate, Panasonic, and Alpine.

Super Audio CDs (SACDs).

Sony and Philips, the companies that teamed up to create the original audio CD, have reunited to develop Super Audio CD technology. SACD uses a new process of sound recording and reproduction called Direct Stream Digital™ (DSD). DSD enables a much more direct signal path than the Pulse Code Modulation (PCM) format of original CD, which requires a number of interpolation and over-sampling filters during recording and playback. The result of DSD's simplified signal path, and of its ultra-high 2.82 MHz sampling rate, is a more faithful reproduction of the original source material and richer, warmer sound.

Although SACDs look the same as standard discs, they can hold much more digital information than regular CDs. All SACDs contain a studio-mixed, high-resolution stereo signal, and many also contain a high-resolution surround sound signal, which can carry up to six independent channels.

Many (but not all) SACD recordings are hybrid discs. They contain two distinct layers of musical information — a Super Audio layer and a standard PCM CD layer. These hybrid discs deliver high-resolution sound when played on SACD players, and they're backwards compatible for standard digital sound with regular CD players. While SACD holds a lot of promise as a high-resolution multichannel format, no manufacturers are, as of yet, producing SACD equipment for the car.

Dolby® Digital 5.1.

We usually think of Dolby® Digital 5.1 when we think of multichannel DVD movie soundtracks. The good news for audio enthusiasts is that most DVD-Audio discs also contain a Dolby® Digital 5.1 version of the music for backwards compatibility with standard DVD players. Dolby® Digital 5.1 uses a compression scheme (or codec) to hold the information on the disc, so there is a slight drop-off in quality between DVD-Audio playback and Dolby® Digital 5.1. However, there are numerous DVD receivers available for the car that have Dolby® Digital 5.1 decoding or can be connected to outboard 5.1 surround sound processors. If you're putting together a mobile video system or want to get on board now with multichannel music, purchasing a DVD receiver makes a lot of sense. Remember, if you decide to upgrade your system to DVD-Audio later, the DVD-Audio discs you've bought for your system will sound even better.

DTS.

Like Dolby® Digital, DTS® provides 5.1 channels of digital audio. However, DTS® uses less compression than Dolby® Digital. As a result, some say that the sound produced by DTS® is slightly more accurate than the sound produced by Dolby® Digital. A limited number of music discs are available with DTS® 5.1 soundtracks. To use them, your receiver or processor must have DTS® decoding capabilities.

Dolby® Pro-Logic IIreg;.

Dolby® Pro-Logic II® processes a stereo (2-channel) recording to create multichannel information, giving any two-channel recording (like a regular audio CD) a more spacious and enveloping feel. Receivers with built-in Dolby® Pro-Logic II® capabilities are available, or will be available soon, from Blaupunkt, Clarion, JVC, Kenwood, and Rockford Fosgate.

HD Radio technology and satellite radio

.

The ability to receive a digital signal on your car receiver holds great potential for the future of car audio, and there is engineering work being done that will allow digital broadcasts to carry multi-channel music. XM Satellite Radio and Neural Audio unveiled SEE (Spatial Environment Engine) at the 2004 CES show in Las Vegas. This digital signal processing technology allows 2-channel broadcasts with special "watermark" information to reproduce a convincing 5.1 channel surround sound experience when used in conjunction with a decoder. XM hopes to introduce this technology at the consumer level sometime soon. Over-the-air digital radio services may benefit from similar technology, as iBiquity Digital, the developer of HD Radio technology, and SRS Labs are collaborating to develop multi-channel broadcast technology.
What kind of equipment is needed for a mobile multi-channel music system?
To experience multi-channel surround sound in your car, you'll need the right gear. You probably already have some parts of the system in place. Here's what you'll need to put together a multi-channel mobile audio system.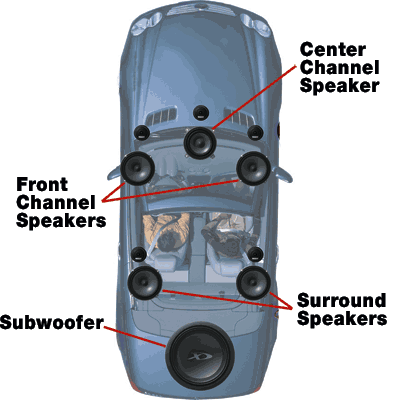 For multichannel playback, you'll need the proper speaker setup.
Two pairs of full-range speakers.

One pair of speakers functions as the left and right front speakers, and the other pair as the left and right surround speakers. Most cars already have front and rear speakers, but to get the best sound quality, it's an excellent idea to upgrade to higher-quality aftermarket speakers.

A center channel speaker.

A center channel speaker establishes a well-defined soundstage in front of the listener. You can add a single full-range car speaker to the center of the dash (this usually requires a custom installation), or go with a small add-on powered speaker.

A subwoofer.

A sub adds essential low frequencies that give more depth and realism to your music. With a sub, you'll hear the bass and percussion more clearly and with improved punch and focus. You can match a component subwoofer to an amplifier, or choose a powered sub. If you need some guidance on the best way to go, check out our Learning Center article on how to choose a subwoofer.

A surround sound receiver or surround sound signal processor.

Once you've got the speakers set up, they'll need to receive the correct information. Your current CD receiver doesn't have the capability to do this, so it's necessary to upgrade. Some DVD receivers have digital decoding built in, for decoding Dolby® Digital 5.1 or DTS® soundtracks. Other models must use a digital cable to connect with a surround sound signal processor. A new generation of receivers will offer the promise of

DVD-Audio

playback.

Amplification.

Whatever type of receiver you choose, it's necessary to have amplification to drive each of the speakers. Some DVD receivers have the necessary five channels of amplification built in, requiring only an amplifier for the subwoofer to be complete. If the receiver doesn't have the necessary amplification, you'll need to have enough outboard amplification to power five full-range speakers (center, two fronts, two surrounds), plus the subwoofer.
What does the future hold for mobile surround sound?
The future looks promising for mobile multichannel music. An increasing number of multichannel discs, in different formats, are becoming available for purchase. HD Radio technology and subscription satellite radio services look like potential sources for surround sound music in the near future. Recording studios and equipment manufacturers are betting that, once consumers begin to get a taste of the capabilities of surround sound in music, they'll be eager to adopt it as their standard, in the same way stereo recordings and broadcasts have supplanted mono.
Essential hardware, in the form of DVD-Audio-, DTS® 5.1-, and Dolby® Pro-Logic II-capable receivers, is starting to become available, as demonstrated by the number of manufacturers announcing plans for new gear. The music industry and electronics manufacturers hope that as the number of recordings grows, more equipment will be sold, and as more equipment is sold, more recordings will become available, driving down price points and opening the technology up to the average user. The future is moving towards surround sound in the car — maybe sooner than you think.