What are factory sound processors?
Upgrade your sound and keep your factory stereo
Zak Billmeier grew up in southern Vermont and coastal Maine. After graduating from Mary Washington College with a Geography degree he still isn't sure quite what to do with, he eventually settled in the mountains of Central Virginia. He spends his free time chasing his daughter around, taking pictures, gardening and cooking. He joined Crutchfield's car A/V writing team in 2007 and is now a lead producer on our video team.
More from Zak Billmeier
Kicker's Front Row puts your music where it should be — right up in front of you
Factory car stereos are getting more and more complicated, as car manufacturers move away from standard-sized receivers to complicated, integrated designs. Often they are tied into a navigation system, climate controls, or other electronic functions, which make swapping them out for aftermarket stereos difficult or even impossible. The problem is, its sound might not be up to your lofty standards.
Replacing the factory speakers is a great way to start. You might also choose to add an amplifier or subwoofer — or both. All of these things, done together or on their own, will improve your factory stereo's sound. But there will always be something holding you back, and it's built right into the stereo.
Factory stereos have built-in sound shaping
Your factory stereo uses preset equalization designed to make cheap factory speakers sound better, meaning that it automatically adjusts the different frequencies, creating audio "peaks and valleys" which can degrade sound quality. It is particularly noticeable when you add amplifiers, speakers and subwoofers to your setup, as any deficits in the sound are literally amplified.
Most factory stereos also limit the bass output as volume increases in an attempt to protect the speakers. The trouble is, even if you upgrade your speakers and install an amp and subwoofer, the bass output is still limited by your factory stereo. This throws your system out of balance and makes the bass sound muddy and weak.
So what if the factory sound doesn't cut it?
Fortunately, there's an easy cure. You can install a sound processor, which strips away the sound-shaping limitations enforced by your factory stereo and sends a clean signal to your external amplifiers. The amps send the signal to your speakers and subs. Your reward will be resonant lows, sparkling highs, and a realistic sense of space and depth.
Are these sound processors complicated to install?
Installation generally isn't too difficult — these processors connect to your stereo using your vehicle's speaker wires, and then to your amps and subs. You'll be able to keep the look and controls of your factory stereo, but expand your system for serious sound.

A sound processor connects to your factory system through your stereo's speaker wires.
The processor removes the factory sound-shaping, so the signal is clean.
The signal is sent to your external amplifier(s). The amps power your front and rear speakers, and subwoofers.
We carry several different factory sound processors, each with slightly different capabilities. Here are a few:
AudioControl's line of factory sound processors lets you take your factory stereo to a new level — they can convert the amplified signal from premium factory systems so you can add your own amps and subs. Their line drivers can send a clean, 9.5-volt signal to an aftermarket amp, giving you clean sound. All their processors have highly customizable configurations.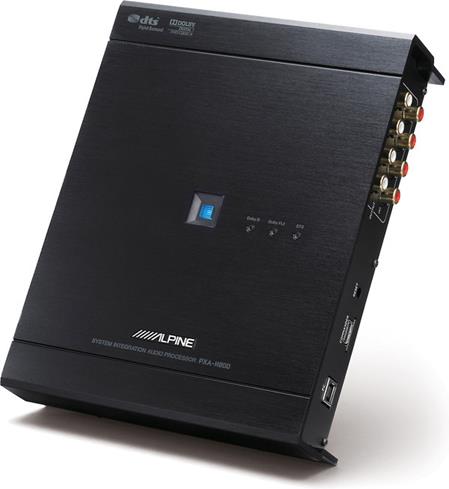 Alpine PXA-H800: Alpine's IMPRINT™ sound-shaping technology is the secret to this processor. Place the included microphone wherever you want and IMPRINT measures your vehicle's acoustics and uses its powerful digital processing to clean up the factory sound and tuning the stereo's output specifically to match your vehicle. You'll be able to tweak the sound a lot further with over 31 bands of EQ per speaker channel and over 10 bands for the sub.
Rockford Fosgate's 3Sixty.3 processor works with your laptop to give you awesome control. Once you load the software from the included setup CD, you can connect the 3Sixty.3 to your laptop with the included USB cable, and get to work creating a perfect-sounding system with the user interface controls displayed on your computer's screen.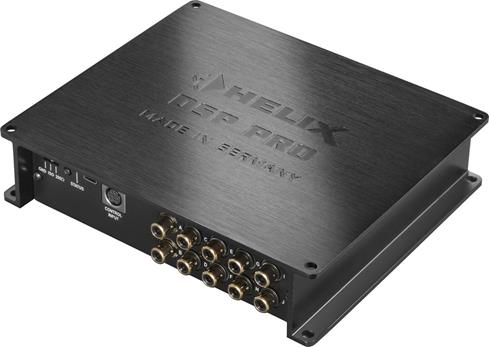 The Helix DSP PRO processor works with your PC to open up a world of sonic adjustments that will maximize the performance of almost any car audio system. The DSP PRO processes its digital signals at 64-bit resolution and 96 KHz sampling rate so you'll get very high fidelity sound along with virtually no noise or distortion.
The Helix DSP PRO's display shows all the controls and settings on your computer screen
Give us a call to see which of these factory sound processors is a good match for your needs. One thing's for sure, your factory stereo will sound a whole lot better.