Blu-ray and DVD player FAQ
Loren Barstow started at Crutchfield in 1999. After working a few years as a sales advisor, he moved on to become a writer and then an editor. He has written about televisions, Blu-ray players, speakers, and various other audio/video components.
More from Loren Barstow

Blu-ray and DVD Player Basics
Q: What's the difference between DVD and Blu-ray Disc™?
A: DVDs were designed with standard-definition TVs in mind. While they look great on standard-def sets, they're not able to take advantage of the benefits of high-definition TVs. As televisions have become more advanced, DVD's limitations have become more apparent.
Blu-ray, on the other hand, is a high-definition disc format designed to maximize the viewing experience available from today's HDTVs. Blu-ray discs and players offer several advantages over the regular DVD format, including improved picture and sound quality. For more information, check out our article on Blu-ray.
Q: What do I need to enjoy 3D Blu-ray movies at home?
A: First, you'll need a 3D-ready Blu-ray player that can read the more detailed information encoded on 3D Blu-ray discs. Some players, like a few newer Sony models, have the ability to upgrade to 3D via a free update over your Internet connection. Others have this ability already built-in. Just be sure to look for the "3D-ready" logo on a Blu-ray player's box
Next you'll need an HDTV that can display 3D video. You'll also need a pair of special 3D glasses from the same manufacturer as your TV for each person who wants to watch 3D TV.
If you plan to send 3D video signals through a receiver, you'll need a 3D-compatible receiver that can pass the specially formatted video signals on to your 3D TV. An added bonus of a 3D-capable receiver is that you can use an HDMI connection between your 3D player and receiver, which is the only way to enjoy the highest-quality Blu-ray surround sound formats.
You'll also need HDMI cables to connect all your 3D gear. Most recent HDMI cables should be up to the job, especially if they're 2 meters or less in length. If you're buying new cables, look for ones labeled "high-speed," "1.3," or "1.4" to be sure. Check out our article about HDMI and our introduction to 3D TV for more info.
Q: Do I have to have a 1080p HDTV for Blu-ray?
A: Blu-ray players let you select the resolution that best matches your TV. When you pair a Blu-ray player with a 1080p display, you'll enjoy the most detailed picture possible. But you'll still get an impressive HD picture with a 720p or 1080i set.
Q: Can Blu-ray players play audio and MP3 CDs?
A: Some early models could not play CDs, but all newer models can. Most newer players can also play MP3 discs. However, MP3 compatibility is not as widespread as audio CD compatibility.
Q: What are BonusView and BD-Live? And what do the different "Blu-ray Profiles" mean?
A: BonusView is a feature found on some newer Blu-ray discs and players. It allows the player to play two different audio and video streams simultaneously, allowing for picture-in-picture functionality. BonusView is often used for director's commentary. The player displays the movie in its original, full-screen form while also playing video commentary from the film director on a smaller, inset screen. Blu-ray players with this function are also called Final Standard Profile or Profile 1 v1.1.
BD-Live refers to interactive features found on some Blu-ray discs. While these features vary from disc to disc, they typically range from behind-the-scenes videos to additional bonus content and online games you can download via your broadband Internet connection. BD-Live-capable players include an Ethernet port, and must also support at least 1GB of flash memory for storing downloaded content. This memory can either be built into the player or achieved through the use of a removable device such as an SD™ memory card or USB thumb drive. Blu-ray players that support BD-Live are also known as Profile 2.0.
Q: I already have an upconverting DVD player. Why should I get a Blu-ray player?
A: Because upconverting DVD players aren't high-definition. They convert lower resolution images to apparently higher ones. In order to achieve that higher resolution, the player fills in additional image data by assessing existing pixels and intelligently predicting what the surrounding pixels should look like. However, it's not really high-definition because the original source, the DVD, isn't high-definition. True HD video needs to be recorded in high-def, with all of the image data present in the original recording.
If you're looking for true high-definition, you'll need a Blu-ray Disc player. This high-definition format delivers detailed HD images as well as improved surround sound. For more information, take a look at our article on Blu-ray.
Q: Why do some DVD movies include two versions (regular and widescreen)?
A: "Standard" (sometimes identified as "Full Frame") is formatted to fit the squarish screen shape of regular TV (4:3 or 1.33:1 aspect ratio). "Widescreen" covers a range of wide formats from 1.78:1 to 2.35:1 and beyond. These wide formats look better on a TV with 16:9 (1.78:1) screen aspect ratio because they fill up more of the screen, and are preferred by many film buffs and videophiles because they're more faithful to the original theatrical version.
Movies that are only available in widescreen can also be viewed on a standard TV, but you'll probably see horizontal black bars above and below the image. Each DVD's packaging should say which versions are on the disc. Check out our article on aspect ratio for tips on dealing with black bars.
Q: How good are Blu-ray and DVD players at playing music CDs?
A: Blu-ray and DVD players make excellent CD players, and current models can also play audio CD-Rs and CD-RWs and MP3 CD-R/RWs you record yourself with a CD recording deck or computer CD-R/RW drive. Some players can also play high-resolution audio, like SACD, DVD-Audio, or both.
A Blu-ray or DVD player's advanced disc transport and digital-to-analog converters are designed for the demanding task of reading and processing the huge amounts of audio and video information on Blu-rays and DVDs. By comparison, playing a music CD is a piece of cake. Based on our experience, these players sound at least as good as a typical CD player.
Q: What about playing discs with Dolby Atmos soundtracks?
All newer Blu-ray players can pass Dolby Atmos soundtracks to compatible receivers. The information is encoded with the Dolby TrueHD stream, which has been a standard format for several years. To enjoy the immersive sound of Dolby Atmos soundtracks, you'll need a Dolby Atmos compatible home theater receiver, as well as at least two in-ceiling or Dolby enabled upward-firing speakers to project sound from overhead. While Dolby Atmos is scalable to smaller systems, we recommend at least a 5.1-channel home theater in addition to the overhead speakers. Be sure to connect your Blu-ray disc player to your receiver with an HDMI cable, and set the player output to "bitstream."
Setting Up Your Player
Q: How should I connect a DVD or Blu-ray player to my TV to get the best possible picture?
Use HDMI whenever possible to get the best picture.
A: You'll want to use the player's HDMI output for the best picture quality. This noise-free connection carries the signal digitally for the best possible transfer. HDMI is also the only connection capable of carrying the improved signal from an upconverting DVD player, and the only one that can deliver Blu-ray's top resolution of 1080p. And since HDMI carries both picture and sound, it lets you make a simple, one-cable connection. HDMI jacks can be found on all Blu-ray players and upconverting DVD players, plus most HDTVs.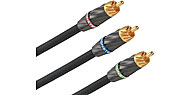 HDMI not an option? Component video is the next best thing.
If your TV doesn't have an HDMI input, or if your DVD player doesn't have an HDMI output, then you'll want to use component video. You're not able to get 1080p with component video, but you can get resolutions of 720p and 1080i (Blu-ray only; component video connections on DVD players are limited to 480p). Component video connections can be found on all DVD and Blu-ray players, all HDTVs, and most newer standard-definition TVs.
Keep in mind that most DVD and Blu-ray players do not include cables — be sure to check before purchase to make sure you get all the cables you need.
See our A/V connections glossary for more information on these and other types of video connections, such as composite video, S-video, and DVI.
Q: How should I connect a DVD or Blu-ray player to my home theater receiver to get surround sound?
A: If you're hooking up a DVD player, you'll want to make an optical or coaxial digital connection between your player and receiver. These connections carry surround sound information from Dolby® Digital and DTS® soundtracks to your receiver, where they're decoded and sent to your speakers.
Optical and coaxial digital connections also let you enjoy Dolby Digital and DTS soundtracks on Blu-ray Disc. However, these connections don't have enough bandwidth to support newer surround sound formats like Dolby TrueHD and DTS-HD™ Master Audio. So if you'd like to get the best surround sound from Blu-ray, you'll want to use either HDMI or a multichannel analog connection. You can find HDMI connections on all Blu-ray players and many home theater receivers, and it's the better option since it's a noise-free digital connection. However, HDMI by itself is not sufficient for getting surround sound — you'll also need a surround sound decoder for the newest audio formats built into your receiver or your Blu-ray player. It doesn't matter which component has it since both will do a great job.
If your receiver doesn't have HDMI, then you'll need multichannel analog audio connections on both your player and your receiver. You'll also need a player with a built-in surround sound decoder. In this setup, the player decodes the audio and outputs an analog signal. Be sure to use good quality cables to minimize signal loss. Keep in mind that most DVD and Blu-ray players do not include cables — be sure to check before purchase to make sure you get all the cables you need.
For more information on whether to connect your Blu-ray player to your receiver via HDMI or a multichannel analog connection, check out our Blu-ray connections article. You can find more information on HDMI, multichannel analog, coaxial digital, and optical digital connections in our A/V connections glossary.
Q: I've heard about Blu-ray players that can stream Netflix movies and other online content. What do I need for that to work?
A few newer Blu-ray players let you stream movies and music from online services like Netflix, Pandora, YouTube, and more. You'll need subscriptions to these services and a broadband Internet connection to take advantage of them. You can find more info in our article on enjoying the internet on your TV. Some other players give you access to other content, like digital photos or your music collection stored on your computer. You can learn more about this feature in our article on enjoying music, movies, and photos from your computer on your TV.
Q: Some Blu-ray players refer to an iPhone® or Android™ app that allows me to use my smartphone as a remote control. What do I need for that to work?
Manufacturers have developed a growing number of free applications to download to your iOS or Android smartphone to enable them to function as a remote for audio/video gear. These applications create a visually appealing and intuitive graphic user interface on your smartphone that not only lets you control your system, but frequently include metadata about the entertainment selections you're enjoying, such as artist and album info. In addition to a compatible phone, you will need to have your Blu-ray player connected to a running Wi-Fi® network in your home. Some Blu-ray players have built-in Wi-Fi antennas, while others require an add-on "dongle" to enable Wi-Fi connectivity. If your Blu-ray player has neither of these capabilities, you will need to connect the player to your network via Ethernet.
Q: My computer has a DVD-R/RW drive. Can I play these discs on my home DVD player? Similarly, can I play BD-R and BD-RE discs that I make on my computer's recordable Blu-ray drive on my home Blu-ray player?
A: For DVDs, this will depend on the recordable DVD format you use and on the compatibility of your DVD player. Virtually all current DVD players can play at least one type of recordable DVD (DVD-R/RW, DVD-RAM, DVD+R/RW), and many can play more than one type. The most commonly compatible is DVD-R; the least commonly compatible is DVD-RAM.
You don't have as many options when it comes to recordable Blu-ray discs. They only come in two varieties — write-once BD-R discs and rewriteable BD-RE discs. While some early Blu-ray players could not play these formats, we're starting to see newer players that can. Be sure to look for a player that's compatible with BD-R/RE discs if this is important to you.
Keep in mind that if you want to play home-burned DVDs or Blu-ray Discs on your home player, you'll also need DVD or Blu-ray authoring software. This software creates discs in the standard video formats that stand-alone players can recognize. If your computer, DVD burner, or Blu-ray burner didn't include this software, you can find it at leading computer retailers.