A Review of the Logitech® Squeezebox Duet
Listen to your digital music through your best speakers
Chris Egner is a former writer for Crutchfield. She concentrated on point-and-shoot cameras and speakers while she worked here.
More from Chris Egner
The sleek, small Squeezebox Duet sends music from your computer to the speakers you choose.
As a kid, I figured my future would include flying to work and having a robot clean the house (remember The Jetsons?). While reality hasn't quite caught up with cartoons, today's high-tech electronics can seem pretty magical. Last week I had a blast trying out the Logitech Squeezebox Duet — a smart new wireless music player that grabs digital tunes from your computer and plays them through the speakers of your choice. Pretty Jetson-esque, I'd say.
What a wireless music player can do for you
Storing your CD collection on your PC gives you easy access to your tunes and gets rid of all those mismatched cases and discs strewn across the living room floor. And your computer holds the key to a wealth of Internet music — you can listen to radio stations from all over the country, subscribe to online music smorgasbords, and add the latest hits to your digital library with just a few quick keystrokes.
So what's the downside? Your computer is probably tucked away in your home office, and its speakers are most likely not the best speakers in your house. Wireless music players or "streamers" let you play songs from your PC over the bigger, better home theater speakers in your living room, or through any set of powered speakers in any room.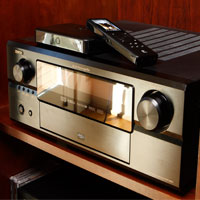 Hook the receiver to your sound system, but carry the remote from room to room.
New main squeeze
The Duet is named for its two components: a thin, paperback-sized receiver that makes a Wi-Fi® connection with any and all of the PCs in your network; and a wireless handheld controller that lets you choose tunes as you roam around your home, without a detour to the receiver.
The controller has an intuitive scroll wheel, so it's simple to view menus and select songs. Your finger fits into the wheel's recessed groove, the controller is backlit, and audible "clicks" mark your actions — so even in a darkened room, you won't have to fumble or guess as you make selections. The large 2-3/8" high-resolution LCD screen is bright and easy to read, and it automatically displays any album art associated with a given song as it plays.
Setting it up
As soon as the Duet arrived here at Crutchfield, we decided to open it up and give it a test run. We set it up in five easy steps:
We went to slimdevices.com and

downloaded the free SqueezeCenter™ software

that would in turn find the music files stored on our network.
Although the battery came partially charged, we let it rest on the recharging stand until it was fully powered. Then we

put the battery into the controller

.
We plugged the receiver in, turned it on, and it

identified the networks within our building

. We clicked on the one we wanted from the choices listed on the controller.
This network is protected, so we

entered our encryption password

digit by digit using the arduous "scroll and select" method. Luckily, this was a one-time-only thing. Once the Duet added our network, we were able to subsequently access it without re-entering the password.
At the controller's prompt, we

downloaded a firmware update

that only took a minute or two.
Getting the Duet up and running only took about ten minutes. We were ready to hear some tunes.

The Duet's intuitive controller makes it easy to browse through your tunes.
Moving music from here to there
My coworker Bruce linked the receiver to the speaker system in his office. Then we started scrolling through the menus on the controller. Almost immediately, we were able to choose songs from his library or select Internet radio stations, and we flipped back and forth between these two sources pretty quickly. The Duet is also compatible with online music services like Pandora® and Rhapsody®. We hadn't subscribed to such a service, so we mainly stuck to Bruce's ripped CDs. Still, I was excited by the myriad of music sources available at our fingertips. I also liked that I could bookmark songs or stations as "favorites" and create new playlists with the controller.
Next we put the Duet to the real test — how would the receiver handle our colleague Ralph's 8,000-song library? It took the Duet almost two hours to build connections to Ralph's collection. Thankfully, after that first long installation, Ralph's tunes were there for the taking. He could even set the Duet to automatically power on as soon as he opened his laptop each morning. And when he added new songs to his library, the Duet updated its directory in less than 30 seconds.
The controller communicates directly with your computer, and playback information is displayed in the palm of your hand, so there's no need to stay near the receiver to control your music. You can change tunes without leaving the dinner table, or browse songs from bed. We wanted to see how far the Wi-Fi® might stretch, so we left the receiver hooked up to the speakers in Bruce's office and walked with the controller one flight up to my department. We thumbed through Ralph's music files and chose some tunes that played down in Bruce's office. There's a lot of competition for bandwidth here at our headquarters, plus potential interference with wireless connectivity from ceilings and walls. We were impressed that the controller performed at such a long distance away from the receiver.
One feature we didn't explore is the Duet's ability to access your music even when your computer is off. You can easily sign up for a free, always-on Internet service called SqueezeNetwork. This software directly connects the Duet to Internet radio stations or to an online locker that stores your personal music collection.
We used one of the receiver's two digital audio connections to get crisp, clear sound.
How it sounded
How did our tunes sound? Fantastic. We were pleased with the sharp detail we heard. The receiver has a stereo RCA audio output and two digital audio outputs (optical and coaxial), so you can make clean connections to your sound system. Of course, how good your music sounds will also depend on the quality of your audio equipment and the type of digital music files you play.
The Duet supports pretty much every music format out there, including uncompressed, high-quality lossless files. It does not, however, play protected DRM music files, like songs you buy from the regular iTunes® store. Ralph discovered that protected files from his library simply didn't show up on the Squeezebox controller's menus at all — a feature I found sensible, if "out of sight" means "out of mind" and prevents disappointment.
Two minor issues
It seemed to take forever to scroll through longer playlists, particularly as we navigated through Ralph's gigantic library. But we discovered that if we continued to scroll at a steady clip, the controller realized we had a ways to go, and it automatically jumped to the next chunk of menu items. For example, if we were looking for the song "Love Shack," we'd have to scroll through the "A" songs and probably some of the "B" tunes, until finally the controller skipped quickly ahead through the Cs, Ds, Es, and so on. I'm impatient, so I think in this example I'd just select the earlier-in-the-alphabet "B-52s" from the "artists" menu instead.
Our second grumble stemmed from times when the controller was "thinking" after we'd given it a command. We were unsure whether anything was happening, and we ended up falsely assuming that the Duet had "frozen up." The controller doesn't display an indicator icon like an hourglass, so it can be tough to tell. We finally got used to that quirk and just trusted that the Duet was working away (as it invariably was).
An expansion option
The Duet's two pieces are also sold separately as add-ons (you save a little cash when you buy them bundled as the Duet). This means you can add a second receiver to another sound system in your bedroom, kitchen, den, patio, or anywhere around the house, and listen in more than one room. You can play different music on different speakers simultaneously, or synchronize all your sound systems to play the same tune.
The controller works with the first and any subsequent receivers you add — just switch back and forth between the receivers by selecting the one you want from the controller's list. Or you can pick up extra controllers and dedicate one to each receiver. It's even backwards compatible with the Squeezebox Classic, and works with the top-of-the-line Transporter as well, so you can update either of those Squeezebox systems with this cool new controller.
Our verdict
We'd been eagerly anticipating the Squeezebox Duet, and it did not disappoint. This wireless music player makes sense for anybody looking to listen to stored digital tunes, Internet radio, and online subscription music without being tethered to the computer. Best of all, there's the option of expanding your music into multiple rooms with extra receivers, and managing playlists more conveniently with multiple controllers. Bottom line — its simple setup, user-friendly controller, sound clarity, and versatility make the Logitech Squeezebox Duet an appealing avenue for enjoying your favorite digital music.