The Canon EOS 40D: A Creative Workhorse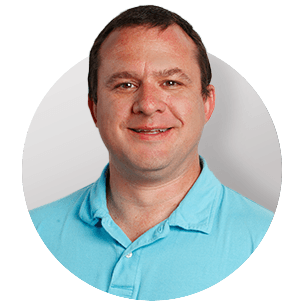 Zak Billmeier grew up in southern Vermont and coastal Maine. After graduating from Mary Washington College with a Geography degree he still isn't sure quite what to do with, he eventually settled in the mountains of Central Virginia. He spends his free time chasing his daughter around, taking pictures, gardening and cooking. He joined Crutchfield's car A/V writing team in 2007 and is now a lead producer on our video team.
More from Zak Billmeier
I love digital photography. I've been using my Canon Digital Rebel since 2004. But digital cameras have been improving steadily, and I felt it was time to step up to a new camera body. I knew I wanted another Canon because I already have a collection of compatible lenses, batteries, flashes, and other accessories.
For me, the choice was clear: the Canon EOS 40D. I wanted a more rugged body, since I really do drag my camera nearly everywhere I go. The 40D boasts a magnesium-alloy body surrounded by high-quality plastic and rubber, and it's weather-sealed around the battery and flash card slot. Other cool features include a 10.1-megapixel image sensor, improved autofocus, a sensor cleaning feature and a huge 3" LCD screen. You can pick one up as part of a kit with a 28-135mm image-stabilized lens, or as just a body if you already have enough Canon lenses.
First impressions
Right out of the box, the 40D just feels solid. It's coated in rubber where your hand goes for a superior grip. The body is even raised at the corner just a bit in the crook between your thumb and forefinger, so it fit naturally in my hand. It's very comfortable to hold, even with bigger hands like mine.
The 40D's grip is contoured to fit your hand, and coated in rubber so it won't slip.
A small wheel near your index finger lets you change primary shooting or menu settings. You use the larger wheel by your thumb for secondary functions, like fine-tuning certain camera controls before taking a shot. The ergonomic placement of these wheels made shooting easier — I found that I could change critical settings with one hand, in most cases without taking my eyes away from the viewfinder.
The shooting mode dial on the left has two zones. The "Basic Zone" contains various preset scene modes like "portrait," "sports" or "landscape," while the "Creative Zone" has full manual and "priority" shooting modes. Priority modes let you take control of one function, like the speed of the camera's shutter, and the camera chooses the other settings to get a proper exposure.
The C1, C2, and C3 positions on the dial can be programmed to recall complete camera-setup memories.
New features that save you time
One of this camera's most useful new features is the three user-programmable slots. They're conveniently located right on the dial, and let me save the exact state of the camera for whatever situations I want. For example, I shot a wedding with this camera, and was constantly moving in and out of various lighting conditions. The programmable slots on the dial let me call up the proper settings for each location with a simple twist of the dial.
There's also a "custom menu" tab where you can assign up to six menu functions you use all the time — it's another great feature, because it lets you assign shortcuts to your favorite menu items. For instance, I like to format my CompactFlash® card every time before I start shooting, and that function is hidden in one of the many menu tabs. So I set it as the top function in my custom menu tab, making it easily accessible each time I pop in a card.
I take a lot of pictures, and I've found that one of the keys to getting the photos you really want is simple: have a camera handy. Rarely do I go anywhere without one, and so a nice hike along the river gave me the excuse I needed to get to know the 40D a little better.
I can see key settings through the viewfinder, like my shutter speed, how many shots I can take in burst mode before the buffer fills up, my aperture and exposure settings, and the sensitivity or ISO setting.
Why it's nice to see the ISO setting through the viewfinder
"ISO" refers to the camera sensor's sensitivity to light. A high sensitivity setting lets me capture images in low light, while a low sensitivity setting is best for brightly lit environments. I really liked having the ISO setting visible through the 40D's viewfinder. Otherwise, I may be shooting inside in low light using a high sensitivity setting, and then waste a bunch of shots outside the next day because I forgot to turn it back down for outdoor lighting, resulting in "blown out," overexposed photos.
Image sensor cleaner
Dust can collect on an image sensor whenever you remove a lens from your camera, or when you're using a zoom lens that extends and contracts, sucking in air and dust in the process. Over time, dust specks can start to appear in your photos, and cleaning an image sensor by hand is best left to professionals. Having a built-in sensor cleaner is quite handy if you change lenses a lot. You can set the 40D's sensor cleaner to gently shake the sensor free of dust every time you turn the camera on and off, or you can engage the cleaner manually at any time through the menu.
The 40D's screen is big and bright.
Bright 3" LCD screen
A 3" LCD screen dominates the back of the camera, and it's plenty bright enough to see in the sunlight. Colors on the screen are rendered accurately, probably the most important thing to me because I like to peek down now and then to confirm that my shot is exposed properly. I like to turn on the "highlight alert" feature when I'm outside, which lets you know if part of your image is overexposed.
The screen is capable of live view too, kind of like a point-and-shoot camera. I say "kind of" because you lose autofocus in live view, so it doesn't quite function like a point-and-shoot. It's probably most useful in a studio setting, or for close-up macro work.
Capture the action: high-speed shooting
The 40D is very fast. It's rated at 6.5 frames per second in "high-speed burst mode" at faster shutter speeds. When I was outside shooting geese flying around a lake, it was more than adequate. It's definitely a great choice for folks who like taking pictures of sports. You can take full advantage of the 40D's burst mode thanks to an upgraded buffer, or how many shots you can take before the camera has to pause to write files to your memory card. It'll take 17 RAW files or 75 large/fine jpegs before it needs to stop and catch up. A quality memory card with a fast write speed can save the photos faster, freeing up space in the buffer so you can shoot more pictures.
The 40D's high-speed burst is great for shooting wildlife action shots.
My results
Okay, so it feels great, has cool new features, is built well and may be able to fold my laundry. But what about the most important thing — how do the pictures look? After all, it's the ends that justify the means in photography. For my first test shots, I strapped on the 28-135mm IS (image-stabilized) lens that came with the camera kit.
A hawk making a turn. Thanks to the 40D's 10.1-megapixel sensor, tight crops like this one come out nice and clear.
After coming back from my hike, I figured I'd snap some shots indoors in low light to see how the 40D performed at its highest sensitivity settings — ISO 1600 and 3200. Whenever you use higher sensitivity settings, noise — or graininess — begins to creep into your photos.
The noise under those conditions surprised me, it was so low. I was used to much grainier-looking shots at the higher settings. Even on my computer monitor, where noise is most obvious, I found it more than acceptable. I bet I'd hardly notice it in an 8x10 print. Everyone's tolerance for noise in digital photos is different, but in my opinion the high-ISO performance of the 40D is exemplary. Pictures taken in ambient light without a flash always have more depth and emotion, and when your camera performs this well under those conditions, you'll find yourself using the built-in flash only as a last resort.
Image stabilization stops the shake
The lens' image stabilization really does work. I even got some useable shots at very slow shutter speeds — as slow as 1/6 second. Image-stabilized lenses compensate for shake, essentially allowing your hand to stay still longer. Without image stabilization steadying my hand, I'd need a tripod to get a decent picture with a shutter speed that slow. The picture below is a good example — I was able to capture the motion of the water by slowing down the shutter, and best of all I was able to leave my tripod at home.
To get this "silky water" shot, I had to slow down the shutter speed. Normally I'd need a tripod to pull this off, but the image stabilization in my lens let me shoot by hand.
Conclusions
The Canon 40D a great step-up for the serious amateur photographer, and probably fast enough to be a pro's backup body. If you like total control over your shooting conditions, the 40D will serve you well. I love how I can assign my own menu settings and save my own camera settings for different situations — they're both amazing time-savers that help me get the shots I want.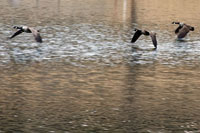 The 40D's high-speed burst is great for shooting wildlife action shots.
The 40D has tons of photographer-friendly features. The controls are laid out well, and won't slow you down when you're shooting pictures. Its high-ISO performance, color rendition, and speed are outstanding. It's built to last and feels great in your hand all day. If you've shot with film cameras, feel like you need just a little more than your entry-level model gives you, or are a control freak with a camera in your hand, the 40D is a great choice. It's a creative tool that will grow with you as your interest in photography evolves.