1999 Skyline GT-R V-Spec Custom Install

The Crutchfield writing team is a group of full-time, in-house copywriters who share a passion for consumer electronics. In addition to creating the articles and videos you find in the Research area of the Crutchfield website, these hard-working and talented people write the informational copy for the products on our website and in the Crutchfield catalog. Our writers constantly research the latest products, technologies, and industry trends, so that we can bring you the most helpful information possible.
More from Crutchfield Writing Team
Anyone who's been to the movies lately has probably seen this car — Brian O'Conner (played by Paul Walker), the hero of
2 Fast 2 Furious
, tears up the streets of Miami in this Nissan Skyline GT-R V-Spec. Thanks to Craig Lieberman and two of his sponsors, JBL and Infinity, we've got an opportunity to look beyond the glare of the set lights, and get a feel for what's in this fine ride.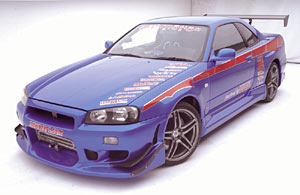 Carbon fiber front and rear under-body diffusers add some smooth lines to the Skyline.
Craig Lieberman has long been a fan of exotic cars. He's served as Marketing Director for Eibach Springs, Race Director for the National Import Racing Association, and is the current Youth Marketing Director for Meguiar's, the venerable car care products retailer. But he's probably best known for serving as Technical Advisor to
The Fast and The Furious,
and now again in the sequel to that blockbuster,
2 Fast 2 Furious
. His stunning orange Supra was the true star of the first film, and his wife's Maxima played a supporting role. Both cars were sold this past winter, with the
2 Fast 2 Furious
Skyline serving as the Supra's replacement.
A C-West carbon fiber rear wing keeps the tires planted to the asphalt when you pop the nitrous.
The V-Spec edition of the Skyline incorporates carbon fiber front and rear under-body diffusers and a stiffer suspension onto a standard GTR-R Skyline. Skylines are known worldwide for their exotic power plant: in line 6 cylinder engine; twin turbo; all wheel drive; right hand drive; four wheel steering; 280 horsepower; Brembo racing brakes — all standard. The car is so good, it's banned in most racing series. This particular car used to be the infamous Blackbird, owned by none other than the top dog at MotoRex, a company that imports the Skyline into the US exclusively.
The Skyline comes from the factory stocked with 280 horsepower. Once Craig completes his projected upgrades, including adding HKS turbos and a sequential gearbox, the Skyline should crank out over 700 horsepower!
The new project car came with a host of upgrades including Ohlins coil overs, a C-West body kit, a carbon fiber rear wing. Apex goodies include a Power FC, upgraded cams, fuel system and upgraded turbos. But that was only the beginning, as Craig had big plans for maximizing the Skyline's performance potential.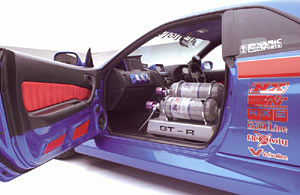 The Nitrous Express 150hp direct port nitrous system includes three carbon fiber bottles.
The paint job was the first to go. Craig invented a special proprietary candy blue color to cover the basic black. Next, RJ Simrock of Team AEBS-fame crafted a one-off custom cage. Every contour is custom-tailored to Craig's spec. Sparco seats, a Sparco steering wheel, and Sparco harnesses ornament the interior. The custom nitrous installation is compromised of three carbon fiber bottles, electric bottle openers, and an intercooler spray bar from Nitrous Express.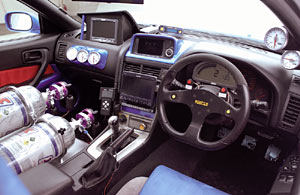 Among the gauges available at a glance: boost, EGT, fuel pressure, oil pressure, oil temperature. Plus, check out the pop-up Clarion monitor riding shotgun.
Another nice touch — the Skyline is right-hand drive.
The use of carbon fiber and high tech materials is a common theme throughout the car, such as on the custom brackets made for the nitrous solenoids, the hand-bent lines, and the billet switch panel in the center console. The nitrous system alone cost more than $6000 including parts and labor. During this stage of the project, many JDM parts were added from foreign suppliers, including a trick carbon Kevlar air box provided by K&N of Japan, a Nismo strut tower bar, Apex coolant surge tank, Garage oil vapor catch tank, and Cusco A-pillar meter panel. The intake plenum was polished, as was some of the linkage. A Mine's carbon fiber radiator tray helps direct air into the $1600 air box. Hose Techniques and AEBS rounded out the engine dress up with hoses and trick clamps.
Other mods include a full Nismo suspension, comprised mainly of some trick boxed aluminum suspension uprights and a giant brake upgrade. The V-Spec GT-R comes with fantastic Brembo brakes at all four corners, but with 19" HRE polished wheels wrapped in extremely low profile Toyo Tires, something was missing. Stop Tech provided 380mm front and 328mm rear racing brakes, custom-built just for this car. At this stage, the car lacked only interior trim and fabrication, and a wicked audio/video system to make it complete.
A Sparco Milano racing seat cradles the driver.
The rest of the car had been built with an eye towards saving weight, so Craig pondered a solution to his problem of how to add killer sounds to a car without turning it into a tank. The sound system mods revolve around the Clarion VRX925VD in-dash DVD/CD/MP3 receiver with built-in 7" monitor, and two Clarion VMA7191 7" widescreen LCD monitors. One monitor pops out from in front of the passenger seat (on the
left side
of the car in this right-hand drive model); the other monitor is suspended above the amps in the trunk on a fiberglass arm. Video sources include the VRX925VD's built-in DVD player, a Clarion TTX7501z television tuner, a Clarion VCZ625 6-disc DVD changer,
and
a Sony Playstation 2.
The Clarion DVH920 digital sound processor decodes audio signals into 5.1 channels for true surround sound. Two JBL P80.4 4-channel amps feed the Infinity Kappa Perfect 6.1 component systems mounted in the front doors and rear deck with 40 watts RMS per channel. The rumble of the low end comes from the trunk, where twin JBL W12GTi 12" 6-ohm dual voice coil subs subs feast off two JBL BP1200.1 subwoofer amps. West Coast Customs crafted blue fiberglass mounts throughout the car. The result is a system that is (relatively) lightweight but extremely proficient at drowning out the sweet sounds of an RB26 through an HKS titanium muffler.
The trunk houses another Clarion VMA7191 7" monitor suspended over the twin JBL subs and the JBL amps.

Upon completion of the audio system and after return from its role in
2 Fast 2 Furious
, Craig's Skyline is off to HKS for an aggressive round of engine mods. The current spec list reflects the parts in Craig's garage today, all waiting to be installed on the car. Big HKS turbos, intercooler, suspension upgrades, and electronic upgrades will turn this modest street performer (if you can call 505hp modest) into a strip terror boasting more than 700hp. HKS' sequential gearbox will ensure blistering ET's (and broken axles).
Myron Davis CCD color cameras are mounted in the front and rear bumpers.
The car was built to play a role in the sequel to
The Fast and the Furious
and companies like HKS, K&N, NOPI, GoldLine, Flexivity, and Valvoline all provided support to the project. Advan Wheels, Toyo Tires, Sparco, Clarion, AEBS all deserve mad props, according to the grateful owner. Craig estimates that reproducing the car would cost more than $150,000 but notes that this car too will be for sale after
2 Fast 2 Furious
is over. In the interim, Craig plans to merchandise and tour with the car, selling everything from t-shirts to posters to help promote his new web site, www.MovieCarz.com. It is reported that he'll be using this site to help recruit cars for various motion picture, TV, or video projects on which he's working.
Content and pictures courtesy of JBL and Infinity Mobile.