dB Drag Racing
An interview with Wayne Harris
Tim Sprinkle is a talented writer and car audio enthusiast who wrote for Crutchfield for several years before life took him away from Virginia to Colorado, and onward to greater things.
More from Tim Sprinkle

Wayne Harris, President and Founder of the db Drag Racing Association.



Ohio's Team Baldman Creations maxed out with an SPL of 175.2 dB at last year's World Finals.



Glass windshields can break under pressure, so most are replaced with reinforced plexiglass.
Wayne Harris is a man you can't help but listen to. As president of the dB Drag Racing Association, he heads up one of the largest organizations in the noisy world of stereo sound-off competitions, traveling the globe promoting his sport to thousands of car audio enthusiasts. What is dB Drag Racing? Imagine the loudest sound you've ever heard, like a 747 at take-off, and then think about bottling that sound inside a car and cranking it up. The idea is to generate the highest Sound Pressure Level (SPL) you can and measure it on a drag racing-style meter in real time. Competitions are head-to-head with the loudest system coming out on top.
His passion for the loud dates back almost 20 years, when the then-23-year-old Harris took the fledgling car audio world by storm, building two award winning systems and dominating the competition circuit for nearly five years. His thundering accomplishments are still legendary in sound-off circuits, and his "Terminator" car remains a top show draw, even though he's been out of competition for more than a decade. His success paved the way for a long career in the car audio industry, working as a design engineer for both Orion Audio and Rockford Fosgate before leaving in 2000 to head up dB Drag Racing full time.
Crutchfield Advisor caught up with Harris last month as he was preparing for the 2003 dB Drag Racing World Finals.
Q:
What's your title with the dB Drag Racing Association and what does the organization do?
A:
I'm the president and founder, and our job is to sanction car stereo competitions. The dB Drag Racing format is simply head-to-head competition to see who has the loudest stereo. We started in 1996 with one competition and have grown to over 1,000 events a year in 54 countries.
Q:
What makes a dB Drag Race different from the other kinds of car stereo competitions?
A:
There are all different types of competitions out there — some for sound quality, some for appearance, some incorporate elements of installation quality, and then there are the SPL contests that just measure how loud you can get. The problem we found with the other formats is that there's a level of the judging that's subjective, whether it's how good your system looks or how it sounds. So our goal with dB Drag Racing was to have really high energy, in-your-face competitions that are very objective and fair for all the competitors. Your score is whatever the meter says it is, whatever your SPL is, so you can't get more objective than that.
Q:
Where did dB Drag Racing come from?
A:
My experience goes back to 1984 when I started building a system in my car to go cruising. One of my friends told me about a contest where you could compete with your car stereo, so I went to Dallas to check it out. They were called "Rolling Thunder" contests and they were being put together by a local sales rep named George Reed to get people interested in car stereo and build up his business. It was super grass roots, something that had never been done before, and people really got into it. He held the first national championship, which I won, and helped get me noticed by the industry. Those contests were really the basis of modern car stereo competitions.
But by the mid to late 90s I had decided that the format being used for SPL competitions wasn't going to be successful since it just wasn't exciting to watch. The cars were each being judged individually so the only thing for the crowd to watch was the standings board after each contestant was done. It was boring. So I got together with some friends and we came up with the idea for dB Drag Racing — head-to-head competition with an SPL meter that would get the crowd into it and really be exciting.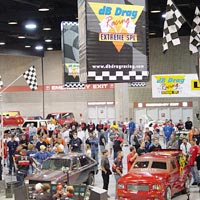 The show floor at a typical dB Drag Racing event.
Q:
Walk me through a typical competition day.
A:
The first thing that happens is people come and sign up, then every contestant has the opportunity to go through the judging lanes at least once to establish a score. This is essentially the first round of competition. Their score is the sound pressure level they manage to reach during the 30 second judging period. After everybody is qualified, we take the eight loudest cars for the the first elimination round, and all of those rounds are done head to head, with the highest score moving on to the next round and the loser being dropped from the competition. It's a very competitive atmosphere and it's very exciting.
Q:
What do the competitors get out of this?
A:
For most it's a hobby, just a way to have some fun and do something they enjoy. That's the great thing about car stereo, it brings together a lot of different interests: cars, music, technology, girls; so you get a really diverse and interesting crowd. The competitions are a good way to meet people, make friends, and there's a real strong sense of camaraderie between the competitors. They also learn a lot about engineering, acoustics, and electronics; skills that they can take out into the job market later on.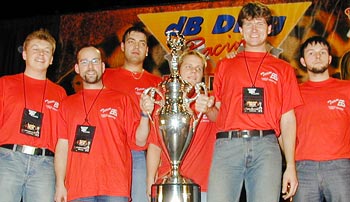 At the end of the day, success on the dB Drag Racing circuit takes teamwork.
Q:
What are the classes of competition and what sort of guidelines do the competitors have to follow?
A:
There are three divisions: street, which is essentially unmodified; super street, which is for cars with larger systems; and extreme, which is more or less anything goes. It still has to resemble a car, though, at least to some degree. We want to encourage people to be creative, but to work within certain guidelines to make it fair and fun for everyone. The regulations also help us with our relationships with sponsors by requiring competitors to use off-the-shelf components and making sure they don't divert too far from what car stereo is really about.

Testing for resonance before a competition.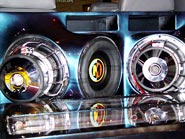 Advanced enclosure designs and state-of-the-art subs combine to generate record-shattering SPLs.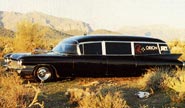 "The Terminator," Harris' award-winning system circa-1986.
Q:
What's the key to getting the most out of a system?
A:
I always say it's 50% science and 50% art, but there's really just a lot of experimentation to it. On a basic level you want to make the interior of the car as small as possible, since the less air you have in there the more sound pressure you'll be able to get. Then you want the car to be rigid to keep vibration down and bottle the sound inside; any sound outside of the vehicle is wasted energy that's not helping your SPL. And working with an SPL meter to find the resonant frequency of the vehicle is important too. "You need power to make power," so make sure you have a strong electrical systems and speakers that can handle it without blowing up.
Q:
Do you think we've reached the top as far as volume goes?
A:
I don't think we're there yet, but the pace of increase has definitely started slowing down the last few years. When you start getting up to 170 dB every tenth of a decibel increase is really difficult to achieve, so it's gotten to be much closer between systems.
Q:
How have the competitions and your work with Rockford Fosgate helped the car audio industry?
A:
The shows have helped create an interest in car stereo and, in a lot of ways, really helped build up the car stereo aftermarket. By working with these companies (Orion, Rockford) while we were out getting our hands dirty and being involved at the ground level, we could see what the customers wanted and needed from their gear. We took that information back to our companies and helped them design better products to meet those needs and push the limits of car audio. The result were new products that ultimately benefited everyone. Consumers got products that were better engineered and competitors got the equipment to do what they needed.
Q:
Tell me about the Terminator. Will you ever compete with it again?
A:
I haven't competed with that car for 18 years, but I do still show it sometimes. It's pretty famous and it's still one of the biggest car audio systems in the world. It's a 1960 Cadillac hearse with a system that I built in 1984; nearly 6,000 watts of power, 24 inch speakers, an Apple computer to monitor the amp temperature, and an interior modeled after the cockpit of a jet. I do still crank it up sometimes, and it still rumbles.

"Insulating" to reduce exterior vibration while in the judging lane.



The Extreme Class — anything goes.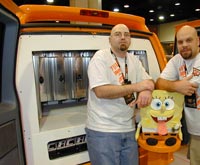 Team Baldman Creations and their 50,000-watt Dodge Caravan.
Q:
What's your relationship with the car stereo industry.
A:
Right now we're pretty tied to them, since it's the local retailers setting up and hosting the shows. We want to become less dependent on the car stereo community as a whole because with the way it is now, the number of shows we're able to have is dependent on the strength of the local retailers. With the current economic conditions a lot of them can't afford to put on the shows, and we're missing out on a lot of opportunities there. Eventually we'd like to do fewer events that are better attended and are of a better quality, so you're going to see dB Drag Racing become more and more of a show promoter. We've already started integrating with car shows on our own, and you'll be seeing more of that.
And we're going to continue to expand internationally. Right now our biggest growth area is in Europe — we're huge in Germany, with 150 events there last year. And a strong international presence is important for us because the rest of the world can be good when the economy in the US isn't doing well. We need to be self-sufficient if we want to continue to grow.
Q:
What's the next step for dB Drag Racing?
A:
We're always trying to find new ways to get new people involved, so that's our big push right now. One thing that turns people off when they first get started in the sport is coming out to a competition and getting blown away by someone with more experience. That discourages them and they usually don't come back. One of the big things that we've done this past year to encourage novice participation is establish a "mini street" division that's focused entirely on local and first-time competitors. That way, people can come out and compete against similar local systems with a realistic chance of doing well.
We've also started doing some live web broadcasting of our events with meter readings, photo updates, and current standings, all in real time. Next year we hope to tie the meters into one another so that people in different geographic locations can compete against each other in real time. So you can be in a parking lot in Texas competing against someone in Germany; it's really going to expand what we can do with the competitions.
With the growing interest in car audio competition and dB Drag Racing's success overseas, we're sure to be hearing more from Harris and Co. in the near future. Those interested in learning more about the dB Drag Racing Association, viewing competition photos, and printing event calendars should check out their web site at
www.dBdrag.com
.