1999 Pontiac Grand Prix Custom Installation
Tim Sprinkle is a talented writer and car audio enthusiast who wrote for Crutchfield for several years before life took him away from Virginia to Colorado, and onward to greater things.
More from Tim Sprinkle
As a member of Crutchfield's car show presentation team, Michelle Lambert knows a good sound system when she hears one. So when she decided to trick out her 1999 Pontiac Grand Prix she knew she wanted the best, and turned to Crutchfield Car Show Branding Manager Matt Kennedy for help with the design and installation.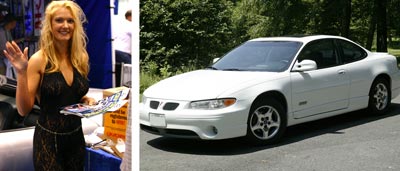 Michelle accompanies Crutchfield's Car Show team to many events throughout the year. When she's not working, she's cruising in her '99 Pontiac Grand Prix.
Michelle wanted a system that would look and sound good, but still leave her with a functional trunk and a "factory look." Bass was another concern, so Matt designed her a sweet Rockford Fosgate amplifier/subwoofer system with crystal clear sound, solid bass, and Panasonic mobile video — without sacrificing too much storage space.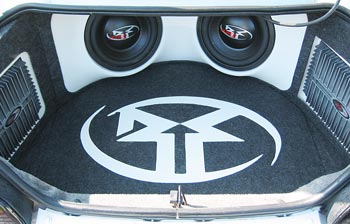 The funk is in the trunk! Michelle Lambert's Pontiac Grand Prix features a custom trunk enclosure that holds twin Punch HX2 12" subs and a couple of Rockford Fosgate amps.
Matt chose a top-of-the-line Panasonic's CQ-VAD7200U head unit to anchor the system. This versatile receiver features DVD/CD/MP3/CDR-W playback, a built-in 7" LCD monitor, TV tuner, dual zone controls, and three sets of preamp outputs. Its built-in amp (22 watts RMS x 4) is more than powerful enough to drive the front and rear component speakers, but Matt opted to install a Rockford Fosgate Punch 501X (65 watts RMS x 2 @4 ohms to the rear speakers, 125 watts RMS x 2 @2 ohms to the front components) to give them the ultra-clean power that high-quality components deserve.

The Panasonic CQ-VAD7200U has got all your entertainment needs covered, including DVD, CD, and MP3 playback, plus a built-in TV tuner.
Speakers came next. Since Michelle wanted to keep the factory look of her Grand Prix, the component speakers they picked out needed to blend into the interior as much as possible. With this in mind, two sets of Rockford Fosgate fanatic Q components were installed — one set of tweeters and mids in the doors and another set in new Q-Logic custom kick panels. This placement, coupled with the new Rockford Fosgate 6"x9"s that were dropped into the rear deck, created an outstanding sound stage with minimal visibility.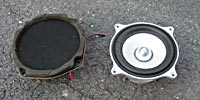 Rockford Fosgate fanatic Q components dwarf the stock factory speakers in both sound and appearance...


and look sweet in the custom Q-Forms kick panels.
And what Grand Prix sound system would be complete without plenty of bass? Two Rockford Fosgate Punch HX2 12" subs in the trunk take care of that. The dual 4-ohm voice coil subs are powered by a Punch 601S amplifier (300 watts RMS x 2 @ 2 ohms), which ensures plenty of volume for the power hungry subs. Michelle can adjust the sub volume with a dash-mounted control panel, bypassing the head unit so she can dial in just the right amount of bass without altering the overall volume.

The capacitors are hidden ingeniously in the rear seat armrest.
The amps draw a lot of current, more than the Pontiac's alternator can really handle, so Matt installed two Lightning Audio LS10-03 Strike 1.0-farad capacitors to store some reserve power for loud musical bursts and other heavy draw situations. The capacitors protect the car's electrical system and help ensure smooth, even sound across the musical spectrum. Their installation behind the rear seats keeps them out of sight, conserving space, and provides a nice custom touch to Michelle's setup.

Matt custom-crafted the subwoofer enclosure from wood, fiberglass, vinyl, and carpet.
The trunk presented a new challenge. There was plenty of space, but also plenty of equipment that needed to go back there. So Matt designed a custom enclosure to hold the subs and both amps along the perimeter of the trunk, covering it with color-matched gray carpet for a professional look. The box design keeps vibration down and leaves enough space free for everyday storage.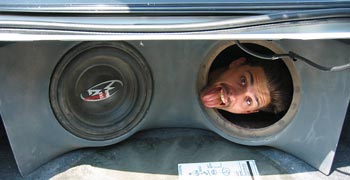 Sometimes you're better off not knowing exactly what goes into creating a custom installation.
In the end, Michelle got what she was looking for: incredibly realistic sound from a slamming system that's really only noticeable from the trunk.