21st Century Dylan
Bringing the Bob back home

A young Dylan poses with his guitar in New York, 1962. Photo: Don Hunstein.
There are few artists whose musical legacy has not only been maintained, but arguably amplified by the passage of time. In fact, it's usually the other way around — a majority of art is actually most viable in the context of its own era. Transcending that tendency are master craftsmen like Bob Dylan, whose significance has continually been a hallmark and sonic touchstone for practically anyone who has ever heard his music. Dylan's influence on the past forty years of popular music cannot be overstated. Legendary artists ranging from proto-punk icon Lou Reed to soul music legend Smokey Robinson, and even the Beatles, have been expressly influenced by Dylan?s radical and often surreal musical observations. But perhaps more importantly, people like you and me — white collar 9-to-5'ers, truckers, and grocery store clerks — have been listening as well.
Even after four decades, Dylan?s music has not lost its finely honed insight. Anthems such as ?Masters Of War? or ?Gotta Serve Somebody? are arguably more relevant in 2003 than ever before. But whereas the message has not changed, technology has assured that the medium most certainly has. As the compact disc enters its second decade of prominence, some musicians have chosen to endlessly remaster and reissue their albums to take advantage of new digital mastering techniques. For instance, it would take a pair of hands to tally the total number of times The Allman Brothers?
At Fillmore East
has been overhauled. Conversely, Dylan is among the holdouts who?ve waited for significant technological advancements before embarking on a thorough revisitation of previously released material.
One such technological advancement is the recent advent of the Super Audio Compact Disc (SACD) format. SACDs offer superior sound quality for both the contemporary consumer, as well as future generations of music enthusiasts, by using a new recording technology that captures four times more musical information than the standard CD recording process. As a result, SACDs offer the listener a more accurate digital reproduction that yields a warmer, smoother, and more "analog" sound than standard compact discs.
Certain SACDs contain
several
high-density layers of audio information that can be held and accessed within a single surface. Many SACDs take advantage of the format's ability to store music in up to six discrete channels, and contain a 5.1-channel audio mix in addition to the SACD stereo recording. Listeners with a standard 5.1-channel home theater or mobile audio system can experience the unprecedented sonic realism of the SACD in true surround sound!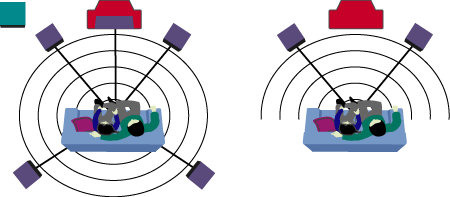 A typical surround setup (left) has 5 speakers and a subwoofer, compared to a two-channel stereo setup (right). All those extra speakers and that enveloping sound mean that a 5.1-channel source gets mixed differently than a 2-channel source.
Furthermore, some SACDs are actually hybrid SACDs
1
that contain a stereo mix designed to be played on a standard CD player, in addition to the SACD stereo mix. Hybrid SACDs may also contain a 5.1-channel mix.
While Dylan isn?t the first major icon to begin offering SACD compatible titles — the Rolling Stones and Sam Cooke are other major acts to be represented in this format — Columbia/Legacy has upped the ante with the commencement of what is being lauded as a ?long-term? reissue campaign. The new Dylan hybrid SACDs contain considerably upgraded sonic and packaging elements in what is undoubtedly one of the most important catalogs in popular music. The first 15 Dylan albums to be issued in hybrid SACD format are (in chronological order)
The Freewheelin? Bob Dylan
(1963),
Another Side Of Bob Dylan
(1964),
Bringing It All Back Home
(1965),
Highway 61 Revisited
(1965),
Blonde On Blonde
(1966),
John Wesley Harding
(1967),
Nashville Skyline
(1969),
Planet Waves
(1974),
Blood On The Tracks
(1975),
Desire
(1976),
Street Legal
(1978),
Slow Train Coming
(1979),
Infidels
(1983),
Oh Mercy
(1989) and his most recent,
Love and Theft
(2001) . While each volume will be available individually, Legacy has also compiled them into a single box set —
Bob Dylan Revisited — The Remasters
(2003) includes 16 CDs [Note:
Blonde On Blonde
is spread over two discs] bound in a collectors? container with images of actual Dylan master tape boxes on the outer packaging.
Each of the hybrid SACD discs can be played and sound spectacular on any CD player. Yet as the Dylan remasters demonstrate, not all hybrid discs contain a 5.1 mix. Only
Another Side Of Bob Dylan
(1964),
Bringing It All Back Home
(1965),
Blonde On Blonde
(1966),
Blood On The Tracks
(1975),
Slow Train Coming
and
Love and Theft
(2001) in this initial offering include an SACD stereo mix, a 5.1 SACD mix, and a standard audio CD stereo mix. You'll need an SACD player in order to make use of the SACD stereo or 5.1 layers on these discs.
With Hurricane Isabel quite literally looming off the East coast, Crutchfield Advisor was lucky enough to spend a few minutes on the afternoon of Friday, September 19, 2003 with the Dylan project?s reissue producer, Steve Berkowitz, from his Manhattan office. His insight is invaluable, as he provides a guided tour of the processes involved in reassessing the first wave in this intricate and complete career assessment.
1
Hybrid SACDs are designed to play in all players compliant with the Compact Disc specification. Some DVD players, computer drives and car players which use DVD transports have been found to lack the proper programming to recognize a Hybrid SACD and cannot default to normal playback of the CD layer. The consumer should report this playback problem to the player manufacturer for possible remedy. Copyright ? 2003 Sony Music Entertainment Inc. All rights reserved.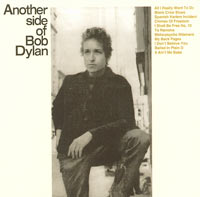 Copyright ? Sony Music Entertainment Inc. All rights reserved.
Lindsay Planer: "I felt I could literally walk into the 5.1 mix of Another Side of Bob Dylan, as if Bob and I were sharing the same oxygen."
Crutchfield Advisor
: Thanks for taking a few minutes to walk us through the procedures in what is, at its core, the restoration of valuable audio artifacts.
Steve Berkowitz
: Oh, absolutely! I am thrilled to be involved in this historic endeavor. I must preface our conversation by saying what an honor and privilege it has been to get this project underway. For someone to decide that this group of people — meaning all the researchers and engineers — to have us do this ? it?s beyond words. Everything we are doing we do in tandem with Jeff Rosen at the Bob Dylan office. Dylan has complete control over his records and
nothing
happens unless they approve it.
CA
: Was it Dylan or his people that chose these specific records to be included in this initial wave?
SB
: It was a group effort in regard to the decision. When Jeff Rosen told Columbia Records ?why don?t we go ahead and do this now??, we knew there were certain discs, like
Blonde On Blonde
and
Blood On The Tracks
, that were gonna be done. Then after that there was a group that basically made a list and we went from there. We were also dictated by the status as well as location of the tapes.
CA
: Is everything accounted for and where it should be?
SB
: (chuckles) Well? let?s just say that everything that has now come out eventually ended up where it needed to be. See, this is 40 years of history and no one except for Dylan himself is still working on these tapes. The tape archives of Sony and CBS have changed a number of times and there have also been alterations in various contracts that the artist signed which would indicate where the tapes would reside. Some were with Sony, others were in Dylan?s vault.
CA
: Were you given access to his stash?
SB
: Complete and absolute. All of these were done, as I said, with Jeff Rosen and all the folks connected with Dylan and his office.
CA
: Have you had any contact or reaction from Dylan himself?
SB
: As long as they ask us to continue to do these, I figure everyone has approved. But, no I have not spoken directly to him about them. We propose things and Jeff [Rosen] comes back with answers and then we proceed accordingly.
CA
: Let?s talk a moment about the visual presentation. Personally, being fond of the days of wine and vinyl, I like the digi-pack, as opposed to the plastic jewel case. Why did you choose this format? [Note: a digi-pack is a type of CD packaging that uses a cardboard foldout that often resembles a miniature record album.]
SB
: They feel good, they look good. I?m 50 and still love record albums, and CDs too. Not being a collector per se, I like the paper and the fact that they are tangibly closer to the original. See, back when CDs first came out, manufacturers and labels were in a hurry and no one had charted a course of how reissues should be done. At that time, in some cases, content was left out.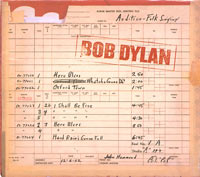 Copyright ? Sony Music Entertainment Inc. All rights reserved.
The track sheet from Bob Dylan's December 1962 audition for John Hammond.
CA
: What title in this initial offering was the biggest challenge for you?
SB
:
John Wesley Harding
CA
: Why?
SB
: As all of us have heard, it?s an album of fantastic Dylan songs ? I mean ?All Along The Watchtower,? ?I Pity The Poor Immigrant,? ?Ballad Of Frankie Lee and Judas Priest,? and ?Wicked Messenger? are just spectacular songs, creations, and stories. It would appear to be a very simple record — guitar, drums, vocal. However, we had a commitment to go back wherever possible to the original ?finished mix? tapes, which we have and which we did.
These are the tapes that Bob Dylan and (producer) Bob Johnston finished. They mixed it. Well, let me be clear, I don?t know that Dylan was there. I don?t know where he was, nor will I ever speak for him. Maybe like Miles Davis, Dylan didn?t ?make records,? he ?made music,? while other folks completed the records. I know that is true for Miles and Duke Ellington, for instance.
Getting back to the album, though, when we heard the tape, the drums and the guitar sounded the same [as the original master], but it's like John Entwistle was the bass player because of how aggressive, loud and growling it was. So, in order to make these releasable, Bob Johnston had to compress the sound on the tapes and equalize out a lot of the bottom [frequencies] and get rid of that growl. Here in 2003 we now have all of this sophisticated equipment, right? So, we had to get a handle on how to replicate Johnston?s mix. This meant tracking down the most current CD master, the tape that it was cut from and a mint copy of the original LP ["1-A" pressing] and
that
would be our guideline toward finding out what that document was supposed to sound like. This is especially the case with the 1-A pressing. It is stamped as such because it is the first off the production line and presumably the test pressings had probably been approved by the producer and/or the artist?s representative. So, we gotta think ?hey, this is what it is supposed to sound like.?
Once we had the bass feeling very similar — if not a bit better, we thought — to the original, we also noticed how close he was to the microphone. The pops in his vocals would knock your speakers out. However, it was very forgiving before with the balance of compression and equalization. It ended up that we had to master the record no less than five times because there are components of the new technologies that will reveal other inherent deficiencies within the old technology. This was a real test, since one of the principal jobs was to
not
change these records. [That is] because Bob made these records on purpose and they are unmitigated masterpieces.
CA
: What are the sources of your 1-A pressings?
SB
: These are all records, some of which are mine, or from any number of our other researchers. Some are from Bob Irwin or the Sony Music archive. We do have a pretty spectacular record collection downstairs. But in all honesty, and what many so-called audiophiles don?t realize, is that an East Coast 1-A pressing sounds different from a West Coast 1-A. This is especially true of
Bringing It All Back Home
. I fully expect, and rightfully so, that there will be some people who will say ?Well, this doesn?t sound like my record!? This is because there were actually three different 1-A pressings from different plants. They are not all exactly in the same pitch and they are not all exactly at the same speed — yet they were struck from the exact same master.
So, an East Coast and a West Coast
Bringing It All Back Home
are not identical records. Given that information? what is the real document? We do have the multi-tracks and can test the speed of those tapes and compare the speed to the master tape. But if we were to listen to the first song on side one from each platter, they might be a quarter-tone off. So, what do we do?! What we do is, refer to our team of producers, engineers, historians, and representatives from Dylan?s office. We average our brains and make a commitment to how the document sounds. I think if you sit down and play the original LP, then the [old] CD, and then these remasters, the punch line becomes ?how can you ever go back to the way you heard it before?.
CA
: That is especially true of the 5.1 mixes that were incorporated into
Another Side Of?
,
Bringing It All Back Home
,
Blonde on Blonde
,
Blood On The Tracks
,
Slow Train Coming
, and
Love And Theft
.
SB
: Certainly. You know, I had one of Sony?s CEOs in my office the other day and I played ?Mr. Tambourine Man? for him. We first heard a recent run-of-the-mill LP pressing followed by the original CD. Then, I played for him the new stereo mix. He instantly said ?Wow, the guitar really sounds good!? And I said, ?OK, wait a minute? ? I told him to push a button — which took it [the listening experience] into 5.1. The panning presents Bruce Langhorne (guitar) on the left and the bass on the right, with Bob in the middle — exactly like the stereo. But now, you have the actually palpable sound of the musicians playing in a room — in a real space. It?s three-dimensional, just like it was when he recorded it. The only thing you hear at the back is the stuff that you would naturally hear behind you in the room. You don?t hear content. So, we listened for a minute and then pressed the button to go back to the LP, the difference is comparable to listening on a two-inch transistor radio beneath a pillow.

Photo: Don Hustein.
CA
: What factors determined the titles that would be given a 5.1 mix?
SB
: Well, take for instance the LP and 1st pressing CD version of ?Mr Tambourine Man? that I was talking about. Both were made from the exact same tapes — a third generation equalized for vinyl Dolby copy. Because that was what we had in circulation, I couldn?t see taking that tape and making an SACD out of it at all. Since we were going to have to mix it to two-track [stereo], we might as well mix it for 5.1. I am also of a theory that if you are going to present the 5.1 in a verite? manner — meaning, that you sit in front of the band like you would in your fantasy — I want the mix to sound like that [i.e., the experience which is being replicated]. So, I am not gonna put a lot of funny stuff in the back. Rather, I will return that music to a room and a space and not try to fit it all into two boxes coming at you from the other side of the room.
CA
: What is up next in the series?
SB
: We are establishing quite a team and a system here, so expect more stuff sooner than later. In terms of vault-type releases, the next installment in
The Bootleg Series
will feature an entire acoustic concert with Dylan live at Philharmonic Hall here in New York City on October 31st, Halloween, 1964. That is a phenomenal show. You may have heard the bootleg, but you ain?t really experienced the show. It will also be an SACD hybrid with a 5.1 mix as well. You can actually feel Dylan bobbing and weaving around the microphone, and if you have heard the show, you can attest that he is doing a lot of that (laughs). But, you know man, I am still really psyched when I hold the box set — with all this historic music gathered in one place and all the breadth, genius, and beauty — I am humbled. The same way all those who listen will be now, and for the decades to come.
Our thanks to Steve Berkowitz for finding the space in his terminally hectic schedule to spend some time with us.
After absorbing these remasters in a wide variety of playback scenarios,
Another Side Of Bob Dylan
seems to garner the most spins utilizing the 5.1 mix. As Mr. Berkowitz alluded to, just because the content is sparse — in this case only vocals, harmonica, and either guitar or piano — the mix shouldn?t be cluttered with unnecessary information. Due in part to the understated nature of the album?s "unplugged" performances, the surround environment is all the more critical. Ultimately, it should (and does) mirror the same organic soundscape.
The evidence of the superior sonic realism of the 5.1 SACD mix becomes obvious as the accuracy replicates even the most detailed of resonances. This is particularly pronounced on recordings so familiar that they may well be engrained upon the listeners? very DNA. Timeless classics such as ?Chimes Of Freedom,? ?To Ramona,? and ?It Ain?t Me Babe? are now fresh experiences. When replicating the A/B comparison between my own East Coast 1-A vinyl pressing and, ultimately working my way up to the 5.1 experience, I found ?My Back Pages? and ?Ballad In Plain D? were the most revealing. Not only were all previous incarnations rendered aurally impotent, the regular stereo mix was nearly as fascinating as the 5.1 — I could literally walk into the 5.1/stereo SACD mix as if Bob and I were sharing the same oxygen. The act of listening, which all too often can devolve into a passive occurrence, is resurrected into a refreshingly proactive event.
Another Side Of Bob Dylan
, without the complex instrumentation, is all the more revealing. Even the most basic playback method, such as an inexpensive portable, will show off the inherently purer timbre, allowing the benefit of upgraded audio to every listener. That is a rare win-win, as even the most recognized works have become unsullied by time or technology.
I am generally opposed to rating anything with an A+, my own belief being that there is always room for improvement. That said, this first installment has personally gone far beyond that of simply reintroducing me to Dylan?s music. My gut reaction is that the quantum leap represented by SACD and 5.1 has incrementally altered the way I listen to and, quite literally, absorb music. Suddenly, I find what was once a perfectly pleasing stereo image feeling almost incomplete. Indeed, these reissues raise the bar significantly in terms of the sheer pleasure and anticipation that results from becoming reacquainted with a large chunk of the soundtrack to my life.