In-dash Monitors
More than just a pretty face
Todd Cabell is the Senior Director of E-Commerce at Crutchfield. He drives a 2000 Ford F-150 with an Alpine stereo in the dash, Polk/MOMO speakers, a Rockford Fosgate amplifier, and an MTX Thunderform under the rear seat. He hopes to one day outfit his 1962 Mercury Comet with a worthy sound system as well.
More from Todd Cabell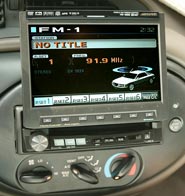 An in-dash monitor can provide a vivid and safe platform for viewing system information.
In-dash monitors are one of the most exciting new mobile electronics products to come along in recent years. The simple fact that engineers can fit a 7" widescreen monitor into a standard (single-DIN) size car stereo is a marvel in and of itself. But watching the screen motor out horizontally from the stereo chassis, extend, and then flip-up into a 90° position for viewing is a thrilling spectacle. As Advisor reporter Matt Freeman notes, "There's something inherently cool about watching a monitor automatically slide out when you start your car."
As mobile video has grown in popularity, in-dash monitors have become an essential component for many in-car video systems. Most new in-dash monitors are now packaged with a built-in DVD/receiver, giving you an all-in-one mobile video package for the front of your car. Watching a DVD on your in-dash monitor within the cocooned space of your parked* car can be an impressive experience, especially if you've got a subwoofer and good quality speakers driven with enough power to reproduce sound effects and dialogue effectively. (*In-dash monitors do not allow you to view a movie when the vehicle is in motion.)
But you can use an in-dash monitor to do a lot more than just watch movies in your parked car. An in-dash monitor can add a whole new level of safety, convenience, and (yes) flash, to your car stereo system. You can't watch a movie on your in-dash monitor as you cruise down the road, but you can use it to do some pretty cool stuff:
An in-dash monitor is an essential component of an in-car navigation system, an increasingly important feature for more and more drivers these days.
An in-dash monitor provides a vivid and often interactive display of all sorts of system information in a large and legible format.
An in-dash monitor will display MP3 ID3 tags and WMA folder and file information, for easy navigation through hundreds of songs.
An in-dash monitor will display channel, artist, and song information for satellite radio.
Drivers of large vehicles like SUVs and RVs, and those who often tow a trailer, can use an in-dash monitor to display back-up camera images.
Let's take a look at each of these in turn to learn about how you can get even more out of your in-dash monitor.

Connect your in-dash monitor to your navigation system to get real time directions and map guidance.
GPS Navigation System
A GPS navigation system can provide turn-by-turn guidance to just about anywhere in the country. An in-dash monitor is not required for every type of navigation system — certain handheld GPS receivers can be used as stand-alone devices. But, if you're considering purchasing a navigation system for use primarily in your vehicle, a large monitor makes it easier (and safer) to follow a suggested route on the map. Most in-dash monitors have dedictated navigation inputs for same-brand navigation systems — you'll connect your Alpine navigation system to an Alpine monitor, Kenwood to Kenwood, and so forth. The connections are typically made via proprietary cables, precluding mixing and matching brands. Unlike watching a movie, you can, of course, use the monitor to display navigation information as you drive.

Your monitor can make navigating through sources, albums, stations, and songs easier and safer.
Displaying system information
When your vehicle is in motion, your monitor serves as the system display, letting you know what's going on at all times. Icons for menus and sources will display, making for easy navigation between your FM tuner, for example, and your satellite radio tuner. You'll set your tuner presets, navigate into different sound settings, make system adjustments, change illumination modes, and set up your equalizer and crossovers (when included) all by using visual cues off the screen.

A spectrum analyzer provides interactive frequency response information, and looks great on an in-dash monitor.
In-dash monitors will also display a variety of images, including built-in screen savers; some will even dowload photos that you've scanned in to your computer and burned to a disc. Alpine's IVA-D900, for example, includes three screen savers that also act as spectrum analyzers. Pioneer's AVH-P6500D includes the ever popular "swimming dolphins" graphic as a background option that you can display while listening to music.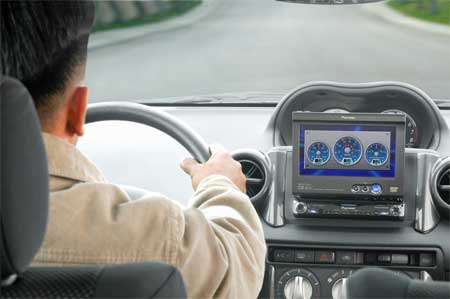 Pioneer's new AVIC-N1 in-dash DVD Mulitmedia A/V Navigation Server can display eight different vehicle dynamics metrics, including G-force and slope angle, on its 6.5" monitor.
Tapping in to the popular showcar culture, Pioneer has discovered one of the most innovative uses of an in-dash monitor — to display vehicle dynamics. The all-in-one Pioneer AVIC-N1 is an in-dash DVD/Navigation receiver that has the ability to measure and display 8 vehicle dynamics (including G-force, side acceleration, acceleration, angular velocity, slope, and duration) on its built-in monitor. Now
that's
cool!

Alpine's IVA-D300 in-dash DVD Receiver with built-in 7" monitor features PulseTouch™ technology, which provides tactile, touch-screen feedback for different buttons and commands.
Touchscreen technology
As in-dash monitor technology advances, touchscreen interfaces are becoming more common. In addition to being fun to use, touchscreen technology is also safer — you can recognize and execute a command more quickly with a touchscreen 7" monitor than you can using a receiver's buttons, or even a remote control. Alpine's IVA-D300 DVD receiver has taken touchscreen technology to a new level this year, incorporating PulseTouch™ tactile feedback technology that uses vibrations, pressure, and sound to simulate the sensation of using real buttons when you touch the screen.
MP3 and WMA tags
Anyone who uses their computer to download music and organize their music library knows that navigating through the hundreds of files you can burn onto a single CD-R/W can be frustrating. When you're driving down the road, the ability to quickly and easily find your MP3 files is critical. Most in-dash monitors will display MP3 and WMA file information, and a large in-dash monitor makes scrolling through folders and files much easier than trying to read a one- or two-line scrolling LED display. If your monitor includes touchscreen technology, you can jump in and out of folders with a few taps on the screen. You get to spend more time watching the road, and less time trying to figure out in which folder contains that new Outkast song, for example.

An in-dash monitor can display MP3 information like folder, file, artist, album, and song title, for quick and easy navigation.
Satellite radio information
Just as an in-dash monitor makes using MP3 and WMA files easier, it can make surfing satellite radio channels a real treat. Whether you subscribe to SIRIUS or XM Satellite Radio, you can display all the great information satellite radio includes for each and every song on your monitor: channel number and name, artist and song title appear in bright, bold characters on the screen. When you've got over 100 channels of music, news, sports, and entertainment to choose from, being able to identify the channel information at a glance is a big convenience.
Backup or Rear-view cameras
One of the most practical, though often overlooked (forgive the pun) uses of an in-dash monitor is to display a rear-view image from a connected backup camera. Think this is overkill? Maybe so if you drive a compact car like a Honda Civic, but drivers of SUVs, vans, pickup trucks, RVs, and large trucks will clearly benefit from the ability to see behind them while backing into a parking space or loading dock. If you pull a trailer, a backup camera can help you keep an eye on that precious cargo you're towing down the highway at 65 mph.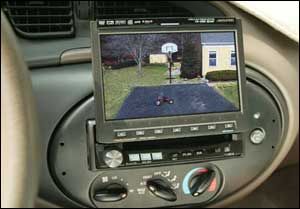 Using your in-dash monitor with an optional backup camera can be a major safety enhancement if you drive a large vehicle or tow a trailer.
Not all in-dash monitors include backup camera inputs, so make sure this feature is included on the model you're checking out. Units that do include a backup camera input, such as Alpine's IVA-D901 and Pioneer's AVIC-N1, can be set to automatically display an image of what's behind your vehicle when you put the car in reverse; the image is even automatically "reversed", so it's as if you're looking into your rear view mirror.

What's next?
In the coming years, in-dash monitors will come to play an even more prominent role in car audio/video. At the 2004 Consumer Electronics Show this past January, we saw several demonstrations of future technology that used in-dash monitors to display new kinds of information.

HD Radio technology and satellite radio, for example, already have the ability to transmit station call letters or channel name, artist name, and song title to your in-dash display. In the future, however, these digital radio technologies may incorporate the capability to update your in-car navigation system with real-time traffic alerts. Imagine that you've already entered your destination into your navigation system, and are following the visual and audio prompts when, unbeknownst to you, a major traffic accident ties up the highway ahead. Instantly, you receive a warning message on your in-dash monitor, alerting you to the upcoming traffic jam, and showing you an automatically calculated detour on the map.

Satellite radio companies XM Satellite Radio and SIRIUS have also demonstrated the ability to stream video into the car via their existing radio frequencies. While the implementation of satellite-video-on-demand is still at least a year away, you may one day be able download a movie directly onto your in-dash monitor!

Finally, as wireless computing begins to take off as a viable in-car technology, the role of the in-dash monitor is poised to expand exponentially. Microsoft has already developed a powerful version of its ubiquitous Windows® software specifically for automotive applications. Planned applications of in-car computing include voice-command use of Bluetooth® cell phones, real-time navigation, weather, and traffic reports, stock updates, and even internet surfing! It's not inconceivable that in the future, you'll be reading your email off an in-dash monitor!