10 Great African Discs
James Ralston is Crutchfield's Web Editor for Home Audio/Video. He joined the company in 1994 as a member of the sales department and began writing about A/V gear in 1999. James attended the University of Virginia, receiving a Bachelor of Arts degree in English Literature. Since arriving in the Charlottesville area, he has been active in the local music scene, playing drums in a variety of musical projects ranging from world beat, to blues, to instrumental improv.
More from James Ralston
Steve Kindig has been an electronics enthusiast for over 30 years. He has written extensively about home and car A/V gear for Crutchfield since 1985. Steve is also a volunteer DJ at community radio station WTJU, where he is a regular host of the American folk show "Atlantic Weekly," as well as the world music program "Radio Tropicale."
More from Steve Kindig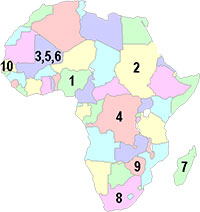 The musicians below come from all over the African continent. The numbers on the map show where each is from.
Africa is a big place — a continent with over 50 independent nations and a population of close to a billion. So how far can a list of 10 recordings go in displaying the mind-boggling richness and diversity of African music? Hopefully, it's just a first step.
There's so much great African music that it would be easy to assemble a list of terrific music just from Senegal ... or Mali, or Nigeria, or South Africa, and on and on. It would be just as easy to compile a list of extraordinary CDs representing each of the many musical styles of Africa.
African music receives virtually zero commercial radio airplay, but if you have a good community/college radio station nearby, you might hear an occasional African tune on a world music show. By far the best bet for African music on the radio is XM Satellite Radio's dedicated African music channel, "Ngoma." They play African music 24/7, and many of the artists featured here are played regularly.
We chose these particular discs both for the quality of the music
and
the quality of the recording. If you're new to African music, you'll encounter unfamiliar instruments, rhythms, textures, and vocal styles. But you'll also recognize influences ranging from Cuban dance music, to Mississippi blues, to James Brown. Most of the songs are sung in the artists' native languages, but there are often English translations included in the CD booklets. And most people find they don't need to understand the language to understand the music. Happy listening!
1. The Best Best of? — Fela Kuti (MCA, 2000)
Fela Kuti's unique and powerfully hypnotic style of music, known as "Afro-beat," mixes traditional rhythms of his native Nigeria with the funk and jazz influences he encountered while traveling in America in the late 1960s.
The Best Best of Fela Kuti
treats the listener to over 2-1/2 hours of some of the deepest, most trance-like groove music ever created: Fela's inventive saxophone, keyboards, and vocals lead the way across a densely layered landscape of pulsating drums and percussion, interlocking guitars, pumping electric bass, and blaring horn section riffs.
In addition to being at the forefront of a new style of African music, Fela's work almost always contained a strong social and political message, championing African culture and targeting corruption in post-colonial Nigerian government. Fela often sang in pidgin English in order to be understood by a wider audience (both within Nigeria, and without), and tracks from this 2-disc set like "Zombie" and "Shuffering and Shmiling" have a lyrical intensity that rivals their sheer musical energy.
2. A Wish — Hamza El Din (Sounds True, 1999)
This CD is an excellent introduction to the
oud
, a fretless lute-like instrument popular in the Middle East and North Africa. Hamza El Din is a Sudanese composer, singer, and oud master. With its sinuous melodies and lyrics in Arabic and Nubian,
A Wish
is a stark contrast to most of the other discs here, reflecting the strong Middle Eastern influence in much of the music of North Africa. El Din has made many outstanding recordings over his long career, but
A Wish
may be his most accessible work for Western ears.
The spare arrangements have a soothing, timeless quality that can be mesmerizing. The music has room to breathe, conveying a strong sense of strings being plucked and drums being struck in real 3-D space. The first track, "Greetings," builds from a foundation of oud and hand drums to add El Din's vocals. When he is joined by female singer Shizuru Ohtaka, it may raise the hair on the back of your neck! I've played this track for friends at
listening sessions
, and the reaction is always stunned silence, followed by "Wow."
Compared to the parched purity of the tracks that precede it, the richly melodic title track that closes the disc packs a startling emotional punch. El Din's oud and voice are joined by piano and cello (Joan Jeanrenaud, former cellist for the Kronos Quartet). Sonically,
A Wish
is spectacular, with a large, deep soundstage that extends well beyond the speakers.
3. "Folon"?The Past — Salif Keita (Island, 1995)
Gifted with an unforgettable voice, Salif Keita is one of Afropop's most famous and influential stars — and a striking figure with an intriguing personal history. He was born in 1949, into Mali's prestigious and historic royal family; but, as an albino in Africa, he experienced the hardships of prejudice and social isolation in his young life. In the late '60s, he moved away from home to follow his musical calling, and within a decade was reaching international audiences and helping to define the Afro-pop genre.
Folon
is an eclectic combination of Western influences and African musical styles. Keita's singing is astounding throughout, backed here by fluid electric guitar, crisp horns, funk-jazz bass, female background vocals, and layered percussion. The opening track, "Tekere," is an absolute gem that percolates with indescribable, joyous energy. The album's longest cut, "Mandjou," is a remake of a song that brought Keita fame in the 1970s, featuring a heavier groove than the original version and some tasty instrumental soloing.
4. Zing Zong — Kanda Bongo Man (Hannibal, 1991)
Like many other musical stars from Africa's DRC (Democratic Republic of Congo), Kanda Bongo Man actually lives and records in Paris, France. For over 20 years, he has been one of the most popular and influential proponents of
soukous
, which has become the most popular music style on the African continent. Originally influenced by Cuban rumbas, it's an incredibly joyous, energetic dance music that marries lilting melodies to hypnotic grooves.
Zing Zong
opens with the title track, a blast of sonic sunshine that is one of the most exhilarating songs you will ever hear. Kanda's smooth singing is accompanied by gleaming, echo-drenched electric guitar, punchy horns, and bubbling bass lines, all propelled by a loping beat. If you can sit still listening to this, check your pulse! Another highlight is the insanely addictive guitar riff that drives "Monie." Kanda's brand of "old-school" soukous still sounds amazingly fresh and inventive. The recording quality of
Zing Zong
is very good. The disc's polished, layered production only enhances the entrancing music. Equally excellent is Kanda's earlier
Kwassa Kwassa
.
5. Ma Ya — Habib Koité & Bamada (Putumayo, 1999)
Singer/fingerstyle guitarist Habib Koité also hails from musically rich Mali. The album
Ma Ya
garnered him international acclaim for its fusion of traditional Malian musical styles and contemporary instrumentation and arrangements. This disc is loaded with accessible melodies and tight-yet-spacious grooves overlaid with plenty of Koité's subtle, rhythmically nuanced guitar playing. The third track, "Bitilè", feels like a tip of the hat to modern hip-hop, featuring spoken-word vocals overtop a swinging backbeat. On "Foro Bana," the common ground between American blues and Malian roots music can be heard (bringing to mind fellow Malian guitarist Ali Farka Touré). The whole recording has a full, open sound that holds up well under the "fine microscope" of a high-end audio system.
We were lucky enough to catch Habib Koité and Bamada playing many of the tunes from this disc at a show held this year in Charlottesville, Virginia (hometown of Crutchfield Advisor). While the energy level was generally higher in the live performances, this CD actually does a really good job capturing the band's true sound.
6. New Ancient Strings — Toumani Diabate with Ballake Sissoko (Hannibal, 1999)
The quietly compelling music on this all-instrumental, all-acoustic album is about 180 degrees from the kinetic Afropop and soukous beats found elsewhere on this list.
New Ancient Strings
is a series of duets played on the
kora
, a West African harp-lute with 21 strings. Mali's brilliant Toumani Diabate is the world's premier kora player, having recorded a string of solo CDs, and appeared on many others. Here, he plays most of the leads, while his friend Ballake Sissoko provides empathic backup rhythm and counterpoint. On this collection of traditional Malian melodies, the dueling koras weave an intricate tapestry of cascading notes and flowing rhythms. It's hard to pick a favorite cut, but the haunting "Salaman" explores several paths without straying from its hypnotic groove.
New Ancient Strings
was recorded with 20-bit clarity in the reverberant marble vestibule of the Palais de Congres in Mali's capital, Bamako. From the liner notes: "It was recorded in a single night, straight through — without rehearsal or retakes, in a natural acoustic, and has been mastered without any artificial reverberation. What you hear is what they play." This CD should appeal to fans of solo piano and fingerstyle guitar.
7. Horombe — D'Gary and Jihé (Stern's Music, 1995)
Madagascar is one of the few remaining lands of mystery. Roughly the size of California, it's the world's 4th-largest island, located in the Indian Ocean 250 miles off the southeastern coast of Africa. It's home to numerous species of plant and animal life found nowhere else on the planet. That exotic uniqueness also infuses the music of Madagascar, which sounds like no other African music.
Madagascar made a splash in world music in 1991 when American guitarists Henry Kaiser and David Lindley visited there and recorded several of the most-respected musicians for their
A World Out of Time
CD series. One of those musicians who has since emerged as a star of Malagasy music is the guitar virtuoso D'Gary. He has recorded several albums featuring just his vocals and jaw-dropping "open tuning" fingerstyle guitar playing. But,
Horombe
, which he made with an electric band, is an extremely appealing "first taste" of Malagasy music. The songs, many of which were featured on earlier albums, retain their folky melodies and eccentric rhythms, while packing more of a punch with the addition of terrific backup singers and danceable beats. The music ranges from the buoyant, complex "Mihasy Lonaky," to the gorgeous solo guitar instrumental "Lagnana." It's a disc full of tasty surprises.
8. The Indestructible Beat of Soweto — Various Artists (Shanachie, 1986)
"Soweto," an acronym for "South-Western Townships," is the name of a densely populated urban development that flanks Johannesburg, South Africa. In the 1980s,
The Indestructible Beat of Soweto
introduced listeners around the world to the uplifting and soulful music of a people surviving under the oppression of apartheid. Nearly two decades after its original release, this successful and highly regarded compilation still feels like of a breath of fresh air, with its simple (yet sublime) chord progressions, beautiful vocal harmonies, and straight-forward, driving beats. Featured here on one track is Ladysmith Black Mombazo, a group that became moderately well-known in the West following their collaboration with Paul Simon on his
Graceland
album.
9. Vhunze Moto — Oliver Mtukudzi (Putumayo, 2002)
Oliver Mtukudzi, also known by his nickname, "Tuku," began recording in the mid-70s and has become the best-selling artist in his home country of Zimbabwe. Tuku's music manages to sound both polished and rootsy. He writes instantly hummable melodies and uses inventive call-and-response vocal arrangements centered around his own soulful voice. It's all held together by the seamless playing of his great longtime band, the Black Spirits. Tuku adds tasteful pop touches to a blend of traditional Southern African music styles, especially
chimurenga
, a sound inspired by the percolating rhythms of the
mbira
(thumb piano).
Vhunze Moto
is Tuku's third CD on the world music label Putumayo. As on earlier CDs, his lyrics tackle the tough social and economic issues facing Africa with a mix of quiet wisdom and optimism. He sings in the Shona language, but the CD booklet includes English translations. With some killer hooks, like the one that drives "Ziva Nguva," the overall energy level is higher than on his breakthrough CD, the gently melodic
Tuku Music
from 1994. But
Vhunze Moto
made this list because it's also exceptionally well recorded — the sound is wide-open and ultra-dynamic, with a spacious soundstage that extends well above and to the sides of the speakers.
10. The Guide (Wommat) — Youssou N'Dour (Chaos/Columbia, 1994)
Senegalese bandleader Youssou N'Dour began his illustrious career playing a style of music called
mbalax
(which is also the name of a polyrhythm of N'Dour's native Wolof culture). His powerful singing was featured on Peter Gabriel's hit album from 1986,
So
, giving him wide exposure among Western audiences.
The Guide (Wommat)
steps beyond the Afro-pop genre into genuine Western pop territory: there's a guest appearance by saxophonist Branford Marsalis, a duet with funky diva Neneh Cherry ("7 Seconds"), and even a cover of Bob Dylan's "Chimes of Freedom" (with a heavy synth and drum arrangement that sounds like it could've come off of Peter Gabriel's
Security
).
Though more pop-oriented than other albums listed here in this article,
The Guide (Wommat)
is not to be confused with "African Music Lite," by any means. Complex polyrhythms are present nearly throughout, at times lending the feeling of controlled chaos. The backing instrumental tracks motor like a well-oiled machine underneath hooky melodies and soaring vocals, interspersed with percussive flurries from the "talking drum," or
tama
.