A Clarion Call for SIRIUS Satellite Radio
A review of Clarion's plug-and-play SIRIUS tuner
A circuitous path, involving England, New York, rural Michigan, Indiana, and lots of parts in between brought Matthew Freeman to Charlottesville, where he's been writing about mobile audio/video for Crutchfield off and on since early 2000. He fosters an eclectic taste in film, and is fond of a wide range of music. A native of Albuquerque, New Mexico, he found his way to the University of Notre Dame, where, in an act of charity unsurpassed in the history of Western civilization, he was given a B.A. in English.
More from Matt Freeman
The ranks of satellite radio subscribers have grown dramatically in recent months, and it's hardly a wonder why. Once subscribers soak up the programming quality and variety satellite radio has to offer, they regard it as indispensable, and never want to be stuck with only conventional radio again.
But what's the best way to get satellite radio? For SIRIUS subscribers especially, several equipment choices exist, many of which are
plug-and-play
. Which one should you choose?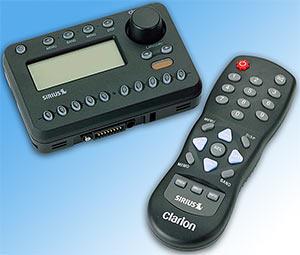 The Clarion plug-and-play SIRIUS tuner comes with a handy remote.
To get my head around this little dilemma, I decided to give Clarion's plug-and-play SIRIUS receiver a month-long spin. Why plug-and-play? Mostly for the versatility. I like the concept of being able to transfer the tuner from car to home with ease (and with only one subscription). After all, satellite radio is so good, I need to be able to listen to it everywhere.

The car kit features everything you'll need to play the tuner in the car.


And you can transfer the tuner to your home stereo with the home kit.
The Clarion tuner is compact and rectangular. It comes with a remote control, and, like all plug-and-play satellite radio tuners, must be used with special kits for the car and home (which are sold separately). The docking cradle included with the car kit features a built-in wireless FM modulator, so you can use it with any FM car stereo. The kit also comes with RCA patch cables, in case your receiver has auxiliary inputs. A power adapter, antenna, and mounting bracket round out the package.
The home kit includes a table-top stand, indoor/outdoor antenna, RCA patch cables, and a power adapter.
The tuner's sleek black chassis appealed to me immediately. It's smooth and subtle, and guaranteed not to stand out like a sore thumb in the car. The face is also refreshingly uncluttered; there are only 17 buttons (a power button, four function buttons, ten numeric buttons for presets and direct channel entry, and two category buttons), a rotary dial, and the LCD. Clarion clearly seems to understand that simple, most often, looks best.
Armed with the tuner and both the home and the car kits, I was ready for my test.
Installing the tuner in the car was pretty painless. Some assembly was required to attach the car cradle to its mounting bracket, but nothing quick use of a screwdriver couldn't handle. The cradle actually gives you plenty of options for using aftermarket mounts, like the vehicle-specific and universal mounts from Pro.Fit, or any number of ball-and-socket cell-phone mounts. It's remarkably convenient.
The included bracket is backed with adhesive. Because I knew the installation would be temporary, however, I chose not to expose it; instead, I converted one of my center-console cup holders into an ideal mounting location. I was surprised by the size of the mounting bracket; its back seemed a bit large, especially considering that some vehicles don't have much in the way of dash or console space. I'm sure its size was designed to support the weight of the cradle and tuner; it's a minor snag, perhaps, but nothing that can't be overcome. On the whole, though, if you have limited dash space, and one is available for your vehicle, I'd highly recommend using a Pro.Fit bracket.
Tuner-mounting out of the way, it was time to make the connections and get on the road. Plugging into the cigarette lighter, no problem. Connecting the patch cables to my receiver's auxiliary input, simple. Plugging the antenna into the tuner's cradle, easy as pie.

The magnetic roof-mount antenna's wire ran underneath my car's weatherstripping, and into the vehicle.
In fact, the only real challenge, as with any satellite radio product, was installing the antenna. The difficulty in this undertaking varies from car to car. I'm luckily able to run the antenna's cable underneath my back window's weatherstripping into the trunk, then into the car.
For an idea of what it might take in your vehicle, check out our
satellite radio installation video
.
Connections made, subscription set up, I was ready to go.
All in all, the Clarion is remarkably easy to use; its best feature might actually be the elegance of its simplicity. As I mentioned earlier, the face is compact and uncluttered, with a minimum of buttons. This proved not only an aesthetic plus, but a utilitarian feature. Learning to operate the system totally by touch took no time at all. The few buttons are extremely easy to find, and the rotary dial is great for casual surfing.
The ten numeric buttons at the bottom of the receiver get you access to the channels you program as presets. There are three "bands" of presets (A, B, and C), ten presets in each. To switch between bands, I had to press a button at the top of the receiver, then continue using the preset buttons at the bottom. This seemed marginally inconvenient at first, but I quickly got used to it, and in no time could select both bands and presets without looking.
All this adds up to enhanced safety; not having to look at the tuner means that my eyes stayed on the road, for which I'm sure everyone around me was grateful.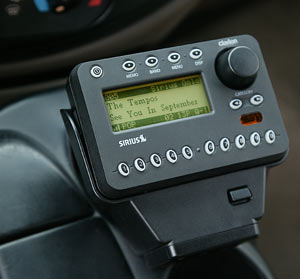 The tuner, in its cradle, fit snugly on my car's center console, which afforded me easy system control.
Passengers in the car can take full advantage of the Clarion's capabilities. Not only do you get 30 presets and the ability to surf with the rotary dial, you can also preview content by pressing the "Category" button. You're able to see the song titles or artist names (whichever you prefer) that are currently on other channels, which are divided into groups by genre. Or, if you know exactly where you want to go, you can enter that channel's number directly by simply pressing the rotary dial and using the numeric keys.
One feature I found simultaneously nifty and intrusive was S-Seek. It lets you store up to 20 songs in a dedicated memory, and alerts you anytime one of them is playing anywhere across the SIRIUS dial. While it is fun to be able to jump to one of your favorite songs whenever it's playing (nifty), with a full memory, the system can tend to give you alerts a little too often (intrusive). But, overall, it's a great feature for people like me: I tend to buy lots of CDs. Lots. And a great many choices have been made based on what I've heard on satellite radio (thanks to the depth of its programming). With the song and artist names on hand, it's easy for me to remember whom I'm looking for when I hit my local music store; just by holding down the "Memo" button, my list of favorites pops right up. Quite handy.
The display impressed me quite a bit. It has three selectable fonts, all of which are highly legible. It let me change the display and button color to either orange or light green, which I liked very much (for the record, I preferred the green setting). You can select dimming and contrast levels, or set the tuner to adjust automatically, based on light conditions. Also, the display doesn't wash out, even in very bright sunlight, so I never had to strain to read it.
One of the inherent temptations of satellite radio is to look at the display often, to catch artist names and song titles. In the Clarion's case, most of the information transmitted by the satellite appears on the screen; portions that don't fit scroll automatically, so you never miss any info. The display is of such quality that a quick glance always told me everything I needed to know, again, freeing my eyes up to watch what they were supposed to watch.
By its very nature, satellite radio signal is compressed, so it's not going to sound as good as, say, a CD. That said, I was pleased with the Clarion's overall sound quality. Using the patch cables to connect to my receiver's auxiliary input was definitely the way to get the best sound out of the system.
To make it a fair test, however, I also used the wireless FM modulator. And I confess, before engaging it, I fully expected to hear a dramatic drop in signal quality, to which wireless FM modulators are often susceptible.
To my surprise, the modulator performed pretty darn well. The sound didn't suffer the signal degradation I had expected. In fact, the sound was remarkably lively and robust. I had to try a few different frequencies to get just the right one, but once I found it, I was quite impressed.
The Clarion makes a great home piece, too. The audio output plugs right into a home stereo's audio input. The home kit comes with a minijack-to-RCA patch cable; if you have a smaller shelf system with a minijack input, you can use a mini-to-mini plug as well.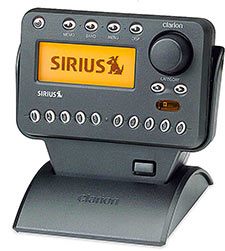 In its home cradle, the Clarion tuner makes itself right at home on a table top or bookshelf.
As in the car, the antenna presents a challenge in the home as well. This time, the trick is to find the right spot to get optimum reception, especially in areas that have few or no repeaters. The best strategy is to get the antenna as near to the roof, and as far from obstructions, as possible. An optional extension cable will likely be a necessary add-on for anyone using the tuner in the house. After searching a bit, though, I finally found a spot for it that served my purposes.
In the house, I noticed the signal compression more than I had in the car, but the sound quality was still reasonably good, and certainly worth it, as far as having the programming variety of SIRIUS at home was concerned.
The home cradle sat neatly next to my A/V equipment. The wireless remote let me control all aspects of the system from across the room. The small display size made it a little hard so see from certain places in the room, but, as my apartment can hardly be described as "palatial," this presented few problems.
In the final analysis, the Clarion rates very high on my performance scale. I can confidently say that if you're in the market for plug-and-play SIRIUS equipment, you won't go wrong with Clarion's.