Great Sound for the Great Outdoors: A review of Polk's Atrium 45 speakers
Former Crutchfield staff writer Barry Montgomery studied English and psychology at Indiana University and received a master's degree in English literature from the University of Virginia.
More from Barry Montgomery
Until very recently, owning outdoor speakers was a possibility I'd never really considered. Despite my confirmed status as a rabid music fan, outdoor speakers just never made sense for a perpetual renter like myself. But my outlook changed last fall when, after a protracted search, I finally bought a house.
One of the key selling points of my house is a great screened-in back porch with a flagstone floor. It's not only perfect for private weekend and evening hangout time during the warmer months of the year, but it's also roomy enough (about 15' x 18') to host parties and get-togethers with plenty of friends. All of a sudden, the idea of outdoor speakers became very appealing. Being the polar opposite of a "do-it-yourselfer," however, I dreaded the reality of installing such speakers.
I installed a pair of white Atrium 45s, but these speakers are also available in black.
So when I was given the opportunity to install Polk Audio's Atrium 45 speakers on my back porch and review them for Crutchfield, I must admit I accepted the assignment with a mixture of excitement and trepidation.
Starting out
When I opened the box containing my new speakers, I found two compact speakers, two mounting brackets, and an instruction booklet. The sturdy, weather-proof construction of the Atrium 45s was immediately apparent. From the rust-proof aluminum grilles and brackets to the stainless steel and brass used for the rest of the hardware, these speakers are truly built to withstand the elements.
The cables I needed to connect the speakers to my receiver inside were not included. I'd picked up cable beforehand, though, since it's very much the norm for speakers not to include cables. I was a bit surprised that no mounting screws were supplied in the box. Although I was able to purchase the necessary screws for less than a dollar, having to make a trip to the hardware store for them was a small annoyance.
Wall-mounting
Happily, the actual mounting of the Atriums on the back wall of my house ended up taking me less time than that trip to Lowe's. The process was remarkably simple — I just held the brackets in place where I wanted to install the speakers, marked the points on the wall where the mounting screws would hold the brackets in place, and then drilled four holes. I decided to place my Atriums about eight inches below the ceiling of my porch to give them two nearby reflecting surfaces (the other being the wall on which they're mounted). This positioning is generally recommended to enhance a speaker's bass response.
From there, it was a very simple process of using the four mounting screws to affix the brackets firmly to the wall. The speakers attached to the brackets very easily with two large knobs that screwed into the speaker's sides top and bottom (which actually appear to be the sides of the speaker, as I opted for a horizontal speaker positioning — more on this later). The entire process of wall-mounting my speakers was accomplished in only 20 minutes.
Once I'd run the cables necessary to connect my new outdoor speakers to the indoor receiver that would power them, I was ready to try them out.
The Atrium 45s let you listen to music in almost any outdoor location — exceptionally rugged construction means they don't need to be sheltered under a roof or eaves.
Atriums in action
I have to admit, I was a bit skeptical that the Atrium 45s would deliver sound that I found truly pleasing. While hardly a dyed-in-the-wool audiophile, I am fussier about sound than most people I know. It's rare that I find the sound of bookshelf speakers in this price range (around $200 for a pair) more than so-so. The Atrium 45s are also more compact than most bookshelf speakers, and face the greater challenges of an outdoor setting, where it's particularly difficult to achieve decent bass response.
I tested out these speakers with a cross-section of discs from my music collection, in an effort to get a feel for how they handled various musical genres, as well as recordings of different eras. The first CD I played was Kenny Dorham's classic Trompeta Toccata album. The title track began with a dramatic flourish — Dorham's unaccompanied trumpet rang out boldly and vividly across my back yard, simultaneously mournful and defiant. When the full band finally kicked in behind Dorham with a roiling, spring-loaded Latin beat, I got my first taste of what these speakers could do.
Let's just say I was very pleasantly surprised. The Atriums delivered rich, warm sound and — when I was positioned in the listening "sweet spot" on my porch — a stereo image with significant depth. The highs were crisp without being overbright, while the midrange was well-defined and balanced. What impressed the most, however, was the bass response. I never imagined that a speaker so small, in an outdoor setting, could produce bass that was so full-bodied and powerful.
More music, more music
Switching gears, I next threw on The Black Light by the band Calexico. I was pleased to hear the spooky, reverb-drenched soundscapes of this album unfold with three-dimensional clarity. Subtle sonic brushstokes, like a curling wisp of steel-pedal guitar here or the ghostly echo of a mariachi band there, were conveyed cleanly and precisely. The result was an impressively faithful reproduction of Calexico's sun-blistered, Southwestern musical canvas.
Another highlight came when I played James Brown's Motherlode album. When I cued up the track "She's the One," one of my all-time funk favorites, the Atrium 45s did not let me down. They effortlessly handled the telepathic interplay between Brown and co-vocalist Bobby Byrd. More impressively, they reproduced the song's remarkably interlocking guitar, bass and drum lines with power and real bass heft.
Beyond the back porch
My porch is about 18 feet deep and the Atrium 45s are pretty small speakers, so I wasn't really expecting to be able to hear much music from them out in my back yard. But again, these speakers had another pleasant surprise in store for me.
I found that if I turned the volume of my receiver up just a few notches, the Atriums delivered music that I could hear throughout my back yard. There was no distortion audible at this increased volume level, either, although out in the yard there was of course some reduction of the potent bass power that I had experienced on the porch. Still, the sound was impressive, so I'll also be able to enhance work and play time in the yard with my favorite tunes. Well, at least the work time when I'm not using the lawnmower!
A few suggestions for doing this yourself
The Atrium 45s come in both white and black. The white version is paintable, for better blending with your house. If you plan to paint them, it's a great idea to get this painting done prior to installation time. The speakers themselves are easy enough to remove from their brackets and paint at a later date, while the brackets would be a little trickier to remove. Most important to paint before installation is the insulation jacket on your speaker cabling — this would be a real pain to remove from your walls, paint, and re-install.
Another point to consider: It's generally recommended that you mount outdoor speakers as high as possible, in order to achieve the widest possible distribution of sound. If you follow this strategy, you'll very likely end up with your speakers well above ear-level.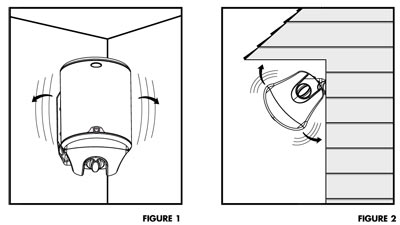 Vertical mounting (Figure 1) allows you to swivel the Atrium 45 from side-to-side. Horizontal mounting (Figure 2) permits vertical swiveling. (Illustration courtesy of Polk Audio.)
As I previously mentioned, the Atrium 45 brackets allow you to position the speakers horizontally or vertically. If you choose a vertical installation, the bracket allows side-to-side swiveling, which is great if you've mounted the speakers at ear level. But if you're going for the maximum height/maximum dispersion strategy, you won't be able to point the speakers down towards the listeners. A horizontal installation, on the other hand, allows you to swivel the speakers vertically, which in most mounting situations gives you more flexibility to direct the drivers at your favorite listening location.
When installing any outdoor speakers, be sure that the cable you buy to connect them to your receiver or amplifier is an appropriate length for your setup (it's a good idea to buy 15% more cable than your best estimate of the run you'll need to make, to allow a margin of error). Also, always buy cable that is sufficiently insulated for either in-wall or burial application, depending on what route you're using to connect your indoor amplifier and your outdoor speakers.
Big sound and sound value
I definitely got a lot more than I bargained for with the Atrium 45s. They produce powerful, dynamic outdoor sound that's truly impressive given their compact size and very reasonable price. Thanks to these great little speakers, I'm now looking forward to summer afternoons on my new porch more than ever.