10 Megapixels and More: Sony's Outstanding DSC-R1 Reviewed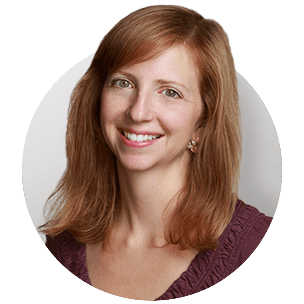 Julie Govan is the Brand Manager at Crutchfield, and has been writing about consumer electronics since 1999. Her areas of expertise include home theater, surround sound, digital cameras, and HDTV. In her spare time, she also writes book reviews and fiction. She earned a B.A. in English from Davidson College, and went on to receive a master's degree in English literature from the University of Virginia.
More from Julie Govan
Sony's DSC-R1 compares with Sony's last high-end point-and shoot camera, the DSC-F828, the way Hubble compares to a kid's toy telescope. All right, the difference isn't quite that dramatic, but the DSC-R1 stands out among non-SLR digital cameras, from the first moment you take it into your hand. I only had a few days in which to play with it, but I still found plenty to talk about.
What I knew about the DSC-R1 camera
Before I took the camera to review, I'd heard the basics about this camera. I'd read that it has a 10.3-megapixel sensor, which means it can capture extremely high-resolution photos. For example, a good photograph of a scene could be printed at poster-size and still remain crisp and detailed. But not only is the sensor high-resolution, it is also much larger physically than similar sensors in other brands of point-and-shoot camera. At 21.5 x 14.4 mm, this sensor is about five times larger than the sensor in the popular, high-performance Sony DSC-F828; it actually compares in size with digital SLR sensors.
What that large sensor size means for photographers in the real world is better sensitivity, and a potential for outstanding dynamic range. Dynamic range is what photo buffs call a camera's ability to capture both the very bright details of a scene, and the very dark details of a scene, in the same photograph. When a photograph includes both, it looks wonderfully realistic. (Picture a photograph of a tree's leaves in sunlight, with light beading the edge of a backlit leaf, and clearly visible veins tracing a shadowed leaf beside it.) When a photo lacks one or the other, or both, it looks dim, dull, or flattened.
The DSC-R1 was also said to have a very high-quality Carl Zeiss lens and 5X optical zoom. The Carl Zeiss name means glass optics and special lens coatings designed to reduce unwanted reflections and improve contrast. Sony puts Carl Zeiss lenses in many of their better cameras, but this one is noteworthy because it's wide-angle, with a 35mm equivalent of 24mm to 120mm (often, these larger, more expensive consumer cameras are designed for extensive zoom, not wide-angle shooting).

The dual memory slots on the DSC-R1.
Finally, I'd heard that the DSC-R1 let you use either Memory Stick® (Sony's own brand of flash memory) or CompactFlash® (a very commonly used form of flash memory). This flexibility is great for consumers who have already invested in one of those types of memory and don't want to switch. Plus, it makes it more likely you'll be able to buy compatible memory if you're traveling in out-of-the-way places.
I have to note that the model I was given to review was a pre-production model, and I didn't get to spend a ton of time with it. As a result, I'll happily talk about my findings on the DSC-R1, but I can't guarantee that my experience will exactly mimic the results a user might get with a production model. However, there's good news: in general, I find that these pre-production models underperform. So if I got good results out of the DSC-R1, that's a good sign.
Getting to know the DSC-R1
What hit me first was the build quality. This camera looks a little ungainly at first glance. But with a large, solid lens barrel, an appealingly grippable coating, and well-designed buttons, this camera feels exceptionally well-made and reasonably well-balanced — especially for a non-SLR camera with a large lens.
And then there's the LCD. Unlike most cameras, which either have a fixed LCD built into the back of the camera, or have a flip-out, swiveling LCD which is hinged on the left side of the camera, the DSC-R1's 2" LCD screen is built into the top of the camera. It flips up and stands above the camera when you're shooting, almost like an additional flash. As soon as I realized just how it was built, I was eager to see how this unorthodox approach worked.

The DSC-R1's top-mounted LCD could even be twisted to face front, for self-portraits.
And the answer was: great. Although I had to get used to looking above the camera (rather than at the back of the camera) to see how a shot came out, I found that flip-up LCD design handy. I also discovered another viewing-related perk very quickly — if you've got the LCD open, but decide to look through the viewfinder instead, the DSC-R1 turns off the LCD and turns on the viewfinder. A great way to save on battery power, especially as cameras with both an LCD screen and an LCD viewfinder often drain their batteries quickly.
In fact, when it came to staying powered up, I had no problem. I never charged the battery once. It arrived with a full charge, and I used it on and off for about a week and never had to recharge. Sony had described the DSC-R1 as a pretty efficient camera — apparently that's yet another benefit that can be chalked up to the large sensor design — and I was pleased to find that it's true.
Photo-taking with the DSC-R1
The photographers among you are probably saying, "Fine, it's nicely built. Now let's get down to business. How were the photos?"
In a word, excellent. I really appreciated the DSC-R1's handling of difficult shots with lots of contrast. For example, I have two dogs with black heads and dark brown eyes. Usually, when I photograph them outside in bright sunlight, I lose all the detail on their heads. Shiny black nose, chocolatey eyes, crinkled ears as they wonder 'Why are you taking my picture again?' — it all disappears into a big dark blur. However, that wasn't the case with the DSC-R1. Even on auto mode, this camera did a great job resolving the different parts of the picture, and capturing photos with realistically dark and shadowed areas, without washing out the bright green grass, light red bricks, or sunshine. I attribute that largely to the wide dynamic range afforded by the large sensor size.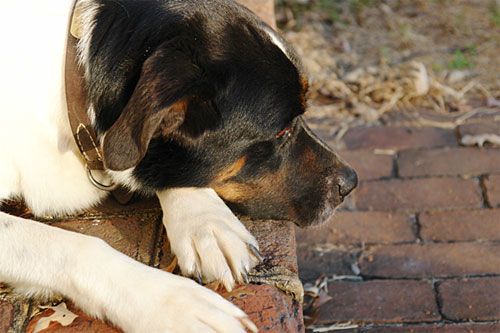 In this photo, you can see that the detail on Henry the dog's dark head is retained, yet the DSC-R1 captures all the little dents and dimples in the well-lit bricks as well. You can even see detail in shadowy parts of the brick. Not an easy task for most cameras.
I liked the 'R1's color palette as well. In the past, I've found Sony processing turned out photos that were a little too cold, with a blue-green cast to them. That led to some gloomy-looking scenery shots, and unnatural skin tones. However, the 'R1 delivers rich golds and reds as well as realistic greens and blues. It may be a little oversaturated, in some cases, but acceptably so for all but the aficionados out there — and I expect them to be using the camera's RAW mode instead, in which case the camera records the shot without applying any processing.
A few shots I really liked came from photographing a dogwood tree. For a very short time in autumn, dogwood leaves are tinged with an amazing magenta color alongside their usual green. They're studded with bright red berry clusters as well. The whole effect is quite unearthly, and very short-lived — blink and you miss it. The DSC-R1 did an exceptionally accurate job of capturing these leaves mid-change, a day or two before they turned brownish-red and dropped from their branches.

The glow of the red berries, with the gray-green and magenta of the leaves, made for a really interesting subject, and the DSC-R1 handled these difficult colors and tiny details with aplomb.
I was also very happy with the DSC-R1's performance shooting people; I felt most of the photos were lifelike and natural, even indoors. The DSC-R1 doesn't overuse the flash, either, not even in automatic mode. And its improved sensitivity made it easy to snap good photos in all kinds of lighting situations, with varying levels of motion.
To view or to preview? You decide
A big perk that many people might not even think about is the ability to switch between "framing" and "preview" mode. Let me explain. With many digital cameras, the imaging system is pretty complex, and doesn't let you see what your photo will look like — only what the scene before the camera looks like. With the DSC-R1, though, you can switch between simply viewing the actual scene before you, in as clear and bright a way as possible (excellent for framing the shot) and seeing what your photo will probably look like, with your current exposure settings taken into account. I found this feature useful, as I am not the most skilled manual photographer and I liked guesstimating the effects of my settings in advance using this function.
Manual features
Speaking of manual photography, the DSC-R1 was loaded with a full complement of controls to make pro-style shooting easy. The automatic mode performed so well that I didn't use them very often, but they were there, and reasonably easy to enable and use. Also, the mechanically linked zoom was very smooth indeed, and I loved adjusting it via a ring rather than a tiny button on the back of the camera. The focus ring made for smooth, intuitive manual focusing of your photos as well. I wish more cameras had both.
Laggin' behind
My biggest complaint about the DSC-R1, actually, was the time it took to store the pictures I photographed. Granted, I really made things as difficult for the 'R1 as possible, because I shot in RAW mode almost the whole time. In RAW mode, along with capturing a very large unprocessed image, it captures a JPEG as well, and I had the camera set to capture a top-resolution JPEG. That meant that the 'R1 had a lot of data to store to the card each time I pressed the shutter button. And you could tell. The camera was responsive and quickly took the picture I had been trying to capture every time I pressed the shutter button. But then there would be a little message telling me the camera was storing the image. If I went ahead and snapped another picture while that message was still visible, then the DSC-R1 would punish me by blanking out the screen while it went about its business of storing those images to the card.
So I switched out the 4X speed CompactFlash card I was using for an 80X Sony Compact Vault card. This Microdrive™-style card holds 5GB and is pretty new. It's also incredibly fast, and improved the storage delay noticeably. Regular JPEG storage was extremely reasonable, too. So that's my public service announcement for today: Photographers of the world, these new cameras can really take advantage of higher-speed memory. When you buy additional memory (and if you're taking 10-megapxel photos, you'd better plan on buying a lot of memory) get the fastest memory cards you can find, whether they're Memory Sticks or CompactFlash.
Overall
The DSC-R1 is an exceptionally fine camera, especially for a non-SLR model. This camera impressed me with its build quality, its beautiful photographs, and the vast array of features it offered. Careful thought clearly went into designing this camera, and I think Sony camera fans will love it. It's also a good choice for photography enthusiasts who don't want to deal with the lens-swapping that an SLR camera entails, but who insist on superb quality and plenty of shooting options. Based solely on the pre-production model — and we know they often lack some of the fine-tuning of the production model — I expect the DSC-R1 to be an extremely popular camera.