HD Radio and the Boston Acoustics Recepter Radio HD
Tara W. has worked for Crutchfield since 2004. She writes about whole-house music and video gear, and works on Crutchfield's video team.
More from Tara W.
I recently had the chance to try out the Boston Acoustics Recepter Radio® HD, and in doing so, check out HD Radio®. HD Radio is the digital broadcast of FM and AM radio signals, so I was looking forward to testing out the difference between traditional radio and the new digital format.
What is HD Radio, anyway?
Chances are that you've heard of HD Radio, but maybe you aren't entirely sure how it works or just what it can do for you — I know that I wasn't until I jumped into this review. So, here's a brief synopsis of the three major benefits:
Improved sound quality. Radio stations can broadcast more information more accurately with a digital signal, which means that they will be able to broadcast better-quality songs and programming, without static or crackles. HD Radio describes it as "FM stations with CD-quality sound and AM stations with FM-quality sound."
More listening options with "multicasting." HD Radio calls it "the stations between the stations." Basically, it means that stations can split their signal into two or more different feeds of programming. This potentially gives you two different radio shows or songs on the same frequency (for example, 95.1 would become 95.1-1 and 95.1-2).
Textual information on your radio display. Stations can also send digital text info to your radio, like song title and artist information or weather and traffic information.
There are mixed opinions about HD Radio out there — from people raving about how great it is to people who just don't seem impressed at all — so I was pretty excited to get the Recepter home, give HD Radio a shot, and form my own personal opinion.
The Recepter comes with a satellite speaker so you can get stereo sound from a small table radio.
Appearance and setup
The first thing I noticed about the Recepter was how small it was. This worked out great for me, because I could fit the radio right on top of my bookshelf. And it comes with an equally petite satellite speaker, so I got stereo sound from an inconspicuous setup. It even comes with a tiny credit card-sized remote that I found pretty useful for changing stations from across the room.
For setup, I connected the satellite speaker to the main Recepter unit and plugged the AC adapter into the wall. The radio came with an internal AM antenna and simple, single-wire FM antenna attached. I had heard that I'd get better FM reception with the dipole (or two-wire) antenna that's included in the box, so I unplugged the simple FM antenna and attached the dipole antenna. Then, I tuned to a local station that was broadcasting an HD Radio signal, and started listening to digital radio programming.
If you've already purchased a Recepter and didn't receive a dipole FM antenna, Boston Acoustics will send one to you free of charge. You can contact a Boston Acoustics customer support representative at 1-978-538-5000.
Local programming with a digital sound
Programming options for HD Radio are all local, meaning that the stations you receive are broadcast from nearby and give you local news, weather information, traffic and ads. For me, this was pretty appealing. As someone who listens to satellite radio at home and in my car, I often switch over to my FM tuner to get the latest traffic and local news. (Folks living in major metropolitan areas may have access to weather and traffic on specified satellite channels — but many locales don't have this available to them.)
Since there are so many different listening areas to choose from, I took the Recepter with me as I traveled in September — from my apartment here in Charlottesville, VA, to visit a friend in Richmond, VA, and back home to Fairport, NY, to visit my family. I was able to sample the available radio stations, digital and analog, and get a better idea of the sound quality and variety of stations available.
Starting out in C'ville
The first stop on my own personal Recepter Radio HD tour was, of course, my apartment here in Charlottesville. I picked up great reception (with the dipole antenna) from a bookshelf in my bedroom. The main display was clear and let me easily see the station I was listening to, even if I was sitting partway across the room and changing stations with the remote control. The only thing I did have trouble seeing was the HD Radio icon. It flashed when I tuned in a digital signal, but, because it was located above the main display, it was tough to see if I was too far away or not on eye level with the receiver's display.
WVTF, one of the only stations to broadcast digitally in Charlottesville, does so on both 88.5 and 89.3 Mhz frequencies. Of the two stations I tuned in, I got the best reception with 89.3. Within a few seconds, the small HD Radio logo flashed on the Recepter and the sound quality improved. The display also changed from 89.3 to 89.3-1. I tuned into an evening newscast and the reception was quite good. And to reach WVTF's 89.3-2 station, I only had to turn the tuner knob clockwise (as you would to reach 89.5) and it switched to WVTF's HD2 frequency, which was broadcasting jazz. The sound quality was noticeably better than other FM analog stations — in fact, the first thing I noticed was the lack of hissing and popping noises that I typically associate with radio listening.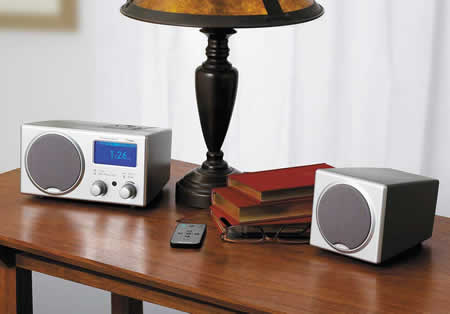 This table radio is small but still manages to produce a big sound.
On the road to Richmond
Listening to one radio station in Charlottesville gave me a basic sense of what HD Radio could do (better sound, two different programs at the same time), but I wanted to base my opinions on a broader range of stations, music and programming — so I hit the road. One of my good friends lives in Richmond, and I invaded her apartment one Sunday afternoon to test out the Recepter in a place that had more digital broadcasting. According to HDRadio.com, Richmond has seven stations that produce some sort of HD Radio signal. As I checked out the first HD Radio station on my list, WMXB 103.7, I again heard its distinct difference from the analog stations in the area. The better sound especially stood out when I listened to slower, softer songs. The details rang out through the apartment since they weren't muddied with the usual hisses and crackles of analog radio. The songs on the radio had a similar sound quality to the songs I listen to on my MP3 player.
I didn't pick up any multicasting or HD2 stations in Richmond, but I was able to get a good selection of clear, static-free HD Radio stations — WBTJ 106.5, WMXB 103.7, WRXL 102.1, and WTVR 98.1. The range of stations I had access to was limited by the location of my friend's apartment, but still gave me a good sense of the listening options available in the area.
Along with a clear digital signal, Richmond's 98.1 takes advantage of another HD Radio option: they broadcast the track information about the songs they play. I thought this was a great addition to HD Radio since I've grown accustomed to having this info at my fingertips with MP3 and satellite radio players. I quickly saw that one song I heard on the radio was by Counting Crows and Vanessa Carlton (I had wondered who the female voice was) and called "Big Yellow Taxi." It's also possible for stations to broadcast other types of textual data like weather or stock market information, but I didn't tune in any Richmond stations that did.
A trip home for the weekend: Fairport, NY
I also brought the Recepter with me on a trip home to visit my family in Fairport, a suburb of Rochester, NY. Before I headed off on my trip, I checked HDRadio.com again to see what stations would be available. It listed 12 HD Radio stations for Rochester, so I was excited to get started.
In Fairport, I was able to tune in 5 different radio stations and all were multicasting in some way. I had pretty big hopes for the multicasting feature of the Recepter. Better sound quality is definitely a welcome improvement, but I was really looking forward to the additional programming.
Multicasting and FM HD Radio stations: the results
The first channel that I tuned in was WDVI 100.5. Within seconds, there was a flashing HD Radio signal on the Recepter and the sound had noticeably improved. After a few more seconds, the display switched to 100.5-1 and I knew then that this station would also be broadcasting an HD2 station. Sure enough, when I turned the dial, I hit 100.5-2, and could listen to different programming from the same station.
Later, I tuned in four other stations that were broadcasting digitally: 94.1, 95.1, 98.9, and 102.7. In general, I found that what was playing on a station's HD1 and HD2 frequencies tended to be quite similar. For example, WZNE 94.1 plays alternative rock on their HD frequency and simultaneously broadcasts an HD2 frequency with an indie rock focus. WBZA 98.9 played classic hits on both of their frequencies, but it gave me the ability to choose between Elton John's "That's Why They Call It The Blues" and Journey's "Faithfully."
Multicasting is a really cool idea, but I found that some stations weren't broadcasting new programming on their HD2 frequencies — instead, they'd broadcast the same program that was on their HD1 frequency or another analog radio station. I think HD Radio listening options will expand as more stations take full advantage of their HD2 frequencies and develop unique programs just for them.
AM HD Radio reception
While in Rochester, I tuned in an AM station that was broadcasting digitally, too. WHAM 1180 is a news/talk station and I listened to the end of a news show on Friday evening. FM HD Radio stations broadcast with a sound quality similar to CDs, but the sound quality of a digital AM radio broadcast is closer to that of an analog FM broadcast. For me, the difference wasn't quite as noticeable as the difference between analog FM and digital FM, but I definitely preferred the clarity of digital AM to that of analog AM. Folks who are interested in AM's talk radio stations will especially appreciate the improved sound quality. It was much easier to hear these shows — I didn't struggle to follow the conversation as I sometimes do if the sound is distorted.
Overall thoughts on the Boston Acoustics HD Recepter
I can give a lot of credit for the improved sound quality to digital radio feeds, but the Recepter did a superb job for a radio of its size. The combination of the receiver with speaker and satellite speaker gave me stereo playback that enhanced the quality of the listening experience. Even at low volume levels, the radio was able to fill the room I was in with rich, deep sound. It performed well with many songs, from a slower John Mayer song to a rockin' out Arctic Monkeys song. And the simple controls on the receiver and remote made it easy to navigate to my favorite station.
HD Radio conclusions
There was a noticeable improvement in the sound quality from analog FM frequencies to digital FM frequencies. The better sound quality was based on two things: the digital signal was free of the interference that causes pops, crackles, and fades in analog FM radio, and the sound seemed more detailed and deeper than an analog feed. As for the transition from analog AM to digital AM, the same differences were there but less pronounced.
Among the family members and friends who listened to the radio with me, everyone's reactions were quite similar. They thought the sound (especially of the FM feeds) had drastically improved. One even remarked that it sounded "just like a stereo."
But I'd expected improved sound, so the feature that impressed me the most was multicasting; I like the idea that you can hide stations in between other stations. I enjoyed jumping back and forth between two similar music programs and picking the song that I liked better. I think this will only improve as more stations broadcast digitally and develop HD2 programs that really draw in listeners. They're definitely on the right track. (As I conclude writing this review, I've heard that soon Charlottesville will have another HD Radio broadcasting station — WCNR 106.1's digital feed should be up and running in a few weeks.)
HD Radio suggestions
For people out there looking to purchase an HD Radio, here are a few different things to look for:
Will you listen in your car or from your home? Many radios are available that have HD Radio tuners or are HD Radio ready (meaning you'd have to purchase a separate additional tuner).
Which of your local stations broadcasts HD radio? Which multicasts? HDRadio.com can give you a good general idea about which stations are already out there and which will be coming soon, but the reception in your area will vary. Also, keep in mind that a station which is multicasting may not be offering different material on its second frequency. And remember, analog reception of a station doesn't always mean that you'll be able to pick up the digital feed when you get your new HD Radio tuner.
Will your radio be able to pick up multicasting or HD2 frequencies? Most newer models have the ability to pick up HD2 frequencies and even HD3 frequencies, but be sure to doublecheck the specifications for a mention of HD2 compatibility or "multicasting."
Is HD Radio for you?
Through my experience with the Recepter, I found that HD Radio stations improve terrestrial radio in two significant ways: improved sound quality and expanded listening options (in areas where multicasting is available), so I'm looking forward to hearing more stations broadcast digitally and develop HD2 feeds. And what can HD Radio do for you if you've already got satellite radio? It's a great complement to satellite listenings and will give you access to local programming (news, weather and community events) with digital-quality sound.