The Punch 45 — Small Numbers, Big Attitude
A review of Rockford Fosgate's 25th Anniversary special edition amp
Ken Nail has written about car audio for Crutchfield since 2003, after four years as Crutchfield Sales Advisor, and 10 years as a music teacher. He's an avid music listener, whose favorites are classical and film music. When not chained to a desk, Ken spends most of his time training for triathlons and marathons, and likes getting outside for backpacking, downhill skiing, and bicycle touring. He attended West Virginia University, where he received a Master's Degree in Music Performance and a Bachelor's Degree in History.
More from Ken Nail
An American original
Like apple pie, baseball, and fireworks on the 4th of July, Rockford Fosgate amps are true American originals. Rockford Fosgate has epitomized the loud and proud American attitude for 25 years with high-performance car audio equipment that's stood the test of time.
To celebrate, Rockford Fosgate has produced a special limited-edition "25 to Life" series of amplifiers. The new Punch 45 "25 to Life" amp is a throwback to the Punch 45 HD Mosfet amp they produced in the early 1990s. The original Punch 45 was famous for its bullet-proof construction and its ability to blow away similarly-rated amps in sound-off competitions. So how's the new model shape up?
The "25 to Life" Punch 45 borrows the utilitarian styling and flat-black finish of the original Punch 45, as well as a modest power rating of 22.5 watts RMS to two channels (more on that later). When you get underneath the surface, it's firmly rooted in the 21st century, packed with all of RF's latest amp technology. Let's take a look at the amp's external features, and then dive inside for a look at the technology and construction.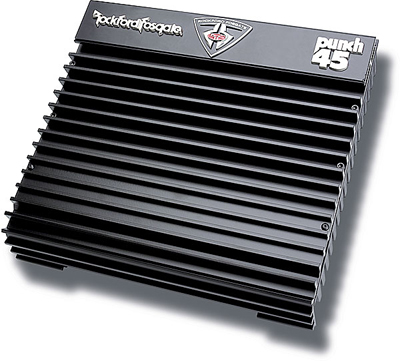 The Punch 45 "25 to Life" amp.
Controls and connections
The Punch 45 is a 2-channel amp, bridgeable to a single channel. Conservatively-rated at 22.5 watts RMS per channel (70 watts bridged to one channel) it's well-suited to driving a pair of high-quality coaxial speakers, a component speaker system, or, in the single-channel setup, driving a small sub. The amp's controls and connections give you the flexibility you need to handle those tasks. Here's a quick rundown:
High- and low-pass crossover network — variable from 40 to 400 Hz, with a 12 dB/octave slope.
Punch Bass with remote control — a nice feature if you're using the amp to run a sub. The Punch Bass can kick in +18 dB of bass boost, centered at 45 Hz. The wired remote control allows you to dial in the thump you're looking for right from the driver's seat.
Heavy-duty connections — go ahead and get some big wire. The '45 accepts 4-gauge power and ground cables and 8-gauge speaker wire — impressive for an amp of this power rating.
RCA preamp outs — a nice feature to have if you've got more than one amp in your system.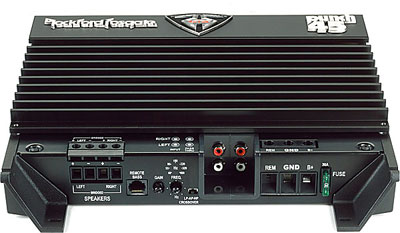 Heavy-duty connections are part of the package with the Punch 45.
Under the hood
Rockford Fosgate has never stood still when it comes to developing new technology and designs to improve amp performance, and the Punch 45 takes full advantage of all that goodness. A couple of key points in improving amplifier performance are how well the amp dissipates heat and reduces possible sources of interference, both internal and external. Here's a few of the clever techniques RF employs in the Punch 45:
Custom-designed MOSFET transistors — the TO-247 power transistors in the Punch 45 are custom-designed so they have a large amount of surface area in contact with the amp's heat sinks. That allows them to handle more power and run cooler than off-the-shelf parts.
Discrete Surface Mount Components — It's a mouthful to say. But it simply means that individual components inside the amp are mounted directly onto the surface board, rather than connected by thin wire leads. This improves circuit efficiency and reduces the possibility of the amp's components picking up or transmitting electrical interference.
Focused Mass Heatsink — The Punch 45's heatsinks are thicker and heavier at the spots where the amp's components produce the most heat. The heatsink can then suck up more heat, so the components run cooler. Power handling and performance both benefit.
The end result is an amp that runs cooler, with cleaner sound output — at least according to Rockford Fosgate. Let's see how it worked for me.
Let's talk power ratings
I installed the Punch 45 in my ride to put it to a real-world test. The amp was used in 2-channel mode, driving a pair of Polk EX3550 5-1/4" component speakers located in the front doors of my 98 Ranger. The speakers are normally driven by another Rockford Fosgate product, a Punch 301X 4-channel amp, supplying 40 watts per channel to the speakers.
Since I've mentioned power, this is as good a spot as any to talk about the Punch 45's power output. The '45 steps on the scales boasting a lightweight 22.5 watts RMS output per channel (70 watts when bridged). Those kinds of numbers aren't going to attract a lot of attention, particularly when a lot of current in-dash CD receivers boast higher ratings. But that's not the end of the story — the Punch 45's power output, it turns out, is very conservatively rated.
The Punch 45's published power rating pales beside the numbers you see when you open the box. The Performance Verification Certificate that Rockford Fosgate supplied with the amp I tested listed the power output at a CEA-2006 compliant 79 RMS watts per channel at 4 ohms. You don't need to be a math whiz to figure out that that's over three times the published power rating — considerably more than 22.5 watts per channel, to say the least. After checking out that set of ratings I was even more anxious to see how the amp would perform.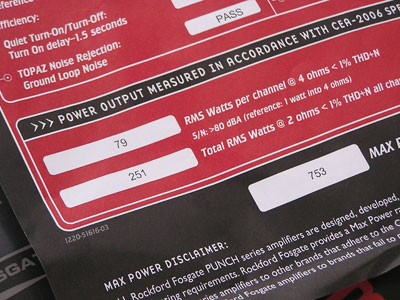 Under-rated? You betcha — check out the actual power output of the Punch 45.
How did it sound?
I've always been pleased with the sound of my Punch 301X, but the Punch 45 clearly sounded better. The extra power (79 watts vs. 40 watts) helped, but the '45 excelled in the areas that really distinguish a fine amplifier. The sound output was uniformly clean and accurate, with a high level of detail at high or low volumes. Highs came through with no unpleasant edginess even on the demanding high brass and piccolo passages from John Barry's film score for Thunderball. Vocals had a smooth roundness and a nice sense of depth — I was especially impressed with the sound of k.d. lang's voice on "Helpless," from Hymns of the 49th Parallel. And although most of the bass in my system is handled by a subwoofer, the low-frequency extension down to the sub was powerful and robust during loud orchestral passages, like "The Bridge of Khazad-Dum" from Howard Shore's magnificent film score for Lord of the Rings: The Fellowship of the Ring.
Reason to celebrate
There's no doubt the Punch 45 is a very fine car amplifier. It should be, with a price tag right up around $400. But if you're worried about the price tag, you're missing the point. Rockford Fosgate can take a lot of pride in what they've accomplished over the years. They've been a trendsetter in car audio, and have always stayed true to their roots — after all, how many consumer electronic companies still build their subs and amplifiers right here in the U.S.A.? So they're well within their rights to celebrate a great heritage by building a special-edition amp like the Punch 45 "25 to Life." They've done a great job, combining the latest technology with a distinctive "old-school" look.
Undoubtedly many of these limited edition models will end up in the hands of custom shops and Rockford Fosgate fanatics, but if you're looking for a great-sounding amp you may want to make room in your system for the Punch 45.