A Budget-friendly System for a Small Room
Coupling Sharp's 15" AQUOS LCD TV with Panasonic's SC-DP1 mini system
Ralph Graves is one of Crutchfield's blog editors, and part of the company's social media team. He writes about home audio/video gear, specializing in Apple-related and wireless technologies. Ralph holds a master's degree in music composition, and his works have been released on various labels. He's served as product manager for an independent classical and world music label, produced several recordings, and worked extensively in public broadcasting. Since 1984 he's hosted a weekly classical music program on WTJU, and is also active as a blogger and podcaster.
More from Ralph Graves
A budget-friendly system for a small room
Small space, small budget — that was the challenge facing me. No longer satisfied with the modest 13" CRT (tube) TV in our library/guest room, I wanted to replace it with something better. I wanted an A/V system that would show broadcast and cable TV channels, as well as DVD movies, with the best sound and picture possible. It had to fit in a 24" by 27" area, but our finances dictated that it had to cost no more than $1,000!
For some, the simple solution would have been to add a DVD player to the TV already in the room. Our library's TV was so old it only had an RF input, which meant anything I hooked up to it would be limited to the low-resolution images an RF coaxial cable could transmit. The TV also had a picture tube that was beginning to deteriorate. Rather than adding a DVD player now, and waiting to replace the TV, I preferred to upgrade to a brand new system.
Choosing a TV
I knew that the biggest part of our budget would be spent on the TV. Although there are still bargains to be had with small CRTs, there's a tradeoff in limitations. Most of the CRTs I looked at with a screen size under 20" had only an RF input and a composite video connection. Composite video cables combine all the video information being sent by the DVD player to the TV and send it over a single cable. Since some data is lost in the process, composite video cable delivers a good image, but not as good as more sophisticated connections such as S-video (which sends the brightness and color information separately, and thereby can include more of the source information) or component (which further increases the amount of information sent by separating out the color data into two discrete streams in addition to brightness).
Component video connections were the ones I really wanted, as they are the only ones to deliver enough information to take advantage of the progressive-scan feature found on most DVD players. Progressive-scan displays an entire frame of video at one time (instead of splitting it into two interwoven parts). The number of frames per second is doubled, resulting in a smoother image flow, with crisper detail.
I looked at some CRT TV/DVD combos. Most had outputs to external speakers, making it possible for me to get a better sound by running the audio through a receiver. None of the combos had progressive-scan, though, so I wouldn't be able to get the best possible picture quality from my DVDs.
Clearly, the small, relatively inexpensive CRT sets and combo units weren't going to work for me. I needed to check out other kinds of televisions. Of the three newer technologies, plasma and DLP screens were way too big; only LCD panels came in sizes small enough for the space available, and priced within my budget.


The Sharp LC-15S2U AQUOS TV with side mounted speakers was the best fit for our available space.
The Sharp LC-15S2U 15" AQUOS LCD TV
At around $750 I found what I was looking for with the Sharp LC-15S2U AQUOS TV. The 15" LCD TV had component video inputs, and could display progressive-scan images. There was still a small trade-off; the TV had a 4:3 aspect ratio (like traditional TVs) as opposed to a 16:9 aspect ratio (a better fit for widescreen movies). Still, it was light (about 8 lbs.), compact, and gave me a lot of options. I could either use the stereo speakers built into the sides of the TV (which had a pretty good sound) or run audio feeds to a receiver and speaker system for even better sound.
The Panasonic SC-DP1 DVD/CD micro system
With about $250 left over, I looked for a compact, inexpensive system with a DVD player. The Panasonic SC-DP1 micro system filled the bill nicely. The SC-DP1 had a receiver, AM/FM radio and DVD player in one very small package and had the ability to play not only regular DVDs, but also DVD-Audio and a number of other audio and video disc formats. Most importantly, it could send a progressive-scan video signal to the TV. The two speakers, while substantial, didn't require an excessive amount of room. Best of all, the price tag got me in under the wire. For $999.98 I had assembled what I hoped would be a killer system for a small space. I spent the next several weeks testing that assumption!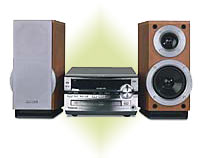 Panasonic's SC-DP1 — the micro system with major sound.
Getting a visual
As I tried out my new system, I was continually struck by the picture quality of the Sharp. The LCD screen displayed images that were cleaner and more vivid than those on our old CRT. Even though the TV was small, details were very easy to make out on the screen.
Cable and broadcast signals looked much better than they did on the old CRT screen, although quality varied somewhat. The cable signal was still coming from an RF cable directly into the TV. Some cable channels came through better than others, but those problems were inherent in the transmission source, and not the Sharp.
When I first hooked up the system, I used the composite cable provided by Panasonic to connect the TV to the DVD player. The DVD images run through composite were better than the best signals coming through the RF cable; and certainly good enough resolution for casual viewing, the set's primary purpose.
In order to further improve the image, I had to improve the connection. To enjoy progressive-scan video, I needed to make a component video connection. Fortunately, I had a spare set of component cables — I could now use the progressive-scan feature on the Panasonic DVD player.
The composite image was good on the Sharp, but the progressive-scan signal was noticeably better. It was quite simply the best viewing experience I had ever had with a set under 19". I didn't have to work to make out tiny details. I could watch full-length movies on a small set without eyestrain!
The only drawback to my new LCD TV turned out to be very minor. Because of the way an LCD screen refreshes, sometimes images change faster than the screen can react. This can create some ghosting, or motion lag as it is called. As technology has advanced, this reaction time has decreased, and so has the problem (with LCD TVs; LCD computer monitors are a different story). Occasionally the Sharp blurred during very active scenes, but not to a significant extent. Motion lag seemed more obvious watching DVDs (which were showing at a much higher resolution) than with cable and broadcast programming.
DVD and TV sound
For broadcast/cable programming, running the sound through the Panasonic improved it a little — although it also tended to bring the flaws in the signal to the forefront. Even so, Panasonic's larger speakers (set farther apart than those on the Sharp panel) made the soundfield seem more expansive and encompassing.
With DVDs, there were even some choices as to how the sound was processed. There were two different surround simulation settings; one emphasized sound effects, while the other presented a more natural sound (I could also turn this option off). For DVDs recorded in 5.1 surround, I could also use the dialogue enhancer, which raised the center channel (where most dialogue is placed) a bit in the mix.
Listen to the music
In addition to DVDs, audio discs also sounded very good on the system. Our room is small, so with 50 watts per channel, the speakers could easily fill it with sound. The Panasonic came with some preset EQs for different kinds of music, as well as the option of manually adjusting bass and treble settings.
Although the system had only two speakers, for discs recorded in surround formats (such as DVD-Audio discs) the soundfield could be made convincingly three-dimensional. Regular audio CDs could also be processed through a surround format although they, as well as FM stereo, also sounded good in two-channel mode. Regardless of the source, the speakers responded well, giving the sound a real presence.
The speakers each had a bass port in the back. Panasonic's manual cautions against setting them too close to walls or corners. Since I only had so much space available, though, I had to set the speakers into the shelves. The ports weren't covered, but the small boxy space they fired into caused (as the manual warned) excessively boomy bass. By adjusting the bass settings, I was able to compensate for this and get the sound back into balance.
All this and looks, too!
In addition to budget, there were three major criteria I used in assembling this system. The first, obviously, was size — would it fit into the space available? The second was performance (performance usually comes first, but it made no sense getting a great TV if it wouldn't fit in the space provided). The third was appearance. The gear had to look appropriate for a library/guest room, which for me meant having a quietly sophisticated design.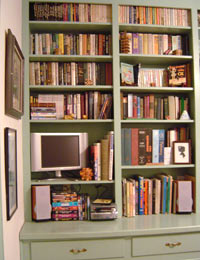 In addition to performance, the system also works well aesthetically.
Mounted on its provided stand, the Sharp TV looked very much like a picture in a very sleek silver frame. In addition to having pictures on the wall, we have a few on the bookshelves as well. The appearance of the Sharp, even when turned off, fitted well with our d?cor.
The Panasonic's speakers had a nice wood-look finish, and a hexagonal shape that's stylish while still being appropriate for a variety of room decorations. The small receiver — barely wider than the DVDs it plays — unobtrusively blended with just about everything. The wiring connecting the components was minimal, which meant no big piles of cables to hide.
Conclusion — under budget and beyond expectations
For $1,000, I was able to assemble a versatile system for a small room. Our guests appreciate being able to not only watch TV, but DVDs as well. For those times when the family is divided on viewing choices, having a second A/V system has been convenient, as the quality of images and sound it produces compares favorably with our main system. Combined, the Sharp LC-15S2U and Panasonic SC-DP1 did more than just replace our old TV — they packed a lot of entertainment options into a compact area, and enhanced the appeal of our room in the process.