Wireless headphones buying guide
Enjoy great sound without the tether to your device
David Brown is a member of Crutchfield's Home A/V writing team. He studied writing and politics at Ithaca College in upstate New York, where he grew up. He spent 12 years in Washington, D.C., where he earned a Masters degree in journalism and wrote an award-winning humor column. David relocated to Charlottesville, VA, in 2012. He enjoys listening to music, playing the guitar and piano, and hiking with his wife and children.
More from David Brown
If you've ever been annoyed by a wire dangling between your headphones and your smartphone, you may want to try a pair of wireless headphones. They allow you to enjoy high-quality sound without being tethered to your device. Once you experience the freedom of wireless headphones, you may find it hard to go back to wired listening.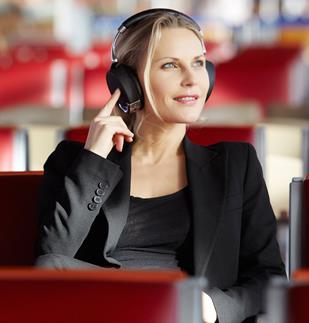 Two kinds of wireless headphones
How do wireless headphones work? There are two kinds, each with its own technology to establish a wireless connection to your listening device…
---
Wireless headphones with separate transmitters
Some wireless headphones use a separate transmitter to communicate with a music source. This transmitter is connected by a cable to your receiver, amplifier, or TV. The transmitter usually plugs into a wall outlet, while the headphones use a rechargeable or disposable battery.
Benefits:
Long range wireless listening from up to 100 feet away
Can transmit CD-quality sound
Can use multiple sets of headphones with one transmitter
Who are they for?
Late night TV watchers who don't want to disturb others
Home fitness equipment users who want to watch TV while they work out. Wireless headphones ensure you can hear the TV over the noise of a treadmill.
Enjoying music on a home stereo for listening late at night or while others are watching TV in the same room.
---
Most Bluetooth headphones offer controls on the earcups for taking calls, adjusting volume, and controlling music playback.
Bluetooth® headphones
Bluetooth is a wireless protocol found in virtually every smartphone and tablet on the market, as well as many computers. Bluetooth headphones connect wirelessly to your phone, tablet, or computer. Then you can listen from a range of up to 33 feet away.
Benefits:
Easy wireless connection between headphones and a smartphone or tablet
Earcup buttons offer control of music playback, volume, and phone calls
Who are they for?
Mobile listeners who don't want to deal with dangling wires
Tablet users who watch video but don't want to be tethered to their device
Instant pairing with your device
Pairing Bluetooth headphones with a smartphone is as easy as pressing a button on each device, then choosing the headphones from your device's Bluetooth settings menu. If you have an Android® device with Near Field Communication (NFC) compatibility, you can pair your smartphone by simply touching it to a pair of NFC-compatible headphones.
Better sound from Bluetooth headphones
If you want Bluetooth headphones with enhanced sound quality, look for aptX® technology. Found in some Android devices, aptX is a high-quality wireless streaming codec which offers improved sound quality over standard Bluetooth transmission.
[Shop for wireless headphones]