Clarion NX604
Navigation receiver
Item #: 020NX604
59 Reviews | 17 questions - 68 answers
This item is no longer available.
Original Price: $449.99
Shop all In-dash GPS Navigation

Need help?
Does it fit my car?
Select your car
Cloud connectivity and smart voice recognition
Clarion's NX604 navigation receiver puts you at the center of a multimedia universe from the comfort of your car seat. Whether you're exploring unfamiliar avenues, running errands, road-testing your favorite songs, or simply trying to communicate with others, you can count on this receiver to keep you connected to what's happening currently in the cloud through your smartphone and Clarion's Smart Access app. You also get simplified search through intelligent voice recognition technology, so the receiver can find what you need locally without wasting your valuable time.
Take the Smart Access app for a ride
When you download Clarion's free Smart Access app to your phone, you'll have access to several apps that work within the Smart Access ecosystem. Connect your phone to the NX604, and you'll get fingertip control over those apps through the receiver's screen. You can employ Smart Access through your iPhone® 4 and iPhone 4S using an optional Clarion cable, or use an optional HDMI cable and an Apple Lightning™ Digital AV Adapter combination for iPhone 5 models. You'll use an optional HDMI cable to take advantage of Smart Access through your Android™ phone.
Apps for social media, streaming audio, GPS navigation, traffic, and more are currently available (see below), and most require no additional charges to use them. As more apps are added to the Smart Access platform, Clarion automatically updates the Smart Access app, so you'll gain more functionality without having to do anything. And you can choose which apps you see on the receiver's main menu screen, for easy access on the go.
Your favorite apps at your fingertips
Apps you can currently use through Smart Access and the NX604 include:
• Social media like Facebook and Twitter
• Traffic by INRIX and Waze
• Internet radio: Pandora®, iHeartRadio, and TuneIn Radio
• Personal: email, calendar, news, and weather
Have your say with Clarion Intelligent VOICE™
Clarion's Intelligent VOICE software delivers relevant results quickly and with less input information than most other voice-recognition platforms on the road, thanks to incorporated Google Voice technology. If you're looking for nearby pizza, you won't need to go through multiple steps such as "vicinity search," then "restaurant," then "pizza" — you can just say "pizza, popular restaurant" and the NX604 will perform an immediate search for highly regarded pizza joints in your area. You can then choose one from the list and the receiver will guide you right to it.
Intelligent VOICE doesn't even need you to have a complete thought to know what you're looking for. You can use natural language to ask for a search, and the receiver will find close matches based on up-to-date Google searches. Say "I want to dance" to the NX604 and you'll soon be looking at a list of nearby nightclubs and dance studios. Gone are the days when you had to depend on antiquated searches that required exact phrases or precise language to get any results at all — with the NX604, you can look for things with only partial information or mispronounced words, and you'll likely get a solution within seconds.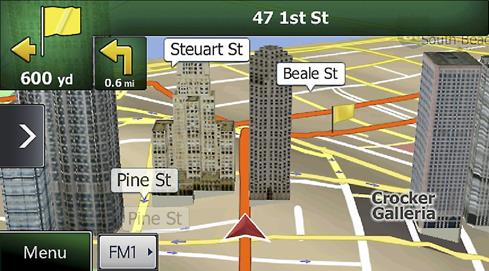 A screen for all seasons
You can explore built-in maps of all 50 states, Puerto Rico, and Canada through the NX604's beautiful 6.2" screen. You'll also have access to over 11 million points of interest, along with 3D mapping that allows realistic views of terrain, buildings, and landmarks in select metropolitan areas. The display also supports "flick" operation, just like your smartphone. You can drag and drop animated menu icons that'll give your dash a little personality, while allowing you to prioritize functions and A/V sources.
Timely traffic reports
The receiver delivers timely traffic reports in most metropolitan areas through RDS-TMC technology. You'll be able to see congestion along your route as it develops, and choose a more sensible path to your destination before getting stuck. Best of all, these updates require no additional subscription fees.
Bluetooth® for hands-free calls and streaming music
Built-in Bluetooth lets you talk hands-free on your compatible phone so you can keep your hands on the wheel. When a call comes in, you can tap the screen to answer the call and hear your caller over the speakers. And you can even stream tunes if your phone or other device supports it. The NX604 features a built-in microphone, or you can hook up the included external mic to boost the sonic clarity of your conversations.
Incorporate your smartphone even without Smart Access
Connect a compatible Android smartphone to the NX604 with an HDMI cable to enjoy the receiver's Android compatibility, which allows you to see the display of your smartphone right on the receiver's 6.2" display. When you're parked you'll be able to enjoy photos and high-definition video, surf the web, and view your phone's apps on the receiver's screen.
Apple users can enjoy direct iPod® and iPhone audio control with a simple USB connection or via Bluetooth. iPhone 5/5c/5s users will need to add a couple of more adapters, including an HDMI cable and an Apple Lightning™ Digital AV Adapter to get full access to audio and video content from their device.
Pandora® Internet radio as you roam
Take your Pandora stations with you — run the free Pandora app on your phone and control it from the NX604's touchscreen if you'd rather not use Smart Access. You can skip tracks, change stations, and thumbs up/thumbs down songs just like you do online. For the iPhone, you'll need a USB or Bluetooth connection; Android phones control Pandora via Bluetooth.
Sonically superb
The NX604 features a built-in HD Radio tuner which allows you to hear broadcasts in high-quality audio from participating AM/FM stations all over. You can choose from six preset tone settings, or make your own using the 6-band graphic equalizer. The subwoofer volume control lets you dial in just the right amount of bass if you've got a sub hooked up, and you've got high- and low-pass filters for further audio tweaks.
Clarion's unique sound technology makes your music sound great. Their "Intelligent Tune" technology includes Vocal Image Control, which lets you "move" the vocal to different seats in your vehicle. The NX604 also includes Sound Restorer, which brings the quality back to compressed audio files.
Connections galore
The NX604 lets you expand your entertainment options with a wealth of connection points. You'll find a USB input on the receiver's back panel, useful for plugging in a dedicated MP3 player or a flash drive, and you can use the front 3.5mm A/V input and rear RCA A/V inputs for hooking up external sources. The receiver also features a connection for an optional SiriusXM satellite radio tuner, so you can enjoy programming with your subscription. With the help of an optional adapter cable, you can add a rear-view camera for an extra layer of safety. Three sets of 4-volt preamp outputs help you add amplifiers and subwoofers to the mix.
Want to keep your car's steering wheel audio controls?
In most cars, you'll need an adapter to retain those controls with a new car stereo. Check "Details" for more information, and the "Accessories" tab for compatible adapters. If you're not sure if you need an adapter, call, chat, or email an Advisor for help determining what you'll need for your vehicle.
Bluetooth note: Use of this receiver's Bluetooth features will depend upon your phone's Bluetooth capabilities. Learn more in our article explaining Bluetooth profiles.
iPod/smartphone note: If you're going to use your iPod or smartphone with this receiver, be sure to check "Details" for compatibility information.
Product Highlights:
General Features:
DVD/CD receiver with 6.2" touchscreen and AM/FM tuner
fits double-DIN (4" tall) dash openings
internal amp (18 watts RMS CEA-2006/50 watts peak x 4 channels)
built-in Bluetooth for hands-free calling and audio streaming (external microphone included)
built-in HD Radio tuner
microSD card slot for map updates
Navigation Features:
maps of the United States, Canada, Virgin Islands, and Puerto Rico, plus over 11 million points of interest
Clarion Intelligent VOICE speech-recognition technology
free lifetime traffic updates
lane guidance and junction view
3D representations of landmarks and buildings
Smartphone Features: (see Details for info on compatibility with specific smartphones and apps)
Smart Access connectivity to control smartphone apps for social media, traffic, Internet radio, and personal email/calendar/news feeds
built-in iPod, iPhone, and iPad control

HDMI cable and Apple Lightning Digital AV Adapter required for Smart Access control and viewing video content from Lightning devices
Clarion CCA750 cable required for Smart Access control and viewing video content from older Apple devices

HDMI compatibility for screen mirroring (no control) with select Android devices when parked — requires optional HDMI cable
Audio/video Features:
plays CDs, DVDs, microSD cards, and USB memory devices (see Details for full capabilities)
24-bit digital-to-analog converter
6-band graphic EQ with 6 tone presets
"Intelligent Tune" audio enhancements
dual-zone A/V output
Expandability:
compatible with SiriusXM satellite radio tuner
inputs: rear USB input, two A/V inputs (front, rear), HDMI input, microSD card input (front), rear view camera input (with optional cable)
outputs: composite video output (rear), 6-channel preamp outputs (4-volt front, rear, subwoofer)
Other Information:
compatible with most factory steering wheel audio controls (adapter required)
warranty: 1 year
Why install a car stereo with built-in GPS?
Imagine taking a trip as your car's receiver gives you directions, finds the best restaurant for dinner, and plays movies for your back seat denizens. Navigation receivers cover all the bases, with GPS guidance, DVD playback, and a host of other useful features. You can search through millions of points of interest to locate gas stations, restaurants, museums, and other interesting spots, wherever you are. Most receivers offer Bluetooth capability for hands-free calling, along with the ability to search through your iPod playlists with touchscreen controls.
Clarion NX604 Reviews
Average Customer Review:
59 Reviews
---
What's in the box?
Navigation receiver (w/ 6.2" touchscreen monitor)
Trim-ring
Wiring harness
Preamp harness
AV input/output harness
GPS antenna (w/ attached 8' cable)
USB extension cable
Microphone (w/ attached 9.5' cable)
Small visor-clip
Large visor-clip
Self-adhesive clip
8 Counter-sunk ISO screws
8 Hex-head ISO screws
3 Self-adhesive wire clamps
Two-sided tape
10 Rubber caps
Wire-tie
Owner's Manual on CD-ROM
Quick Start Guide/Installation Manual
Notice of Correction (for Smart Access)
Notice of Correction (for SiriusXM)
Addendum Sheet (for Mic)
Warranty Information
Product Research
Touchscreen, Voice, & Remote Control
Onboard Navigation
iPhone/Android Integration
HD+Pandora+SiriusXM Radio
Built-In Bluetooth
Disc/microSD/USB Playback
Audio Section
Audio/Video Connections
Touchscreen, Voice, & Remote Control
6.2" Touchscreen TFT Display: The Clarion NX604 has an integrated 6.2" TFT widescreen display with touchscreen controls. The display provides a high-resolution video monitor for watching your DVD videos. The screen has a resolution of 800 x 480 (RGB) and 1,152,000 total pixels. The unit's touchscreen panel features interactive controls making menu navigation easy.
Touchscreen GUI w/ Flick Control: The GUI (Graphical User Interface) shows large icons that are highly visible and easily recognizable at a glance. The NX604 touchscreen responds to your finger gestures just as your smartphone screen would. You are able to drag & drop icons into different positions to customize the screen. The touchscreen also supports flick operation, so you can quickly scroll to another menu page.
Short Cut Menu: The unit has a main menu for using all functions and a shortcut menu that groups together frequently used functions. Use of the shortcut menu allows you to quickly access frequently used functions. Up to five frequently used functions can be registered to the shortcut menu.
Dimmer & Brightness Control: The receiver's display automatically dims to a preset brightness when the vehicle's headlights are turned on. The wiring harness includes an orange/white lead that should be connected to the vehicle's parking light circuit in order for the dimmer feature to operate. You can also manually adjust the unit's Day & Night display brightness from 0-20.
Variable Button Illumination (728 colors): Since the vast majority of functions are controllable from the touchscreen, there are only four physical buttons (including a rotary dial) on the unit for the most basic and commonly-used functions. You can set the head unit's button illumination to 1 of 9 preset colors or have the unit scan through all the preset colors. You can also select three custom user colors by adjusting red, green, and blue values.
Note: To prevent the displaying of video while the vehicle is in motion, the bright green wire in the supplied wiring harness must be connected to the vehicle's parking brake detection circuit. While the vehicle is in motion (parking brake off), you can still view all of the other displays and menus. Video can only displayed when the vehicle's parking brake is engaged. If you try to view video with the vehicle in motion, the head unit will simply display "CAUTION! Video is disabled for your safety".
Start Up Time: The NX604 has a start up time of approximately 40.7 seconds from Off to the Map Screen.
"Intelligent Voice" Search: Intelligent Voice is a voice recognition service that lets you search for destinations by just saying what's on your mind, based on Google Voice recognition technology and Google's vast local search information. For this service to work, you will need to download the Smart Access App (from Apple Store or Google Play Store) onto your Bluetooth paired iPhone (iOS 6.0+) or Bluetooth paired Android (OS 4.0+) smartphone. This app links to the Google server through your compatible smartphone and searches for your destination. Unlike typical voice recognition systems that require precise wording, this new technology allows more natural language to find your destination. You no longer have to use a limited set of predetermined words or phrases; instead, this this system enables your search by saying out loud any words that come to mind, so even long phrases are possible. Even if you only half-remember something or mispronounce it, Clarion Intelligent Voice still searches through a wealth of up-to-date Google local search information and presents to you the candidates that are the closest phrases. Once you ask the system of your destination, it will provide you with a list of possible options from Google Places to choose from. Once you've decided on your destination, simply select Start Guidance and your calculated route will display on the NX604's on-screen map.
Note: You can utilize Intelligent Voice from any screen or source on the head unit. Bluetooth audio streaming is turned off when "Intelligent Voice" is activated.
IR + SWC Remote Compatibility: The head unit features an OEM steering wheel remote control input on the rear of the unit that lets you keep your vehicle's factory radio steering wheel remote controls when used with an optional steering wheel audio control adapter (sold separately). Please consult Crutchfield's Outfit My Car to see if your vehicle is compatible. The NX604 also supports Clarion's RCB176 IR remote control (020RCB176, sold separately) for wireless control of basic playback functions. The remote does not support advanced menu functions or navigation functions.
Anti-Theft Code: You may program the unit with a 4 digit security code. Once the unit has been programmed with a security code, the code must be entered to use the unit after it has been disconnected from power.
2-DIN Chassis: The Clarion NX604 has a 2-DIN chassis (also known as "Double-DIN"), and will fit in many vehicles with a large dash opening. The unit can be ISO-mounted using your vehicle's factory radio brackets and the supplied hardware. There is also an optional custom double-DIN sleeve (0202DBKT, sold separately) available for this unit that will allow you to mount the NX604 in a custom 4" opening. As always, please consult Crutchfield's Outfit My Car to verify fit with your vehicle.
Onboard Navigation
IGO Primo Navigation Software w/ TomTom Maps: The map database (by TomTom) used by the Clarion NX604 was created using high-resolution aerial and land based data collection. Navigation data is stored on the unit's built-in flash memory for quick access and response. The NX604 provides map coverage of the United States (all 50 states), Canada, and Puerto Rico. The NX604's integrated IGO Primo navigation software provides turn-by-turn visual and voice assistance to direct you to your selected destination. The built-in software quickly calculates step-by-step directions to any destination available on the included navigation map.
Note: Car navigation maps are frequently updated. While this database was judged to be as accurate as possible at the time of its release, a map database can never be 100% accurate. Road information that is maintained in the map databases, such as turn restrictions or road names may change over time.
Map Updates: It is easy to keep the navigation system up to date via naviextras.com and your Windows PC (XP and newer). Simply download new map data from Clarion's portal site (clarion.naviextras.com), store the updated map data on a microSD card and insert it into the Clarion NX604 via the front-panel microSD card slot. You have 30 days from purchase to download the latest available map free of charge.
GPS (Global Position System): Clarion's built-in navigation helps you find your way to your destination with an integrated GPS receiver & external GPS antenna. The Clarion NX604 features a built-in SiRF GPS receiver and includes a GPS antenna which can be mounted on the dash with the included two-side tape. The NX604 uses Global Position System (GPS) satellites, and a digital roadway map database to calculate and display vehicle positioning and travel direction. The NX604 considers vehicle speed an heading changes, together with longitude and latitude information, to accurately determine vehicle heading and position on a digital map. Signal from GPS satellites are used to determine the vehicle location. Three (good) or four (best) satellites must be receive to accurately determine location. This unit does not transmit your GPS position, so others cannot track you.
Note: The navigation receiver took approximately 33.1 seconds to calculate directions from Virginia to California. It only took 9.7 seconds to calculate directions from Virginia to Maryland. These tests were done inside the Crutchfield Lab of the Crutchfield Headquarters. Results will vary based on length of calculated route and your surrounding area.
Traffic Message Channel (TMC): The Clarion NX604 contains a TMC (Traffic Message Channel) receiver that can provide you with the real-time status of the traffic along your route over the FM Radio Data System (RDS). If traffic is congested up ahead or there is a road closure, the navigation system will automatically re-navigate the route to show you how to get to your destination, quickly and easily. To fine-tune this recalculation, you can set the minimum delay that can trigger a route recalculation, or you can instruct the software to have you confirm the new recommended route before it takes effect. Road segments affected by traffic events are displayed with an alternate color on the map, and small symbols above the road show the nature of the event.
Note: TMC is not available in all cities.
On-Screen Map: The unit's on-screen map shows your vehicle's current position (a blue arrow by default), the recommended route (an magenta line), the surrounding map area, and your destination as a checkered flag. The on-screen map shows streets, roads, and highways in a way that is similar to how a paper road map show them. A road's width and colors corresponds to their importance, so you can easily tell a freeway from a small street. When navigating a route, the top section of the map screen shows information about your next route maneuver and the next street or the next city/town. When approaching a turn, the map screen will zoom in and raise the view angle to let you easily recognize your maneuver at the next junction. If the next turn is at a distance, it will zoom out and lower the view angle to be flat so you can see the road in front of you. The map also displays data; such as the posted speed limit, your current speed, current time, distance to your destination, time left before you reach your destination, and your arrival time.
2D/3D Map Mode: The Clarion NX604 allows you to view its on-screen map in a 2D (two-dimensional) or 3D (three-dimensional) view. Similar to paper road maps, the 2D mode, shows you streets, roads, and elevation by color. In 3D mode, you can see the altitude and elevations differences. You can distinguish between valleys, mountains, and elevated roads. In selected cities 3D landmarks and 3D buildings are also displayed.
Color Mode: The navigation map screen uses different color themes (Day/Night) during the day and during the night for both the map and the menu screen. Daytime colors are similar to paper road maps, and the menus are bright. The nigh color themes use dark colors for large objects to keep the average brightness of the screen low. You can also set the navigation unit to switch between daytime and night color modes automatically based on the current time and GPS position.
Note: You can display the head unit's AV control bar during on-screen navigation in order to access frequently used audio/video playback functions.
Lane Information & Signposts: The Clarion NX604's navigation map offers helpful lane information & signpost guidance.
Lane Information: When navigation on multilane roads, it is important to take the appropriate lane in order to follow the recommended route. If lane information is available in the map data, the map screen will display the lanes and their directions using small arrows at the bottom of the map. High lighted arrows represent the lanes you need to take.
Signposts: Where additional information is available, signposts substitute arrows. Signposts are displayed at the top of the map. The color and style of the signposts are similar to the real ones you can see above the road or by the roadside, They show the available destinations and the number of the road the lane leads to.
Exit Services: While navigation a route, you can find gas, food, lodging, and restrooms near upcoming exits. Services are listed under the following categories - Gas, Food, Lodging, and Restrooms. You must be on a major highway or road to use this feature.
Junction View: If you are approaching a freeway exit or a complex intersection and the needed information exists, the map is replaced with a 3D view of the junction. The lanes you need to take are displayed with arrows. Signposts can also be present, if information is available.
Tunnel View: When entering a tunnel, the map is replaced with a generic tunnel image so that surface roads and buildings cannot distract you.
Audible Alerts: The Clarion NX604 offers various audible alerts and functions to help you get to your destination safely.
Voice Guidance: In addition to graphic directions, the NX604 provides voice guidance and turn-by-turn directions (does not announce street names) You can select from English, French, Spanish, Korean, Japanese, and Chinese audible languages. The volume of the voice prompts can be increased with increases in speed to overcome road noise. Voice guidance can be turned off if you prefer.
Safety Alert: This function can warn you when you approach road safety cameras, school zones, or railroad crossings (if available). You can also add your own alert points. Beeps or the spoken type of alert will be heard when you are approaching of these points.
Speed Limit Warning: Some maps may contain information about the speed limits of certain road segments. The NX604 provides an audible warning if you exceed the recommended speed limit.
Note: The unit will mute the audio of the other sources during navigation voice-prompts.
Where Am I?: This screen contains information about the current position (or approximately the last known position if GPS reception is not available) and a button to search for POIs and emergency assistance nearby.
Find Menu: The Find Menu gives you many different ways to choose your destination or insert a waypoint in your current route. An on-screen keyboard appears to allow you to enter your destination from one of the following categories:
| | |
| --- | --- |
| Destination Search | Description |
| Find on Map | Search for a destination by scrolling the map display. |
| Combined Search | You can enter search keywords to find addresses, favorite places, recent destination, and POIs. |
| Home | Store and easily recall your home address. |
| Find Address | Enter full/partial address, or search for a city (central location), or search for the intersection of two roads. |
| Find Places | Search for over 11,000,000 points-of-interest (POIs) by name, phone #, or category; search near your current location, in a specific city, along your current route, or near your destination. |
| Favorites | Store your favorite locations for easy recall. |
| History | Destinations that you have set previously |
| Phone | Select a destination by entering phone #. |
| Coordinates | Enter geographic coordinates (latitude & longitude). |
Note: You can select any type of destination search with or without the vehicle's parking brake engaged.
Route Calculation: The Clarion NX604 calculates your route based on your Vehicle Type, Route Method, and Avoidances.
Vehicle Type: You select what type of vehicle you are driving, so the navigation unit can determine the best route based on your vehicle type (Car, Truck, Emergency, Bus, or Taxi).
Route Method: You can choose which route method (Fastest, Shortest, Green, Economical, or Easy) the navigation unit should use when calculating your route.

Fastest: give a quick route, if you can travel at or near the speed limit on all roads. Usually the best section for fast and normal cars
Shortest: gives a route that has the smallest total distance of all possible routes. It can be practical for slow vehicles
Green: gives a quick, but full efficient route based on the fuel consumption data you provide
Economical: combines the benefits of Fast and Short; calculates as if it were calculating the Fast route, but it takes other roads as well to save fuel
Easy: results in a route with fewer turns and no difficult maneuvers

Avoidances: You can tell the navigation unit to avoid certain types of roads along your calculated route, such as - Highways, Tolls, Carpool/HOV, Unpaved Roads, and/or Ferries.
Note: You can select "Route Alternative" to see the turn-list and map screen of three routes with the selected route planning parameters, giving you the option to select which route to take.
Vehicle Profile: You can create a vehicle profile for your car, truck, or SUV. Enter the following parameters for your vehicle - Fuel Consumption (avg. fuel consumption of your vehicle in city and rural areas), Engine Type (engine and fuel type), Fuel Price (avg. fuel price for travel cost calculation), Max Speed (max speed you travel), Weight, and Dimensions (length x width x height).
My Route: "My Route" displays the route parameters and the calculated route in its full length on the map. You can also perform route-related actions such as editing or canceling your route, setting a start point for the route, picking route alternatives, avoiding parts of the route, simulating navigation or adding the destination to your Favorites.
Modifying A Route: When navigation is already started, there are several ways to modify the active route. You can edit the route by modifying the list of destinations and waypoints. You can add or remove destinations (waypoints), modify the start position or reorder the list. You'll be able to create a brand new route, add intermediate destinations (waypoints), and modify the final destination. Or, you can simply cancel your active route.
Trip Monitor: The Trip Monitor contains useful information about your trip. This information can be saved manually when you reach your destination or automatically along your route. Trip log data includes; Start/End Time, Avg./Max. Speed, Total/Driving/Stopped Time, Total Distance, and Min./Max. Altitude.
Automatic Route Recalculation: The unit will automatically recalculate your route if you stray from the navigation unit's previously calculated route.
Quick Menu: The Quick Menu is a selection of controls and functions that are frequently needed during navigation. It can be opened directly from the Map screen by tapping Quick Menu icon. You can customize which controls and functions are accessible through the Quick Menu.
iPhone/Android Integration
iPod/iPhone AV Playback: The Clarion NX604 supports direct connection of your 30-pin or Lightning-connector through its rear-panel USB port, rear-panel AV input, and rear-panel HDMI connector. The NX604 offers audio/video playback, music navigation, information display, and charging of select Apple devices. The Clarion NX604's USB or HDMI connection allows your iPod/iPhone's music library to be loaded instantly to the Clarion receiver and sound quality to be maximized through the head unit's 24-bit D/A converter (bypassing iPod/iPhone DAC).
30-Pin Dock Connector: If you own an older iPod/iPhone with the 30-pin dock connector, you can enjoy audio and video files on your Apple device through the Clarion NX604. Using Clarion's proprietary CCA-750 iPod/iPhone Video cable (020CCA750, sold separately), you can enjoy audio playback of your stored music on your iPod/iPhone and music apps on your iPhone; plus video playback of your stored movies on your iPod/iPhone and video apps on your iPhone through the Clarion NX604. If you only desire audio playback, you can simply use the dock connector-to-USB cable that comes with your Apple device to connect your iPod/iPhone to the NX604.
Lightning Connector: If you have a newer iPod/iPhone with the Lightning-connector, you can use the Lightning-to-USB cable that came with your Apple device to connect your iPod/iPhone to the Clarion NX604 for audio playback only. You'll be able to listen to stored music and music apps on your Lightning-connector Apple device through the Clarion navigation receiver. Video playback is not supported.
Note: Access to your iPhone's downloaded applications will depend on the availability of a cellular and/or WiFi network for purposes of allowing your iPhone to connect to the Internet.
iPod/iPhone Control: In addition to audio/video playback, the Clarion NX604 supports control, song/artist information display, and battery charging of your compatible Apple device.
Content Browsing: The Clarion NX604 allows you to browse your iPod/iPhone's music library by Playlist, Artist, Song, Album, Genre, Composer, Audiobook, or Podcast from its touchscreen monitor. You can also browse your iPod/iPhone's video content by Movie, Music Video, TV Show, Video Podcast, or Rental. Content in each category is listed alphabetically. The head unit also supports Repeat/Random playback functions of your connected iPod/iPhone. In addition, you can control basic playback functions (such as Play/Pause, Previous/Next Track) of your favorite music apps streamed to your iPhone. Newer iPod/iPhones with iOS 6.0+ will still allow you to navigate stored music and movies from the Apple device's touchscreen, as well access music and video apps; older iPod/iPhone devices will be locked during connection.
Music Information + Album Art: When in Head Unit Control mode, the navigation receiver will display your iPod/iPhone's stored music file information; including Track number, Elapsed playing time, Song Title, Artist/Album Name, and Album Art. The NX604 will also display song/artist information and station identification from select music apps. The Simple Control mode does not offer song/artist information display.
1A Charging: The head unit's USB connection provides 1A of current to power and charge your connected iPod/iPhone when your vehicle's ignition switch is set to the 'ACC' or 'On' position. This unit does not charge the iPad. If your iPod/iPhone has no initial battery charge, then this unit will not recognize it.
Smart Access via HDMI (for iPhone & Android): Download the newest version of Smart Access App (from Apple Store or Google Play Store) onto your HDMI-connected iPhone (iOS 6.0+) or Android (4.0+) smartphone in order to access a variety of online news, weather, and social media services in your vehicle through the Clarion NX604, your smartphone, and the Cloud; all from an easy-to-use touchscreen interface optimized for in-vehicle use. Your Apple iPhone's or Android smartphone's battery will also be charged during this type of connection. Bluetooth audio is turned off when Smart Access is activated.
iPhone Connectivity: To connect your Apple iPhone (iOS 6.0+) with Lightning connector, you will need Apple's Lightning Digital AV adapter, Lightning-to-USB cable, and a a mobile-grade HDMI cable (all sold separately); plus your iPhone will need to be paired to the head unit via Bluetooth. To connect your Apple iPhone 4/4S with 30-pin connector, you'll need Clarion's proprietary CCA-750 iPod/iPhone Video cable (020CCA750, sold separately); no Bluetooth pairing required.
Android Connectivity: To connect your Android (OS 4.0+) smartphone, you'll need a MHL-to-HDMI cable (sold separately); select Android smartphones like the Galaxy S3/S4/S5 & Note II/III will also require a 3rd party MHL microUSB 5-pin to 11-pin adapter (sold separately). Your Android smartphone will also need to be paired to the NX604 via Bluetooth. Check here for a list of compatible MHL-enabled Android phones.
Note: Make sure you download the latest version of the Clarion Smart Access App (2.1.0 or newer). Clarion's Smart Access app (2.0.0 and older) isn't compatible with Apple iOS 8.0. If used with iOS 8.0, the older versions of the Smart Access app will cause stability issues or shut down unexpectedly.
Smart Access Apps: The Smart Access App contains a variety of social media, news, and weather applications. When Smart Access is launched on your smartphone, a list of compatible apps will be displayed. Select the apps you want and they will be automatically downloaded from the appropriate app store onto your mobile phone. Once your compatible iPhone or Android smartphone is connected to the NX604, the Smart Access application allows the following apps to be accessible from the head unit's touchscreen.
Facebook & Twitter: Easily and safely bring social networking into your car. When an smartphone is connected to NX604 in the vehicle, you can update your status, and respond to and interface with the social media sites easily via the 6.2" display. SMS texts and social media messages are read aloud to the your and can be paused and resumed depending on the driving conditions.
DriveSuite4car Utility App: Clarion's Smart Access smartphone link integrates DriveSuite4car, a utility application which allows you to access helpful information in a vehicle. DriveSuite4car enables the user to have more within their reach including News4car, Weather4car, Calendar4car and Gallery4car. These apps offer more ways to make the most efficient use of your time while on the go

News: Keep up to date while cruising down the road. You can listen to news feeds from the news app on your iPhone or Android smartphone. You can listen to the headlines only or to the full articles and you can personalize which news feeds to want to receive.
Weather: Keep up with the weather as you go. Access the weather app on your iPhone or Android smartphone to check out local and regional weather conditions, satellite maps, weather forecasts and warnings, right at your dash.
Calendar: Calendar is an app that allows easy checking of your schedule while in your car from the Clarion NX604 navigation receiver. With Calendar, you can sync your Google Calendar from your iPhone or Android smartphone for a full understanding of your schedule.
SlideShow: This is an application to let you enjoy a slide show of pictures taken with your smartphone right on your navigation display. You can enjoy slide shows of pictures taken on the trip in your car.
Note: Your iPhone or Android smartphone will need an active Data Plan account with connection to the Internet via 3G, EDGE, or WiFi. Access to the Smart Access online services will depend on the availability of a cellular and/or WiFi network for purposes of allowing your smartphone to connect to the Internet.
iPod/iPhone Compatibility Chart: The Clarion NX604 is "Made for iPod/iPhone" compatible and supports the following iPod/iPhone model features (as of 10/24/2014):
Apple Device
Generation
Tested Version
Media Type
Control Type
Display Type
Bluetooth
Charge
Audio
Video
Head Unit
iPod/iPhone
Smart Access***
Pandora App
Album Art
Song/Artist Text
Track Info
Phone
Audio
iPhone
2G
3.1.3
Y
Y**
Y
N
N
N
Y
Y
Y
Y
N
Y
3G
4.2.1
Y
Y**
Y
N
N
N
Y
Y
Y
Y
Y
Y
3GS
5.1.1
Y
Y**
Y
N
N
Y
Y
Y
Y
Y
Y
Y
4/4S
7.1.2
Y
Y**
Y
Y
Y**
Y
Y
Y
Y
Y
Y
Y
5/5C/5S
7.1.2
Y
N
Y
Y
Y*
Y
Y
Y
Y
Y
Y
Y
6/6+
8.0
Y
N
Y
Y
Y*
Y
Y
Y
Y
Y
Y
Y
touch
1st
2.2.1
Y
Y**
Y
N
N
N
Y
Y
Y
N
N
Y
2nd
4.2.1
Y
Y**
Y
N
N
N
Y
Y
Y
N
Y
Y
3rd
5.1.1
Y
Y**
Y
N
N
N
Y
Y
Y
N
Y
Y
4th
6.1.3
Y
Y**
Y
Y
N
N
Y
Y
Y
N
Y
Y
5th
7.1.2
Y
N
Y
Y
N
N
Y
Y
Y
N
Y
Y
nano
2nd
1.1.3
Y
N
Y
N
N
N
Y
Y
Y
N
N
Y
3rd
1.1.3
Y
Y**
Y
N
N
N
Y
Y
Y
N
N
Y
4th
1.0.4
Y
Y**
Y
N
N
N
Y
Y
Y
N
N
Y
5th
1.0.2
Y
Y**
Y
N
N
N
Y
Y
Y
N
N
Y
6th
1.2 PC
Y
N
Y
N
N
N
Y
Y
Y
N
N
Y
7th
1.02 PC
Y
N
Y
N
N
N
Y
Y
Y
N
Y
Y
classic
80GB
1.1.2
Y
Y**
Y
N
N
N
Y
Y
Y
N
N
Y
120GB
2.0.1
Y
Y**
Y
N
N
N
Y
Y
Y
N
N
Y
160GB
2.0.4
Y
Y**
Y
N
N
N
Y
Y
Y
N
N
Y
iPad
1
5.1.1
Y
Y**
Y
N
N
Y
Y
Y
Y
N
Y
N
2/3
7.1.2
Y
Y**
Y
Y
N
Y
Y
Y
Y
N
Y
N
4/air
7.1.2
Y
N
Y
Y
N
Y
Y
Y
Y
N
Y
N
mini
7.1.2
Y
N
Y
Y
N
Y
Y
Y
Y
N
Y
Y

Note:

*Requires Apple's Lightning-to-Digital AV adapter, a Lightning-to-USB cable, and mobile-grade HDMI cable (all sold separately)
**Requires Clarion's proprietary CCA-750 iPod/iPhone Video cable (020CCA750, sold separately).

***Make sure you download the latest version of the Clarion Smart Access App (2.1.0 or newer). Clarion's Smart Access app (2.0.0 and older) isn't compatible with Apple iOS 8.0. If used with iOS 8.0, the older versions of the Smart Access app will cause stability issues or shut down unexpectedly.

Apple iPod/iPhone software updates may change functionality results. If you download a newer software version, you may need to reset the head unit and your iPod/iPhone to regain functionality. If this doesn't work, you may need to wait until a newer software update is available.
HD+Pandora+SiriusXM Radio
HD Radio: With the built-in HD Radio tuner, you can receive digital AM/FM broadcasts from local stations where available. HD Radio lets you listen to the radio with the same fidelity as your digital music. HD Radio features high quality audio, FM multi-casting, and data services. With HD Radio, your FM stations offer near CD-quality sound, AM stations provide FM-like sound, and there is crystal-clear reception with no audio distortion. Best of all, HD Radio is 100% subscription free. The unit's tuner also supports analog AM/FM broadcasts.
Multicasting: Multicasting is the ability to broadcast multiple program streams over a single AM/FM frequency. this increases the amount and diversity of content choices. A maximum of eight multicast station channels (HD1-HD8) can be selected on this unit.
Station Text w/ Album Art: AM/FM digital stations can offer text and data such as artist names and song titles, plus Album Art. The built-in HD Radio tuner displays song title, artist and station information on the touchscreen monitor of the Alpine X008U. The RDS (Radio Data System) is a radio information system for analog FM. The RDS allows you to receive a variety of information such as traffic information, station names, and song information from standard analog FM radio stations.
Preset Tuning: The built-in tuner provides 18 FM and 6 AM preset stations. The unit's tuner can automatically seek and store six strong stations in a selected band in order of signal strength. Sub-program services of multicast stations are not included in the automatic memory search.
iTunes Tagging: It is possible to save the song's information (tag) from and HD Radio broadcasting station to your USB-direct connected iPod/iPhone. The songs will show up in a playlist called "Tagged" in iTunes the next time you sync your iPod/iPhone. Then you can directly buy the songs you want from the iTunes Music Store. You can "tag" up to 50 songs. Your iPod/iPhone must have at least 50MB of free space to "tag" and transfer songs. iTunes 7.4 or later is required to purchase "tagged" songs.
Note: HD Radio is the system for digital AM and FM broadcasting in the U.S. More than 2,000 radio stations are broadcasting their primary signals in digital HD Radio technology, as a free service. Go to HDRadio.com to check for HD Radio stations in your area.
Pandora App (for iPhone/Android): The free Pandora App (either from iTunes Apps or Google Play) lets you play music from the Pandora music service through the Clarion NX604 using your USB-connected or Bluetooth-paired Apple iPhone (iOS 5.0+); as well as your Bluetooth-paired Android smartphone. Your compatible mobile device will need an active Data Plan account with connection to the Internet via 3G, EDGE, or WiFi. You will also need a Pandora music service account. The NX604 provides control over the Pandora music service and displays Artist, Album, and Song information, as well as Album Art.
Station List: You can select Pandora stations from your Station List by date or alphabetically (A-Z). You can also choose to randomly playback songs from all your registered stations.
Create New Station: New stations can be created based on the current songs or artists playing on Pandora.
Skip Songs: You can skip song tracks within a station. You cannot skip back to a previous song. Pandora limits the number of skips allowed.
Thumbs Up/Down: You can give songs a thumbs up or thumbs down to help Pandora personalize stations to suit your preferences.
Bookmarking: The song or artist currently being played can be bookmarked & stored in your Pandora account.
Note: Access to the Pandora service will depend on the availability of a cellular and/or WiFi network for purposes of allowing your iPhone/Android to connect to the Internet. Pandora is not supported in Canada & only available in the United States.
SiriusXM Ready: The Clarion NX604 is SiriusXM-Ready and compatible with the SiriusXM Connect Vehicle Tuner (220SXV300 sold separately). The SiriusXM Connect Vehicle Tuner supports SiriusXM programming with access to 175+ SiriusXM channels via subscription; check out the most popular SiriusXM subscription packages here. Additional features of the SiriusXM Connect tuner include:
Information such as Channel Name, Artist Name, & Song Title can be viewed on the head unit's display
Category Search feature lets you search for channels within a certain genre or category
Up to 30 SiriusXM Satellite Radio station presets
Channels containing content unsuitable for children can be blocked
Note: SiriusXM Satellite Radio operates on the XM Network. However, you can easily add this SiriusXM tuner to an existing Sirius or XM account for a Multi-Radio Discount Plan.
Built-In Bluetooth
Bluetooth Technology: The Clarion NX604 is equipped with built-in Bluetooth (ver. 2.1+EDR), allowing you to make and receive phone calls wirelessly through the receiver; as well as stream music wirelessly from your smartphone to the head unit. In order to use Bluetooth wireless technology, your phone must also be Bluetooth compatible and be able to interpret certain profiles. This unit is compatible with the following Bluetooth Profiles:
Hands-Free Communication: HFP 1.5 (Hands Free Profile), PBAB 1.0 (Phone Book Access Profile), HSP 1.0 (Headset Profile).
Audio Streaming: A2DP 1.2 (Advanced Audio Distribution Profile), AVRCP 1.4 (Audio/Video Remote Control Profile).
Note: Due to the differences in Bluetooth technology, some Bluetooth enabled devices may be incompatible, function improperly, or may not support all features when used with the Clarion NX604. Visit Clarion Bluetooth Support for complete list of compatible phones and players.
SPP (Secure Simple Pairing): With Secure Simple Pairing (SSP), you can easily pair a Bluetooth enabled phone to the Clarion NX604 without having to enter pin codes or go through complicated settings. Once a device is paired, the registered Bluetooth device will automatically connect to the receiver when it is in close proximity (up to 30') to the receiver. You can register up to five Bluetooth-enabled devices with the Clarion head unit (only one paired phone can be used at a time).
Hands-Free Communication (w/ external Mic): The NX604 supports Bluetooth hands-free communication from your Bluetooth enabled mobile phone (such as your iPhone or Android smartphone). The NX604 can be set to automatically answer your incoming calls and mute any music audio to your vehicle's speakers so you can instantly carry on a phone conversation hands-free. An included external microphone carries on your side of the conversation while your car's speakers are used to hear the other person. You can make a call by entering the phone number, selecting a contact from your Phonebook list, or using the Call History Log of received/dialed/missed calls.
Answering A Call: During an incoming call, the caller's phone number will be seen on the unit's LCD and a ring-tone will be heard through your car stereo speakers. You can then manually answer the incoming call from the head unit's front-panel controls. You can also set the unit to automatically answer an incoming call within 5 seconds.
Making A Call: You can make a call using the Clarion in-dash head unit's front-panel controls. Outgoing calls can be made by entering telephone numbers directly via the head unit's touchscreen (when parking brake is engaged only). You can also search for contact names in your mobile phone's phonebook from the Clarion NX604 and then make your call; the head unit can store up to 1000 contact numbers. In addition, you can make a call by searching your mobile phone's call history (Received/Dialed/Missed) from the Clarion NX604.
Note: This unit allows you to answer a call or dial out using any option without engaging the parking brake.
Wireless Audio Streaming (w/ Advanced Music Navigation): The Clarion NX604 can stream & control music from your Bluetooth A2DP/AVRCP mobile device (such as your iPhone or Android smartphone). You'll be able to stream stored music and music apps on your mobile device to the NX604 receiver. The unit offers basic playback functions (Play/Pause, FF/RW, Skip, & Random/Repeat) for stored music and music apps. In addition, the NX604 provides a Track List of the stored music on your smartphone (AVRCP 1.4 phones only) and even offers Playlist/Artist/Album/Song/Genre/etc. browsing for stored music on your iPod/iPhone (iOS 6.0+); as a result you can find your music much quicker. The head unit will also display your stored music and music app song information; such as Artist name and Song/Album title.
Note: When an incoming call or outgoing call is in progress from your Bluetooth enabled mobile phone, audio streaming will be paused so you can take your call. Once the call is finished, your streaming music will resume.
Disc/microSD/USB Playback
Disc Compatibility: The Clarion NX604 has a front-loading disc-slot to make loading your disc easier. The NX604 supports playback of DVD-Video, DVD+R/RW, DVD-R/RW, CD-Audio, CD-Text, and CD-R/RW discs.
MicroSD Card Slot: The NX604 is fitted with a front-panel microSD card slot for playback of music files stored on a microSD/SDHC card. The unit is not compatible with microSDXC cards over 32 GB.
USB Port: The Clarion navigation head unit features a rear-panel USB type-A port and comes with a 5' USB extension cable that allows you to connect a portable USB mass-storage class (MSC) device; such as select Android devices (Froyo/Gingerbread 2.2+ OS only), digital audio players, and thumbdrives. USB portable audio devices that can be charged via USB will be charged when plugged into the navigation receiver's USB port (5V/1A), and the vehicle's ignition switch is set to ACC or On.
Compatible Media Files: The Clarion NX604 supports the following types of music and movie files recorded onto a disc or loaded onto a USB mass storage class device.
Media Type
Disc (CD-R/RW or DVD-R/RW, DVD+R/RW)
Flash (USB + microSD/SDHC)
File System
ISO9660 Level 1/Level 2
FAT 16/32
Playable File Types
Audio
MP3: bit rate of 8-320kbps w/ sampling rates of 8-48kHz
WMA: bit rate of 5-320kbps w/ sampling rates of 8-48kHz
Video
DivX: 32 x 32 to 720 x 480 (30fps) or 32 x 32 to 720 x 576 (25fps)
N/A
Maximum # of Folders/Files
255 folders/512 files (255 files per folder)
512 folders/8,000 files (255 files per folder)
Tags
MP3 ID3-tags (ver. 1.0/1.1/2.2/2.3/2.4), WMA-tags
Playback Operations: The Clarion NX604 offers the following playback & search functions for disc and USB.
Track List: This function allows you to select audio tracks from a displayed list of tracks on a disc or within in a folder.
Direct Search: You can locate the beginning of a movie scene using the time, chapter numbers, or title numbers recorded on a DVD video disc. You can also select a specific MP3/WMA track from a disc or USB device.
Skip Search: Chapters or Tracks are skipped down or up from the current location, as many times as the key is pressed, and then playback starts.
Fast Forward/Rewind : The NX604 offers a variable fast forward and rewind function. You can select between 2x, 4x, 8x, or 16x.
Scan: The first 10 seconds of each music track on the disc or USB device is played.
Repeat/Random: You can play back chapters, titles, or tracks recorded on a disc repeatedly. You can also randomly playback audio tracks or files recorded on a disc or USB device.
Parental Lock: You can set and change the level of parental lock. This function allows cutting scenes that are unfavorable for children or replacing them automatically with other scenes prepared in advance. There are 5 levels of parental lock that are protected by a custom user 4-digit password.
Off Insert/Eject + Auto Reload: You can insert or eject a disc with the unit off. If a disc is left in the ejected position for 10 seconds, the disc is automatically reloaded.
Mounting Angle: For proper disc playback, you must install the unit within 35° of horizontal.
Audio Section
24-bit D/A Converter: The unit's 24-bit D/A converter re-quantizes the 16-bit audio signals from CDs and DVDs as 24-bit data while maintaining the low distortion and high linearity of a 1-bit D/A converter. This allows an expanded dynamic range and clearer reproduction of subtle nuances, for a richer sound when viewing DVDs or listening to CDs.
MOSFET Amplifier: The Clarion NX604 is equipped with a MOSFET amplifier. Compared to conventional power supplies, the MOSFET amplification circuit is smaller and more efficient, and it delivers increased power with less distortion and absolutely zero on/off switching noise. More power means louder and cleaner music at higher volumes because you're not pushing the limits of the amplification circuit.
CEA2006 Specs: 18 watts RMS x 4 channels (at 4 ohms, 20Hz-20kHz, 1% THD-N)
Maximum Power Output: 50 watts x 4 channels (200 watts total)
Note: The power specifications for the NX604 are compliant with the CEA2006 Mobile Amplifier Power Testing and Measurement standards from the Consumer Electronics Association (CEA). These standards were developed as a way to equitably compare power specs from model to model and between manufacturers.
6ch/4V RCA Output + Sub Level Control: The Clarion NX604 features 6ch/4V RCA line level outputs (Front/Rear/Sub). The non-fading subwoofer preamp output features an independent level control (+/-6).
Built-in Crossovers: The Clarion NX604 is equipped with built-in low-pass and high-pass crossovers.
Low-Pass Subwoofer Filter: The Low-Pass Filter (LPF) for the subwoofer preamp output will send only the low frequency range through the preamp outputs to ensure superb performance with a connected subwoofer. The low-pass filter can be set to 50Hz, 80Hz, 120Hz, or Through (full-range).
High-Pass Filter: The NX604 features a High-Pass Filter (HPF) for the unit's front & rear channels, via speaker-output or preamp-output. You can adjust the high-pass filter from 50Hz, 80Hz, 120Hz, or Through (full-range). The HPF prevents low bass notes from distorting your front & rear speakers. The high-pass filter setting effects both the front & rear channels of the head unit.
Intelligent Tune: Clarion's sound technology was developed to turn the car interior into an excellent listening environment. "Intelligent Tune" includes Vocal Image Control to move the vocal to a specific seat in the car, Sound Restorer for full quality sound reproduction of compressed audio data, Virtual Bass for powerful bass without subwoofer, and other exciting sound technologies.
Graphic EQ: Choose one of six Preset EQ Modes (Bass.B, High.B, Acoustic, Impact, Smooth, or Flat) that best matches your style of music. Or, you can manually adjust the unit's 6-band graphic EQ (60Hz/250Hz/820Hz/1.6kHz/5kHz/16kHz) for a more custom sound. Save up to 3 customized user presets.
Loudness: The Loudness feature compensates for deficiencies in the low and high sound ranges at low volume.
Virtual Bass: Enhances bass output in car stereo system for richer bass sound.
Vocal Image Control: The vocals can be adjusted front-to-rear and left-to-right in order to reproduce a more powerful vocal soundstage.
Sound Restorer: Restores compressed audio media, such as MP3 or WMA, closely to the original soundtrack to enable a more enriched, detail sound quality.
Volume Smoother: Volume Smoother automatically adjusts differences in volume level of all kinds of music sources and scenes and compensates the volume level. When Volume Smoother is on, the volume level is monitored and adjusted at all times, and differences in volume level are suppressed to a fixed range to enhance listening pleasure.
Beep Tone: The in-dash head unit provides an audible beep to confirm button operation. This function can be turned On or Off.
Audio/Video Connections
Dual AV Inputs: The Clarion NX604 is equipped with AV input terminals on the front and rear of the unit to enable enjoyment of content from an external connected source. The rear composite video/stereo RCA inputs are ideal for permanent installations, while the front AV mini-jack (3.5mm) input will come in handy for quick connection of a portable audio/visual source.
Video Output: The NX604 is equipped with a single composite video output for connecting a rear monitor (sold separately). The same source (DVD, AV input, or iPod video) will be displayed on the rear monitor's screen as displayed on the head unit's touchscreen monitor. HDMI sources cannot be displayed through the head unit's video output.
Optional Camera Input: Adding an optional rear-view camera (such as the 020CC510) to the NX604 requires the Clarion CCA-644 Rear Vision Camera input cable (sold separately). The cable has a proprietary connector on one end (which plugs into the proprietary camera port on the NX604) and a composite video jack on the other end which plugs into the optional backup camera. Once a rear-view camera is connected to this unit, the rear view image is displayed on the NX604's screen when your vehicle is placed in reverse gear (purple/white wire of harness must be connected to reverse light wire of vehicle). In addition to the rear-view image, marker lines are displayed in order to assist you further while backing up. Audio from your music source will continue playing, while the back-up camera is displayed.
Our Product Research Team
At Crutchfield, you'll get detailed, accurate information that's hard to find elsewhere. That's because we have our own in-house Product Research team. They verify what's in the box, check the owner's manual, and record dimensions, features and specs. We stay on top of new products and technologies to help people make informed choices.
Product reviews from the Crutchfield Labs
Clarion's Intelligent VOICE software, found in their NX604 navigation receiver, delivers relevant results quickly and with less input information than most other voice-recognition platforms on the...
Clarion's NX604 has Intelligent Voice going for it
Written by Alexander Hrabe, Copywriter,
on
8/13/2014 10:02:00 AM
What are the Labs?
Customer Q&A
Crutchfield asked


Why did you buy this?
Price. I liked the reviews. Look forward to adding my own impression of this unit.

[ Teresa Dec 06, 2015 ]
17 questions already asked