Clarion NX702
Navigation receiver
Item #: 020NX702
This item is no longer available.
Original Price: $999.99
Shop all In-dash GPS Navigation

Need help?
Does it fit my car?
Select your car
The ultimate driving partner
If you're looking for an in-dash system that gives you the most up-to-date maps, easy access to music and entertainment, plus fabulous sound, Clarion designed the NX702 navigation receiver to be the ultimate copilot. It'll help keep you on course, warn you of traffic jams, play all your tunes, let you talk hands-free...the list goes on. Plus Clarion's touchscreen lets you "flick" your way through screens, drag and drop icons where you want them, and even add your own wallpaper — making for their most exciting interface yet.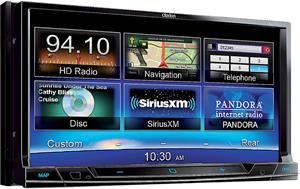 The latest maps, plus free real-time traffic
Clarion's navigation has you covered, no matter where you roam. You'll get maps of all 50 states, plus Puerto Rico and Canada, all easy to see on the NX702's sharp, 7" touchscreen. In certain major cities, buildings and other landmarks are rendered in 3D so you can find your way with confidence. Plus you'll get free traffic updates — a built-in tuner takes advantage of Clear Channel's Total Traffic network, which lets you know about traffic jams along your route. If something pops up, the NX702 will plot a route around the trouble spot to keep you on target.
Pandora® Internet radio, front and center
iPhone® lovers, you can bring your Pandora stations on the road with the NX702. All you have to do is download the free Pandora app to your phone, plug it into the rear USB slot, and you're good to go. You can change stations, rate songs, and see album art on the NX702's screen.
Bluetooth® and HD Radio™, too
If you haven't heard how good digital AM/FM radio sounds, you're in for a treat. The NX702 features a built-in HD Radio tuner that lets you dial in all-digital broadcasts that really pump up the sound quality of participating local stations. Plus many stations take advantage of HD Radio's multicasting feature, that lets a station broadcast multiple channels on the same frequency — more programs to choose from.
Built-in Bluetooth from industry-leader Parrot lets you pair your phone and talk hands-free. A built-in microphone, positioned on the driver's side of the NX702, lets your callers hear you loud and clear. You can also use the Bluetooth connection to stream music from your phone or another compatible device.
Built-in tools that'll help your sound
Clarion's Beat EQ Plus gives you a nice suite of sound-enhancing tools. High- and low-pass filters let you tailor the NX702's output to your speakers and subs by sending them the frequencies they were designed to handle. Next, you can hone in on the perfect tone with the 5-band parametric EQ. Then it's time to work on your soundstage with the time alignment feature — it adjusts the timing of your speakers so the sound arrives at your ears at the same time, creating the illusion you're sitting front row center. A 24-bit digital-to-analog converter reproduces all your digital music with remarkable clarity.
Want to keep your steering wheel controls?
In most vehicles, you can use an adapter (not included) to connect your vehicle's steering wheel controls to this Clarion stereo. Connect a few wires, then program the adapter for your particular car and the NX702 and you'll retain the convenience of your steering wheel controls. Check the "Accessories" tab for compatible adapters.
Bluetooth note: Use of this receiver's Bluetooth features will depend upon your phone's Bluetooth capabilities. Learn more in our article explaining Bluetooth profiles.
iPod note: If you're going to use your iPod with this receiver, be sure to check "Details" for specific iPod model compatibility.
Product Highlights:
General features:
navigation receiver with AM/FM tuner
internal amp (18 watts RMS CEA-2006/50 watts peak x 4 channels)
7" touchscreen with "flick" capability
plays CDs and DVDs
Pandora control with iPhone
fits double-DIN openings
built-in GPS with maps of 50 states, Canada, and Puerto Rico, with 15 million points of interest
built-in Total Traffic Network traffic tuner
built-in HD Radio tuner
built-in Bluetooth for hands-free calling and audio streaming
wireless remote
Audio/visual features:
24-bit digital-to-analog converter
built-in iPod control — Clarion's optional adapter required for viewing video content
Beat EQ Plus with time alignment
high- and low-pass filters
dual-zone capability
Expandability:
works with SiriusXM satellite radio tuner
inputs: rear USB input, A/V input, rear-view camera input
outputs: video output, 6-channel preamp outputs (4-volt front, rear, subwoofer)
Other information:
compatible with most factory steering wheel audio controls (adapter required)
warranty: 1 year
Why install a car stereo with built-in GPS?
Imagine taking a trip as your car's receiver gives you directions, finds the best restaurant for dinner, and plays movies for your back seat denizens. Navigation receivers cover all the bases, with GPS guidance, DVD playback, and a host of other useful features. You can search through millions of points of interest to locate gas stations, restaurants, museums, and other interesting spots, wherever you are. Most receivers offer Bluetooth capability for hands-free calling, along with the ability to search through your iPod playlists with touchscreen controls.
Clarion NX702 Reviews
Average Customer Review:
16 Reviews
---
worked fine for me after update!
Written by: Mr.R from Highland Park, CA on July 13, 2013
I've had this NX702 for 6 months now and I did have some issues with it like freezing often, SD card didn't want to scan or took too long to load, dvds take too long to load, Sirius XM sounded lower in volume vs. radio and other line in puts. navigation was very sluggish. but after the firmware update I got from clarion's website my radio has been working flawlessly! the Sirius xm radio tuner sounded loud like the radio and cd in puts so no more needing to turn up the volume when it came to Sirius xm. pretty much no more issues with anything except one thing which is the usb thumb drive. it seems that when it comes to loading Jpeg like photos to make a custom screen saver, it will not accept any resolution under jpeg, I tried every resolution possible and I keeps saying "unsupported format" usb thumb drive can only accept 16 gb of memory including sd card slot, only usb port can play movies for your rear passenger TVs still need to contact clarion about that but they have been helpful so I don't really have any regrets. over all like stated 4 stars.

Pros: it has navigation, plays any region code dvds, Sirius xm ready with optional xm tuner, usb connection for iPod and iPhone. you can use the usb port to connect your android phone to it so you can listen to your music from your phone as a usb mass storage including any mp4 movies you might have in it.

Cons: too bulky wont fit in every car, need to update firmware when it comes right out of the box, usb port has issues accepting Jpeg format for custom screen savers. cannot use sd card slot to show movies on the rear monitor, you can see it from the radio but not the rear monitors. only usb port can be used to show movies for your rear monitors for passengers max 16 gb for sd card and usb thumb drive is supported. does not show picture formats when it comes to id3 like other radios like the alpine's
Written by: Mike from Philly on June 2, 2013
I installed this headunit and have had problems since day 1. All screens are laggy, touch screen is horrible, navigation is constantly wrong and freezes, ipod playback is very slow and crashes couple times a week. I was so dissapointed with this unit. It crashes constantly. Finally they released a 2nd update for the os, so i went o update it and it restarted, then the clarion splash screen came on and it never got past that. My radio is now broken from trying to update it. A huge waste of money, i would not recommend this unit to anyone. Also the main menu with the live tiles was supposed to be cool, however they are very slow and laggy for 5 seconds, then they speed up! Youll know what i mean if you have this unit. I am so dissapointed and would never buy a clarion product again.

Pros: Attractive design, time alignment

Cons: Everything else. Horrible unit.
Written by: watchdog7 from Richlands, VA on May 21, 2013
Crutchfield Customer Review
(
What's this?
)
I bought this last year and it has been the biggest regret. The unit is very unresponsive. It is hard to get the touch screen to work. It is nothing like smartphones touch screens. You have to find the "sweet" spot. The unit is very sluggish. The menus are weird to navigate, and sometimes don't even work. It has frozen up on me on more than a dozen times. It freezes with the iPod the most. I go to skip a song, and then nothing. You have to turn off the unit and then back on. The navigation is horrible. It got me lost on more than one occasion. I do not recommend this product at all. Clarion is a good name, I have had several of their products, but this one is horrible. The customer support is horrible. It is very hard, confusing and frustrating to actually get to the right department, let alone talk to anyone. The manual on the .pdf file is translated from Japanese. So a lot of what is translated doesn't make sense. I'd skip this one altogether. Go with another brand name.

Pros: Honestly, I can't find one.

Cons: -Sluggish -Hard to navigate -Unresponsive at times -Freezes up, a lot -Menu is set up weird -iPod menu is hard to navigate -Touch screen is hard to use
Good Nav DD for the price
Written by: Chad from Tucson, AZ on March 7, 2013
I bought this Nav unit to replace a JVC DD nav from 2010 I had. It was horrible for using Navigation. The Clarion nav is so much better. It has time alignment, which is not on most DD headunits. The 5 band eq is decent, wish it was at least a 9 band or more. The bluetooth is good, you don't need a separate mic as it has a decent one on the face. You do have to talk a little louder for the individual on the other side hear you. I like the 4v preouts and the fact that it is 6 channels. The SD card slot is ok to get too. The touchscreen is a little sensitive but works well.

Pros: Navigation, decent bluetooth, 4v p/o 6 channels.

Cons: wish it had more of an EQ.
Written by: CKA from Gilbert, AZ on November 20, 2012
Had installed 2 weeks ago, waiting for software update...HTC, Samsung or iphone will not work properly with Bluetooth, factory says firmware update should be available somethime in Dec. Menu button on bottom panel too close to onscreen volume/channel control button, always hit both simultaneously which is annoying. HD radio not too good in Phoenix, cuts in and out periodically. Also have some lag issues when switching between screens. Am going to look at other products, may return this one...

Pros: Nice displays, NAV works pretty well, sound quality ok

Cons: Major Bluetooth issues, button placement, HD not too good
Poor support for a company's "flagship" product
Written by: travis from United States on November 16, 2012
2010 Toyota Tacoma
Crutchfield Customer Review
(
What's this?
)
Everything was great initially minus the fact that the Push-To-Talk (PTT) button on my steering wheel is not able to be programmed (even though it is 2012 and many newer vehicles have this feature, Clarion does not have the foresight to add this capability to their products). I have the factory JBL system which is pretty good by itself, but the NX702 does make it sound better, or maybe the fact I shelled out a grand for it causes me to think it's better. Anyway, the iPod/iPhone function was good, Bluetooth audio worked, the NAV is effective and overall, I was happy.

Now for the cons. I installed the SiriusXM V200 tuner. I don't know if it's that module or the head unit, but the volume is significantly lower in this feature. I had to install an interface adapter for the HU to utilize the JBL, and I had to turn the gain on it up significantly to get the SAT radio volume to increase into acceptable levels. In doing so, it created more white noise when the sound is muted. HD Radio, CD, Ipod=good volume....Satellite radio=too quiet. Fast forward to October____(whenever iOS 6 was released), now the Bluetooth audio streaming no longer works. I have been going to their website looking for a firmware update or something......nothing. Clarion's "Flagship" unit, and virtually zero support. My wife's Hyundai we bought 4 months ago can still stream audio with no updates.

Pros: -Better sound? -Many features -Navigation -Clean appearance

Cons: -Can not program steering wheel controls for PTT -Controls not always responsive -As of this writing, can not stream audio -Screen locks image, or unit locks up completely -Virtually no technical support
Written by: Smitty4u from clovis nm on September 30, 2012
Got the Clarion NX702 over the JVC and Alpine. Could not happier and although I was told the Kenwood 9990HD had better options, they just did not seem worth another $300. Had the Siruis hooked up along with radio control, a set of JL Audio C5-5.25 in the rear doors on my 2008 Tundra crewmax limited and then JL Audio C2 6x9"s and the JL100ZCT tweeters to pair with the Tundra JL stealth box w/1 13" woofer. Amps were JL JX1000 for the sub and JL XD600/6 for the doors and dash/tweeters. Added the JL 4x6 plates for the dash and dynmatted everything after removing the JBL sub/system. One last touch was adding the rear view camera license plate with sensors and the system hit so good in the tundra. The clarion at the centerpiece. HD radio is great, bluetooth is superb as I listen to alot of Pandora dub step. Love the navigation and easy to use. Found my destination and had it ready to go in 4 seconds.

Pros: Great selections on the radio. You can fine tooth everything from color to angle of the screen and a really good EQ set-up. Have had Zero issues and would recommend to anyone over the JVC and Alpine. Have not tried out the Kenwood 9990HD and I am sure it is good with all the reviews but too expensive. Video on this one is great, watched Dexter season 4 and loved it.

Cons: does not serve beer or drive the vehicle for you.
Written by: eastenderz from New Bern, NC on September 25, 2012
Just found out today that the problem is specific with the Windows Phone operating platform. I tried two different Androids at two different cell phone stores with no such issues but when it was paired with both a Nokia Lumia 900 and a HTC Trophy Windows Phone there were problems with the radio reacting and controlling the phone. Audio was at times going through the phone itself instead of through the radio when paired. I've contacted Clarion and they are very receptive to my concerns so I hope this is the beginning to the solution. Will update when I have more info.

Pros:

Cons:
Written by: eastenderz from New Bern on September 23, 2012
Is there a radio out there without any complications to it. I have yet to come across one for this current years models. I just sent back JVC's KW-NT800HDT because of its lack of features with SiriusXm's SXV200 for which you can read my whole review for it on this website. Only to trade one problem for another. The problem with this unit is Bluetooth. Don't let the whole Parrot branding make you think otherwise because the only hand Parrot had in this apparently was handing over the chip necessary to connect. After that the ball was left in Clarions court to write the software for all the functions including and not limited to answering and hanging up, contacts, control of music playback. None of it works consistently. You'll have a eureka moment every now and then but the next its back to the nightmare. I had none of these problems with the JVC and am so regretting sending it back now. The SiriusXm works as advertised and performs wonderfully along with every other source but the bluetooth. I now have to seriously consider getting the iphone but even now that may be an issue because of the new ios6 and the lightning plug it has on the 5. I don't even believe clarion seriously, is even aware or cares about this issue. I noticed that there were some updates for last years models concerning bluetooth but who knows how long it will be if ever with this current years models. If clarion could fix this one issue alone This would be a five star radio easy.

Pros: To the others having issues with hearing the voice guidance because of the volume being too low their is a solution while your on the screen for moving the bar for volume from left to right while on that same screen try pressing the actual volume button on the radio and you'll notice that instead of the radio volume going up it will bring up the voice guidance voice while your on that screen. those bars are so you can adjust the difference between the alert tones and the voice guidance.

Cons: I believe Clarion wanted to be the first bad boy out there with all these features and in the rush they forgot one thing and that was to look for and correct any bugs that were in the system. Now I'm stuck waiting for the POSSIBILTY of Clarion fixing this with a software update.
Written by: Rm-500 from Peabody, MA on September 14, 2012
Crutchfield Customer Review
(
What's this?
)
Not worth time or money sound is bad to get to one screen u press 3 others if they work waited for unit to come out thought clarion was good not worth it crutch field service #1 though returned + got ken wood happy now

Pros:

Cons:
Very Nice Unit when you learn the interface
Written by: Dave from Orlando, Fl on September 6, 2012
After spending several days with this unit I have to say it is very good. I am getting a single pop on sartup if I have the radio booted up before I start the car. This can be avoided and may just be something to do with the installation...not sure. All the functionality works nicely and is very useable once you configure presets for HD radio and Sirius. (just tune in and hold preset 2 seconds to stor them in memory). The Nav is awesome with multiple languages for voice prompts and differnt ways to search for places. The Voice commands are average (unit says it can't hear me but works anyway most of the time), bluetooth is average but I haven't tested it completely (does have option of external and internal mics you can switch between, nice!) The reviewer above does have a point about the map but you can zoom in and out just not while in navigation mode I guess is the best way to say it. For me, the incredibly robust functionality and cool design trumps any minor negatives. Clarion really designed great looking interfaces that hide cetain functionality to give it a clean look but you can access by touching little arrow prompts on the screens to get more options that you can scroll through. Personally, I think its a great design rather than just crowding it all on the screen. I haven't used a lot of the other navs on the market but i did a lot of research before choosing this unit and I have to say the Clarion is very competive with more expensive units. Nav is best i seen

Pros: Very well designed, nice looking and functional user interfaces albeit with a bit of a learning curve (sometimes easy to hit wrong button or go into wrong mode) Great sound and settings Awesome Nav, Pandora, Ipod, HD radio incredible amount of customization...some really nice options you probably wont get with a lot of other units

Cons: The main menu does take a few seconds to come up using the main touch key but if you tap it the short cuts do come up immediatly and if you configure those with your favorites u should be able to mange quick operation and switching between interfaces. The phone does seem to require you to go into the interface upon startup and select which blutooth item it has already detected to connect..Option to auto-connect phone would be nice. Xm/Sirius not as loud as other sources but problem common to a
Written by: AM from Niceville, FL on September 6, 2012
I packed this unit right back up and sent it back as soon as I could. This unit was a huge disappointment for me as a first timer to aftermarket head units. I had been researching aftermarket head units for well over a year before I was set on the NX702. I anticipated its release for at least four months before it's arrival. In a nutshell, it just performed way too under par for the money and the newness of it. For it to have been just released I don't think that it should've been hurting for an update that badly. All of the GPS functions were laggy and the radio constantly froze up at random when connecting my iPod. Also in the Bluetooth mode the radio refused to pull up my contacts and I was never successful in initiating a call from the unit and the screen would show that a call was still connected even after terminating a call. That often resulted in a freeze up as well. I found that I really did miss my volume knob and the GPS voice simply isn't loud enough to be heard over any low level music. This was a bad buy for me and I now have the Alpine INE-S920HD on order.

Pros: Nice looking interface software

Cons: Very slow Freezes a lot
Written by: jj-shore from Atlantic Highlands, NJ on August 30, 2012
2006 Volkswagen GTI
Crutchfield Customer Review
(
What's this?
)
Clarion and PAC both could use some good tech people to rewrite the install and config manuals....Good thing Techs at Crutchfield know their stuff. The sound quality of the unit is awesome (replaced a stock unit in a 2006 GTI). The Nav works great but you do need to spend a little time with the documentation and I'm talking the one that can be downloaded from Clarion. I agree with the complaints on the touchscreen, but what touchscreen works well while keeping your eyes on the road. Get the steering wheel module so you can get best use of hands free.

The Pandora in the dash from my iPhone has me loving music in the car again. Previously I had Sirius/XM and they frankly are the worst for programming across all their channels. Finally a great and less expensive alternative to the satellite drivel. The Bluetooth streaming works great too letting you listen to anything you can pick up on the phone (Songza, iHeartRadio...).

Not so sure about the built-in microphone for phone. Have had a couple complaints but not always. Looking for a good 3rd party external microphone. (The Clarion option I've found has some sub-par reviews....hoping there are other options out there)

Pros: Great sound. Solid Pandora support in-dash. Nav is decent event if it is just a little complex to get up and going - the Traffic alert and rerouting has already saved me from sitting in afternoon shore traffic. HD Radio impressive.

Cons: The HD Radio doesn't appear to have any option to permit manually setting "Presets". There is an auto-preset option, but it appears to grab the same 6 stations for each FM group. Don't listen to much broadcast radio, but the few stations I do listen to I would like to program myself. Maybe I just haven't found the menu setting. Note to Clarion: Bluetooth Auto-Connect setting should be a default "ON" setting upon install. And put the information in one of the manuals....at least once.
Written by: clspruiell from Birmingham, AL on August 22, 2012
Looks cool and has lot's of iphone features. If you have android, out of luck.

Ok the bad.

1. Cannot zoom in/out of the normal nav screen. I have contacted Clarion's tech support and they share my disgust with this. 2. Vol and menu buttons are touch sensitive and respond about half the time. Must take eyes off the road to find the buttons. 3. Very laggy. Usually the menu will not come right up. 4. Submenu's are accessed by touching the screen riiigghhhtttt above the main menu button. Try doing this while driving. You'll hit the main menu button every time. 5. I could go on but I just bought the Pioneer as a replacement. Clarion owes me for 2 weeks of frustration and install costs.

Pros: None

Cons: All the mentioned above. Namely nav zoom, laggy, and button placement.
Not at all what I thought it would be...
Written by: Bob from Wyoming on August 17, 2012
Crutchfield Customer Review
(
What's this?
)
First of all was very excited about this product and preordered it and waited 4 mo.

So, I install it after removing a Pioneer x930bt. This radio is an aggravating mess. Swipe to access the menus it says but, to get to the swiping menu you press soft key menu button then you press the onscreen swipe menu. Most irritating was two things one every time I turn the unit on it goes directly to radio and you can't switch this that I know of and two the navigation will bark at you if you go even one mile over the speed limit it has programmed. It can be muted but, still will pop open a window to tattletale on you to everyone in the vehicle. The sound quality is horrific I get better sound out of my iPhone speaker and to boot not enough power to overcome window down at 45. Its also slow to boot the Bluetooth connection and will randomly skip a song after playing the first minute or so.

Just all around a horrible unit and will never consider a Clarion ever again.

Pros: 7" screen vs 5.8" is always good, mic on front of radio was good on phone calls, navigation maps looked nice and all, bought at Crutchfield so I can return it YAY!!!

Cons: Fan on back of unit is noisy, Bluetooth connection slow and unreliable, speed tattletale, sound quality is fair at best, on boot up goes to radio irregardless of what you were listening to at key off, menu seems nice but swipe isn't as smooth as my iPhone and if done to quickly system will ignore your swipe, sd card slot is used for maps and unit throws a fit if you remove their sd card for one with music.
You're going to love this unit
Written by: RW from Chicago, IL on August 4, 2012
First of all the sound is outstanding - far better than the system I had, a factory installed Chrysler Aspen unit. Secondly the graphics are stunning. Next the Navigation is awesome. And lastly it does so many things it is almost mind blowing. Outside of the enormous learning curve and pile of crap horrendous owner's manual this thing will blow your socks off.

I'll break down this unit in two parts; The Navigation system and everything else. The Nav system comes with its own User Manual (105 pages large) and it is pretty easy to follow, which is contrary to the owner's manual which is separate and covers everything else. The Nav option and setting sections on the unit are easy to use and fun to play with. I really can't find anything negative about the Nav, except maybe I spend too much time watching myself drive on the screen - it's like a video game. Some of the Nav features are 3D buildings (which are so neat I wish there were more), traffic reporting (works great in city areas - details of what areas are covered are buried on the Clarion website), Speed limit info (I just love this - it displays your speed, the speed limit and third graphic changes colors whether you are within the speed limit, over it and if you are over your own setting for maximum speed) and unit even displays your altitude (who cares when you're driving in the Midwest). It does other things too but they are common with most other systems.

The second part of this in the next review.

Pros: I would take this NAV system and compare with anyone. It even has a calculator and gives you cool graphic of where the sun is shining in the world.

Cons: The Nav takes about 40 seconds to come on once you start, a little too slow for me, and sometime times my current location is just a hair off.
What's in the box?
Navigation multimedia receiver with integrated 7" touchscreen monitor
Inserted 8GB microSD card (preloaded with maps)
2 Trim rings
Wiring harness
Preamp output harness
Audio/video input harness
Audio/vide output harness
Microphone input harness
Steering wheel remote input harness
SiriusXM Satellite Radio harness
HD Radio harness
42" USB extension cable (with a female USB type-A port on one end and a proprietary multi-pin connector on other end)
GPS antenna (with attached 16.5' cord)
Remote control
CR2025 Lithium battery (installed in remote)
8 Counter-sunk ISO screws
8 Hex-head ISO screws
2 Wire splice taps (Red)
6 Self-adhesive wire clamps
3M tape
Cleaning cloth
Owner's Manual CD-ROM
Quick Start Guidel/Installation Manual (En/Fr/Sp)
Warranty Card (US/Canada)
Product Research
Display Features
Onboard Navigation
Built-In Bluetooth
HD Radio + SiriusXM Ready
Disc/USB/SD Playback
iPod/App Connectivity
Audio Section
AV Connection
Remote Control
Display Features
7" Touchscreen TFT Display: The Clarion NX702 has an integrated 7" TFT widescreen display with touchscreen controls. The display provides a high-resolution video monitor for watching your DVD videos. The screen has a resolution of 800 x 480 (RGB) and 1,152,000 total pixels. The display features brightness and shape (4:3 or 16:9) adjustment. The unit's touchscreen panel features interactive controls making menu navigation easy. The monitor electronically slides down for loading or ejecting a disc (there is no detachable faceplate).
Adjustable Angle: The angle of the 7" touchscreen TFT display can adjusted depending on the mounting angle of the unit or lighting conditions. The angle of the touchscreen can be adjusted in the range of 0 to +6 for better visibility.
Touchscreen GUI w/ Flick Operation: The GUI (Graphical User Interface) shows large icons that are highly visible and easily recognizable at a glance. Feature icons are animated for an enhanced appearance, and they can be dragged and dropped into different positions to customize the screen. The NX702's touchscreen GUI (Graphical User Interface) supports flick operation, so you can quickly scroll to another menu page. Since the vast majority of functions are controllable from the touchscreen, there are only four physical buttons (including a rotary dial) on the unit for the most basic and commonly-used functions.
Note: A screen cleaning cloth is provided to help you keep the unit's touchscreen display clean.
Start Up Time: The NX702 has a start up time of approximately 16.4 seconds from Off to an audio/video source screen, and another 24.1 seconds to the map screen; for a total start up time of approximately 40.6 seconds from Off to the navigation map screen.
Monitor Adjustments: The Clarion NX702 offers the following touchscreen monitor adjustments.
Wallpaper Backgrounds: The NX702 includes 8 preset wallpaper backgrounds to choose from. You can also download a custom wallpaper background from a connected USB thumbdrive.
Brightness: You can adjust the touchscreen monitor's brightness from 0-20.
Auto Dimmer: The receiver's display automatically dims to a preset brightness when the vehicle's headlights are turned on. The wiring harness includes an orange/white lead that should be connected to the vehicle's parking light circuit in order for the dimmer feature to operate.
Monitor Off: You can turn the navigation-multimedia head unit's touchscreen monitor off when simply listening to music.
Variable Button Illumination: You can set the head unit's button illumination to 1 of 12 preset colors or have the unit scan through all the preset colors. You can also select three custom user colors by adjusting red, green, and blue values.
Parking Brake Detection: To prevent the displaying of video while the vehicle is in motion, the bright green wire in the supplied 18-pin harness must be connected to the vehicle's parking brake detection circuit. While the vehicle is in motion (parking brake off), you can still view all of the other displays and menus.
Anti-Theft Code: You may program the unit with a 4 digit security code. Once the unit has been programmed with a security code, the code must be entered to use the unit after it has been disconnected from power.
2-DIN Chassis: The Clarion NX702 has a 2-DIN chassis (also known as "Double DIN" or size DD), and will fit in many vehicles with a large dash opening. The unit can be ISO-mounted using your vehicle's factory radio brackets and the supplied hardware. There is also an optional custom double-DIN sleeve (0202DBKT, sold separately) available for this unit that will allow you to mount the NX702 in a custom 4" opening.
Note: As always, please consult Crutchfield's Outfit My Car to verify fit with your vehicle.
Onboard Navigation
Navigation Mapping Software: The integrated map database (by TeleAtlas) used by the Clarion NX702 was created using high-resolution aerial and land based data collection. Navigation data is stored on the unit's preloaded 8GB microSD-card for quick access and response. The NX702 provides map coverage of the United States (all 50 states), Canada, and Puerto Rico. The Clarion NX702's integrated iGo Primo navigation software provides turn-by-turn visual and voice assistance to direct you to your selected destination. The built-in software quickly calculates step-by-step directions to any destination available on the included navigation map.
Note: Car navigation maps are frequently updated. While this database was judged to be as accurate as possible at the time of its release, a map database can never be 100% accurate. Road information that is maintained in the map databases, such as turn restrictions or road names may change over time.
Map Updates: It is easy to keep the navigation system up to date. Simply download new map data from Clarion's portal site (clarion.naviextras.com), store the updated map data on a microSD card and insert it into the Clarion NX702 via the bottom-panel microSD card slot (located on bottom-panel of touchscreen; the touchscreen monitor must be lowered to access microSD card slot).
Note: You have 30 days from purchase to download the latest available map free of charge.
GPS (Global Position System): Clarion's built-in navigation helps you find your way to your destination with an integrated GPS receiver & external GPS antenna. The Clarion NX702 features a built-in SiRFprima GPS receiver and includes an external magnetic GPS antenna. The NX702 uses Global Position System (GPS) satellites, and a digital roadway map database to calculate and display vehicle positioning and travel direction. The NX702 considers vehicle speed an heading changes, together with longitude and latitude information, to accurately determine vehicle heading and position on a digital map. Signal from GPS satellites are used to determine the vehicle location. Three (good) or four (best) satellites must be receive to accurately determine location.
Note: This unit does not transmit your GPS position, so others cannot track you.
On-Screen Map: The unit's on-screen map shows your vehicle's current position (a red arrow by default), the recommended route (an orange line), the surrounding map area, and your destination as a checkered flag. The on-screen map shows streets, roads, and highways in a way that is similar to how a paper road map show them. A road's width and colors corresponds to their importance, so you can easily tell a freeway from a small street. When navigating a route, the top section of the map screen shows information about your next route maneuver and the next street or the next city/town. When approaching a turn, the map screen will zoom in and raise the view angle to let you easily recognize your maneuver at the next junction. If the next turn is at a distance, it will zoom out and lower the view angle to be flat so you can see the road in front of you. The map also displays data; such as the posted speed limit, your current speed, current time, distance to your destination, time left before you reach your destination, and your arrival time.
2D/3D Map Mode: The Clarion NX702 allows you to view its on-screen map in a 2D (two-dimensional) or 3D (three-dimensional) view. Similar to paper road maps, the 2D mode, shows you streets, roads, and elevation by color. In 3D mode, you can see the altitude and elevations differences. You can distinguish between valleys, mountains, and elevated roads. In select cities, 3D landmarks and 3D buildings are also displayed.
Color Mode: The navigation map screen uses different color themes (Day/Night) during the day and during the night for both the map and the menu screen. Daytime colors are similar to paper road maps, and the menus are bright. The nigh color themes use dark colors for large objects to keep the average brightness of the screen low. You can also set the navigation unit to switch between daytime and night color modes automatically based on the current time and GPS position.
Lane Information & Signposts: The Clarion NX702's navigation map offers helpful lane information & signpost guidance.
Lane Information: When navigation on multilane roads, it is important to take the appropriate lane in order to follow the recommended route. If lane information is available in the map data, the map screen will display the lanes and their directions using small arrows at the bottom of the map. High lighted arrows represent the lanes you need to take.
Signposts: Where additional information is available, signposts substitute arrows. Signposts are displayed at the top of the map. The color and style of the signposts are similar to the real ones you can see above the road or by the roadside, They show the available destinations and the number of the road the lane leads to.
Junction View: If you are approaching a freeway exit or a complex intersection and the needed information exists, the map is replaced with a 3D view of the junction. The lanes you need to take are displayed with arrows. Signposts can also be present, if information is available.
Tunnel View: When entering a tunnel, the map is replaced with a generic tunnel image so that surface roads and buildings cannot distract you.
Audible Alerts: The Clarion NX702 offers various audible alerts and functions to help you get to your destination safely.
Voice Guidance (Text-to-Speech): In addition to graphic directions, the NX702 provides voice guidance and turn-by-turn directions. You can select from English, French, Spanish, Korean, Japanese, and Chinese audible languages. The volume of the voice prompts can be increased with increases in speed to overcome road noise. Voice guidance can be turned off if you prefer.
Safety Alert: This function can warn you when you approach road safety cameras, school zones, or railroad crossings (if available). You can also add your own alert points. Beeps or the spoken type of alert will be heard when you are approaching of these points.
Speed Limit Warning: Some maps may contain information about the speed limits of certain road segments. The NX702 provides an audible warning if you exceed the recommended speed limit.
Voice Command: The NX702 in-dash navigation receiver offers voice command for select navigation functions. There is "Microphone" icon on the Map screen and in the Navigation menu you can press to activate the voice command function through the unit's front-panel Mic (you can also long-press the unit's front-panel Open/VR button to access the voice recognition function). You can say "FIND" to navigate to Addresses, Places, Favorites, and History. You can also say "MY ROUTE" to access Route information, Cancel your route, or Avoid sections of the route. You can even say "MORE" to obtain your Current location, Speed limits in your area, and the Help screen. By saying "MAP", the unit's Map screen will appear. "BACK" will return you to the previous page. And "CANCEL" will cancel the voice recognition function and return the unit to touchscreen operation.
Total Traffic Network: The Clarion NX702 navigation receiver supports Clear Channel Radio's Total Traffic Network for real-time traffic data service. Real-time traffic information can help you avoid current traffic events, like temporary road closures or a traffic jam caused by an accident (this function is subject to data availability). If public traffic data is broadcast around your location, the Clarion NX702 automatically decodes this traffic data and takes into account the traffic events received for your calculated route. When the NX702 receives traffic information that may affect your route, the unit will warn you that it is recalculating the route, and navigation will continue with a new optimal route with consideration toward the most up-to-date traffic conditions. Road segments affected by traffic events are displayed with an alternate color on the map, and small symbols above the road show the nature of the event.
Note: Total Traffic Network coverage areas.
Where Am I?: This screen contains information about the current position (or approximately the last known position if GPS reception is not available) and a button to search for POIs nearby.
Find Menu: The Find Menu gives you many different ways to choose your destination or insert a waypoint in your current route. An on-screen keyboard appears to allow you to enter your destination from one of the following categories:
| | |
| --- | --- |
| Destination Search | Description |
| Find on Map | Search for a destination by scrolling the map display. |
| Home | Store and easily recall your home address. |
| Find Address | Enter full/partial address, or Search for a city (central location), or Search for the intersection of two roads. |
| Find Places | Search for over 15,000,000 points-of-interest (POIs) by name, phone #, or category; search near your current location, in a specific city, along your current route, or near your destination. |
| Favorites | Store your favorite locations for easy recall. |
| History | Destinations that you have set previously |
| Coordinates | Enter geographic coordinates (latitude & longitude). |
| Phone Number | Select a destination by entering phone #. |
| Photo | Select locations from geotagged JPEG photos from an inserted USB or SD/SDHC memory device. |
| Waypoints | You can add intermediate destinations along your main route. |
Route Calculation: The Clarion NX702 calculates your route based on your Vehicle Type, Route Method, and Avoidances.
Vehicle Type: You select what type of vehicle you are driving, so the navigation unit can determine the best route based on your vehicle type (Car, Truck, Emergency, Bus, or Taxi).
Route Method: You can choose which route method (Fastest, Shortest, Green, Economical, or Easy) the navigation unit should use when calculating your route.

Fastest: give a quick route, if you can travel at or near the speed limit on all roads. Usually the best section for fast and normal cars
Shortest: gives a route that has the smallest total distance of all possible routes. It can be practical for slow vehicles
Green: gives a quick, but full efficient route based on the fuel consumption data you provide
Economical: combines the benefits of Fast and Short; calculates as if it were calculating the Fast route, but it takes other roads as well to save fuel
Easy: results in a route with fewer turns and no difficult maneuvers

Avoidances: You can tell the navigation unit to avoid certain types of roads along your calculated route, such as - Highways, Tolls, Carpool/HOV, Unpaved Roads, and/or Ferries.
Trip Logs: Trip logs contain useful information about your trip. Trip logs can be saved manually when you reach your destination or automatically along your route. Trip log data includes - Start/End Time, Avg./Max. Speed, Total/Driving/Stopped Time, Total Distance, and Min./Max. Altitude.
Automatic Route Recalculation: The unit will automatically recalculate your route if you stray from the navigation unit's previously calculated route.
Route Simulation: You can preview all the route information and simulate travel along a projected route.
Built-In Bluetooth
Bluetooth Technology (powered by Parrot): The Clarion NX702 is equipped with built-in Bluetooth ver. 2.0+EDR (powered by Parrot), allowing you to make and receive phone calls wirelessly through the receiver; as well as stream music wirelessly from your smartphone to the head unit.
Bluetooth Profiles: In order to use Bluetooth wireless technology, your phone must also be Bluetooth compatible and be able to interpret certain profiles. This unit is compatible with the following Bluetooth Profiles:
Hands-Free Communication: HFP (Hands Free Profile), PBAB (Phone Book Access Profile).
Audio Streaming: A2DP (Advanced Audio Distribution Profile), AVRCP (Audio/Video Remote Control Profile).
Pairing: Before using your Bluetooth enabled device, it must be paired to the NX702. You can register up to five Bluetooth enabled cell-phones with the Clarion in-dash head unit (only one paired phone can be used at a time). The Clarion NX702 is compatible with most Bluetooth enabled mobile phones, including the Apple iPhone.
Note: The Clarion NX702 is not compatible with all Bluetooth enabled phones or audio players. Visit Clarion Bluetooth Support for complete list of compatible phones and players.
Hands-Free Communication: The NX702 supports Bluetooth hands-free communication from your Bluetooth enabled mobile phone. The NX702 can be set to automatically answer your incoming calls and mute any music audio to your vehicle's speakers so you can instantly carry on a phone conversation hands-free. An integrated front-panel microphone carries on your side of the conversation while your car's speakers are used to hear the other person. You can make a call by entering the phone number, selecting a contact from your Phonebook list, or using the Call History Log of received/dialed/missed calls.
Answering A Call: During an incoming call, the caller's phone number will be seen on the unit's LCD and a ring-tone will be heard through your car stereo speakers. You can then manually answer the incoming call from the head unit's front-panel controls. You can also set the unit to automatically answer an incoming call within 5 seconds.
Making A Call: You can make a call using the Clarion in-dash head unit's front-panel controls.

Direct Dial: Outgoing calls can be made be entering telephone numbers (0-9, *, #, +) directly via the head unit's touchscreen.
Phonebook: You can search for contact names in your mobile phone's phonebook from the Clarion NX702 and then make your call. The head unit can store up to 500 contact numbers.
Call Log: You can also make a call by searching your mobile phone's call history (Received/Dialed/Missed) from the Clarion NX702.
Redial: You can simply redial the last number dialed with a press of a single button on the in-dash head unit.
Voice Dialing: If your mobile phone supports voice recognition, then you can dial out by voice command. Simply speak into the unit's front-panel mic. You can say a contact's name or say any phone number.
Integrated Microphone: The Clarion NX702 features an integrated front-panel microphone to carry on your side of a conversation during a Bluetooth phone call. You can adjust the microphone gain (+/-5) for each paired mobile phone device.
External Microphone (optional): The Clarion RCB-199 (020RCB199, sold separately) is an external microphone which can be connected to Clarion NX702. The RCB-199 external microphone provides better performance in noisy environments than the integrated microphone found on the front-panel of the head unit. The microphone features an attached 13.25' cord terminated by a right-angle male 3.5mm connector which plugs into the microphone input on the rear-chassis of your compatible Clarion head unit. The microphone also features an integrated sun-visor clip for mounting the external microphone in your vehicle. The integrated bracket allows the microphone to swivel left-to-right and rotate up-or-down.
Wireless Audio Streaming: The Clarion NX702 also supports wireless audio playback (AD2P) and control (AVRCP) of a Bluetooth enabled audio player or smartphone. The NX702 will be able to control your stored music's basic playback functions; such as Play/Pause, Previous/Next Track, and Fast-Forward/Reverse. The NX702 also supports audio streaming of music apps from your smartphone, but without control or metadata. You will continue to use your Bluetooth enabled smartphone to view & control streaming music apps. When an incoming call or outgoing call is in progress from your Bluetooth enabled mobile phone, audio streaming will be paused so you can take your call. Once the call is finished, your streaming music will resume.
Note: The iPhone 5 only offers Bluetooth audio streaming without control or metadata display.
HD Radio + SiriusXM Ready
HD Radio: With the built-in HD Radio tuner, you can receive digital AM/FM broadcasts from local stations where available. HD Radio lets you listen to the radio with the same fidelity as your digital music. HD Radio features high quality audio, FM multi-casting, and data services. With HD Radio, your FM stations offer near CD-quality sound, AM stations provide FM-like sound, and there is crystal-clear reception with no audio distortion. Best of all, HD Radio is 100% subscription free. The unit's tuner also supports analog AM/FM broadcasts.
Note: HD Radio is the system for digital AM and FM broadcasting in the U.S. More than 2,000 radio stations are broadcasting their primary signals in digital HD Radio technology, as a free service. Go to HDRadio.com to check for HD Radio stations in your area.
Multicasting: Multicasting is the ability to broadcast multiple program streams over a single AM/FM frequency. this increases the amount and diversity of content choices. A maximum of eight multicast station channels (HD1-HD8) can be selected on this unit.
Station Text: AM/FM digital stations can offer text and data such as artist names and song titles. The built-in HD Radio tuner displays song title, artist and station information on the touchscreen monitor of the Clarion NX702.
Preset Tuning: The NX702 features 3 FM bands and 1 AM band. You can store up to 6 presets in each bands, allowing you to store 24 FM and 12 AM preset stations. You can manually store your favorite presets or have the NX702 automatically store the strongest stations for you.
Preset Scan: The Preset Scan receives the stations stored in the units' preset memory in order. The unit scans each station for 10 seconds sequentially. This function is useful when searching for the desired station in memory.
iTunes Tagging: It is possible to save the song's information (tag) from and HD Radio broadcasting station to your USB-direct connected iPod/iPhone. The songs will show up in a playlist called "Tagged" in iTunes the next time you sync your iPod/iPhone. Then you can directly buy the songs you want from the iTunes Music Store. You can "tag" up to 100 songs. Your iPod/iPhone must have at least 50MB of free space to "tag" and transfer songs. iTunes 7.4 or later is required to purchase "tagged" songs.
SiriusXM Ready: The Clarion NX702 comes ready for SiriusXM programming with access to XM & Sirius Satellite Radio stations. Thanks to its proprietary SiriusXM Connect port, you can add the optional SXV200V1 SiriusXM Connect tuner and receive more than 150 channels of exclusive programming directly from SiriusXM, via the "SiriusXM All Access" package (subscription required). Visit SiriusXM.com for a complete list of subscription options & channel guide. Additional features of the SXV200 SiriusXM Connect tuner include:
Information such as Channel Name, Artist Name, & Song Title can be viewed on the head unit's display
Category Search feature lets you search for channels within a certain genre or category
Up to 18 SiriusXM Satellite Radio station presets
Artist/Song Alert notifies you when your favorite artist or song is playing
Replay feature lets you pause, fast-forward, or rewind up to 30 minutes of live content
iTunes Tagging for your connected iPod or iPhone
Channels containing content unsuitable for children can be blocked
Note: SiriusXM Satellite Radio operates on the XM Network. However, you can easily add this SiriusXM tuner to an existing Sirius or XM account for a Multi-Radio Discount Plan
Disc/USB/SD Playback
Disc Compatibility: The NX702 supports playback of DVD-Video, DVD+R, DVD+RW, DVD-R, DVD-RW, CD-Audio, CD-Text, CD-R, and CD-RW discs. The unit's touchscreen monitor must be electronically lowered to access the disc slot.
SD-Card Slot: The Clarion NX702 is equipped with a side-panel SD-card slot for playback of music or video files stored on a SD or SDHC memory card. The NX702's SD-card slot is located on the side-panel of the unit's touchscreen monitor; the monitored must be lowered to access SD card slot.
USB Port: The Clarion navigation-multimedia head unit features a USB type-A port (with included 42" USB extension cable) that allows you to connect and play USB Mass Storage devices loaded with music or video files.
Compressed Media Playback: The Clarion NX702 supports compressed music and video playback from disc, USB, or SD/SDHC. Files recorded on disc must be in ISO 9660 Level 1 or 2 format, while files stored on a USB device or SD/SDHC memory card must be formatted in FAT 12/16/32. The head unit can recognize up to 999 files per folder and 6,000 total files.
Music Files: This unit can play MP3 (8-320 kbps/VBR)/WMA (8-320 kbps) files recorded on CD-R, CD-RW, DVD-R, DVD-RW, DVD+R, and DVD+RW discs; as well as stored on a USB mass storage class device or a SD/SDHC memory card. AAC music file playback is supported from USB devices and SD/SDHC memory cards.
Video Files: The Clarion NX602 supports playback of video files (AVI/MP4/MPG/MPEG) recorded on DVD-R/RW and DVD+R/RW discs, as well as stored on a USB mass storage class device or SD/SDHC memory card. The video file must have a resolution of 480 x 272.
ID3/WMA Tags: The head unit also supports ID3 Tags (Ver. 1.0, 1.1, 2.3, 2.4) and WMA tag which will display the title, artist, and album information when recorded on the disc, USB device, or SD/SDHC memory card.
Playback Operations: The Clarion NX702 offers the following DVD and CD playback operations.
Track List: This function allows you to select audio tracks from a displayed list of tracks on a disc or within in a folder.
Direct Search : You can locate the beginning of a movie scene using the time, chapter numbers, or title numbers recorded on a DVD video disc. You can also select a specific track on a music disc.
Skip Search: Chapters or Tracks are skipped down or up from the current location, as many times as the key is pressed, and then playback starts.
Fast Forward/Rewind : The NX702 offers a variable fast forward and rewind function. You can select between 2x, 4x, 8x, or 16x.
Scan: The first 10 seconds of each music track on the disc is played.
Repeat: This operation plays back chapters, titles, or tracks recorded on a disc repeatedly. You can also select A-B repeat in order to repeat a desired passage of video on DVD disc.
Shuffle: This function allows you to randomly playback audio tracks or files recorded on a disc.
Switching Angles: On DVD disc in which video images have been recorded in two or more angle, you can switch among the angles during playback.
Parental Lock: You can set and change the level of parental lock. This function allows cutting scenes that are unfavorable for children or replacing them automatically with other scenes prepared in advance. There are 5 levels of parental lock that are protected by a custom user 4-digit password.
Auto Reload: If a disc is left in the ejected position for 15 seconds, the disc is automatically reloaded.
Mounting Angle: For proper disc playback, you must install the unit within 30-degrees of horizontal.
iPod/App Connectivity
iPod/iPhone AV Playback: The Clarion NX702 navigation-multimedia head unit supports both audio/video playback from a compatible iPod or iPhone. Using your iPod or iPhone's USB/Dock cable you can enjoy audio playback of music, podcasts, and audiobooks stored on your iPod or iPhone. Using the optional Clarion CCA-748 iPod/iPhone connector cable (020CCA748, both sold separately), you can also enjoy video playback of movies, TV shows, video podcasts, and music videos stored on your iPod or iPhone. The Clarion CCA-748 iPod/iPhone connector cable plugs into the unit's rear-panel USB port and rear-panel AV input.
Note: Video can only be displayed while the vehicle is in park (with the parking brake engaged). "Audio Only" is displayed when the vehicle is moving.
iPod/iPhone DAC Bypass: Because the Clarion NX702 uses its USB connection for audio & control transfer, your iPod/iPhone's stored music is loaded instantly to the head unit and sound quality is maximized through the head unit's 24-bit D/A converter, allowing for a Signal-to-Noise ratio up to 93B.
iPod Control: You can choose to control the iPod/iPhone from the head unit's touchscreen or from your iPod/iPhone's clickwheel or touchscreen.
Head Unit: The Clarion head unit allows you to browse your iPod/iPhone's music library by Playlist, Artist, Song, Album, Genre, Composer, Audiobook, or Podcast. You can browse your iPod/iPhone's video content by Movie, Music Video, TV Show, Video Podcast, or Rental. You can search these categories alphabetically (A-Z). The head unit also supports Repeat (file/all) playback functions of your connected iPod/iPhone.
Simple Control: In Simple Control mode, you can navigate the stored music on your iPod/iPhone from its clickwheel or touchscreen. You can also listen to your favorite music apps (such as iHeartRadio, SiriusXM, Last.fm, Rhapsody, & Slacker) from your iPhone (iOS 3.0+) through the Clarion head unit and your vehicle's speakers. You will continue to use your iPhone's touchscreen to navigate your apps. Not all apps will be compatible with App Mode.

Note: Access to your iPhone's downloaded applications will depend on the availability of a cellular and/or WiFi network for purposes of allowing your iPhone to connect to the Internet.
Pandora App: The Pandora App (free) lets you play music from the Pandora music service through the Clarion NX702 using your connected Apple iPhone, via the USB/Dock cable supplied with your iPhone. The Clarion NX702 provides control over the Pandora music service and displays Artist, Album, and Song information; as well as Album Art. You can select Pandora stations from your station list and sort them by date or alphabetically (A-Z). Or, you can create a new station from the current playing artist or song. You can also skip song tracks within a station. You can even give songs a thumbs up or thumbs down. To access Pandora you must have an Apple iPhone (iOS3 or later) with the latest version of the Pandora application from Apple's iTunes App Store. Your iPhone will need an active Data Plan account with connection to the Internet via 3G, EDGE, or WiFi. You will also need a Pandora music service account.
Note: Access to the Pandora service will depend on the availability of a cellular and/or WiFi network for purposes of allowing your iPhone to connect to the Internet. Pandora is not supported in Canada and only available in the United States.
Information Display: The head unit will display your iPod/iPhone's stored music file information; including Track number, Elapsed playing time, Song title, Artist name, and Album Art. The head unit will also display song/artist information and Album Art from the Pandora App. It will not display metadata from other streamed apps or when in Simple Control mode.
iPod Charging: The head unit's USB connection provides current to power and charge your connected iPod/iPhone when your vehicle's ignition switch is set to the 'ACC' or 'On' position. This unit does not charge the iPad. If your iPod/iPhone has no initial battery charge, then the unit will not recognize it.
iPod/iPhone Compatibility Chart: The Clarion NX702 is "Made for iPod/iPhone" compatible and supports the following iPod/iPhone model features (as of 7/26/2012):
iPod/iPhone
Generation
Tested Version
Media Type
Control Type
Display Type
Pandora App
Charge
Audio
Video
Head Unit
iPod/App
Song/Artist Text
Track Info
Album Art
dock connector
3rd
N/A
N
N
N
N
N
N
N
N
N
clickwheel
color
4th
N/A
N
N
N
N
N
N
N
N
N
mini
1st
N/A
N
N
N
N
N
N
N
N
N
2nd
N/A
N
N
N
N
N
N
N
N
N
video
5th
1.3
Y
Y
Y
N
Y
Y
Y
N
Y
classic
80GB
1.1.2
Y
Y
Y
Y
Y
Y
Y
N
Y
120GB
2.0.1
Y
Y
Y
Y
Y
Y
Y
N
Y
160GB
2.0.4
Y
Y
Y
Y
Y
Y
Y
N
Y
nano
1st
1.3.1
Y
N
Y
N
Y
Y
Y
N
Y
2nd
1.1.3
Y
N
Y
Y
Y
Y
Y
N
Y
3rd
1.1.3
Y
Y
Y
Y
Y
Y
Y
N
Y
4th
1.0.4
Y
Y
Y
Y
Y
Y
Y
N
Y
5th
1.0.2
Y
Y
Y
Y
Y
Y
Y
N
Y
6th
1.1 PC
Y
N
Y
Y
Y
Y
Y
N
Y
touch
1st
2.2.1
Y
Y
Y
Y
Y
Y
Y
N
Y
2nd
4.2.1
Y
Y
Y
Y
Y
Y
Y
N
Y
3rd
5.0.1
Y
Y
Y
Y
Y
Y
Y
N
Y
4th
5.1.1
Y
Y
Y
Y
Y
Y
Y
N
Y
iPhone
2G
3.1.3
Y
Y
Y
Y
Y
Y
Y
Y
Y
3G
4.2.1
Y
Y
Y
Y
Y
Y
Y
Y
Y
3GS
4.3.5
Y
Y
Y
Y
Y
Y
Y
Y
Y
4
5.1.1
Y
Y
Y
Y
Y
Y
Y
Y
Y
4S
5.1.1
Y
Y
Y
Y
Y
Y
Y
Y
Y
iPad
1
5.1
Y
Y
Y
Y
Y
Y
Y
Y
N
2
5.1.1
Y
Y
Y
Y
Y
Y
Y
Y
N
Note: Apple iPod/iPhone software updates may change functionality results. If you download a newer software version, you may need to reset the head unit and your iPod/iPhone to regain functionality. If this doesn't work, you may need to wait until a newer software update is available.
Audio Section
24-bit D/A Converter: The unit's 24-bit D/A converter re-quantizes the 16-bit audio signals from CDs and DVDs as 24-bit data while maintaining the low distortion and high linearity of a 1-bit D/A converter. This allows an expanded dynamic range and clearer reproduction of subtle nuances, for a richer sound when viewing DVDs or listening to CDs.
MOSFET Amplifier: The Clarion NX702 is equipped with a MOSFET amplifier. Compared to conventional power supplies, the MOSFET amplification circuit is smaller and more efficient, and it delivers increased power with less distortion and absolutely zero on/off switching noise. More power means louder and cleaner music at higher volumes because you're not pushing the limits of the amplification circuit.
CEA2006 Compliant: The power specifications for the NX702 are compliant with the CEA2006 Mobile Amplifier Power Testing and Measurement standards from the Consumer Electronics Association (CEA). These standards were developed as a way to equitably compare power specs from model to model and between manufacturers. The power output specs for the NX702 are as follows:
CEA2006 Specs: 18watts RMS x 4 channels (at 4 ohms, 20Hz-20kHz, 1% THD-N)
Maximum Power Output: 50 watts x 4 channels (200 watts total)
4V/6ch RCA Output: The Clarion NX702 features 6ch/4V RCA line level outputs (Front/Rear/Sub). With 3 sets of RCA outputs(2-channels each), you are free to add external power amplifiers to create a more powerful, sophisticated audio system. What's more, the 4-volt output assures a pure, high quality signal for the entire sound system. The non-fading subwoofer preamp output features an independent level control (+/-6) and phase adjustment (normal/reverse).
Speaker System Setup: The Clarion NX702 lets you select between a Normal, 2-Way, or 3-Way speaker system configuration.
Speaker System
Speaker Configuration
Normal
Front speakers (2ch)
Rear speakers (2ch)
Subwoofer (2ch)
2-Way
Midrange speakers (2ch)
Tweeters (2ch)
Rear speakers (2ch)
3-Way
Midrange speakers (2ch)
Tweeters (2ch)
Subwoofer (2ch)
Digital Time Alignment w/ 3-Way Crossover: Digital Time Alignment assures that the sound from each speaker reaches the listener at the same time for perfect sonic imaging. The 3-way crossover separates the sound into different bands to match each speaker's output range. The head unit provides various settings based your system's speaker configuration.
Normal:

Time Alignment: select 0-501.4cm for Front L/R, Rear L/R, and Subwoofer L/R speakers
High Pass/Low Pass Filter: select cut-off frequency (60/90/120Hz), Slope (-12dB), Phase (normal/reverse) for Front, Rear, and Subwoofer

2-Way:

Time Alignment: select 0-501.4cm for Tweeter L/R, Midrange L/R, and Rear L/R speakers
Tweeter HPF: select cut-off frequency for high pass filter (25Hz/31.5Hz/40Hz/50Hz/63Hz/80Hz/100Hz/125Hz/160Hz/200Hz/250Hz/315Hz/400Hz/500Hz/630Hz/800Hz/1K/1.25K/1.6K/2K/2.5K/3.15K/4K/5K/6.3K/8K/10K/12.5K/16K/20K/Through), Slope (-6/-12 dB), Phase (normal/reverse)
Midrange HPF/LPF: select cut-off frequency for the high pass filter (25Hz/31.5Hz/40Hz/50Hz/63Hz/80Hz/100Hz/125Hz/160Hz/200Hz/250Hz/315Hz/400Hz/500Hz/630Hz/800Hz/1K/1.25K/1.6K/2K/2.5K/3.15K/4K/5K/6.3K/8K/10K/Through), select cut-off frequency for low pass filter (630Hz/800Hz/1K/1.25K/1.6K/2K/2.5K/3.15K/4K/5K/6.3K/8K/10K/Through), Slope (-6/-12 dB), Phase (normal/reverse)
Rear LPF/HPF: select cut-off frequency for low pass filter (25Hz/31.5Hz/40Hz/50Hz/63Hz/80Hz/100Hz/125Hz/160Hz/200Hz/250Hz/315Hz/400Hz/500Hz/630Hz/800Hz/1K/1.25K/1.6K/2K/2.5K/3.15K/4K/5K/6.3K/8K/10K/Through), select cut-off frequency for the high pass filter (16Hz/20Hz/25Hz/31.5Hz/40Hz/50Hz/63Hz/80Hz/100Hz/125Hz/160Hz/200Hz/250Hz/Through), Slope (-6/-12 dB), Phase (normal/reverse)
Speaker Gain: select -20 to 0dB for Tweeter, Midrange, and Rear

3-Way:

Time Alignment: select 0-501.4cm for Tweeter L/R, Midrange L/R, and Subwoofer L/R speakers
Tweeter HPF: select cut-off frequency for high pass filter (25Hz/31.5Hz/40Hz/50Hz/63Hz/80Hz/100Hz/125Hz/160Hz/200Hz/250Hz/315Hz/400Hz/500Hz/630Hz/800Hz/1K/1.25K/1.6K/2K/2.5K/3.15K/4K/5K/6.3K/8K/10K/12.5K/16K/20K/Through), Slope (-6/-12 dB), Phase (normal/reverse)
Midrange HPF/LPF: select cut-off frequency for the high pass filter (25Hz/31.5Hz/40Hz/50Hz/63Hz/80Hz/100Hz/125Hz/160Hz/200Hz/250Hz/315Hz/400Hz/500Hz/630Hz/800Hz/1K/1.25K/1.6K/2K/2.5K/3.15K/4K/5K/6.3K/8K/10K/Through), select cut-off frequency for low pass filter (630Hz/800Hz/1K/1.25K/1.6K/2K/2.5K/3.15K/4K/5K/6.3K/8K/10K/Through), Slope (-6/-12 dB), Phase (normal/reverse)
Subwoofer LPF: select cut-off frequency for low pass filter (25Hz/31.5Hz/40Hz/50Hz/63Hz/80Hz/100Hz/125Hz/160Hz/200Hz/250Hz/315Hz/400Hz/500Hz/630Hz/800Hz/1K/1.25K/1.6K/2K/2.5K/3.15K/4K/5K/6.3K/8K/10K/Through), select cut-off frequency for the high pass filter (16Hz/20Hz/25Hz/31.5Hz/40Hz/50Hz/63Hz/80Hz/100Hz/125Hz/160Hz/200Hz/250Hz/Through), Slope (-6/-12 dB), Phase (normal/reverse)
Speaker Gain: select -20 to 0dB for Tweeter, Midrange, and Subwoofer
BeatEQ Plus: In addition to providing 3 preset equalization patterns (Bass Boost, Impact, & Excite) Clarion's Beat EQ Plus allows you freedom to customize each pattern by dividing the sound spectrum into 5 bands. You can finely adjust the sound to your liking, depending on the genre of music, for a more fulfilling listening experience.
BeatEQ Plus
Frequency
Q-Factor
Level
Band 1
20-20k or through
1, 2, 3, 4, 5
-12 to + 12 dB
Band 2
Band 3
Band 4
Band 5

Note: BeatEQ settings are applied to all sources.
Magna Bass EX (Extend): The Magna Bass Extend feature does not adjust the low frequencies like the normal sound adjustment function, but emphasizes the deep bass frequencies to provide you with a dynamic sound. This circuit boosts bass at an ultra-low frequency of about 50Hz, creating a rich, deep, defined bass rather than the muddy, booming bass of a standard loudness control. What is more, boost levels are dependent on the system volume, resulting in balanced system response and dynamic bass reproduction.
Beep: The in-dash head unit provides an audible beep to confirm button operation. This function can be turned On or Off.
AV Connection
AV Input: The Clarion NX702 is equipped with an AV input terminal on the rear of the unit to enable enjoyment of content from an external connected source. The rear composite video/stereo RCA inputs are ideal for permanent installations.
Audio/Video Output (with Dual Zone): The NX702 features a rear-panel composite video/stereo RCA audio output that allows you to connect an external display and headphone system in the rear of your vehicle. You can playback audio/video content from a Disc, iPod/iPhone, or AV 1/2 Input on a rear-seat monitor system; while viewing a different audio/video source on the navigation-multimedia head unit.
Camera Input: The Camera Input consists of a Composite video RCA jack for connecting an optional rear-view back-up camera. This RCA input enables you to connect a rear-view camera to display the area behind your vehicle. The increased view encourages and facilitates safer driving. When an optional rearview camera is connected to this unit, the rear view image is displayed on the screen when your vehicle is placed in reverse gear (purple/white wire of harness must be connected to reverse light wire of vehicle). Automatic video switching takes approximately 1.0 seconds.
Note: Audio from your music source will continue playing, while the back-up camera is displayed.
Remote Control
Wireless Remote Control: In addition to the unit's touchscreen and hard-key controls, the NX702 comes supplied with an IR remote control for wireless operation of the navigation-multimedia receiver and your connected devices. The remote control operates off of a single CR2025 Lithium-cell 3V battery (included).
OEM Remote Ready: The unit also features an OEM steering wheel remote control input on the rear of the unit to allow you to keep your vehicle's radio steering wheel remote controls when used with the optional PAC SWI-RC Steering Wheel Control Interface Adapter (541SWIRC, sold separately); or the optional Metra ASWC Steering Wheel Control Interface Adapter (120ASWC, sold separately).
Note: Please consult Crutchfield's Outfit My Car to see if your vehicle is compatible.
Our Product Research Team
At Crutchfield, you'll get detailed, accurate information that's hard to find elsewhere. That's because we have our own in-house Product Research team. They verify what's in the box, check the owner's manual, and record dimensions, features and specs. We stay on top of new products and technologies to help people make informed choices.