Why Choose Crutchfield?
Deep discounts on car installation gear
We offer vehicle-specific installation instructions, dash kits, wiring harnesses, and speaker accessories at deeply discounted prices with car stereo and speaker purchases. Available for most vehicles.
Learn more
Trusted since 1974
Our customers have trusted us with their business, and they've helped us win awards for our service.
Check out our most recent awards
Factory-authorized dealer
The manufacturer's warranty always applies.
See more details
You can see Yamaha's commitment to exceptional sound quality in every aspect of their A-S2000. It's built from the ground up give you the best performance possible — from its innovative, fully balanced amplifier design to its rigid, anti-vibration chassis.
This integrated amplifier feeds 90 full-bandwidth-rated watts to each of your stereo speakers — you'll enjoy clean, undistorted audio, even during your music's most demanding peaks. Wide-range frequency response lets you experience all the details on your LPs, CDs, and even high-resolution SACDs and DVD-Audio discs in stereo mode.
Fully balanced amplification
The A-S2000 features a set of balanced XLR inputs for noise-free, distortion-free audio signals from compatible high-end audio gear. Its advanced amplifier design keeps the signal balanced, completely isolating the "plus" and "minus" sides of each channel, ensuring remarkably clean, pure sound. This amp is also a great choice for vinyl lovers — it can handle signals from MM (moving magnet) cartridges, as well as from more demanding MC (moving coil) cartridges.
Use tone controls without sacrificing audio quality
Many amps offer direct modes that let you bypass tone control circuitry for optimum sound quality. But you don't have to choose between audio quality and properly balanced sound with the A-S2000. Its volume and tone controls are wired in parallel — this allows you to adjust treble and bass to your liking, without muddying your music.
A strong, vibration-resistant build
This integrated amplifier boasts a thoughtful, rock-solid design. Yamaha organized the left and right channels into a straight, symmetrical layout, keeping the signal path short and the sound clean. High-end internal components — such as extruded aluminum heat sinks and custom-made capacitors — allow the A-S2000 to handle demanding passages effortlessly. An anti-resonant base, rigid center bar, and height-adjustable steel feet provide a sturdy, vibration-resistant foundation.
Connections and convenience
This integrated amp offers enough inputs to connect six audio components, including a phono input and a set of XLR inputs for compatible high-end gear. Two sets of main speaker outputs let you connect an additional pair of speakers. Separate preamp input/line-level output jacks allow you to use the A-S2000 as an independent power amplifier or pre-amp for future system expansion. And the included remote gives you easy control of the amplifier and the other Yamaha audio components in your system.
Product Highlights:
90 watts x 2 channels into 8 ohms (20-20,000 Hz) at 0.02% THD
150 watts x 2 channels into 4 ohms (20-20,000 Hz) at 0.02% THD
4-ohm capability allows use with a wide range of speakers
ToP-ART (Total Purity Audio Reproduction Technology) for high-quality sound
signal-to-noise ratio: 98 dB (CD/DVD Direct Amp mode), 93 dB (phono MM), 85 dB (phono MC)
5 RCA audio inputs, including MM (moving magnet)/MC (moving coil) phono input
1 set of balanced 3-pin XLR inputs
rotary bass and treble controls
continuously variable loudness control
full-stage balanced signal transmission for exceptionally clean, transparent sound
Floating Balanced Power Amplifier design reduces distortion and noise
triple parallel electronic volume and tone controls
discrete phono amplifier
preamp out/main in jacks
headphone jack
front-panel switching for 2 pairs of speakers
binding-post speaker connectors
remote control
weight: 50 lbs.
17-1/8"W x 5-3/8"H x 19-3/16"D
warranty: 2 years
Everything you always wanted in a stereo receiver, except the radio
An integrated amplifier is essentially a receiver without a built-in AM/FM tuner. You get power to drive your speakers, audio controls, and inputs for music source components. Connect an iPod, a computer, a network music player, or any other device that can play Internet radio, and you may find you have no need for an AM/FM radio.
Yamaha A-S2000 Reviews
Average Customer Review:
6 Reviews
---
Written by: C. Bondio from Valencia, California on June 18, 2015
Crutchfield Customer Review
(
What's this?
)
I Purchased the Yamaha A-S2000 (Black Version) in May 2014. Simply put, for the price, (especially if you manage to obtain an "Open Box" or "Scratch & Dent" unit) you are not going to do better then the Yamaha A-S2000. The Yamaha A-S2000 is built like a Tank! The unit is absolutely superb! The Bass is Tight, Clean and Powerful (as good as the A-S2100 - Please see my review on the A-S2100). The Sound Stage is great! Mids and Highs are Clean, Clear & Precise with excellent detail!

To get this kind of build quality and exceptional audio performance from the "boutique" manufacturers, you'd have to spend 2x-3x the price and it would likely still not be as solid as the Yamaha A-S2000.

My speakers are the Polk Audio LSIM 707's - These speakers are Awesome!

Bottom Line: The Yamaha A-S2000 is great! If you can't afford the A-S2100, this is the next best thing! I Highly Recommend the A-S2000!

Pros: Excellent Build Quality! Great Sound! Great "Bang for the Buck"! Tone Controls and overall Amplifier Topology is Superb! As always, doing business with the Excellent Crutchfield Advisor's is a pleasure! My Advisor is Buddy. Buddy is a great guy to chat with and to work with to find just the right gear!

Cons: No Tape Loop Input. Not sure why all manufacturers have omitted this, but us old guys who got into HiFi in the Seventies realized that not all recordings are done properly (Not all recording engineers are Alan Parsons!) and sometimes (assuming you have a very high quality 14 band or greater EQ), you may need to "tweak the recording playback" to fix the recording engineer's mistakes (or their poor hearing). Okay, Audiophiles please don't be angry with me, but EQ's, if used properly, are not EVIL.
Written by: Knolan from Clifton Park. N.Y. on November 29, 2014
Crutchfield Customer Review
(
What's this?
)
I purchased the AS2000 because I didn't want to go the separates route. I am glad I did. It is very well built, sounds clean, clear, as if musicians and singers are in the room with you. I would purchase it again.

Pros: Purchasing from Crutchfield. I have been buying from them since the early 90's. Polite, professional, knowledgeable sales staff and fantastic support. I will always use them.

Cons: None
Yamaha A-S2000 integrated amplifier
Written by: Chuck from Indiana on November 26, 2014
I have had mine for just over a year now. It replaced a NAD M3 that I accidentally dropped off a stairwell onto a concrete slab. It is paired with a set of Aether Audio Timepiece Minis. The sound is fast and lively with a well delineated soundstage and very clean, controlled bass. Very quiet background. Plenty of "juice" for my current hungry custom speakers. It runs cool, even when "cranked" for long periods. Fit and finish are very good. I love the retro look. I purchased the brushed aluminum version - of course. Very good value for the price.

Pros: Compares well to other high quality amps at this price point. A very good value in my opinion. Also, it provides a very "muscular" 90 watts. Don't be deceived by other manufacturers' bloated watt ratings. This is a true, high-current 90 watt amp.

Cons: After a year of ownership, none that I detect. This is well designed and well executed. Yamaha is back in the high-end audio game.
The One I Ultimatley Chose
Written by: Mr. H from Michigan on February 16, 2013
Crutchfield Customer Review
(
What's this?
)
I originally avoided purchasing this as the price for a 90WPC amp seemed a bit excessive especially as I could not derive any significant specification differences between it and the cheaper A-S1000. I therefore selected the 1000 and was enamored with the quality of that unit. I then began to be a little itchy that maybe I had shortchanged myself as I perceive this to be a 23 or more year selection (how long my Adcom equipment lasted prior). I bit the bullet and purchased this unit to audition against the 1000 to ensure I hadn't sold myself short. The differences were noteworthy and immediately appreciable in my comparison of a PS Audio DL-III DAC connected to both units via RCA. The 2000 squarely extends the capacities of the 1000 by extending bass response, widening the sound stage, and adding more detailed resolution to upper treble (symbols show longer sustain and detail). Vocals remain beautifully present on this unit although a bit less dominant since there is now more additional detail to hear with the 2000. If you can afford the extra $ you will receive a real gift of additional sound in the order of I'd say 5-10% more detail. This unit and the 1000 both sound very musical and in no way harsh or analytical. It is a masterpiece that I am grateful to have made my own. Thanks Yamaha and thanks Crutchfield for allowing me to make the right choice by auditioning both models.

Pros: Masterpiece of quality construction, beauty and acoustic performance - Remote is wonderfully spartan but ergonomically perfect. You will not believe how heavy it is since the appearance is so streamlined.

Cons: Needs about 3 inches more depth than most, beware that XLR input is limited to 2.8 volts which may restrict XLR connectivity for many DAC's. Don't hurt yourself trying to lift this beast into place it is really a big boy toy.
The best Integrated 2 Channel Amp under $6000.
Written by: TheZoellerSystem from Long Beach, CA on November 21, 2012
Crutchfield Customer Review
(
What's this?
)
I am driving a pair of Bowers & Wilkins 804 Diamonds ($7,500) Bi-amplifed (2 runs of speaker cable to each speaker) with this amp. There is no need for an equalizer in my setup driving speakers like these. I do not know what the other guy is complaining about, my unit never gets hot-it actually stays remarkably cool for such high current capabilities. He needs better speakers that can handle the high current with finesse-I personally would never use Bose with anything this nice...Im 25 years old btw, ahem.

I chose this amp for its simple aesthetic design, very solid construction, and very low THD. I can not, repeat, can not hear anything in the background, ever. My favorite thing about this unit actually is the way it handles muting... When you hit the mute switch the volume softly decreases 20db = 4x less volume. When you hit it again it increases back to the exact volume you had it at...and yes even the little motorized volume knob turns too. No company I know of has ever gotten muting functionality this right, Kudos to Yamaha.

Lastly, I love the Balanced XLR connections, it does in fact sound more focused and dynamic then using the unbalanced RCA's. If you dont have anything with XLR outputs get the Yamaha S1000 and save yourself $700.

Source components used: Yamaha CD-S2000 SACD Player ($2500), Music Hall MMF 2.2LE Turntable ($500)

Cables used: Tributaries Series 8 XLR's ($400), Audioquest Sydney Series RCA's ($170), Monster M Series Speaker Cable ($160)

Pros: Fully balanced from input stage to output stage (XLR's). The remote is super simple and beyond beautiful (metal laminate from the feel of it) . Innovative muting functionality. The Interface on the unit is just awesome-exactly what you need and nothing you don't. Built in quality Phono MM / MC preamp. Ultra-wide bandwidth of this unit is perfect if you have speakers that can produce beyond the usual 20-30Khz high frequency breakup point.

Cons: Cameras do not really capture just how beautiful the brushed aluminum faceplate is. Another set of XLR's would be nice but I'm not complaining.
Written by: SteveM from New York, NY on April 26, 2012
I love the retro styling on these amps! Especially on the silver version. It is a throw back to the 1970's, which in my opinion, were the audio worlds best days. The amp oozes quality all over. It's very heavy. You would expect it to be very large at 50 pounds, but it isn't. It's just very dense. And at this price, you would expect it to be made in Japan. But it isn't. It's made in Malaysia. Don't let that that fool you into thinking the build quality is sub-par. Far from it. It rivals anything that can come out of Japan. It must be pure class A or at least very heavily biased into class A because it gets hot, very hot! And it's not just the top that gets hot. The faceplate gets extremely hot. Although there is a main amp in and a preamp out, you can not use them both at the same time. You can use either the main amp in, with an outboard preamp, or you can use the preamp out with a seperate amp. There is also no tape monitor loop, so you can not use an equalizer or any processor. If you use Bose 901 speakers, you are out of luck with this amp because there is no way to connect the EQ that comes with them to this amp. The amp also does not have an loudness contour knob like Yamaha does on the A-S700. This is something that could be usefull when listening to the amp at low volume. It helps to give the music a fuller sound which music lacks when the volume knob is set to a low position. I am running out of characters here so I will add more in the pros/cons sections.

Pros: Build quality is first-rate. A work of art which seperates it from the typical black plastic junk that is made today. Unfortunately, I am not sure that many of the young people today can appreciate what Yamaha is trying to do here. I think the Europeans and Asians are more likely to appreciate it than Americans. High quality speaker binding posts as well as RCA inputs, Balanced XLR CD input, decent phono-stage, solid bass. Sound quality is very subjective, but there is nothing that is offensive.

Cons: I gave it 3 stars for the following reasons:No tape monitor-loop, the Main amp-in /Preamp-out can not be used at the same time so a sound processor or EQ can not be used with this amp,it gets extremely hot so give it a lot of ventilation. Heat can affect the parts but I have not heard of any premature part failures on-line.I don't consider its weight a con, but some people may since stacking it on top of another component is out of the question and because of heat don't stack anything on it.
What's in the box?
Integrated stereo amplifier
6.5' AC power cord
RAS21-WN37850 remote control
2 "AA" batteries
Owner's Manual (Eng/Fre)
Safety Brochure (Eng/Fre)
US Warranty card
Note on transport tape
Product Research
Audio Features
Remote Control
Connections
Audio Features
Overview: The Yamaha A-S2000 Integrated Stereo Amplifier features a built-in two-channel amplifier with A & B speaker outputs and seven analog inputs.
Floating Balanced Circuit Design: The perfectly symmetrical, fully new floating balanced power amplifier maximizes the performance of the analog amplifier by reducing distortion and noise.
Full-Stage Balanced Signal Transmission: The integrated amplifier offers full stage balanced transmission, combining high power output with good sound texture and outstanding S/N performance.
Independent Power Supplies: The stereo amplifier features four independent high-capacity power supplies.
Aluminum Front-Panel and Heavyweight Feet: The A-S2000 features an aluminum front-panel and newly developed heavyweight feet to suppress vibrations. The feet of this unit also include built-in spikes for added stabilization.
ToP-ART/High Current Amplification: Yamaha uses the ToP-ART (Total Purity Audio Reproduction Technology) design concept, which combines the latest and best technologies, parts, and circuit designs, to maximize sound quality. High Current Amplification uses superior quality components from input to output to achieve high current power with low impedance.
High Current Stereo Amplifier: The Yamaha A-S2000 features a highly dynamic, powerful stereo amplifier with low impedance drive capability. The stereo amplifier is rated at 90 watts x 2-channel at 20-20kHz, in 8-ohms with 0.02% THD or 150 watts x 2-channel at 20-20kHz, in 4-ohm with 0.02% THD.
Triple Parallel Electronic Volume and Tone Controls: The Yamaha A-S2000 is equipped with triple parallel electronic volume and tone controls. The stereo amplifier features independent bass (50Hz) and treble (20kHz) controls so you can increase or decrease the low and high frequency response (+/-9dB).
Note: The volume and tone controls do not effect the amplifiers Main Direct Input or Record Output.
Balance: You can adjust the sound output balance of the left and right speakers connected to the amplifier.
Trim: This function adjusts the volume level when headphones are plugged in to avoid sudden changes in volume. You can select between -6, 0, +6, or +12dB.
Audio Mute: The Audio Mute function reduce the current volume level by approximately 20 dB.
Speaker Selector: The Speaker Selector switch allows you to select only A speakers, only B speakers, A+B speakers, or no speakers; so you can control which speakers are playing.
Remote Control
Remote Control: The integrated amplifier comes supplied with an IR remote control for wireless operation of the unit. The remote control can also be used to control select Yamaha audio components such as a CD player or AM/FM tuner. The remote has a range of 20 feet at an angle of 30-degrees left-to-right of the unit's front-panel IR sensor.
Connections
Analog Inputs/Outputs: The Yamaha A-S2000 integrated stereo amplifier is equipped with six analog RCA stereo inputs for connecting an external audio source such as a CD player, AM/FM tuner, Turntable, and/or cassette deck; as well a preamp or AV receiver. There is also one analog RCA stereo output for recording through the amplifier.
Note: The unit's Phono input also features a ground terminal and is designed to connect a turntable with an MM or MC cartridge.
Balanced Input: The Yamaha A-S2000 features a set of balanced XLR inputs for connecting your CD player.
Main Direct Input: One of the A-S2000's analog inputs is labeled Main Direct Input. This input allows you to connect your preamplifier or AV receiver directly to the A-S2000 and use the Yamaha stereo amplifier as a power amplifier to drive a pair of speakers in your system.
Note: Audio signal coming into the amplifier's Main Direct Input is only output through the speaker outputs of the A-S2000. No audio signal will by output from the stereo amplifier's Pre-Out, Rec Out, or Headphone Output.
Pre-Out: The Yamaha integrated stereo amplifier is equipped with a stereo preamp output for connecting a powered subwoofer or to use the A-S2000 as a preamplifier and connect it to a larger power amplifier to power your speakers.
Speaker Outputs: The Yamaha stereo amplifier features gold-plated binding post terminals for its A & B speaker outputs. The speaker outputs are color-coded for easy connection. You can use the A & B speaker outputs to power two pair of separate speakers or you can bi-wire a single pair of speakers.
Note: If you use two sets (A and B) of speaker, the impedance of each speaker must be 8-ohm or higher. When only using on set of speakers (A or B), use speakers with an impedance of 4-ohm or higher.
Headphone Output: The A-S2000 integrated amplifier is equipped with a front-panel 1/4" headphone output for connecting a pair of headphones (sold separately). Once a set of headphones are connected, the amplifier's speaker outputs mute automatically.
Note: The headphones do not function for the amplifier Main Direct Input.
Our Product Research Team
At Crutchfield, you'll get detailed, accurate information that's hard to find elsewhere. That's because we have our own in-house Product Research team. They verify what's in the box, check the owner's manual, and record dimensions, features and specs. We stay on top of new products and technologies to help people make informed choices.
Looking for more? Check out the next model in this lineup.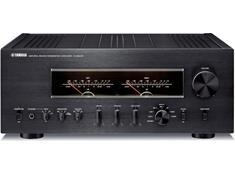 Get more power and uncompromised sound quality
The Yamaha A-S3000 offers these features:
100 watts x 2 channels into 8 ohms
2 sets of balanced XLR inputs for connecting compatible high-end sources
securely mounted large toroidal power transformer for high current delivery with low noise
copper-plated frame and 1/4" non-magnetic aluminum top panel minimizes vibration and interference
large front-panel level meters (VU or peak) for left and right channels