Why Choose Crutchfield?
Deep discounts on car installation gear
We offer vehicle-specific installation instructions, dash kits, wiring harnesses, and speaker accessories at deeply discounted prices with car stereo and speaker purchases. Available for most vehicles.
Learn more
Trusted since 1974
Our customers have trusted us with their business, and they've helped us win awards for our service.
Check out our most recent awards
Factory-authorized dealer
The manufacturer's warranty always applies.
See more details
Boston Acoustics G512-4
12" 4-ohm subwoofer
Item #: 065G5124
This item is no longer available.
Original Price: $399.99
Big bass that's easy to replace
Boston's G5 subs combine high performance and outstanding sound quality in a woofer with some unique features. Bass competitors, check out Boston's pioneering Soft Part System (SPS™) — it lets you swap out the defective parts of a blown sub so your system is back in action a lot faster.
---
Extra protection, cool technology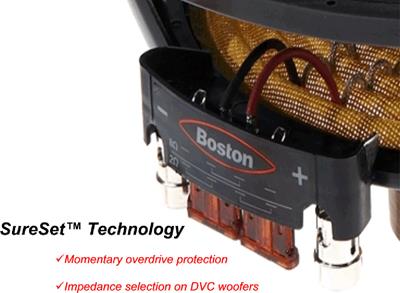 The SureSet™ terminals come equipped with two fuses to help protect the voice coil during momentary overdrive, and allow you to change the woofer out quickly in case a fuse is blown. Also, G5 subs are compatible with Boston GTR TunableRadiators™ — a cool technology that can significantly boost the sound output of your G5 sub with no extra power or space required.
---
Advanced materials and engineering
But most importantly, the G512-4 12" subwoofer will really pound out the bass. The woofer's thick foam surround allows three inches of cone excursion, so it'll move lots of air — that means lots of deep bass. Boston's innovative RadialVent® system uses that same woofer cone motion to expel hot air that can damage the sub. Combine that with heavy-duty internal parts, and this sub will hang tough when you turn up the volume.
This subwoofer is optimized for small, sealed enclosures but also works in larger ported enclosures. Whatever type of box you choose, you can count on the high-end audio performance of a Boston Acoustics speaker.
Product Highlights:
12" 4-ohm subwoofer
copolymer woofer cone with foam surround
RadialVent cooling for increased power handling
SPS™ (Soft Part System) allows quick field repairs
compatible with Boston's GTR TunableRadiators™
power range: 100-450 watts RMS
frequency response: 20-350 Hz
sensitivity: 90.6 dB
mounting depth: 7-3/8"
sealed box volume: 1.00 cu. ft.
ported box volume: 2.00 cu. ft.
warranty: 2 years
What's a component sub and why would I want one?
A component sub is simply a speaker that's designed to reproduce bass once it's installed in a compatible enclosure. Think about the impact of a movie soundtrack in a big theater or even in your own home HDTV setup. A component sub can add the same kind of power to the music in your car. And a car sub is not all about the boom that you hear on a street corner (although that's cool too) - you can pair a component sub with your choice of enclosure to get bass just the way you like it, from tight and punchy to fat and loose. And once you experience music in your car with a well-tuned subwoofer, you'll never go back.
Boston Acoustics G512-4 Reviews
Average Customer Review:
10 Reviews
---
Written by: Presley from LaCombe, La on January 21, 2009
Crutchfield Customer Review
(
What's this?
)
This subwoofer is a Monster.. It's very well built for High Power Applications. I have two 12's on a kicker zx750.1 RMS but the birth sheet says 950 rms @ 2ohms which is perfect for two 4 ohm single voice coil subs. I have them in a down firing suv sealed box 1.0 cu.ft in my Lincoln Navigator and this thing flexes my roof windows and vibrates everything in my truck like 2 15".! I'm very impressed with the build & sound quilty.! It will take your breath away..!! "LITERALLY" It also sounds great on smaller amps which is great and rare in todays audio you either need and monster amp for high power handling subs.. I think they sold out of these but I figured if someone wants info here is some for you bass heads..!! Don't forget to let them break end for a week or so of daily use. They don't sound great out the box just like all subs they need a slow break in period and they will last you for years..!! So don't try to impress your friends on the first day wait about a week later and trust me they will hear and feel you comimg from blocks away.! -Presley V.

Pros:

Cons:
Written by: kuhlxcrunr2005 from Ft. Worth, TX on October 24, 2008
I researched different subs for a year prior to buying this sub. I listened to everything from the L7 to the W7. Nothing sounded as clean as the Boston G5 in a sealed 1.0 cubic feet box. Some people will claim Boston do not get loud. This is bull. If the box is made correctly these subs are very powerful. The manufacturer says 450 watts RMS. Let me tell you that I run a single 12" sub off an PDX 1000.1 amp, and the G5 does not even distort. I have it crossed over at 60 hz, and the subsonic filter at 15 hz. This sub is super efficient. I have the gain down to 10% on my amp, and this pounds so hard it makes the hair on my head move. For the price at crutchfield you get two 12's. This is too good of a deal to pass up. I am positive two of these will hit so much harder than a JL W7. I have been listening to bass for many years, and this are sound quality woofers. I am surprised more dealers do not carry this sub. I would buy another if I had enough space in my SUV. Also, if you fry the voice coil you can repair it easily with Boston's repair kits. Look no further for a top quality woofer.

Pros:

Cons:
Biggest BOOM for your Buck!
Written by: rams1024 from Churchville, Pa on October 14, 2008
Crutchfield Customer Review
(
What's this?
)
Only powering it now with 400 watts, sealed box in my 300zx. For only 400 watts this thing is the loudest sub my ear has ever heard, not to mention the perfectly accurate notes that it delivers. I cant wait to hook up the sweet 900 watt rms amp that i am hopefull getting ahold of, and once the sub is throughoughly broken in, it should reallly be a heart stopper. best sub out there for the price!!!

Pros:

Cons:
Written by: Kyle from Atlanta, Ga on September 21, 2008
Crutchfield Customer Review
(
What's this?
)
I bought these on a tight budget and only had enough to buy the subs themselves and i barrowed a little 200w Rocksford amp and a sub box and it already sounds amazing. Im getting a sub box so i can use both of them after this review and a Profile amp to power Both of them.

Thanks CrutchField!!!!

Pros:

Cons:
Written by: bigcountry2455 from lamarque tx on August 3, 2008
i have three of these in my 07ford f150 regcab truck with a ported box built to boston specs with a rockford p300.1 pushing them and with that little amount of wattage going to three of them they absolutely pound everything in my truck shakes and thats at half volume they are the best sub u can get for the price i cant wait to get an amp that will give them full power just amazing

Pros:

Cons:
Written by: Charles from Atlanta, Ga on July 30, 2008
Crutchfield Customer Review
(
What's this?
)
I have two of these sealed in a 2.0 cu. ft box. They hit hard no matter how much power i feed them. I am running both in parallel at 2 ohms with an Alpine amp and a 20 farad cap. If you are looking for accurate, loud, and clear bass this is the sub for you!

Pros:

Cons:
Written by: Rob from California on March 5, 2007
This is a great sounding sub. If you have it in the proper enclosure with a quality putting a sufficient supply of CLEAN power to it you will not be dissapointed. If you are willing to give this sub a shot be sure to use the GTR12 radiator Boston has designed to go along with this sub. It will make this great sounding sub sound even more amazing.

Pros:

Cons:
The Best Subwoofer You Can Buy Period!
Written by: Brian from Detroit, MI on November 8, 2006
I have two of these subs in my 2001 Pontiac Grand Am and they are hooked up to an Alpine 600 watt rms amp and they shake the whole car. They sound clean and tight and they are not distorted at all. They sound awesome. They are way better than any other subs and they are even better then Alpine's subs. For the money they are the best sub that you can buy. If you want really loud bass then put them in a ported box but if you want tight clean bass the put them in a sealed box. Boston Acoustics is the best audio company not just in car audio but in home audio to. Boston is the best period. If you buy these subs you will not be disapointed at all.

Pros:

Cons:
Best subwoofer for under $500 you can buy!
Written by: metallman56 from Granger, IN on January 7, 2006
This woofer is crazy! no matter what you throw at it at what volume, or frequincy it sounds great. it hits as hard as subs that cost twice as much. the first time i heard it i was looking to buy a JL 12w7. instead it bought 2 of the g5s. the bass was much cleaner and more accurate then the w7. not to mention i saved $100 and got 2 subs! 450 rms means you dont need a big expensive amp to power it. which is great.

i would recomend this woofer to anyone who wants good clean crisp bass. if your going for sound quality this is the sub for you!

Pros:

Cons:
Written by: Shyampoo from Warner Robins, GA on May 30, 2005
I have Accord and have 2 G5's (WHICH IS ENOUGH !) This is one of the CLEANEST, HARDEST, hitting sub out there at this time. you can keep on adding power and still doesnt give up. this is a heavy duty subwoofer for all you thumping lovers. Shyam

Pros:

Cons:
What's in the box?
12" Woofer
2.5mm Hex key
8 M4 T-Nuts
8 M4 lock washers
8 M4 screws (length 1-1/2")
8 M4 self-tapping screws (length 1-1/2")
Manual
Warranty sheet
Product Registration card
Product Research
Features
Enclosure Recommendations
Chassis: The Boston Acoustics G5 series high-performance subwoofers are built upon a rigid cast aluminum chassis. It features the patented RadialVent cooling technology which directs airflow around the 2-3/4-inch voice coil for increased power handling.
Materials: The G512-4 woofer has a co-polymer woofer cone with a raised polypropylene dustcap and a large foam surround. The wrap-around gasket gives you a good seal whether you top-mount or bottom-mount the woofer.
SPS (Soft Part System): The woofer has a removable assembly which allows you to swap interchangeable parts to make a different configuration, or service the woofer in the field. A 2.5mm hex key is included for disassembly. Note: The replacement single voice coil SPS assembly for this woofer is SPS-G5124 (item # 065SPSG512). You can also use the SPS-G51244 assembly (item # 065SPSG524) to change the woofer into a dual voice coil configuration.
SureSet: The speaker terminals are equipped with two 7.5-amp ATC fuses providing voice coil protection under transient conditions such as accidental momentary overdrive. Use of the standard automotive style fuses allows you to quickly service the woofer in case a fuse is blown during usage. Note: The fuses do not protect against voice-coil failure resulting from long term high power abuse.
Terminals: The woofer has rugged spring post terminals that accept up to 8-gauge bare wire or pin connectors.
Long Excursion: The woofer has a 3-inch peak-to-peak excursion for accurate deep bass output from a small sealed enclosure.
GTR TunableRadiators: The G512-4 is compatible with the Boston Acoustic GTR TunableRadiator (item # 065GTR12). These passive radiators, when mounted in an enclosure with the G5 woofer, can produce increased bass output without added enclosure volume. Note: The manual provides several enclosure shape examples for mounting a G5 woofer with a GTR TunableRadiator.
Sealed Enclosure: The G512-4 woofer is optimized for use in a small sealed enclosure with a 1.0 cu. ft. internal volume.
Ported Enclosure: The woofer can also be used in a 2.0 cu. ft. ported enclosure with a 4" diameter, 14" long port.
Our Product Research Team
At Crutchfield, you'll get detailed, accurate information that's hard to find elsewhere. That's because we have our own in-house Product Research team. They verify what's in the box, check the owner's manual, and record dimensions, features and specs. We stay on top of new products and technologies to help people make informed choices.