Focal Access 165A1 SG
6-3/4" component speaker system
Item #: 091165A1S
This item is no longer available.
Original Price: $249.99
Need help?
Does it fit my car?
Select your car
Lifelike sound
Here's some good news for car audio fans. Focal's Access speakers have earned a reputation for delivering clear, natural sound that's unsurpassed in their price class. Now, Focal has actually lowered their prices on the latest editions of these remarkable speakers, so here's your chance to experience these components for yourself. Focal inspects and tests every Access speaker to ensure that each one lives up to their high quality standards.
The Access 165A1 SG component speaker system features a 6-3/4" woofer with a stiff, woven glass-fiber cone for precise bass and midrange reproduction. The strong, lightweight ABS frame offers plenty of open space for unimpeded cone movement, along with plenty of venting to cool the voice coils.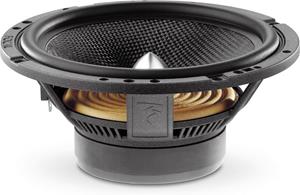 Unique inverted dome tweeter
Focal's patented inverted-dome tweeter acts like a miniature woofer cone, dispersing high frequencies evenly with fine resolution and exciting dynamics. You can install the tweeters with the included flush-mount hardware, or use the included dual-angled pod for surface mounting. Either way, you'll enjoy the superior stereo imaging of these well-designed tweeters.
Crossover network with tweeter level control
High-quality components in the external crossover ensure a seamless distribution of frequencies to the woofer and tweeter, for an extremely natural sound. You'll also appreciate a 3-position tweeter level adjustment that allows you to customize your sound even further.
Note: Focal describes this model as a 6-1/2" speaker. Most manufacturers designate this same frame size as a 6-3/4" speaker. For simplicity's sake we list it as a 6-3/4" speaker.
Product Highlights:
component speaker system includes two 6-3/4" woofers, 2 tweeters, and 2 external crossovers
humidity-resistant, woven glass-fiber woofer in non-resonant ABS/fiberglass basket
butyl rubber surround
1" aluminum inverted dome tweeter
external crossover with 3-position tweeter level
4-ohm impedance
6-60 watts RMS power range (120 watts peak)
frequency response: 60-20,000 Hz
sensitivity: 92 dB
mounting depth: 2-9/16"
warranty: 1 year
Why install component speakers?
A component speaker system gives you the best possible performance from your car audio system. A system consists of separate woofers, tweeters, and crossovers, each designed to cover one specific range of frequencies. As separate components, the woofer can move freely to deliver more powerful performance, while the tweeter can be custom-mounted in a better spot up closer to your ears, revealing a whole new world of detail. Separate crossovers are far superior to the simple filters wired into full-range speakers, so the components work together for smoother, more focused sound.
Focal Access 165A1 SG Reviews
Average Customer Review:
13 Reviews
---
Written by: Samo from Romania on January 18, 2015
I bought 2 pairs of these to replace the OEM speakers in my MK4 Golf. Probably the best speakers out there at this price range. Even though I didn't amplified them yet, the sound is crystal clear. Would recommend them to anyone who wants a decent sound and doesn't have hundreds of $ for car audio investments.

Pros: Sound clarity, price, easy install

Cons: None
Written by: jl from Shreveport, LA on March 2, 2014
Crutchfield Customer Review
(
What's this?
)
Incrediable sound balance outta these components. The tweeters aren't too bright and the sound stage sounds amazing for the price. Thinking seriously about buying a second pair and a set of kick panels for my 2003 Silverado. Pushing them with a Rockford 300x4 and its perfect.

Pros: Great sound period.

Cons: Can't find one
Written by: Matt from Pensacola, Fl on November 2, 2013
2004 Chevrolet Silverado 1500
Crutchfield Customer Review
(
What's this?
)
Words do not do justice for these speakers. The improvement was phenomenal! The installation took some time but once I had them all installed and turned them on, my purchase was instantly justified. These are my first set of focals and I am sold. Everything from the bass to the highs sound greatly harmonized and the crossovers allow you to make the tweeters brighter or slightly dulled. On rap and hip hop the bass really hits. Switch to rock or country and the mids and highs are really crisp. They are powered off of an aftermarket deck and I can only imagine what an amp would do for them. All in all I would recommend these for anyone who is looking for a really good upgrade for a descent price.

Pros:

Cons:
Written by: Jesse b from Erie pa on October 24, 2013
2002 Chevrolet Silverado 1500
Crutchfield Customer Review
(
What's this?
)
This is a great product sounds awesome after I broke them in. They are powered off of my deck right now can't wait till I get some power behind them to see how they really sound!

Pros: Nice design

Cons:
Best Speakers on the Market!
Written by: Anonymous from Canton, OH on September 16, 2013
1995 Mazda Miata
Crutchfield Customer Review
(
What's this?
)
These speakers have to be some of the best I've ever heard. Crisp highs from the tweeters and thunderous deep bass from the woofers. Build quality is of the highest in car audio. Would recommend to anyone who wants the best for their car.

Pros:

Cons:
Written by: Josh L from Staunton, VA on June 4, 2013
Being new to stereo components in general I decided to go with these after carefully reading reviews and asking people in the know. Once I installed these in my 87 F-150, I was in shock how much I was missing before I had these. The sound is incredible compared to the cheap junk I had previously installed. I have these paired with a helix blue B two 80x2 amp, and that was also a great choice. These things rock so much I come up with excuses just to take a ride now!

Pros: Everything really. They sound awesome, look great, and are worth every penny once you experience them.

Cons: None
Written by: Ryan from Vallejo, CA on May 10, 2013
2010 Toyota Tacoma
Crutchfield Customer Review
(
What's this?
)
These sound fantastic in my Tacoma. But what do I know of sound quality?

Pros:

Cons:
Focal does it for me again!
Written by: Antquinn from Grand Rapids, MI on April 30, 2013
Crutchfield Customer Review
(
What's this?
)
These are very good speakers for the price. I currenty have them running in a 2007 Chrysler pt cruiser off my Alpine hd137bt head unit. I also have access 165ca1 rears to go along. I plan to get a jl stealthbox and jl xd 700/5 amp soon. I was somewhat nervous about these speakers, because I heard some people say they were bright. When reading the manual, it says to crossover the tweeters at -3 or -6 if your mids are low in the doors. I have them running at -6 and they are still clean and have an excellent balance to them. These speakers are just now broken in (40 hours) and I could not be happier. The mids are warm and balanced and the tweeters are clear and clean with any genre of music.

I understand that I am not getting my full potential out of them without an amp and sub yet, but for what I have now, I am surprised. I also have the polyglass 165v30 components in a different vehicle with slash amps and a w6. Focal does a great job at keeping their sound similar throughout their lines. It seems as though when you go up in their lines, you gain more depth in the sound.

The inverted dome tweeter is definitely a plus because of how the sound disperses creating a realistic soundstage. Thanks focal for giving the best sound (I've heard) in car audio. Thanks crutchfield for the support and fast delivery.

Pros: Soundstage, balanced sound, high efficiency

Cons: None so far.
Superior sound at an excellent price
Written by: CntryJp from Mobile, AL on March 9, 2013
2001 Honda Insight
Crutchfield Customer Review
(
What's this?
)
First off, you can't go wrong with a good set of Focal speakers. And that can be said for their entry-level Access line as well.

The Focal Access' demonstrate the same build quality and attention to detail as their more expensive line of speakers, but use the same material found in other speakers of a similar price range in order to make them budget-friendly. I decided to install mine in a 2001 Honda Insight. Much trimming and modification was needed to fit the woofers and tweeters, but at the end of the day, the effort was worth it. The woofers delivers clear mid-range and some surprisingly deep bass, all of which is clean and tight. The tweeters can be harsh when mounted high, but if you follow the instructions in the owners' manual and tune them down either -3db or -6db, they will be perfect -- in my case, I had to step down to -6db.

I would definitely recommend connecting these to an amplifier, as both woofer and tweeter ask for a lot of power to produce the clear sound they were designed to deliver. In all, I have hardly any complaints, save the lack of strip-foam that you get with some other component sets to apply around the mounting surface of the woofers.

Pros: Quality is second to none -- a trademark of Focal. Woofers deliver clear mid-range and tight bass. Tweeters are crisp and simply designed.

Cons: Lack of strip-foam for the woofers.
Written by: Christopher from Dallas, Texas on January 22, 2013
Crutchfield Customer Review
(
What's this?
)
I install these in my 2008 Tundra front doors. Install was very easy and quick...They sound great super clear highs and the lows are tight and deep! Installing same product in rear doors and adding amp!

Pros:

Cons:
Written by: Tyler from Iowa on December 27, 2012
I have had these installed in the front doors of my 2004 Sivlerado for about 6 months now. I cut holes behind the speaker grille for the tweeter and unhooked the factory a pillar tweeter. They are just run off of the factory Bose amp and sound great, good mid range and very crisp highs. Cant wait to get some decent bass to go along with them.

Pros: Sound great, no crazy colored cone that will stick out behind a factory speaker grille, selectable tweeter level to help tune to vehicle and placement

Cons:
Written by: butterfingers from Rochester NY on October 7, 2012
Crutchfield Customer Review
(
What's this?
)
Dropped one about three feet to the driveway. Cracked the basket in three places and left a small tear in the rubber. Applied a little crazy glue and installed it anyway. Plays perfect !

Pros: Well Built

Cons: Made in China (But so is everything)
Excelent quality at a afordable price
Written by: Juan m from new orleans on May 14, 2012
2011 Toyota Tacoma
Crutchfield Customer Review
(
What's this?
)
I love this speakers , they are clean ,very balance sound . I install them on my new 2012 4 runner limited , with a JL audio 4 channel HD and a W3 10 inch sub, no rear speakers . My only complaint was the tweeter , they are not mark very clear which wire is positive or negative , so I call Crutchfield tech support and I was told the wire with the red stripe was the positive . It made me realized why buy from other places, when you can get full tech support, 60 days returns . I can get this speakers cheaper somewhere else but no tech support or the luxury to return them.

Pros: Great sound , speakers are made very well, best of all full support from Crutchfield.

Cons: Focal needs to put a red dot or a + on their tweeter .
What's in the box?
Two 6-3/4" Woofers
Two inverted dome tweeters (with attached 18" length of speaker wire)
2 Tweeter flush mount cups (installed)
2 Tweeter angle mount cups
2 Crossover networks
2 Tweeter lock washers
8 Speed clips
Four 5/8" Self-tapping flat head screws
Eight 1" Self-tapping pan head screws
Owner's manual (English/ French)
Product Research
Woofer
Tweeter
Crossover
Dimensions
Woofer
Material: The light, rigid braided glass fiber woofer cone is humidity resistant. The butyl rubber surround is resistant to ultraviolet rays, temperature extremes, and humidity to add to the speaker's reliability and longevity.
Phase Plug: The bullet-shaped phase plug in the center of the woofer ensures a smooth, flat off-axis frequency response by preventing the higher frequency sound waves emanating from one side of the cone from interfering with sound waves from the other side of the cone.
Basket: The woofer features a basket made of 20% glass fiber filled ABS.
Voice Coil: The voice coil is wound around a 1" diameter low-mass Kapton former, ensuring no coil deformation.
Tweeter
Inverted Dome Tweeter: The tweeter is an inverted aluminum and dome, producing a broad sound stage. The tweeter has a Neodymium magnet to provide a powerful magnetic field for the voice coil, while still maintaining the tweeter's compact dimensions.
Mounting Options: The tweeter can be surface or flush mounted using the included adapters. Focal recommends flush mounting, but the included angled cup allows surface mounting at approximately 15° or approximately 30°. The top of the angle mount cup and the bottom of the flush mount cup can be combined to create another surface mount (non-angled).
Crossover
Components: Focal uses audiophile grade polypropylene capacitors and air core inductors to ensure high definition and a dynamic sound quality.
Tweeter Level: You can adjust the output level of the tweeter on the crossover to -6 dB, -3 dB, or 0 dB.
Crossover Slopes: The crossover uses 2nd order, 12 dB per octave low-pass and high-pass filters. The crossover frequency for both is 4,800 Hz.
Wiring: The inputs and outputs are screw terminals; they will accept bare wire or spade connectors up to 0.3" wide.
Dimensions
Tweeters:
| | | | |
| --- | --- | --- | --- |
| | Flush Mount | Surface Mount | Angled Surface Mount |
| Mounting Height | 0.19" | 0.965" | 1.185" |
| Depth | 0.88" | 0.678" (screw depth) | 0.685" (screw depth) |
| Frame Diameter | 1.99" | 1.77" | 1.825" |
| Cutout Diameter | 1.80" | N/A | N/A |
Crossover:
Width: 2.595"
Height: 1.308"
Depth: 4.730"
Our Product Research Team
At Crutchfield, you'll get detailed, accurate information that's hard to find elsewhere. That's because we have our own in-house Product Research team. They verify what's in the box, check the owner's manual, and record dimensions, features and specs. We stay on top of new products and technologies to help people make informed choices.