Eclipse CD7200 mk II
CD receiver
Item #: 099CD7200
This item is no longer available.
Original Price: $549.99

Need help?
Does it fit my car?
Select your car
Pure audio performance
Eclipse built the CD7200 mkII CD receiver to deliver uncompromised audio performance, pure and simple. Take one look at the copper-plated chassis and gold-plated connectors, and you'll know you're in the presence of a special machine — one that gives you complete control over your high-performance amplified system.
---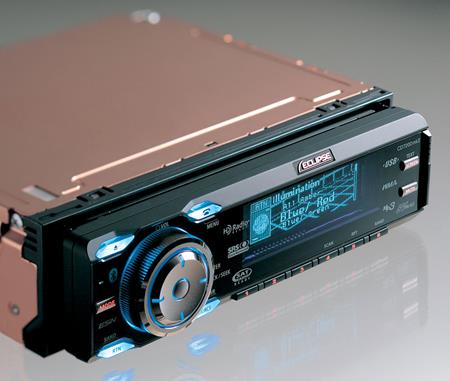 Superior sound
Instead of including a noisy internal amplifier, the CD7200 mkII supplies noise-resistant signals to all of your outboard amps through its three sets of 8-volt preamp outputs. The digital sound processor offers an assortment of sonic adjustments, including a multi-band parametric equalizer and time alignment, while Circle Surround II creates a powerful surround effect with your stereo CDs. You can also download custom sound settings from Eclipse's web site.
---
Fantastic features
Along with CDs, this Eclipse can play your digital media through its USB connection, or you can hook up the optional iPod® adapter to get full control over your iPod's music. The Multi Harmonizer feature restores sparkle and life to all of your compressed music files. The built-in Bluetooth® receiver lets you carry on hands-free conversations with a compatible phone, or to stream music from a Bluetooth portable. If you love good radio, this receiver will control an Eclipse satellite radio or HD Radio™ tuner.
---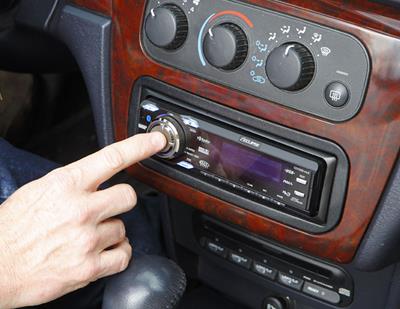 Easy access
Eclipse doesn't burden you with a mind-boggling control panel — a multi-function knob and a few buttons on the motorized face allow you to access and control all receiver functions. Eclipse includes a wireless remote so you can adjust your system while keeping your eyes on the road. If you're into audiophile mobile sound, the CD7200 mkII will drive your system to perfection.
---
Note: If you're going to use your iPod with this receiver, be sure to check Hands-on Research for specific iPod model compatibility with this receiver or its optional iPod adapter.
Note: Bluetooth compatibility of this device may vary, depending on your phone and service provider.
Product Highlights:
General features:
CD receiver/preamp with no built-in amplifier
built-in Bluetooth receiver
plays CDs, CD-Rs, CD-RWs (including discs loaded with MP3, and WMA files)
motorized front panel
wireless remote
Audio features:
24-bit digital-to-analog converter
multi-band parametric EQ
high- and low-pass filters
subwoofer phase switch
time alignment
Multi Harmonizer restores high-frequencies to compressed music
Circle Surround II simulates 5.1-channel surround sound
Expandability:
compatible with: Eclipse iPod adapter, HD Radio tuner, satellite radio, CD changer
inputs: USB port, auxiliary input
outputs: 6-channel 8-volt preamp outputs (front, rear, and sub)
Other features:
copper-plated chassis and gold-plated connectors
6-pattern illumination options
warranty: 1 year
Why replace your factory radio?
Two good reasons - sound quality and cool features. A new car stereo offers power that's superior to most factory radios, along with more sophisticated tone controls. And most car stereos offer built-in or optional features that add safety and fun to life in your car, including inputs for your iPod or MP3 player, Bluetooth connectivity for hands-free cell phone calls, satellite radio or HD Radio reception, and connections for building an audio system in your car.
Eclipse CD7200 mk II Reviews
Average Customer Review:
5 Reviews
---
Written by: kevin from PA on January 18, 2010
If you can get past the lousy display and hard to adjust eq this thing rocks! I am using thi s unit in 3way mode and find the sound unsurpassed by anything for this price. The only thing that is better that I've used is a Clarion DRZ 9255 but that cost twice as much and does not have the modern conveniences like usb, bluetooth, etc. To be honest I could care less about that stuff anyway but its necessary nowadays. The sound coming out of this thing is explosive, full and warm sounding. the built in crossovers and peq is excellent! It still has presets too, so changing stations is not a mission. The ability to change the illumination is great as well. It does take awhile to set this thing up right with all the sound adjustments but in the end its worth it. If you are serious about SQ then there isn't much better w/o spending thousands. Also mine did not come with a manual its all on the Eclipse website which is a hassle. The sound from this stereo is worth the sorry display and the hassle to set it up. Forget Alpine and all the Eq extras you have to buy. Go with this instead! Love the old school styling too!

Pros:

Cons:
Written by: mike from pa on January 22, 2009
also hoped for 3-way using high on eclipse 2-way components and mid on 8 inch mounted up front but high crossovers only go down to 200hz. 4-way works very well for me though, which i had to use for components(hpf)(though 8 inch loved 3-way mode, amp takes care of filtering now, bandpass, works well). i believe unit sounds better than old cd8053 w/ 9 sets of rcas, balanced line driver(8v, balanced, 16v) and more flexible eq. actually had to slightly turn down amps. love it, everything works well, had since june, would have given 5 starts exept, i have to say, seems like cold weater makes face pop out(as it would if u pressed the "remove face" button; just partially) but a pain when getting in, say, on a cold winter morning.lasts for couple min, till car warms up. 3-year warranty!

Pros:

Cons:
could have been made better
Written by: dnd from Germantown, MD on January 22, 2009
I wanted to get car stereo with built in bluetooth, and I settled on this model because bluetooth works well and it is very easy to integrate it with steering wheels commands on my 2005 Camry. There are only 3 wires to connect and there is no need for external adapter to use steering wheel commands (almost $100 saving). It should be similar with certain Honda models as well.

Bluetooth works well with Iphone 3G and Samsung Blackjack II (I used both) and most of the calls are clear. I had only 2 people in the 9 months of use complain about sound quality when using bluetooth.

Sound quality is decent and it could be made with better with the EQ, but there isn't one, so this is a major drawback related to the sound quality.

Big negative point is the screen which is too small for anything useful, you cannot read it in the sunlight and on top of all that there is a background picture installed by default (I was not able to remove it) which makes already hard to read screen even less readable.

Eclipse could have made this really exceptional car stereo with few minor tweaks, mainly in software (add EQs and make bigger, easier to read letters and numbers and remove useless background picture) and bigger screen. As I mentioned before, screen is a major disappointment in this car stereo.



Pros:

Cons:
Written by: vincent from california on July 20, 2008
2007 Honda Civic LX
Crutchfield Customer Review
(
What's this?
)
I got this head unit for it's 3 way speaker mode, but i discovered that my speakers sounded better without a upper limit roll off on the bandpass filter. Time alignment did not work for me in 3 way mode since i was driving all the mid bass drivers (front and rear) with the bandpass filter. Also the front rca's i was using to drive my tweeters sounded really noisy, not sure if defective, but all i changed was the head unit in my setup.

Pros:

Cons:
Written by: Jeff from North Canton, Ohio on July 9, 2008
Crutchfield Customer Review
(
What's this?
)
Outstanding !

I bought this unit for evaluation to push the envelope of quality for the high-end power amp we are designing (it will get installed into our demo vehicle).

Not only does it obliterate other head units, it can compete honorably with many $1000+ home machines and outboard D/A converters.

I never thought I would be able to find a "car audio" player that would live up to my expectations, but after three other makes (at up to $1500 retail),,, I found what I was looking for.

If you are looking for astonishing detail, imaging, and accuracy,,, you gotta get one.

Jeff

Pros:

Cons:
What's in the box?
CD/Bluetooth receiver
Face
Hard plastic face case
Wireless remote control
2 "AAA" batteries
Sleeve
Trim ring
Wiring harness
10A glass fuse (in-line on +12V Constant lead)
2 Side brackets
4 Hex-head ISO screws (M5 x 8mm)
4 Flat-head ISO screws (M5 x 8mm)
Stud bolt
Rubber bushing
Face fixing screw (M2 x 6mm)
Reference guide (English/Spanish/French)
Installation Manual (English/Spanish/French)
Warranty information
Product Research
Features
External Device Controls
Features
MP3/WMA Playback: The CD7200 mkII can play MP3 and WMA files recorded onto CD-R and CD-RW discs in ISO 9660 Level 1 and 2. Recommended bit rates are 64-320 kbps for MP3 and 48-320 kbps for WMA. Variable bit rates from 64 to 320 kbps for MP3 and 48 to 192 kbps for WMA can be used, however there may be a discrepancy in the time display. The receiver can recognize a total of 999 files, 256 folders (including the root directory), and 8 directory layers on a single disc. The receiver can show the names of albums and artists from and ID3 and WMA tags.
CD Text: If a CD Text disc is inserted, the receiver will display the artist name, disc title, and track title information.
ESN Security: This unit is equipped with the Eclipse Security Network. A pre-registered music CD (called a "Key CD") unlocks the security. If the registered CD is not detected, the navigation and audio functions will be disabled when the main unit is disconnected from and reconnected to the vehicle's battery. You can turn the security on or off, or change the "key" CD as desired.
Note: In addition to ESN Security, the CD7200 mkII has detachable face plate security.
Radio Band Switching: If you wish to take the receiver out of the country, the tuner frequencies and interval can be switched on any of four possible regions:
USA:

FM: 87.75-107.9 MHz (0.2 MHz step)
AM: 530-1710 kHz (10 kHz step)

Asia (includes Europe):

FM: 87.5-108.0 MHz (0.05 MHz step)
AM: 522-1629 kHz (9 kHz step)

Australia:

FM: 87.5-108.0 MHz (0.1 MHz step)
AM: 522-1710 kHz (9 kHz step)

Latin America:

FM: 87.75-107.9 MHz (0.1 MHz step)
AM: 530-1710 kHz (10 kHz step)
High-volt Preamp Outputs: The CD7200 mkII features three sets of 8-volt, low-impedance (55Ω) preamp outputs, including a non-fading output for a subwoofer. The outputs are affected by the crossover settings (see below).
Sound Adjustment Modes: The CD7200 mkII is equipped with several sound adjustment features:
Speaker Layout: depending on your system design, choose:

3-Way: high frequencies output from the front RCA outputs, midrange output from the rear RCA outputs, bass output from the non-faded RCA outputs
4 Sp+SW: 4 speakers plus subwoofer; full range or high-pass signal output from the front and rear RCA outputs, sub-bass output from the non-faded RCA outputs

Parametric EQ: there is a 7 band or 11 band parametric EQ, depending on the speaker layout setting:

11 Band: the high frequency and midrange outputs each has 5 bands, the bass output has one band

High: select five center frequencies from 20 options from 200 Hz to 16 kHz
Mid: select five center frequencies from 25 options from 63 Hz to 16 kHz
Bass: select one center frequency from 12 options from 20 Hz to 250 Hz
Q (Width of adjusted band): select from five band widths for each frequency

7 Band:

Band 1: 63, 80, or 100 Hz
Band 2: 125, 160, or 200 Hz
Band 3: 250, 315, 400, or 500 Hz
Band 4: 630, 800, 1000, or 1250 Hz
Band 5: 1.6, 2, 2.5, or 3.15 kHz
Band 6: 4, 5, 6.3, or 8 kHz
Band 7: 10, 12.5, or 16 kHz
Q (Width of adjusted band): select from five band widths for each frequency

Time Alignment: you can delay the audio signal for the speakers closest to the listener with the built-in time alignment feature; this effectively creates a perception of increased distance for those speakers; time alignment allows the listener to be placed at an equal distance between the left and right/front and rear speakers for optimum staging
Circle Surround II: 5.1 channel is simulated using SRS TruBass and SRS Focus circuits
Crossover: the crossover has high-pass, low pass, and band-pass filters, depending on the speaker layout setting:

3-Way: adjustable high-pass on front RCA outputs, band-pass (with adjustable high-pass and low-pass) on rear RCA outputs, adjustable low-pass on sub RCA outputs
4 Sp+SW: independently adjustable high-pass on front and rear RCA outputs, adjustable low-pass on sub RCA outputs

Harmonizer: previously compressed digital files are expanded and played back as close to the original as possible
Non-fader: the phase of the non-fading (subwoofer) output can be set to normal or reverse, the output can be stereo or mono, and the output level can be adjusted from -6 to +6
Loudness: the loudness control may be turned on to emphasize low and high frequencies at low volume levels; when selected, the loudness contour provides a +10dB boost at 100Hz and a +6dB boost at 10kHz
E-iSERV Sound Effect Customizations: the parametric EQ, time alignment, and crossover settings can be adjusted using the head unit or through the Eclipse E-iSERV website; settings can be stored on CD-R or USB Memory and uploaded to the head unit
Measuring Frequency Characteristics: With the optional MEI-100 microphone (which connects to one channel of the RCA aux input), you can measure frequency characteristics inside your vehicle. Pink noise is played through the speakers and picked up by the microphone. The results are displayed on the unit, and can be written to USB memory. This information can be used with the on-line E-iSERV Audio Customize program to properly set the parametric EQ.
Source Volume Controls (SVC): Because the level of each source can vary, the Source Volume Controls allow you to raise or lower the volume of AM radio, CD audio, and any external source compared to the FM radio signal. The volume differences can be set within a range of -10 to +20.
Illumination: The front panel buttons are backlit and have six color options; Red, Green, Amber, Blue with Red, Blue with Green, and Blue with amber. When any of the multi-color combinations are used, the rotary dial and the four large buttons around the dial are blue, and the other buttons are the second color. If the accessory power is on, the unit is turned off, and the clock is turned on in the menu; the display turns off (the clock stays on) but the buttons and rotary knob stay backlit. When the unit is on and 12 volts is applied to the illumination wire the display dims, but the button backlighting remains unchanged.
Display: The unit gives you a choice of display patterns or you can import your own images. You can cycle through two Motion Picture options, two sound meter displays, a standard black background, and the display can be turned off. Using the E-iSERV website, you can download other display data and applications for creating motion pictures. Images are loaded onto a CD-R or USB drive and imported to the head unit.
Remote Control: The CD7200 mkII is controlled by the RMC105 remote control. With the remote you can access the following functions: Power, Mode, Volume Up/Dn, Source select (Disc/Tuner/Aux), Band select, Mute, Preset Channel Up/Dn, Disc Up/Dn, Track Up/Dn, and Tune/Seek Up/Dn.
Steering Wheel Remote: Through the special E-iSERV website from Eclipse, you can download software that enables factory steering wheel remote operation of the CD7200 mkII. This software is burned to a CD-R and imported into the receiver. Two wires (brown/black and brown) in the supplied wiring harness need to be connected to factory wiring in order for steering wheel remote commands can operate.
Note: Depending upon the vehicle's make and model, not all downloaded material may be compatible with steering wheel remote functions.
Angle Mounting: Eclipse recommends mounting the CD7200 mkII no more that 30° above horizontal.
Auxiliary Input: Female stereo RCA auxiliary inputs are on a 7" pigtail on the back of the unit. The aux input can be turned off in the menu, so you don't have to toggle past it when you change inputs when there's nothing connected. A second auxiliary source can be added using the optional AUX105 Aux cord (item number 099AUX105); it's plugged into the E-LAN connector on the rear panel. If the AUX105 is used, you cannot add a CD changer, HD Radio tuner, or satellite radio tuner.
External Device Controls
Bluetooth: Bluetooth hardware is built into the CD7200 mkII, making it easy to integrate Bluetooth enabled cellular phones and audio players. Bluetooth is a two-way wireless communication system allowing you to make and receive cell phone calls, and listen to a Bluetooth audio device.
Phone: Up to five phones can be registered with the CD7200 mkII. It can automatically connect to a registered phone whenever the phone comes within range. Once the phone connection is made the head unit stays in phone standby mode, and is ready to receive calls while you listen to other sources. You can dial out using your phone book, call history, or dial directly using the CD7200 mkII or the phone's keypad. Six numbers can be saved and dialed using the radio preset buttons. You can answer incoming calls manually or automatically.
Version:

Bluetooth Specification: Ver.2.0
HFP (Hands Free Profile): Version 1.5/li>
OPP (Object Push Profile): Version 1.1

BT Audio: In addition to Bluetooth phones, Bluetooth equipped audio players are supported. You can connect wirelessly and listen to the player.
iPod Ready: You can enjoy music from your Apple iPod when it's connected to the head unit via the optional Eclipse iPC-106 Interface Adapter for iPod (item number 099IPC106). While connected, the head unit will power the iPod, and charge the iPod's battery. You can perform playlist, album, artist, genre, or song searches. Playback functions include track up/down, fast forward/rewind, track repeat, and random play within the current album or throughout the iPod. Display selections include song title, album name, or artist. The iPC-106's E-LAN pass-through allows you to add a CD changer to your system. The headunit supports the following iPod/iPhone functions when connected to the optional iPC-106 iPod interface adapter (as of Dec. 2009):
iPod/iPhone Model
Media Type
Control
Display
Charge
Audio
Video
Unit
iPod
Song/Artist
Track
dock-connector (3 gen)
N
N
N
N
N
N
N
click-wheel/color-display (4 gen)
N
N
N
N
N
N
N
mini (1/2 gen)
N
N
N
N
N
N
N
video (5 gen)
Y
N
Y
N
Y
Y
Y
classic (80/120/160 GB)
Y
N
Y
N
Y
Y
Y
nano
1 gen
Y
N
Y
N
Y
Y
Y
2 gen
Y
N
Y
N
Y
Y
Y
3 gen
Y
N
Y
N
Y
Y
Y
4 gen
Y
N
Y
N
Y
Y
*adapter required
5 gen
N
N
N
N
N
N
N
touch
1 gen
Y
N
Y
N
Y
Y
Y
2 gen
Y
N
Y
N
Y
Y
*adapter required
3 gen
N
N
N
N
N
N
N
iPhone
2G
Y
N
Y
N
Y
Y
Y
3G
Y
N
Y
N
Y
Y
*adapter required
3GS
N
N
N
N
N
N
N
Note: This adapter will not charge the iPhone3G, iPod touch 2nd generation, or iPod nano 4th generation. Apple firmware updates may change functionality results.
USB Port: The CD7200 mkII features a USB type-A port attached to the rear panel with a 58" cord. The USB port enables connection to portable USB mass-storage players, USB thumb drives, and audio control of MP3/WMA players. The USB port is compatible with all USB mass storage class devices that support the FAT12, FAT16, or FAT32 file system. The maximum number of files that can be recognized is 3,000.
HD Radio Ready: The CD7200 mkII is compatible with the optional HDR105 HD Radio Tuner (item number 099HDR105). When the HDR105 is connected, you can enjoy your same FM and AM stations with digital sound quality. HD Radio FM broadcasts sound as good as CDs, and AM broadcasts sound as good as today's analog FM stations. The tuner has an E-LAN pass-through connection, allowing you to daisy chain an Eclipse CD changer.
Satellite Radio Ready: There are several options for connecting an optional satellite radio tuner to this receiver:
XM Satellite Radio: To receive XM Satellite Radio, you can connect the optional CNP2000UC XM Mini Tuner (item number 220CNP20UC) and the Eclipse CNP-ECL1 adapter cable (package item number 700XMECL1).
SIRIUS Satellite Radio: To receive SIRIUS Satellite Radio, you can connect the optional Sirius Connect tuner with the Eclipse Sirius Connect adapter (package item number 700SIRECLi).
Auxiliary Input: A portable satellite radio receiver, such as the Delphi SkyFi3 or SIRIUS Sportster, can be connected to the head unit via an auxiliary input.

Note: A subscription is also required to receive satellite radio programming from SIRIUS or XM.
Changer Controls: The CD7200 mkII can control up to two Eclipse CH3083 8-disc CD changers (item number 099CH3083) through its E-LAN Bus connector. The CH3083 CD changer has a E-LAN pass-through input for the second changer, so no special adapter is needed. When an optional CD changer is connected, the CD7200 mkII has the following controls: Track Skip, Disc Skip, Fast Forward/Fast Reverse, Track Intro Scan, Disc Intro Scan, Track Repeat, Disc Repeat, Disc Random, All Disc Random, and Direct Disc Select.
Our Product Research Team
At Crutchfield, you'll get detailed, accurate information that's hard to find elsewhere. That's because we have our own in-house Product Research team. They verify what's in the box, check the owner's manual, and record dimensions, features and specs. We stay on top of new products and technologies to help people make informed choices.