JVC Arsenal KD-A805
CD receiver
Item #: 105KDA805
This item is no longer available.
Original Price: $219.99
Need help?
Does it fit my car?
Select your car

Hands-free calling and awesome sound
JVC includes a Bluetooth® adapter with the KD-A805 CD receiver, letting you make safer hands-free calls in your car with a compatible phone. When a call comes in, the receiver mutes the music and you'll hear the caller over your vehicle's speakers. Mount the included microphone in a convenient spot for maximum sound quality.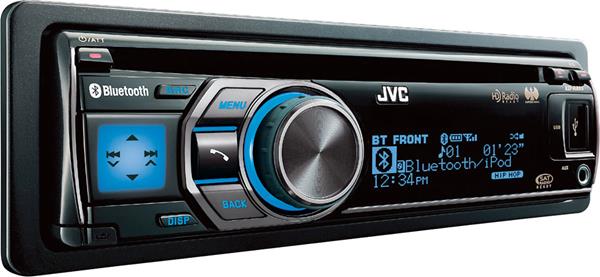 ---
Built-in iPod® controls
Just connect your iPod or iPhone® using the cable it came with, and you'll be using the receiver's controls to browse your tunes and playlists in no time — no adapter required. JVC's 2-Way Control lets your passengers use the iPod itself to control your music while it's connected to the radio — and you'll still see song info on the display. Be sure to check the Hands-on Research tab for iPod model compatibility when using 2-way control.
---
A powerful, flexible tone machine
Play your MP3 and WMA files you've burned to disc, or load them on a USB flash drive. You'll have tunes to spare for your next trip, and you'll see song info on the receiver's display. A powerful internal amplifier belts out all your tunes with authority, and you can tweak your tone to perfection with the 3-band equalizer. The premium Burr-Brown digital-to-analog converter ensures that your music will be reproduced faithfully.
---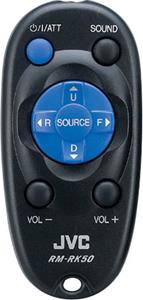 Looking to add to your system?
Three sets of gold-plated, 5-volt preamp outputs send a strong, clean signal to your amps and subs. Add an HD Radio™ tuner and take advantage of the enhanced sound quality and additional programming options offered by participating stations. You can also add a satellite radio tuner and tap into the endless variety of entertainment.
Bluetooth note: Bluetooth compatibility of this device may vary, depending on your phone and service provider.
iPod note: If you're going to use your iPod with this receiver, be sure to check Hands-on Research for specific iPod model compatibility with this receiver or its optional iPod adapter.
Product Highlights:
General features:
CD receiver with built-in MOSFET amplifier (20 watts RMS CEA-2006/50 peak x 4 channels)
included USB Bluetooth adapter
plays CDs, CD-Rs, and CD-RWs (including discs loaded with MP3 and WMA files)
choice of 30 illumination colors
detachable face
remote control
Audio features:
iEQ 3-band parametric equalizer
Burr-Brown digital-to-analog converter
Expandability:
built-in 2-way iPod control for most iPod models
compatible with optional HD Radio tuner, satellite radio, CD changer
inputs: front-panel auxiliary input, front and rear USB inputs
outputs: 6-channel preamp outputs (5-volt front, rear, sub)
Other info:
compatible with most factory steering wheel audio controls (adapter required)
warranty: 2 years
Why replace your factory radio?
Two good reasons - sound quality and cool features. A new car stereo offers power that's superior to most factory radios, along with more sophisticated tone controls. And most car stereos offer built-in or optional features that add safety and fun to life in your car, including inputs for your iPod or MP3 player, Bluetooth connectivity for hands-free cell phone calls, satellite radio or HD Radio reception, and connections for building an audio system in your car.
JVC Arsenal KD-A805 Reviews
Average Customer Review:
26 Reviews
---
What's in the box?
AM/FM/CD receiver with 15-amp mini-ATC fuse inserted into chassis
Sleeve
Face
Trim ring
Wiring harness
Face security screw
Wireless remote control (RM-RK50)
CR2025 Lithium battery
KS-UBT1 USB Bluetooth adapter
Microphone with attached 10' cord terminated by a right-angle male 3.5mm connector
Visor clip
Self-adhesive mounting bracket
2 Radio removal tools
Mounting bolt with flat washer/hex nut/Rubber bushing installed
Instruction Manual (Eng/Fre/Spa)
Installation Manual (Eng/Spa/Fren)
US warranty sheet
Canadian warranty card
Product Registration Card/Questionnaire
Face security screw note
"Caution" note attached to wiring harness
USB Bluetooth Adapter Instructions
Bluetooth Function sheet
Product Research
Display Features
Audio Section
CD Playback
AM/FM Tuner
External Device Connection
Remote Control
Display Features
Detachable Face: This unit features Detachable Face Security. A face-fixing clip is supplied for making the face non-detachable, if desired. The unit comes with a hard plastic face case to store the receiver's faceplate when detached.
Display Color: The receiver features 29 display color presets. Additionally there is a user preset, allowing you to individually adjust the intensity of Red, Green, and Blue from 0 to 31; resulting in over 30,000 color options. The chosen color applies to the display panel and the backlighting for all the buttons except Power, Eject, and EQ; those remain red. The contrast of the display can also be adjusted 1 to 8.
Clock Display: In the menu the clock can be set to display with the ignition on, even when the unit is off ("keyed" operation). With the ignition off, when you press the display button the clock is displayed for 5 seconds, then turned off.
Display Dimmer: The display dimmer can be set to Off (normal brightness at all times), On (display is always dimmed), or Auto (display dims when 12 volts is applied to the illumination lead).
Audio Section
MOS-FET Amplifier: The JVC KD-A805 features a MOS-FET amplifier that is CEA-2006 compliant and rated at 20 watts RMS x 4 channels in 4-ohm and 1% THD+N with a signal to noise ratio of 80 dBA.
TI/Burr-Brown 24 Bit D/A Converter: The JVC KD-A805 utilizes a TI/Burr-Brown 24-bit digital to analog converter for superior CD sound quality.
Intelligent Equalizer (i-EQ): The KD-A805 has a 3-band parametric EQ with manually adjustable center frequencies: Bass; 50Hz, 100 Hz, or 200 Hz; Midrange 500 Hz, 1 kHz, or 2.5 kHz; and Treble 5kHz, 10 kHz, or 15 kHz. The bass, midrange, and treble bandwidth settings are also adjustable: Q0.7, Q1.0, Q1.4, or Q2.0. The setting for each EQ band varies from -6 to +6 dB. In addition to these "User" settings, there are six EQ presets with the following combinations:
Sound Modes
Preset Values
Bass
Midrange
Treble
Level
Freq.
Q
Level
Freq.
Q
Level
Freq.
Freq.
User (initial)
00
50 Hz
Q1.0
00
1 kHz
Q1.0
00
10 kHz
Q1.0
Rock
+03
100 Hz
Q1.0
00
1 kHz
Q1.0
+02
10 kHz
Q1.4
Classic
+01
80 Hz
Q1.0
00
1 kHz
Q1.0
+03
10 kHz
Q1.4
Pop
+02
100 Hz
Q1.0
+01
1 kHz
Q1.0
+02
10 kHz
Q1.4
Hip Hop
+04
50 Hz
Q1.0
-02
1 kHz
Q1.0
+01
10 kHz
Q1.4
Jazz
+03
100 Hz
Q1.0
00
1 kHz
Q1.0
+03
10 kHz
Q1.4
Loud (Loudness): This feature boosts low and high frequencies to produce a well-balanced sound at a low volume level. You can turn this feature on or off.
Amplifier Gain Control: When you are using the KD-A805 with factory speakers (or those rated to less than 50 watts peak), the Amplifier Gain Control can limit the amount of power being sent to those speakers. When the Amp Gain Control is set to "low," the volume control ranges from 0 (minimum) to 30 (maximum). When using speakers rated higher than 50 watts peak, you can set the Amp Gain Control to "high," and the volume control will range from 0 to 50.
3 Pair of 5V Preamp Outputs: The KD-A805 is equipped with three pair of 5.0V preamp outputs (Front, Rear, Subwoofer). The front and rear preamp outputs allow fader control, while the subwoofer preamp output is non-fading.
Subwoofer Control: The unit's subwoofer preamp output features a variable low-pass crossover (55Hz, 85Hz, 120Hz, or Through) and level control (0 to 8).
High Pass Filter: You can select the unit's high pass filter cut-off frequency (62Hz, 95Hz, 135Hz, or Through) for the front and rear speakers so it matches the subwoofer's low-pass filter setting.
Volume Adjust: The input level of each source (other than FM) is adjustable relative to the FM radio volume, so there isn't a significant volume difference when changing sources. Each source is individually adjustable from -5 to +5.
CD Playback
MP3/WMA Playback: The KD-A805 can play MP3 (5-320 kbps)/WMA files (5-320 kbps) that have been recorded on CD-R and CD-RW discs. The disc must be recorded in one of the following formats: ISO 9660 Level 1/Level 2, Joliet, Romeo or Windows long file. This unit can recognize a total of 20,000 files and 2,000 folders (999 files per folder). The unit also supports IDTag3 (version 1.0, 1.1, 2.2, 2.3 or 2.4) for album and artist information from MP3 or WMA files.
Playback Modes: The JVC KD-A805 offers the following Repeat and Random playback modes for your audio CDs.
Repeat: Track Repeat (plays the current rack repeatedly), Folder Repeat (plays all tracks of the current folder repeatedly), Off (cancels repeat function
Random: Folder Random (plays al tacks of the current folder, then the tracks of the next folder in random), All Random (plays all tracks of the current disc at random), Off (cancels random function)
Disc Protection: If the ejected disc is not removed within 15 seconds, the disc is automatically inserted again into the loading slot to protect it from dust. The source will change to CD, and the disc will begin playback, even if you have another source selected at the time.
Disc Resume: If you change the source, playback also stops (without ejecting the disc). Next time you select CD for the playback source, the disc will start from where it has been stopped previously.
AM/FM Tuner
AM/FM Tuner With Title Assignment: The KD-A805 features a built-in AM/FM tuner.
Preset Tuning: The built-in tuner provides three FM bands and one AM band. Each AM/FM band can hold up to six station presets. You can store these presets manually or have the radio store them automatically.
Title Assignment: You can assign names (up to eight characters) for 24 AM/FM station frequencies.
Mono Mode: If an FM stereo broadcast is hard to receive, you can manually switch the tuner to Mono operation.
IF Filter: You can also switch the tuner's IF filter to Wide or Auto to increase/decrease the sensitivity.
External Device Connection
USB Port: The KD-A805 features a front-panel and rear-panel USB 2.0 type-A port. The front-panel USB port is behind a sliding cover while the rear USB port is attached to the chassis by a 4' pigtail. The USB ports enable connection and control of portable USB mass-storage class devices. The USB ports are compatible with all USB mass storage class devices that support the FAT12, FAT16, or FAT32 file system. The unit will playback MP3 (32-320 kbps) and WMA audio files (5-320 kbps) stored on a USB mass storage device. This unit can recognize a total of 20,000 files and 2,000 folders (999 files per folder) for each USB port. The KD-A805 will also display ID3 Tag information (up to 128 characters for MP3/WMA).
Note: You cannot connect a USB device via a USB hub or Multi-Card Reader to this unit.
Direct iPod Connection: The JVC KD-A805's front-panel and rear-panel USB ports also act as iPod high-speed direct connections when used with the USB/iPod cable that came with your iPod. An additional iPod cable is available (item number 472USBCBLE, sold separately) so you can leave one at home and one in the car. Menu options allow iPod control from the radio's front panel or from the iPod itself (the 5th generation iPod and 1st generation iPod nano must be controlled from the head unit, not from the iPod itself). The iPod is charged whenever it is connected with the head unit turned on. The JVC KD-A805 is "Made for iPod/iPhone" compatible and supports the following iPod/iPhone model features (as of Dec. 2009):
iPod/iPhone Model
Media Type
Control
Display
Charge
Audio
Video
Unit
iPod
Song/Artist
Track
dock-connector (3 gen)
N
N
N
N
N
N
N
click-wheel/color-display (4 gen)
N
N
N
N
N
N
N
mini (1/2 gen)
N
N
N
N
N
N
N
video (5 gen)
Y
N
Y
N
Y
Y
Y
classic (80/120/160 GB)
Y
N
Y
Y
Y
Y
Y
nano
1 gen
Y
N
Y
N
Y
Y
Y
2 gen
Y
N
Y
Y
Y
Y
Y
3 gen
Y
N
Y
Y
Y
Y
Y
4 gen
Y
N
Y
Y
Y
Y
Y
5 gen
Y
N
Y
Y
Y
Y
Y
touch
1 gen
Y
N
Y
Y
Y
Y
Y
2 gen
Y
N
Y
Y
Y
Y
Y
3 gen
Y
N
Y
Y
Y
Y
Y
iPhone
2G
Y
N
Y
Y
Y
Y
Y
3G
Y
N
Y
Y
Y
Y
Y
3GS
Y
N
Y
Y
Y
Y
Y

Note: Apple firmware updates may change functionality results. The KD-A805 is also compatible with the optional KS-PD100 external iPod adapter (257KSPD100, sold separately). When the KS-PD100 is added, the iPod dock connector (3rd gen.), iPod click-wheel/color-display (4th gen.), and iPod mini (1st/2nd gen.) are also compatible.
USB Bluetooth Adapter: The JVC KD-A805 comes supplied with a USB Bluetooth Adapter (KS-UBT1) which can plug into either the head unit's front or rear-panel USB input, making the KD-A805 Bluetooth 2.0 certified. Once the Bluetooth adapter is inserted, this unit will support the following Bluetooth Profiles: HFP (Hands-Free Profile) 1.5, OPP (Object Push Profile) 1.1, A2DP (Advanced Audio Distribution profile) 1.2, and AVRCP (Audio/Video Remote Control Profile) 1.3. Bluetooth technology allows you to utilize your vehicle's built-in audio system for wireless mobile phone or music hands-free operation.
Bluetooth Communication: The supplied Bluetooth adapter allows you receive and make calls from your Bluetooth enabled cell-phone using the KD-A805's controls. When making a call, dial from your Phonebook (up to 300 numbers), Direct Dial, Voice Dial, or dial from a list of received or missed calls. When a call comes in, a ring-tone will be heard through your vehicle's speaker, the head unit's display will flash, and the caller's name or phone number will be displayed. The KD-A805 can be set to automatically answer your incoming calls and mute any music audio to your vehicle's speakers so you can instantly carry on a phone conversation hands-free. A wired microphone is supplied to carry on your side of the conversation while your car's speakers are used to hear the other person. The head unit can also inform you of the arrival of a text message on your mobile phone (You cannot read, edit or send a text message through this unit).
Bluetooth Audio: The Bluetooth adapter also allows audio playback and control of a Bluetooth audio player through the KD-A805. The KD-A805 will be able to control basic playback features such as Play, Pause, Track Selection, Folder Selection, Fast Forward, Reverse, Skip Next, Skip Previous, Repeat and Random.
Note: You can register up to 5 Bluetooth devices to this unit, however, only one unit of each type can be connected at a time. Not all Bluetooth enabled devices will be compatible with this unit.
Satellite Radio Ready: There are several options for connecting an optional XM or SIRIUS Satellite Radio receiver to this receiver:
XM Satellite Radio: To receive XM Satellite Radio, you can connect the optional CNP2000UC XM Mini Tuner and the JVC CNP-JVC1 adapter cable (package item number 700XMJVC1, sold separately).
SIRIUS: The JVC KD-A805 is compatible with the SiriusConnect Universal Tuner and Plug & Play Dock.

SiriusConnect Tuner: Connect the optional SC-C1 SiriusConnect vehicle tuner (item number 607SCC1) and the JVC KS-SRA100 SIRIUS adapter (item number 105KSRA100) - package # 700SIRJVC1, sold separately.
SiriusConnect Dock: Select dock-and-play and portable SIRIUS radios can be controlled using the JVC KS-SRA100 SIRIUS adapter (item number 105KSRA100, sold separately) and the SC-VDOC1 dock (item number 607SCVDOC1, sold separately).

Auxiliary Input: A portable satellite radio receiver, such as the XM Delphi SkyFi3 or SIRIUS Sportster, can be connected to the head unit via the front panel auxiliary input or a JVC auxiliary input adapter, such as the KS-U57 or KS-U58 (item numbers 105KSU57 and 257KSU58).
Note: A subscription is also required to receive satellite radio programming from SIRIUS or XM.
HD Radio: The KD-A805 supports HD Radio when the optional KT-HD300 HD Radio tuner (105KTHD300, sold separately) is connected to the receiver's CD changer port on the rear of the unit. HD Radio Technology can deliver high-quality digital sound. AM digital will have FM-like quality in stereo, while FM digital will have CD-like quality with static free and clear reception. In addition, AM/FM digital stations can offer text and data such as artist names and song titles. Many HD Radio stations also offer more than one channel of programming, called multicasting. When this optional HD Radio tuner box is connected, you will still be able to receive conventional analog AM/FM broadcasts.
CD Changer Controls: This unit is directly compatible with JVC CD changers. When connected to a CD Text capable changer, this unit can display disc and track titles for discs encoded with that information.
Front Panel Auxiliary Input: A front panel stereo mini-jack is provided to allow the connection of a portable audio source. Just connect your portable cassette, MD, or MP3 player to this unit and listen to the audio from the portable player through the KD-A805.
Compatibility with Optional Input Adapter: An optional JVC Line Input Adapter (105KSU57, sold separately) or Aux Input Adapter (257KSU58, sold separately) may be used to provide an additional auxiliary input on this unit. This feature allows you to connect a portable audio player, such as a portable MP3 player, to this unit as an additional audio source. The adapter connects to the CD changer input on this unit. When the adapter is connected to this unit, a CD changer cannot be connected.
Remote Control
Wireless Remote Control: The KD-A805 comes supplied with a wireless remote control (RM-RK50). The remote contains Power, Attenuator, Sound, Source, Tracking and Volume functions.
Steering Wheel Remote Compatibility: The KD-A805 has a steering wheel remote input on the back panel. When used with the optional PAC SWI-JACK interface (127SWIJACK, sold separately), you can retain the use of your steering wheel and/or rear seat radio controls when replacing the factory head unit in select vehicles. The SWI-JACK is compatible with over 95% of the vehicles made from 1986 to the present. Compatible vehicles include many Acura, Audi, BMW, Buick, Cadillac, Chevrolet, Chrysler, Dodge, Ford, GMC, Honda, Hummer, Infiniti, Isuzu, Jaguar, Jeep, Kia, Land Rover, Lexus, Lincoln, Mazda, Mercury, Mini, Mitsubishi, Nissan, Oldsmobile, Plymouth, Pontiac, Saab, Saturn, Suzuki, Toyota, and Volkswagen vehicles and Harley Davidson motorcycles. Please consult "Outfit My Car" to see if your vehicle is compatible.
Our Product Research Team
At Crutchfield, you'll get detailed, accurate information that's hard to find elsewhere. That's because we have our own in-house Product Research team. They verify what's in the box, check the owner's manual, and record dimensions, features and specs. We stay on top of new products and technologies to help people make informed choices.