JVC Arsenal KD-AHD69
CD receiver
Item #: 105KDAHD69
This item is no longer available.
Original Price: $159.99

Need help?
Does it fit my car?
Select your car

Enjoy the crystal-clear sound of HD Radio®
Enjoy what HD Radio™ has to offer with the JVC Arsenal KD-AHD69 CD receiver. Its built-in tuner lets you dial in the enhanced sound quality of digital AM/FM stations, giving you FM sound that approaches CD quality, plus AM that sounds like traditional FM. You can also adjust the receiver's display colors to match your dash lighting, plus you'll get a rock-solid two-year warranty to boot.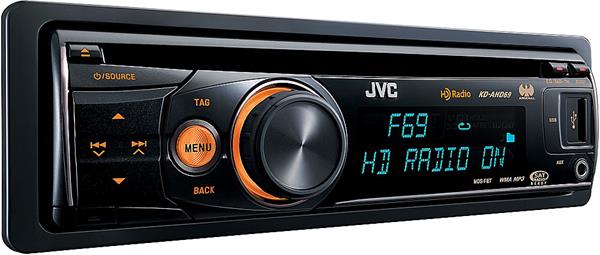 ---
iTunes® tagging and iPod® control
Use the convenient front-panel USB input to connect and control your iPod® or iPhone®, and speed your way through songs and playlists with the KD-AHD69's controls. You can also switch over to the iPod's controls if your passengers prefer the hands-on approach. You'll see song and artist info bright and clear on the receiver's 2-line display.
Note: If you're going to use your iPod with this receiver, be sure to check "Details" for specific iPod model compatibility with this receiver or its optional iPod adapter.
When you're listening to an HD Radio station, just tap the dedicated button to "tag" a song you like. The next time you connect your iPod to the computer, you'll be prompted to buy your tagged tunes from the iTunes store.
Play your digital music files
This versatile stereo will handle all your CDs and recordable discs, as well as discs or or thumb drives you've loaded with MP3 and WMA files. You can connect a portable satellite radio to the auxiliary input, or install a JVC satellite radio tuner permanently. The KD-AHD69 also works with JVC's Bluetooth® adapter for even greater flexibility.
---
Sweet sound
Go ahead and turn it up. The built-in amplifier gives you plenty of clean power when you're out with your friends. An advanced digital-to-analog converter brings out all the details in your music, and you can adjust the 7-band equalizer to get the perfect sound for your vehicle.
---
Clean sound for your amps and subs
Two sets of 5-volt preamp outputs simplify the process of adding amps and subs to your system, while providing a clean, noise-free signal. The subwoofer output includes a handy selectable low-pass filter, and you can add just the right amount of bass with the subwoofer level control.
---
Want to keep your car's steering wheel audio controls?
In most vehicles, you can use this adapter to connect your vehicle's steering wheel controls to this JVC stereo. Connect a few wires, then program the adapter for your particular car and the JVC, and you'll retain the convenience of your steering wheel controls.
---
Product Highlights:
General features:
CD receiver with built-in MOSFET amplifier (20 watts RMS CEA-2006/50 peak x 4 channels)
plays CDs, CD-Rs, and CD-RWs, and MP3/WMA files on disc
variable color display (separate control over right and left sides of receiver)
detachable face
remote control
Audio features:
built-in HD Radio tuner with iTunes tagging
built-in iPod and iPhone control
7-band iEQ
subwoofer level control
Expandability:
inputs: front-panel auxiliary input, USB input
outputs: 4-channel preamp outputs (5-volt front, sub)
works with JVC's satellite radio tuner and Bluetooth adapter
Other info:
Why replace your factory radio?
Two good reasons - sound quality and cool features. A new car stereo offers power that's superior to most factory radios, along with more sophisticated tone controls. And most car stereos offer built-in or optional features that add safety and fun to life in your car, including inputs for your iPod or MP3 player, Bluetooth connectivity for hands-free cell phone calls, satellite radio or HD Radio reception, and connections for building an audio system in your car.
JVC Arsenal KD-AHD69 Reviews
Average Customer Review:
147 Reviews
---
What's in the box?
AM/FM/CD receiver with 15-amp ATC fuse inserted into chassis
Face
Sleeve (attached)
Trim ring (attached)
Wiring harness
Plastic face-case
Wireless remote control (RM-RK50)
CR2025 Lithium battery (installed)
2 Radio removal tools
Face security screw
Instructions/Installation manual (English)
Instruction/Installation manual (French)
Instructions/Installation manual (Spanish)
US Warranty Sheet
Canadian Warranty Card
Product Registration Card/Questionnaire
Face security screw note
"Caution!" note (attached to wiring harness)
Product Research
Display Features
Audio Section
Radio Functions
Disc Playback
USB/iPod/Aux Connection
Bluetooth/Remote
Display Features
Detachable Face: The unit features a single front loading CD face that detaches from the chassis to deter theft. The CD player comes supplied with a plastic face-case to protect the detachable face when you have it off the chassis.
Separated Variable-Color LCD and Key Illumination: The JVC KD-AHD69 features 29 color presets for the LCD display and button illumination. Additionally, there is a user preset, allowing you to individually adjust the intensity of Red, Green, and Blue from 0 to 31; resulting in approximately 30,000 custom color options. The chosen color can be applied to the display panel and the backlighting for all the buttons except Eject, EQ, and display; those remain red. You can choose to use the same color for the LCD display and button illumination or use a separate color for each one. You can also select a different color for daytime and nighttime in regards to the unit's LCD display and button illumination.
Display/Button Illumination Dimmer: The display/button illumination dimmer can be set to Off (normal brightness at all times), On (display/button illumination is always dimmed), or Auto (display dims when 12 volts is applied to the illumination lead).
Clock Display: While playing a CD, you can switch between the clock display and the CD elapsed time display (the track number always appears). While listening to the radio you can switch between the clock display and the station frequency display. When you press the Display button during power off, the unit will turn on, display the clock for 5 seconds, then shut off. This can be done with the ignition on or off.
Audio Section
24 Bit D/A Converter: The JVC KD-AHD69 utilizes a 24-bit digital to analog converter for superior CD sound quality.
MOSFET Amplifier: The KD-AHD69 is equipped with a MOSFET amplifier. Compared to conventional power supplies, the MOSFET amplification circuit is smaller and more efficient, and it delivers increased power with less distortion and absolutely zero on/off switching noise. More power means louder and cleaner music at higher volumes because you're not pushing the limits of the amplification circuit.
CEA2006 Compliant: The power specifications for the KD-AHD69 are compliant with the CEA2006 Mobile Amplifier Power Testing and Measurement standards from the Consumer Electronics Association (CEA). These standards were developed as a way to equitably compare power specs from model to model and between manufacturers. The power output specs for the KD-AHD69 are as follows:
CEA2006 Specs: 20 watts RMS x 4 channels (at 4 ohms, 20Hz-20kHz, 1% THD-N)
Maximum Power Output: 50 watts x 4 channels (200 total watts)
7-Band Intelligent EQ (i-EQ): The JVC KD-AHD69 is equipped with a 7-Band Intelligent EQ (i-EQ) and 6 user presets (Flat, Natural, Dynamic, Bass Boost, Vocal Boost, and User). The User EQ preset allows you to manually adjust the headunit's 7-band parametric EQ(Sub Bass, Bass, Mid Bass, Mid, Mid High, High, and Ultra High) from +/-10dB.
Amplifier Gain Control: When you are using the KD-AHD69 with factory speakers (or those rated to less than 50 watts peak), the Amplifier Gain Control can limit the amount of power being sent to those speakers. When the Amp Gain Control is set to Low, the volume control ranges from 0 (minimum) to 30 (maximum). When using speakers rated higher than 50 watts peak, you can set the Amp Gain Control to High, and the volume control will range from 0 to 50. When all speakers in the system are powered by an external amplifier, the internal amplifier can be turned off.
Subwoofer Output: In addition to the 5.0 volt front preamp outputs, this unit has a set of 5.0 volt subwoofer preamp outputs. The subwoofer output is non-fading and has independent level control, adjustable from 00 to 08, and an adjustable low-pass crossover. You can select a cutoff frequency of Low (72 Hz), Mid (111 Hz), or High (157 Hz).
Note: This headunit is not equipped with a a rear-channel preamp output.
Source Volume: The input level of each source (other than FM) is adjustable relative to the FM radio volume, so there isn't a significant volume difference when changing sources. Each source is individually adjustable from -1 to +10.
Key-Touch Tone: The in-dash headunit provides an audible beep