JVC KD-R650
CD receiver
Item #: 105KDR650
29 Reviews | 3 questions - 19 answers
This item is no longer available.
Original Price: $79.99
Need help?
Does it fit my car?
Select your car

Easy access to your choice of music
JVC's KD-R650 CD receiver puts you in command of your music when you're behind the wheel. You can use the handy front-panel USB port to access and control your iPod® or iPhone® playlists. You can even play music from many Android™ phones through the USB port using JVC's Music Control app. Streaming music fans are in luck — when you connect your iPhone, you can control Pandora® or iHeartRadio from the receiver. The KD-R650 also includes a front auxiliary input for a Dock-and-Play satellite radio or other sound source.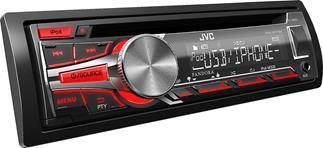 The front-panel USB and aux inputs make it easy to check out your music on a variety of sources.
Tweak the sound
You can make fine adjustments to the highs, mids, and lows with the 3-band parametric EQ, and save your favorite settings with the twelve presets. You'll find two sets of preamp outputs for connecting amps. If you're adding a sub, you can switch the rear preamp outputs to subwoofer mode, then use the subwoofer level control for on-the-fly changes.
Add hands-free calling
It's never wise to handle your phone while driving. Experience the safety and convenience of hands-free calling by adding JVC's Bluetooth® adapter. When a call comes in, you'll talk naturally and hear your caller over your speakers – just like you're talking to someone in the front seat. You can keep both hands free and concentrate on your driving. The adapter also gives you the ability to stream music from a compatible device straight into the JVC.
iPod note: If you're going to use your iPod with this receiver, be sure to check "Details" for specific iPod model compatibility with this receiver or its optional iPod adapter.
Product Highlights:
General features:
CD receiver with AM/FM tuner
built-in MOSFET amplifier (22 watts RMS/50 peak x 4 channels)
detachable face
plays CDs, CD-Rs, and CD-RWs, including discs loaded with MP3 and WMA files
built-in iPod, iPhone, and iPad control (see Details tab for model compatibility)
Pandora and iHeartRadio control with iPhone
music file playback from select Android devices through USB with JVC Music Control app (see Details tab for more information)
remote control
Audio features:
Digital Track Expander enhances compressed music files
Pro EQ 3-band parametric equalizer with twelve preset tone settings
loudness and bass boost
low-pass and high-pass filters
subwoofer level control
Expandability:
compatible with JVC Bluetooth adapter (not included)
inputs: front USB port and front aux input
outputs: 4-channel preamp outputs (2.5-volt front, rear/subwoofer)
Other info:
Why replace your factory radio?
Two good reasons - sound quality and cool features. A new car stereo offers power that's superior to most factory radios, along with more sophisticated tone controls. And most car stereos offer built-in or optional features that add safety and fun to life in your car, including inputs for your iPod or MP3 player, Bluetooth connectivity for hands-free cell phone calls, satellite radio or HD Radio reception, and connections for building an audio system in your car.
JVC KD-R650 Reviews
Average Customer Review:
29 Reviews
---
What's in the box?
CD receiver (w/ 10A fuse inserted into chassis)
Face (attached)
Sleeve (installed)
Trim ring (installed)
Wiring harness
Wireless remote control (RM-RK52)
CR2025 3V Lithium battery (installed)
2 Radio removal tools
Face fixing screw
Instruction Manual (En/Fr/Sp)
Warrant Information
"Caution!" note (attached to wiring harness)
Face Fixing screw note
Product Research
Disc & USB Playback
Smartphone Integration
AM/FM + Internet Radio
Audio Section
Display Features
Remote-Bluetooth Control
Disc & USB Playback
Disc Compatibility: The unit features a single disc player that will playback CD-Audio, CD-Text, and finalized CD-R/CD-RW audio discs. The unit also supports playback of MP3/WMA music files loaded onto CD-R/RW discs.
Front-Panel USB Port: The JVC KD-R650 features a front-panel USB 2.0 type-A port (behind a sliding cover) connection and control of a portable USB mass-storage class (MSC) device; such as select Android smartphones (Froyo/Gingerbread OS only), portable digital audio players, or USB thumbdrives. The USB port enables audio playback and control of MP3, WMA, & WAV audio files stored on portable USB mass-storage class devices. USB portable audio devices that can be charged via USB will be charged when plugged into the CD receiver's USB port (5V/1A), and the vehicle's ignition switch is set to ACC or On.
Note: The Drive Change feature lets you switch between multiple memory cards (up to 5) in a USB multi-card reader or multiple USB thumbdrives (up to 5) connected to a USB hub.
MP3/WMA/WAV Playback: The JVC KD-R650 supports the following types of MP3, WMA, WAV files recorded onto CD-R/RW disc or loaded onto a USB mass storage class device.
Media Type
CD-R/RW
USB MCS Device
File System
ISO9660 Level 1 or 2, Romeo, Joliet, or Windows long file name
FAT 12/16/32
Playable File Types

MP3: bit rate of 8-320kbps w/ sampling rate of 8-48kHz
WMA: bit rate of 32-192kbps w/ sampling rate of 8-48kHz
WAV (USB only): bit rate of 8- or 16-bit

Maximum # of Folders/Files
999 folders/20,480 files
Tags
ID3 tag (version 1.0/1.1/2.2/2.3/2.4), WMA tag
Track/Folder List: The Track/Folder List displays a list of MP3/WMA/WAV folders and tracks on a loaded CD or USB device, so you can easily access your music.
Random/Repeat Modes: The JVC KD-R650 offers the following Repeat and Random playback modes.
Repeat: Track Repeat (plays the current track repeatedly), Folder Repeat (plays all tracks of the current folder repeatedly), Off (cancels repeat function)
Random: Folder Random (plays all tracks of the current folder, then the tracks of the next folder in random), All Random (plays all tracks of the current disc at random), Off (cancels random function)
Resume: If you change the source, playback also stops (without ejecting the disc or USB device). Next time you select CD or USB for the playback source, the player will start from where it has been stopped previously.
JVC Playlist Creator Compatible: JVC Playlist Creator is a free Windows-based desktop software that helps organize, manage and transfer MP3/WMA music files to your USB (MSC) device from your PC. When you playback audio files that have been stored on your USB (MSC) device using JVC Playlist Creator through the KD-R650, you can search a file by song title, album name, artist name, or genre using the head unit's Quick Search function. The JVC Playlist Creator is a Windows-based software that can be downloaded for free from JVC's website to your PC. The JVC Playlist Creator is compatible with the following Windows Microsoft Operating Systems.
Windows XP Professional, Home Edition SP2 or later (32-bit)
Windows Vista (32/64-bit)
Windows 7 (32/64-bit)
Note: Not compatible with Apple iPod/iPhone/iPad, Zune, or Android
Off Insert/Eject + Disc Protection: A CD disc can be inserted or ejected with the power off. When a disc is inserted with the power off, the unit will automatically power up and begin playback. If the ejected disc is not removed within 15 seconds, the disc is automatically inserted again into the loading slot to protect it from dust. The source will change to CD, and the disc will begin playback, even if you have another source selected at the time.
Mounting: For proper disc playback you must install the unit within 30-degrees of horizontal.
Smartphone Integration
Android Compatible: The JVC KD-R650 supports USB-connection and playback of Android smartphones with Froyo or Gingerbread operating systems installed.
JVC Music Control: By connecting the JVC CD receiver via USB to an Android smartphone (Froyo/Gingerbread OS only) that has the free JVC Music Control app installed, it allows you to list and search your MP3 music stored on the smartphone from the receiver by artist name or album name. The JVC Music Control app also analyzes all of your songs that are in your Android smartphone, and creates a playlist according to your mood. Once the application has completed the analysis of the songs, simply select your current mood, and this application will generate a list of songs that best fits your mood. Your compatible Android smartphone must be recognized as a USB mass storage class device; not compatible with MTP protocol.
Drive Change Mode: When an Android smartphone is connected to the USB input terminal, you can select its internal memory or external memory (such as an microSD card) to playback the songs stored on the phone or on the memory card. This feature is also compatible with other USB mass storage class compliant smartphones, such as Blackberry.
iPod/iPhone Connectivity w/ DAC Bypass: The JVC KD-R650's front-panel USB port can acts as an iPod/iPhone high-speed direct connection when used with the Lightning or Dock cable that came with your iPod/iPhone. The USB connection allows your iPod/iPhone's stored music and music apps to be loaded instantly to the head unit and sound quality to be maximized through the head unit's 16-bit D/A converter, allowing for a Signal to Noise ratio up to 105dB. The KD-R650's USB connection also offers music navigation, information display, and charging of select iPod/iPhone models from the JVC in-dash head unit. You can choose to operate your iPod/iPhone through the JVC head unit's front-panel controls or from your Apple device's clickwheel/touchscreen.
Head Unit Mode: From the head unit's front-panel controls you can search for stored music by Playlist, Artist, Album, Song, Podcast, Genre, and Composer. The contents of a Playlist or Category can be searched alphabetically (A-Z) or numerically (0-9). The KD-R650 also supports Repeat (file/all) and Random (album/all) playback functions of your iPod/iPhone. You'll also be able to control basic playback functions (such as Play/Pause, Previous/Next Track) from select music apps streamed to your iPhone. During Head Unit Mode, the KD-R650 will display your iPod/iPhone's music file information; such as Track number, Elapsed playing time, Artist name, Song title, and Album label. Newer iPod/iPhones with iOS 6.0+ allow you to continue to access your Apple device's touchscreen in this mode in order to access other applications; older iPod/iPhone devices will be locked during connection.
iPod/iPhone Mode: The iPod/iPhone Mode lets you control your older iPod/iPhone (iOS 5.1.1 and earlier) from its clickwheel or touchscreen. You'll still have access to basic playback controls (like Play/Pause & Previous/Next Track) from the head unit, but advanced navigation functions will be locked. No song/artist information is displayed in this mode. The unit will simply display "iPhone Mode".
Note: The head unit's USB connection provides 1A of current to power and charge your connected iPod/iPhone when your vehicle's ignition switch is set to the 'ACC' or 'On' position. This unit does not charge the iPad. If your iPod/iPhone has no initial battery charge, then the unit will not recognize it.
iPod Compatibility Chart: The JVC KD-R650 is "Made for iPod/iPhone" compatible and supports the following iPod/iPhone model features (as of 1/8/2014):
Apple Device
Generation
Tested Version
Media Type
Control Type
Display Type
Charge
Audio
Video
Head Unit
iPod/iPhone
Pandora/iHeart Radio
Artist/Song Text
Track Info
iPhone
2G
3.1.3
Y
N
Y
Y
N
Y
Y
Y
3G
4.2.1
Y
N
Y
Y
N
Y
Y
Y
3GS
5.1.1
Y
N
Y
Y
Y
Y
Y
Y
4
7.0.4
Y
N
Y
Y
Y
Y
Y
Y
4S
7.0.4
Y
N
Y
Y
Y
Y
Y
Y
5
7.0.4
Y
N
Y
Y
Y
Y
Y
Y
5C
7.0.4
Y
N
Y
Y
Y
Y
Y
Y
5S
7.0.4
Y
N
Y
Y
Y
Y
Y
Y
touch
1st
2.2.1
Y
N
Y
Y
N
Y
Y
Y
2nd
4.2.1
Y
N
Y
Y
N
Y
Y
Y
3rd
5.1.1
Y
N
Y
Y
N
Y
Y
Y
4th
6.1.3
Y
N
Y
Y
N
Y
Y
Y
5th
7.0.4
Y
N
Y
Y
N
Y
Y
Y
nano
1st
1.3.1
Y
N
Y
N
N
Y
Y
Y
2nd
1.1.3
Y
N
Y
Y
N
Y
Y
Y
3rd
1.1.3
Y
N
Y
Y
N
Y
Y
Y
4th
1.0.4
Y
N
Y
Y
N
Y
Y
Y
5th
1.0.2
Y
N
Y
Y
N
Y
Y
Y
6th
1.2 PC
Y
N
Y
Y
N
Y
Y
Y
7th
1.02 PC
Y
N
Y
Y
N
Y
Y
Y
classic
80GB
1.1.2
Y
N
Y
Y
N
Y
Y
Y
120GB
2.0.1
Y
N
Y
Y
N
Y
Y
Y
160GB
2.0.4
Y
N
Y
Y
N
Y
Y
Y
video
5th
1.3
Y
N
Y
N
N
Y
Y
Y
iPad
1
5.1.1
Y
N
Y
Y
Y
Y
Y
N
2
7.0.4
Y
N
Y
Y
Y
Y
Y
N
3
7.0.4
Y
N
Y
Y
Y
Y
Y
N
4
7.0.4
Y
N
Y
Y
Y
Y
Y
N
mini
7.0.4
Y
N
Y
Y
Y
Y
Y
Y
air
7.0.4
Y
N
Y
Y
Y
Y
Y
N
Note: Apple iPod/iPhone software updates may change functionality results. If you download a newer software version, you may need to reset the head unit and your iPod/iPhone to regain functionality. If this doesn't work, you may need to wait until a newer software update is available.
Front-Panel Auxiliary Input: A front-panel stereo minijack is provided to allow the connection of almost any portable audio source with a 3.5mm headphone output (great for those non-Apple/Android devices. Simply connect your portable digital music player to the unit's front-panel auxiliary input, and you can listen to the audio from the portable player through the speakers in your mobile audio system. The unit's front-panel auxiliary input can be turned On or Off.
AM/FM + Internet Radio
RDS AM/FM Tuner: The JVC KD-R650 features a built-in RDS AM/FM tuner with manual, seek, and preset tuning. The Radio Data System (RDS) feature displays radio broadcast information such as artist, title, and album when listening to compatible AM/FM stations. You can store a total of 18 FM stations presets and 6 AM station presets (manually or automatically). The head unit's Radio Timer features lets you tune into a preset station at a specific time regardless of the head unit's current source (you can activate the Radio Timer once, daily, or turn it completely off). If an analog FM stereo broadcast is hard to receive, you can manually switch the tuner to Mono operation. You can also switch the tuner's IF filter to Wide or Auto to increase/decrease the sensitivity.
Note: You can set the built-in AM/FM tuner between US standard and European tuning spacing.
Internet Radio Apps (for iPhone): The JVC KD-R650 allows you to access Pandora and iHeartRadio online music services through your USB-connected iPhone. Your Apple iPhone must be connected to the KD-R650 via the Lightning or Dock cable supplied with your iPhone. Your iPhone will need an active Data Plan account with connection to the Internet via 3G, EDGE, or WiFi.
Pandora App: The Pandora App (free) lets you play music from the Pandora music service through the JVC KD-R650 using your connected Apple iPhone, via the the cable supplied with your iPhone. The JVC KD-R650 provides control over the Pandora music service and displays Artist, Album, and Song information. You can select Pandora stations from your station list and sort them by date or alphabetically (A-Z). New stations can be created based on the current songs or artists playing. You can also skip song tracks within a station. You can even give songs a thumbs up/thumbs down and bookmark them on your Pandora account. To access Pandora you must have an Apple iPhone (iOS 5.0+) with the latest version of the Pandora application from Apple's iTunes App Store. Your iPhone will need an active Data Plan account with connection to the Internet via 3G, EDGE, or WiFi. You will also need a Pandora music service account.
iHeartRadio Link: The free iHeartRadio Link app for JVC from lets you play music from the iHeartRadio music service through the JVC KD-R650 using your USB-connected Apple iPhone (iOS 5.0+). The iHeartRadio music service provides access to more than 1,500 live radio stations from coast-to-coast (including pop, country, urban, rock, talk, and sports). The KD-R650 will provide control over the iHeartRadio Link app, as well as display station identification and song/artist information. From the head unit's front-panel controls, iHeartRadio stations can be searched by the following categories (Local, Genre, City, or My Stations). The Local selection provides a list of radio stations in your local listening area. The unit also provides over 22 Genres to choose from (including pop, country, hip-hop, jazz, etc.) to help you find the right radio station for you. In addition, you can search for radio stations by City. Cities can be searched alphabetically (A-Z). You can even store your favorite stations (My Stations) for easier, quicker access. An active iHeartRadio account is required.
Note: Access to the Pandora and iHeartRadio services will depend on the availability of a cellular and/or WiFi network for purposes of allowing your iPhone to connect to the Internet. Pandora is not supported in Canada and only available in the United States.
Audio Section
16 Bit D/A Converter: The JVC KD-R650 utilizes a 16-bit digital to analog converter for superior sound quality.
MOSFET Amplifier: The JVC KD-R650 is equipped with a MOSFET amplifier. Compared to conventional power supplies, the MOSFET amplification circuit is smaller and more efficient, and it delivers increased power with less distortion and absolutely zero on/off switching noise. More power means louder and cleaner music at higher volumes because you're not pushing the limits of the amplification circuit. The power output specs for the KD-R650 are as follows:
Full Bandwidth Power: 22 watts RMS x 4 channels (at 4 ohms, 20-20kHz, 1% THD)
Maximum Output Power: 50 watts x 4 channels (200 total watts)
Note: When you are using the KD-R650 with factory speakers (or those rated to less than 50 watts peak), the Amplifier Gain Control can limit the amount of power being sent to those speakers. When the Amp Gain Control is set to "low," the volume control ranges from 0 (minimum) to 30 (maximum). When using speakers rated higher than 50 watts peak, you can set the Amp Gain Control to "high," and the volume control will range from 0 to 50.
2.5V/4CH Preamp Output: The KD-R650 is equipped with two pair of 2.5V preamp outputs (Front, Rear/SW). You can set the Rear/SW preamp outputs for connecting a pair of full-range rear speakers (through an external amplifier) or for connecting a subwoofer (through an external amplifier). When set for rear speakers, the rear outputs operate with the unit's fader control. When set for subwoofer, the outputs are non-fading.
Subwoofer Controls:
When the unit's Rear/SW preamp output is set to Subwoofer, you can set the cutoff frequency of the low-pass filter at 55Hz, 85Hz, or 120Hz. You can also adjust the head unit's subwoofer level between -8 and +8 (separate from the main volume level).
Pro EQ: The KD-R650 is equipped with JVC's Pro EQ. The integrated equalizer offers 12 preset sound modes (Flat, Hard Rock, Jazz, Pop, R&B, Talk, vocal Boost, Bass Boost, Classical, Dance, User 1, or User 2) suitable for the music genre of your choice. The User modes allow you to manually adjust the head unit's 3-band parametric EQ (Frequency, Level, and Q-Factor).
Pro EQ
Frequency
Level
Q
Bass
60, 80, 100, 200 Hz
+/- 12 dB (-6 to +6)
1.0, 1.25, 1.5, 2.0
Midrange
0.5, 1.0, 1.5, 2.5 kHz
+/- 12 dB (-6 to +6)
0.75, 1.0, 1.25
Treble
10.0, 12.5, 15.0, 17.5 kHz
+/- 12 dB (-6 to +6)
Fixed
Note: You can store Pro EQ bass, middle and treble tone settings for each source (CD, AM/FM, Aux, USB, iPod, Pandora/iHeart Radio).
Sound Enhancements: The head unit provides further sound enhancements for your car audio system.
Digital Track Expander: The digital Track Expander utomatically enhances compressed music files and restores the original richness of the recording.
Bass Boost: The unit's Bass Boost enhances low bass frequencies.
Loud (Loudness): This feature boosts low and high frequencies to produce a well-balanced sound at a low volume level. You can set this feature to High, Low, or Off.
Volume Adjust: The input level of each source (other than FM) is adjustable relative to the FM radio volume, so there isn't a significant volume difference when changing sources. Each source is individually adjustable from -5 to +5.
Key Beep: The in-dash head unit provides an audible beep to confirm button operation. This function can be turned On or Off.
Display Features
Detachable Face: The JVC KD-R650 features a detachable face to deter theft. No face-case is provided. An optional soft face case (142DFC1X, sold separately) can be purchased for this unit. A face-fixing screw is supplied for making the face non-detachable, if desired.
Single-Line LCD w/ Fixed Illumination: The head unit features a 11-segment, one-line LCD with white back-lit text and red button illumination (fixed). Adjustable brightness and dimmer settings are available for the LCD and button illumination.
Brightness: The unit offers a daytime and nighttime brightness settings for the LCD and button illumination. You can adjust the brightness level of each manually from 0-31.
Dimmer: The unit's dimmer control can be set automatically or manually; select "Off" for daytime brightness setting, "On" for nighttime brightness setting, or "Auto" which switches between day and nighttime brightness setting automatically when you turn off/on the headlights (orange/white wire of harness must be connected to headlamp circuit).
Day & Time: The unit displays a 12-or 24-hour clock, as well as the day (Sun/Mon/Tue/Wed/Thu/Fri/Sat). The day & time can be selected to remain on, even if the head unit is switched off (as long as the vehicle's key is in the accessory or start position).
Demo Mode: This unit features a Demo mode which can be turned On or Off within the menu.
Remote-Bluetooth Control
Wireless Remote Control: The KD-R650 comes supplied with a wireless remote control (RM-RK52). The remote contains Attenuator, Sound, Source, Tracking, and Volume functions. The remote operates off of a single CR2025 3V Lithium-cell battery (included).
Optional Bluetooth: The JVC KS-BTA100 Bluetooth Adapter (105KSBTA10, sold separately) provides Bluetooth hands-free communication and digital audio streaming functions for the JVC KD-R650. The JVC KS-BTA100 gives you hands-free communication from your compatible Bluetooth mobile phone and wireless streaming audio from a Bluetooth enabled digital audio player, when connected to the JVC in-dash head unit. The JVC Bluetooth Adapter includes a super-sensitive microphone, an Answer/End button, and playback controls. The JVC KD-R650 can be set to automatically mute any music audio to your vehicle's speakers so you can listen to your telephone call using your car speakers.
Note: Not all Bluetooth devices will be compatible. Visit the JVC Mobile Entertainment Bluetooth Support Page for a complete list of compatible Bluetooth enabled devices.
Our Product Research Team
At Crutchfield, you'll get detailed, accurate information that's hard to find elsewhere. That's because we have our own in-house Product Research team. They verify what's in the box, check the owner's manual, and record dimensions, features and specs. We stay on top of new products and technologies to help people make informed choices.
Customer Q&A
3 questions already asked
Thanks for trying to answer my question,i found out from another owner of the same unit that it does read and play mp3 files on a thumb drive.

[ Jose Jan 18, 2015 ]
Thanks for the info.

[ Jose Jan 18, 2015 ]
We never tried a thumb drive in the radio. We had to sell the car and took the radio out

[ DAVID Jan 18, 2015 ]
Yes it will as long as its in a file format it recognizes

[ MARK Jan 18, 2015 ]
Yep it sure does. Here's some info from the manufacturer: The KD-R650 is a detachable-face in-dash CD Receiver with 6-key presets, Aux Input, USB Port for iPhone, iHeartRadio Link Capability, and Pandora Internet Radio capability. Music playback for iPod and iPhone can be controlled from the receiver or music player itself using 2-way iPod control.Both Pandora and iHeartRadio can be used via iPhone (USB) connection.

[ DAVE Dec 18, 2014 ]
Yes very easily done by button

[ Joni Dec 17, 2014 ]
No as far as I know, it does not. I hope that helps.

[ Jonathan Dec 17, 2014 ]
Yes it does!

[ Brockton Dec 17, 2014 ]
Yes it does

[ Fred Dec 17, 2014 ]
yes. the face plate detachs from the radio. I think there's a button you push and it comes off.

[ Craig Dec 17, 2014 ]
Yes it does detach

[ Daniell Dec 17, 2014 ]
Yes, it does.

[ Arnold Dec 17, 2014 ]
Brian, Yes face detaches. However, it stopped working after 6 months.

[ Kris Dec 17, 2014 ]
Yes

[ John Dec 17, 2014 ]
Yes. The push release is located on the bottom left hand corner.

[ Andrew Dec 17, 2014 ]
Yes mot does

[ Arnold Dec 17, 2014 ]
Yes it does. Button is on the bottom left corner.

[ Brad Dec 17, 2014 ]
It should assuming your i-pod doesn't reset the song.

[ DAVE Dec 18, 2014 ]
IT SHOULD. THERE IS ALSO A PAUSE BUTTON,JUST PUSH THE VOLUME KNOB.

[ ANTHONY Dec 14, 2014 ]