JVC KW-NT800HDT
Navigation receiver
Item #: 105KWN800H
This item is no longer available.
Original Price: $849.99
Shop all In-dash GPS Navigation
Need help?
Does it fit my car?
Select your car

Meet JVC's top-of-the-line navigation receiver
You can roam with confidence with JVC's beautiful KW-NT800HDT navigation receiver in your dash. You'll get all kinds of on-the-road goodies, like 3D maps, traffic updates, in-dash apps, and a lot more. JVC has more than doubled the speed of last year's models (no slouches themselves), giving you faster-loading directions, a responsive touchscreen, and snappy overall operation. You can even tilt the 7" touchscreen in either direction to avoid glare.
Stay ahead of traffic jams
The dedicated traffic tuner lets you dial in the free Total Traffic Plus network — you'll enjoy access to real-time traffic info that'll help you steer clear of congestion along your route. Other traffic info services only work in major metropolitan areas, but HD Total Traffic Plus works anywhere a station is broadcasting HD Radio traffic information — over 90 metro areas and counting.
And you can stay on top of traffic while you're outside HD Radio range, too. With the help of an iPhone® app, the KW-NT800HDT switches automatically to the Total Traffic Network over 3G when it senses you're out of range of an HD Radio signal.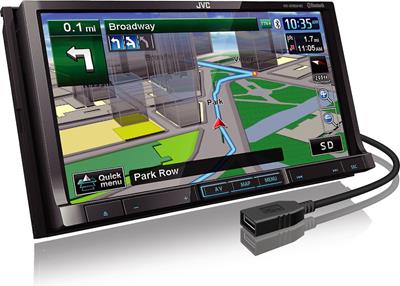 Snappy, full-featured navigation
JVC uses a super-speedy processor in the KW-NT800HDT, meaning when you tap the 7" touchscreen for directions, you'll have them before you leave the parking lot. Pass by a cool spot, but no time to stop? Your passenger can grab your iPhone and add points of interest to your in-dash navigation system.
You'll find some new navigation features that'll really be a big help. Junction View shows you a realistic depiction of an upcoming exit, complete with lane guides. The Picture In Picture view lets you see the big picture, plus a close-up detail. And 3D Landmarks help you get around a city confidence by displaying skyscrapers and other familiar structures. Map text and texture come in crisp, clean, and easy to read on the high-res 7" screen.
Works well with your smartphone
iPhone users, you can download the free iHeartRadio iPhone app and you'll get over 800 of America's favorite local radio stations, as well as your hometown stations while you're out of town. Once you connect your iPhone, you can navigate iHeartRadio stations using the KW-NT800HDT's touchscreen. You'll see album art and song info, plus you can use iHeartRadio's search screen to find music. You can also bring your favorite Pandora® Internet radio stations to your dash. Android™ and BlackBerry® users, you can control Pandora from the KW-NT800HDT's touchscreen over your Bluetooth® connection.
Bluetooth note: Use of this receiver's Bluetooth features will depend upon your phone's Bluetooth capabilities. Learn more in our article explaining Bluetooth profiles.
Want to keep your steering wheel controls?
In most vehicles, you can use an adapter to connect your vehicle's steering wheel controls to this JVC stereo. Connect a few wires, then program the adapter for your particular car and the KW-NT800HDT, and you'll retain the convenience of your steering wheel controls. Check the "Accessories" tab for compatible adapters.
iPod note: If you're going to use your iPod with this receiver, be sure to check "Details" for specific iPod model compatibility.
Product Highlights:
General features:
navigation receiver with AM/FM tuner
built-in amplifier (20 watts RMS CEA-2006/50 peak x 4 channels)
7" color touchscreen with two-way tilt
built-in Bluetooth for hands-free calling and music streaming
built-in HD Radio tuner
dedicated traffic tuner
compatible with iHeartRadio and Pandora iPhone apps
Audio/video features:
iPod control: JVC's KS-U49 cable required for full access to all audio/video content and features
plays CDs and DVDs
24-bit digital-to-analog converter
13-band iEQ and time alignment
Navigation features:
maps of Canada, Puerto Rico, and the entire United States
built-in flash memory for navigation, updates made using an SD card
add your own points-of-interest from Google Maps using your iPhone
Expandability:
compatible with: satellite radio tuner, rear-view camera
inputs: rear-panel A/V and USB inputs, SD-card slot
outputs: video output, 6-channel preamp outputs (2.5-volt front, rear, subwoofer)
Other features and specs:
compatible with most factory steering wheel audio controls (adapter required)
CEA-2006 compliant amplifier
warranty: 1 year
Why install a car stereo with built-in GPS?
Imagine taking a trip as your car's receiver gives you directions, finds the best restaurant for dinner, and plays movies for your back seat denizens. Navigation receivers cover all the bases, with GPS guidance, DVD playback, and a host of other useful features. You can search through millions of points of interest to locate gas stations, restaurants, museums, and other interesting spots, wherever you are. Most receivers offer Bluetooth capability for hands-free calling, along with the ability to search through your iPod playlists with touchscreen controls.
JVC KW-NT800HDT Reviews
Average Customer Review:
12 Reviews
---
Nice Sound & Features.....Lousy GPS Navigation
Written by: Mike from Lakeland, FL on February 21, 2013
Crutchfield Customer Review
(
What's this?
)
Often, I have to input 10 or more addresses in/ day. I can't believe how many addresses it does not find. I then have to use my iPhone MotionX app to find. Even my 5 yr old Garmin windshield mount finds these addresses & the JVC can't. the Garmin map update is 2 yrs old. If you want to find something like a place to eat somewhere other than your current location......forget it. Any functionality to find POI's in another vicinity is practically useless. Also, no current speed indicator....both my Gamin & JVC do that and it is rare for the current speed limit to even show up.....MotionX is always there. There is no visual over speed limit warning but there is an audible that you can set for off, +3mph, +6mph, +10mph & +15mph over. Problem is that even if you have set for +10mph or +15mph and you are going speed limit or under, the warning will repeat over & over. So much so, I just had to turn the feature off completely since it was always so inaccurate. Then there is the hard wired speed input. Most GPS units can tell you how fast you are going wirelessly. This unit is hard wired to the vehicle's speed sensor circuit and it DOES NOT tell you how fast you are traveling, and worse, it has VERY ANNOYING visual warning that comes up repeatedly telling you "Speed Signal Not Detected" that you must click "OK" to get rid of and then it shows up again. There is no way to disable this warning.

Pros: The tilt screen feature is nice. The sound (with my 2002 Jetta Factory Monsoon Amp) is Awesome, however the GPS Navigation SUCKS & the Speed Sensor Circuit needs work.

Cons: If you have an iPhone 4S connected and you turn off the car, often you will need to disconnect the iPhone & re-connect to hear audio again.....very frustrating!!!!!
Written by: Captain Rick from Kissimmee, Fl on January 27, 2013
Crutchfield Customer Review
(
What's this?
)
Great product but the manual on the GPS is a little vague.

Pros: Easy to read screen.

Cons: Doesn't show your speed.
Great overall product with some minor downfalls
Written by: Eugene C from San Francisco, CA on August 4, 2012
I've owned the NT800HDT for about 2 weeks now, and I love it! The GUI is easy to use, button are big, and the unit is just really really responsive in comparison to the Kenwood unit I was considering. The navigation is super fast. It searches quickly, calculates the route quickly, etc etc. Everything on the navigation side is almost perfect. Almost. The downside to this product is this: after you have calculated your route, there is no way to see the route via text to see what turns are coming up in after a certain number of miles. You're at the mercy of the navi's guidance one turn at a time. Like another person has mentioned, it's like printing out a list of mapquest directions, but only being able to see one direction at a time. Another down side to the navigation side is when you search for a POI (ie: Starbucks), after it comes up with a list, the unit never displays the address for each particular POI. You can see where it is on the map and the phone number, but it's difficult to figure out the address just from looking at the 2D map. This is particularly annoying if you're trying to get to a specific starbucks (ie: you like one better than another. Or you're trying to go to one near somewhere you're going.) It's also missing some major cities in my area (Foster City or Colma.) Like another person has mentioned, you can't view the route as text, which is a downer. I've been told the bluetooth calling is a bit choppy, but acceptable. It gets the job done.

Pros: Fast GUI, fast navi, decent bluetooth, plenty of sound options, big buttons, easy to use. Very intuitive. Quick boot up time! JVC Customer service is quick to respond to emails!

Cons: Can't view navi as text, does NOT display addresses of POI's, and is missing cities in the database. Would've been 5 stars had it not been for these downsides!
Written by: Dustin from NW Arkansas on July 10, 2012
2005 GMC Yukon
Crutchfield Customer Review
(
What's this?
)
This unit is amazing, lighting fast, easy to operate, sound is incredible, I installed it in a 2005 GMC yukon, with the steering wheel control kit and everything works great, this head unit is teamed up with the Bose system, and really gave those speakers what they needed. The sound stage is just amazing. I am used to very high end mobile audio and video this head unit with the stock Bose really surprised me on the clarity and the way the sound stage just comes alive. JVC really got it right with this unit, it is a little pricey but considering i'm used to paying even more then this i cant complain. You get what you pay for with this unit, with a little time getting used to the settings and menu, you can set this thing just the way you like, tailored to your listening style and your individual taste which i love. To the others having problems with there Sirius/Xm check your AV setting in the menu, its under audio and then tune your unit over to audio in and you will have it. But does not display on screen is the only downfall with that.

Pros: 13 Band EQ, Crossover, plays anything you want, from SD, iPad,iPod, Flash drives what ever you have it will play it and sound incredible doing it.

Cons: The only con i can think of is that i did not get this head unit sooner!
Feature Rich Radio (...But Some Issues)
Written by: Mike M from Perth Amboy, NJ on July 3, 2012
Crutchfield Customer Review
(
What's this?
)
This radio is full of features. The radio would not read the speed pulse on my 2010 Dodge Grand Caravan. I had to bypass the PAC module and tap into the speed pulse wire right before it entered the computer, which is why I rated the radio 3 stars. I really like the navigation. The only issue with the navigation is that it does not tell you if your destination is on the right or left like Garmin. You also can not use your existing satalite radio connection with this unit.

Pros: Looks Great, Good Navigation, Lots of Features

Cons: Problem Reading Speed Pulse Through PAC Module, Can Not Usre Existing Satalite Radio Connection
A Tidbit about the Sat Radio
Written by: eastender from New Bern, NC on May 25, 2012
My previous radio was the NT3HDT and was very Happy with it for the longest and then I sold my car with it and got the 800 as the replacement. For the most part I'm happy again but I do have some gripes to let you guys know about ahead of time. First would be about the Sat Radio which works with SiriusXm's SXV100 or 200. To read the feature list on the tuner's webpage on crutchfield you'd think you had hit the jackpot of sat radio tuners. Features such as Pause rewind and replay up to 30 min and even up to 60 on the 200. An Alert feature which tells you when your favorite artist or song is playing and gives you the option to directly tune to that station. Itunes Tagging which was only previously availble on HD Radio. The only plus feature that worked on the 200 was the extra latino channels that you could only get on the internet at siriusxm. Needless to say I was pretty upset about the serious let down from the Sat radio features. It is possible that there maybe a software update later on down the road to take advantage of the tuners capabilities but as of the time that I write this there is no such thing. Also little things like the dimmer function no longer can be programmed to operate by the time of the day as oppose to the dimmer switch. This helps out when its raining during the day and in NC its required that you have your lights on when it raining. You can change the color of the physical buttons at the bottom but thats it. the screen is non changeable.

UPDATED 8/4/12: Since my last review a few more things have gone wrong as far as how the Sat Radio lacks. Now, If upon initial startup of the radio if there isn't a clear view of the sky it will say "No Signal" until the next time you turn it on even though I'm clearly hearing the sat radio in the car. Also I just recently purchased JVC's backup camera and the view is quite crystal clear and installation was a breeze. Only problem is that unlike the NT3 the boot up time is a little lagging and sometimes when I'm in a hurry the backup camera fails to turn on. It would appear to be at fault of the head unit because nothing happens on the screen and then there was this one time after I had taken the car out of reverse it decided to now turn on the camera and stay on while I was driving forward. Once the radio is fully booted none of these problems occur. Do yourself a favor and stay away from this one. I'm personally sending this head unit back and opting for Clarion's NX702 which addresses all that I have mentioned before that This JVC is lacking. I was a loyal JVC fan before this but now after this fiasco no more. I'm curious if this had anything to do with Kenwood's merger with JVC. Did the bar get lowered? I've kept up with all of JVC's firmware updates right to the last one which came out this week in particular the July 31st 2012 update and it's still as crappy as ever. My previous radio before the NT3 was Clarion's MAX685BT and was pretty happy with that if not for the fact that cla

Pros: When compared to the others out there I'd buy this any day of the week. I'm A very nit picky person so don't think I hate this radio.

Cons: Also a 2.5V preout whats up with that? while the others have 4. I got a line driver to cure that though. UPDATED 8/4/12: cont... had quit making map updates for it then I would have kept it. It was a dying dinosaur anyways as far as navigation because it used a hard drive instead of the more current flash drive. Which I'm quite sure map updates will no longer be an issue.
Written by: Motion from Detroit, MI on May 22, 2012
I have the same problem as June...The speed pulse issue is annoying. I originally bought the Kenwood 7190HD had to take it back due a slew of features not working. End up purchasing the JVC 800HDT, very responsive touch screen compared to the Kenwood. And the majority of features work. However, There are some bugs with this unit. The speed pulse pop-up is a killer. It pops up whenever I slow down and stays on the screen until I hit the OK button...The GPS unit is average. Would be above average if not for the address search section. It uses a predictive text input (letters) which is cool. However, if the city that your looking for is not already in it's data base you cannot manually type the city in. So your out of luck.

Pros: Very responsive, Quick boot-up, Good features,

Cons: Too many bugs, JVC has no answer and very slow to respond. Can't view JPEG's
Written by: flyin low from Monroe WA on May 10, 2012
Nav is excellent, Tunes are great using SD. I use a 32GB and have over 400 albums. BT phone is functional. Issues are related to BT and cellular technologies beyond any manufactures control. Streaming music using BT works but low fidelity. Did a DIY install using the PAC integration modules.

Initial issues with the deck locking up. Flashing the with latest firmware solved all problems. Sent an email to JVC tech support expecting no response. Had an answer back in less than an hour. Wow, that was impressive, Hats off to JVC tech support!!

Overcame the "nanny state" issue another reviewer complained about. Just ground the light green brake wire.

Pros:

Cons:
Feature rich but does not show routes
Written by: Mike I. from Philadelphia, PA on April 27, 2012
JVC did something really strange in their 2011-2012 line up. They eliminated the ability to view the calculated route as text. Thus, once a route is calculated you have no easy way to see if it makes any sense or even what road it will take you on. Likewise, you can not look to see what road you will be getting on 5 miles ahead.

They do offer something called "route simulation" which is like playing a video of the turn by turn directions one at a time in fast forward. However, you are almost forced to write it down and for a 2 hour route it can take 6+ minutes to see what it has proposed.

Viewing routes as text was possible in the older KW700 series. Why JVC would eliminate this vital feature is beyond me. I asked JVC if there might be an update, they said they only provide bug fixes in their updates not feature enhancements.

Pros: Feature rich

Cons: Inability to view routes as text.
Written by: Brandon from Sterling, VA on April 15, 2012
2012 Nissan Xterra
Crutchfield Customer Review
(
What's this?
)
This is definitely a well made product, with very snappy and easy to use interface. If you're the least bit tech savvy you probably won't even have to look at the users manual to figure it out. I particularly like the navigation. Having used Garmin's for years, I was afraid I would miss them, but I'll have to say I think I like this system better. I particularly like how it let you compare the fastest, shortest, and freeway avoiding routes right up front, that is very useful.

I only have one big nit pick with this unit: it is clearly designed by bunch of nanny-state wonks. Whenever the vehicle starts moving, many menus are grayed out. And the choice of menus to grey out seems completely arbitrary. For example, in the sat radio mode, the channel list becomes unusable. Why? I'm responsible enough to know when I can and can't mess with the radio. Here's the dumbest one: when in usb or cd mode, the artist name and album title disappear when the car is moving, leaving only the track title. That makes absolutely no sense. It is super annoying that I can't glance down and see what artist is playing. Apparently, having 3 pieces of information is likely to make me have a fiery crash. Basically, you're options are very limited when the vehicle is moving. Oh, so you have a passenger that might want to operate it? Too bad. Want to see who that artist is that is playing? Pull over buddy. So incredibly dumb. Minus one star.

Pros: Basically perfect in most ways.

Cons: Marred by nanny-staters, lawyers, and do-gooder politicians. Personal responsibility people! It worked for hundreds of years, what has changed?
Written by: June from Jersey City, NJ on April 3, 2012
Crutchfield Customer Review
(
What's this?
)
I brought this radio think it would be great but it turned out to be a nightmare. The 1st radio I got it would not let me use the space button when you wanted to input addresses and the speed pulse did not work at all; a warning kept popping up every 15 mins. I called JVC and they said it might me a glitch to return it and get another one, well I did and the exact same problem occurred, after calling JVC again they told me that this is not the first case and they have developed new software but there is no release date as of this review. From my experience this unit will be very nice once they get it to work right, check before you buy if the software is updated. Used in 08' Dodge Ram 1500 Quad Cab

Pros: live traffic updates

Cons: Speed Pulse doesn't work right can't use space button for address input needs new software to correct problems
a wonderful entertainment center
Written by: Koolaid Man from Houston,TX on March 22, 2012
I bought this unit to replace the stock radio on a 2007 Toyota RAV 4. It's super intuitive. I didn't read the manual and I was up and running in short time. This is a very good thing because it means it's easy to operate while driving. The display is bright and large! :) a quick glance at the screen is easy to see and makes it safer than smaller units. I also enjoy the traffic condition features and being able to read news and weather via total traffic connect - all free! Pandora and Iheartradio apps are excellent. They work very well with iphone albeit, sometimes the connection burps but a quick disconnect and reconnect this usually solves the problem. Pandora streams music via your iphone and learns what you like if you "thumbs up or thumbs down" the music it plays for you. Iheartradio is different because it allows you to listen to local radio stations from across the country. The bluetooth feature here is also very convinent. You can stream music to your radio and it works and sounds excellent. However, the quality is still better when you use the included USB. The bluetooth phone works very well too. It sounds a little thin than it would if you were holding your phone directly to your ear. The receive audio sounds perfect through the car speakers but the transmit sound is not as robust as your phones microphone. Spend your money once and you'll never look back dissatisfied! Have fun!

Pros: excellent audio, excellent navigation. has everything you need in one box and it does it well

Cons: it's expensive but it has a lot of features
What's in the box?
Double-DIN navigation receiver with integrated 7" touchscreen monitor (15-amp fuse inserted in chasis)
Sleeve (installed) Trim ring (installed)
Wiring harness
AV/preamp harness
Magnetic GPS antenna (with attached 16.5' cable terminated by a proprietary connector)
Microphone with integrated bracketed (attached 12' cable terminated by a right-angle male 3.5mm connector)
Two-side tape
8 Pan head ISO-mount machine screws (M5 x 8mm)
8 Flat head ISO-mount machine screws (M5 x 6mm)
Red wire splice tap (18-22 gauge)
2 Radio removal tools
Instructions (Eng/Fre/Spa)
Installation/Connection Manual (Eng/Fre/Spa)
US warranty information
Canada warranty information
Product Registration Card/Questionnaire
"Caution" note (taped to wiring harness)
Product Research
Touchscreen Display
Onboard Navigation
Built-in Bluetooth
HD Radio + SiriusXM Ready
DVD/CD Playback
USB Port/SD-Card Slot
iPod/Android/Blackberry Connectivity
Audio Section
AV Connections
Remote Control
Touchscreen Display
Motorized Touchscreen Display: The JVC KW-NT800HDT features a motorized 7" TFT Active Matrix, 16:9 touchscreen monitor. The screen has a resolution of 800 (H) x 480 (V) x RGB with 1,152,000 total pixels. The touchscreen LCD serves as a video monitor, system information display and touchscreen control panel. The monitor electronically slides down for loading or ejecting a disc.
Reverse Tilt Monitor: The Reverse Tilt Monitor not only allows the bottom of the monitor to be tilted upward at five different positions, but also enables the top of the monitor to be tilted outward to eliminate reflected glare.
Ultra-Fast Start-Up Time: The JVC KW-NT800HDT has an ultra-fast start up time of approximately 9.4 seconds from Off to the Map screen or an audio/video source screen.
Hard-Key Controls w/ Variable Button Illumination: In addition to the head unit's touchscreen monitor, the KW-NT800HDT features hard-key controls along the bottom edge of the screen. The hard-key controls provide Power, Source, Eject, Volume, Menu, Map, and AV functions. The JVC KW-NT800HDT allows you to adjust the unit's hard-key button illumination. It offers 7 color presets (Blue, Aqua, Green, Yellow, Pink, Red, and Purple) for the hard-key button illumination. Additionally, there is a user preset, allowing you to individually adjust the intensity of Red, Green, and Blue from 0 to 31. There is also a "Scan" setting which scans through all of the 7 available preset colors continuously.
Split Screen View: The KW-NT800HDT's screen views can be easily toggled from one to another simply be touching the screen or appropriate button. The Split Screen View mode divides the screen into two screens, with navigation on the left and a control window on the right. With this Picture-in-Picture type function the head unit can now display the navigation and source screens (or rear-view camera) simultaneously.
Quick Menu: The Quick Menu is user-changeable and can be assigned a set of frequently used features for quicker, easier access. Up to 6 Quick Menu short-cuts can be assigned. The Quick Menu can be accessed from the head unit's navigation Map screen.
Display Adjustment: You can adjust the contrast, color, tint, and detail level during video playback.
Selectable Aspect Modes: You can choose from four aspect modes for the in-dash display:
Regular: For 4:3 source material, 4:3 and 16:9 pictures display with black bars on either side (16:9 images are compressed).
Full: Expands 4:3 pictures horizontally to fill the entire width of the screen, distorting the picture slightly but retaining full image height.
Auto: The correct aspect mode is automatically chosen based on the incoming signal.
Adjustable Dimmer: When the illumination lead (orange/white) is connected and the dimmer set to Auto, the display will dim automatically when you turn on your vehicle's lights. The dimmer can also be set to Off (normal brightness at all times), or On (display is always dimmed). You can also manually adjust the display brightness for Day & Nighttime driving.
Parking Brake Detection: To prevent the displaying of video while the vehicle is in motion, the light-green parking brake wire (within 22-pin harness) must be connected to your vehicle's parking brake detection circuit. While the vehicle is in motion (parking brake off), you can still view many of the other display and menu functions.
Note: When driving at a speed greater than 3 miles-per-hour, some menu screens are not available.
Security Lock: You may program the unit with a 4 digit security code. Once the unit has been programmed with a security code, the code must be entered to use the unit after it has been turned off.
2-DIN Chassis: The JVC KW-NT800HDT has a 2-DIN chassis (also known as Double DIN), and will fit in many vehicles with a large dash opening. The unit can be ISO-mounted using factory brackets, or Euro-mounted using the supplied mounting sleeve. As always, please consult Crutchfield's Outfit My Car to verify fit with your vehicle.
Onboard Navigation
Built-In Navigation (powered by NAVTEQ): The JVC KW-NT800HDT features a built-in GPS Navigation system with maps of the United States (including Hawaii and Alaska), Canada, and Puerto Rico; powered by NAVTEQ Maps. All map data is stored on the unit's 8GB SSD (sold state drive). The unit's 3-sensor navigation system helps to pinpoint your vehicle's current location. Once a destination is set, the unit provides turn-by-turn voice & visual guidance through your vehicle's speakers and the unit's display monitor; using NAVTEQ navigation software.
Note: Car navigation maps are frequently updated. While this database was judged to be as accurate as possible at the time of its release, a map database can never be 100% accurate. Road information that is maintained in the map databases, such as turn restrictions or road names may change over time.
Map Updates:Map updates via an SD/SDHC memory card can be purchased at the online NAVTEQ store.
3-Sensor Navigation: The JVC KW-NT800HDT is equipped with a high-sensitivity WAAS capable GPS receiver (SiRFstarIII), Speed Pulse wire, and Gyro sensor to calculate your vehicle's current location.
GPS Antenna: The KW-NT800HDT comes supplied with a GPS antenna that features a magnetic base and an attached 16.5' cable terminated by a proprietary plug which connects to GPS-ANT input on the back of the head unit. The unit also comes supplied with a two-side self-adhesive pad if you are having trouble finding a flat metal surface to mount the antenna. The GPS antenna can be mounted inside the vehicle (on the dash) or outside the vehicle (on the roof or trunk). The GPS antenna measures 1.3125" (w) x 0.5625" (h) x 1.4375" (d).
On-Screen Map: As you travel, the KW-NT800HDT guides you to your destination with voice prompts, arrows on the map, and on-screen directions. At the bottom of the screen is your current street, while the top of the screen shows your next street; the upper-left corner indicates the distance to your next maneuver. Your route is marked with a light-blue line, while your vehicle is marked by a red arrow (or car) on the screen, and checkered flag marks your destination. A magnified view of the map is displayed when approaching your next turn. When you reach an area approximately within 90' around the destination/via point, the navigation system considers you to have reached your destination/via point. If you depart from the original route, the navigation system recalculates the route and provides new directions. You can adjust the following map settings.
2D/3D Maps: You can changes the perspective of the map from 2D North-Up (displays the map in 2 dimensions with North at the top), 2D Heading-Up (displays the map in 2 dimensions with your direction of travel at the top of the screen), 3D Map (displays the map in 3 dimensions with your direction of travel at the top of screen).
Map Views: You can zoom in and out of the map screen, as well as scroll the map screen left/right or up/down. You can also rotate a 3D map screen 360-degrees.
Night Map Mode: Night Map Mode dims the map display when driving at night. You can turn this feature On/Off or set to Auto so the map display dims when you turn on your vehicle's headlights (the unit's illumination control lead connect is required for Auto mode).
Note: An AV Control Bar is displayed on the map screen, so you can still perform AV source operations even while navigating.
3D Landmarks: The KW-NT800HDT's navigation map features three-dimensional buildings to provide you with a better perspective of your surroundings. With 3D Landmarks, you can see representations of prominent buildings in many cities.
Voice Guidance (with Text-to Speech): When you approach a turn, the KW-NT800HDT guides you with voice guidance (Text-to-Speech) through your vehicle's front speakers and visual indications on the KW-NT800HDT's screen. The unit offers 3 voice guidance languages including English, Spanish and French; with adjustable volume (0-20).
Note: You can continue to listen to your music source while navigating. The KW-NT800HDT will mute the music source, when there is a text-to-speech voice prompt. Once the voice prompt has ended, your music volume will automatically raise to previous setting.
Lane Assist w/ Junction View: The Lane Assist function guides you to the appropriate lane you should be in for upcoming junctions and interchanges, while Junction View displays a realistic view of upcoming road details facilitating a safer navigation experience.
Destination Search: The JVC KW-NT800HDT offers the following Destination Search functions:
Destination Search
Description
Browse Map
Select a point on the map for your destination by touching the screen.
Home
Register one point as your home address.
Address
Search by address using the unit's on-screen keyboard.
Favorites
Register 300 of your favorite points so you can easily navigate to them from anywhere at any time.
Previous
Search from the history of previous destinations and via points from the last 50 points.
8,000,000 POIs (from NAVTEQ)
Name
Search for points-of-interest by specific name using the on-screen keyboard.
Category
Search by the following POI categories - Gas Station, Parking, Restaurant, Coffee/Deserts, Finance, Shopping, Service, Entertainment, Recreation, Hotel/Accommodation, Travel, Medical, Community, or Automotive.
Vicinity
Search for POIs around the following places - your current position, your destination, or your via point(s).
Phone Number
Search a destination by entering its telephone number using the unit's on-screen keypad.
Coordinates
Search by entering the latitude and longitude.
Note: Moving at a specific speed (3+ MPH) engages safety measures in the navigation system to encourage safe driving. Only instantly accessible points-of-interest and simple menu systems are accessible, unless the car is stopped. Otherwise, an address cannot be entered (the keyboard is disabled). The vehicle must be stopped and the parking brake will need to be engaged to enable these functions.
Total Traffic+ HD Network: The KW-NT800HDT also includes free lifetime subscription to Clear Channel's Total Traffic+ HD Network, which provides real-time on-screen traffic updates; as well as News, Sports, and Weather Information. Total Traffic+ HD Network delivers real-time traffic data for 100 metropolitan markets in the United States. Total Traffic+ HD Network provides incident, event, construction, congestion, and impact information during your travels. Using this real-time traffic data, the JVC KW-NT800HDT can automatically calculate a new route when approaching a traffic event; saving you time and fuel resources, and helping to alleviate roadway stress.
Traffic List: The Total Traffic+ HD Network provides of a list of traffic incidents in your local area so you can choose a preferred route around these areas - even before you start navigating. While navigation is active, you can even view all traffic incidents ahead on your desired route.
Traffic Warnings: The KW-NT800HDT provides incident warnings for traffic congestion, road construction, and weather hazards. Once a traffic incident is selected, detailed information can be viewed about the exact location and distance from your current position
Traffic Alerts: Traffic alerts appear on-screen as you approach incident locations. You can choose to reroute manually, continue your current route, or have the KW-NT800HDT automatically reroute you around these areas.
Headline News: Information on National, World, Sports, and Business news downloads automatically. Full news stories can also be selected for reading on-screen.
Sports Scores: You can look up scores from current national sporting events.
Weather Info: You can view local and national weather conditions on screen.
Note: Total Traffic+ HD Network coverage map.
Hybrid TTN+ Mode: When you are out of HD radio coverage, the Hybrid Total Traffic Network+ Mode receives news and real-time traffic information from the iHeartRadio Link app on your USB connected iPhone.
NewsService Journaline: NewsService Journaline delivers hierarchically structured textual information, enabling you to easily and immediately access traffic information you are most interested in from the JVC in-dash navigation receiver. You can browse all received traffic information, both program-related and program-independent textual information, and select your favorite traffic news items.
Routing Preferences: You can select how the unit will calculate your route by adjusting the following settings:
Route Priority: You can select the unit to either calculate the fastest timed route or shortest distant route.
Route Avoidance: You can select to use or avoid the following types of roads; Freeway, Toll Road, Ferry, or Bypass Traffic.
Via Points: After selecting your destination, you can select up to four places (via points) to stop by along your route.
Adjusting Vehicle Position: If you find your current position is displayed incorrectly on the map, you can adjust your vehicle's position/location.
Speed Alert: The system sounds an alarm when you surpass the speed limit of the current road by a set value. You can choose for the unit to alert you when you are 3, 6, 10, 15, or 20 miles over the speed limit.
Simulate: You can simulate a desired route to confirm what your trip will look like.
Built-in Bluetooth
Bluetooth Technology: The JVC KW-NT800HDT features built-in 2.4GHz Bluetooth technology (version 2.1+EDR). The KW-NT800HDT's built-in Bluetooth technology promotes safe driving habits by allowing you to have a hands-free conversation while driving, without the need to hold a phone to your ear. Your Bluetooth enabled phone can be kept in your purse, pocket, or glovebox; while you communicate through the JVC navigation receiver. The head unit also support Bluetooth audio streaming from your Bluetooth enabled smartphone or digital audio player.
Bluetooth Profiles: In order to use Bluetooth wireless technology, your phone must also be Bluetooth compatible and be able to interpret certain profiles. This unit is compatible with the following Bluetooth Profiles:
Hands-Free Communication: HFP (Hands Free Profile), OPP (Object Push Profile), PBAB (Phone Book Access Profile).
Audio Streaming: A2DP (Advanced Audio Distribution Profile), AVRCP (Audio/Video Remote Control Profile).
Pairing: Your Bluetooth enabled mobile phone or digital audio player must be paired with KW-NT800HDT before hands-free & wireless operation. You can register up to five Bluetooth enabled devices with the JVC head unit. You can keep two phones connected at all times (only one can be used during a call). Due to the differences in Bluetooth technology, some Bluetooth enabled devices may be incompatible, function improperly, or may not support all features when used with the JVC head unit. See JVC's Bluetooth compatibility chart for a complete list of compatible Bluetooth enabled devices.
External Microphone: The JVC KW-NT800HDT includes an external microphone to carry on your side of your phone conversation and voice command dialing. The external wired microphone offers improved audio quality versus an integrated microphone, so you can be heard easier over noisy traffic and road noise. You can adjust the level of the microphone without affecting the other sources. The external microphone features an attached 12' cable terminated by a right-angle 3.5mm connector which plugs into the mic input on the rear-panel of the head unit. The microphone offers an integrated mounting bracket which can be clipped to your vehicle's sun-visor or taped to your dash. The external microphone measures 0.525" (diameter) x 1.485" (depth). This unit does not offer an integrated front-panel microphone.
Bluetooth Hands-Free Communication: The head unit supports Bluetooth hands-free communication for your Bluetooth enabled mobile phone. The touchscreen controls of the KW-NT800HDT can be used to dial a number, answer an in-coming call, or end a call. The unit also features an external microphone (featuring adjustable gain), so you can carry on your side of the conversation while listening to the caller through your vehicles speakers (front or all). During a conversation, you can switch between the Private Mode (talking directly on your cell phone) and the Hands Free Mode.
Answering a Call: When a call comes in, a ring-tone will be heard through your vehicle's speaker and the caller's name or phone number will be displayed on the head unit's touchscreen monitor. You can answer the call from the head unit's touchscreen, or setup the head unit to automatically answer the incoming call within 5 seconds.
Dialing a Number: Using the KW-NT800HDT, you can dial a phone number in one of the following ways:

Entering a Phone Number: Allows you to directly dial a phone number up to 32 digits from the head unit's touchscreen.
Speed (Preset) Dialing: Allows you to register up to 6 phone numbers for quick dialing. The preset numbers can be accessed from the head unit's touchscreen.
Phone Book: You can download phone book data from your cell phone to the KW-NT800HDT, so you can then dial by using the downloaded phone book numbers. Up to 5,000 numbers can be stored for each registered cell phone. Each number can be up to 32 digits long and each name can be up to 50 characters long. You can do an alphabetical search (A-Z) to find your desired contact.
Call Log: The Call Log is a list of calls that have originated from and were received by this unit that you can dial. You can select Outgoing, Incoming, or Missed calls (up to 50 each).

Note: While your vehicle is moving over 3mph, some Bluetooth hands-free communication functions are disable for safety reasons. The keys associated with the disabled functions become ineffective if touched.
Wireless Audio Streaming: The JVC KW-NT800HDT also supports wireless audio playback (AD2P) and control (AVRCP) of a Bluetooth enabled audio player or smartphone. The KW-NT800HDT will be able to control basic playback functions of your Bluetooth device's stored music; such as Play/Pause, Skip Next/Previous, and Fast Forward/Rewind. The head unit will also display your stored music's song information; such as Song and Album title. The KW-NT800HDT also supports audio streaming of select music apps from your Bluetooth enabled smartphone, but without control or metadata. You will continue to use your Bluetooth enabled smartphone to view and control streaming music apps. When an incoming call or outgoing call is in progress from your Bluetooth enabled mobile phone, audio streaming will be paused so you can take your call. Once the call is finished, your streaming music will resume.
HD Radio + SiriusXM Ready
Built-in HD Radio: With the built-in HD Radio tuner, you can receive digital AM/FM broadcasts from local stations where available. HD Radio technology significantly improves audio quality and reception, as well as includes information such as artist name and song titles or traffic news, viewable on the receiver's display. HD Radio Technology will deliver high-quality digital sound. AM digital will have FM-like quality in stereo, while FM digital will have CD-like quality sound with static free and clear reception.
Note: HD Radio is the system for digital AM and FM broadcasting in the U.S. More than 2,000 radio stations are broadcasting their primary signals in digital HD Radio technology, as a free service. Go to HDRadio.com to check for HD Radio stations in your area.
Multicasting: In addition to conventional broadcasts, with HD Radio broadcasting, it is possible to choose from up to 8 multicast programs (HD1 to HD8 and analog). There are also data programs for each program.
Artist Experience: AM/FM digital stations can offer text and data such as artist names and song titles, as well as Album Art and historical photographs. The built-in HD Radio tuner displays song, artist, and station information, as well as Album Art on the display of the JVC KW-NT800HDT.
iTunes Tagging: It is possible to save the song's information (tag) from a HD Radio broadcasting station to your USB-direct connected iPod/iPhone. The songs will show up in a playlist called "Tagged" in iTunes the next time you sync your iPod/iPhone. Then you can directly buy the songs you want from the iTunes Music Store. You can "tag" up to 50 songs. Your iPod/iPhone must have at least 64KB of free space to "tag" and transfer songs. iTunes 7.4 or later is required to purchase "tagged" songs.
Analog Broadcasts: In addition to HD AM/FM stations, the KW-NT800HDT can also receive conventional analog AM/FM broadcasts.
Digital/Analog Tuning: You can setup the KW-NT800HDT to search both analog and digital radio stations, only HD Radio stations, or analog radio stations only.
Digital/Analog Presets: You can set up to 18 FM and 6 AM digital/analog presets stations as presets (HD Radio multicast channels can also be preset). Presets can be set manually or automatically, using Strong-station Sequential Memory (SSM).
IF Filter: You can also switch the analog tuner's IF filter to Wide or Auto to increase/decrease the sensitivity.
SiriusXM Ready: The JVC KW-NT800HDT comes ready for SiriusXM programming with access to XM & Sirius Satellite Radio stations. Thanks to its proprietary SiriusXM Connect port, you can add the optional SXV200V1 SiriusXM Connect tuner and receive more than 150 channels of exclusive programming directly from SiriusXM, via the "SiriusXM All Access" package (subscription required). Visit SiriusXM.com for a complete list of subscription options & channel guide. Additional features of the SXV200 SiriusXM Connect tuner include:
Channel list displays a list of all available channels
Category Search searches for channels in a certain category
Displayed Information such as Channel Name, Artist Name, & Song Title can be viewed on the head unit's LCD
Up to 18 SiriusXM Satellite Radio station presets
Channels containing unsuitable content for children can be blocked
Note: A separate SiriusXM Satellite Radio subscription is required (operates on the XM Network). If you already have a Sirius Satellite Radio subscription, this radio cannot be added as a discounted second unit. If you have an existing XM Satellite Radio subscription, you can add this unit as a discounted second unit.
DVD/CD Playback
Compatible Discs: The JVC KW-NT800HDT supports playback of DVD-Video, DVD-R/RW, DVD+R/RW, CD-Audio, CD-Text, CD-R/RW discs. The touchscreen monitor electronically slides down for loading and ejecting discs.
Compressed Music Playback: The KW-NT800HDT can play AAC (32-320 kbps), MP3 (bitrate: 32-320 kbps), WMA (bitrate: 32-320 kbps), WAV (bitrate: 16 bit) audio files recorded onto DVD-R/RW, DVD+R/RW, and CD-R/RW discs. AAC, MP3, WMA, and WAV files must be formatted in ISO 9660 level or level 2, Romeo, or Joliet. The head unit can recognize a total of 5,000 files and 250 folders (a maximum of 999 files per folder). This unit will recognize a total of 25 characters for file/folder names. The KW-NT800HDT can display ID3 Tags (ver. 1.0/1.1/2.2/2.3/2.4) for MP3 files, as well as WAV/WMA Tag information.
Playback & Search Functions: The KW-NT800HDT offers the following playback & search functions for DVD/CD playback; Folder/File Search, Play/Pause, Fast Forward/Reverse, Next/Previous Track, Random (all/disc), and Repeat (track/chapter/folder).
DVD Touchscreen Control: During DVD playback, you can control certain operations simply by touching an area of the screen. The touchscreen has 3 functions areas. You can touch the left of the screen to start the current chapter over, or the right of the screen to skip to the next chapter. Pressing the middle of the screen activates the DVD playback on-screen buttons.
Disc Resume: If you change the source, playback also stops (without ejecting the disc). Next time you select CD for the playback source, the disc will start from where it has been stopped previously.
Mounting: For proper disc playback you must install the unit within 30-degrees of horizontal.
USB Port/SD-Card Slot
USB Port: The JVC KW-NT800HDT features a rear-panel USB (type-A) port on a 38" pigtail to connect your USB device. For the unit to recognize your USB device, it must be specified as a mass storage class device. Up to 4 USB devices can be connected to the head unit's USB port via a USB hub (sold separately). USB portable audio players that can be charged via USB will be charged when plugged into the navigation receiver's USB port (5V/1A), and the vehicle's ignition switch is set to ACC or On.
SD-Card Slot: The JVC KW-NT800HDT is equipped with a front-panel SD-card slot hidden behind the unit's motorized slid-down touchscreen monitor. The unit supports SD (up to 2GB) and SDHC (up to 32GB) memory cards.
Compatible Media Files: The head unit supports audio and video playback from USB mass storage class devices and SD/SDHC memory cards formatted in FAT 12/16/32. The KW-NT800HDT can recognize a total of 9,999 folders with a maximum of 999 files per folder (per USB device or SD card).
Music Files: The KW-NT800HDT supports AAC (bitrate: 32-320 kbps), MP3 (bitrate: 32-320 kbps), WMA (bitrate: 32-320 kbps), WAV (bitrate: 16 bit), FLAC (bitrate: 16 bit) audio files stored on a USB msc device or SD/SDHC memory card. The KW-NT800HDT can also display ID3 Tags (ver. 1.0/1.1/2.2/2.3/2.4) for MP3 files, as well as WAV/WMA Tag information and iTunes m4a metadata.
Video Files: The KW-NT800HDT supports MPEG4 (picture size 720x480; 30fps), AVC H2.64, (picture size: 720x480; 30fps), and WMV (picture size: 720x480: 30fps) video files stored on a USB msc device or SD/SDHC memory card.
Playback Controls: You can control basic playback functions; such as Folder/File Search, Play/Pause, Fast Forward/Reverse, Next/Previous Track, Random (folder), and Repeat (track/folder).
iPod/Android/BlackBerry Connectivity
iPod/iPhone Connectivity: The JVC KW-NT800HDT supports audio/video playback from select Apple iPods & iPhones. The JVC KW-NT800HDT's rear-panel USB (type-A) port and rear-panel 3.5mm iPod Video input allow you to connect your Apple iPod/iPhone using the JVC KS-U49 iPod cable (105KSU49, sold separately). Video can only be displayed while the vehicle's parking brake is engaged. If you only want to playback audio from your iPod or iPhone, you can simply connect it to the KW-NT800HDT's rear-panel USB port using either the USB/iPod dock cable that came with your iPod/iPhone or PIE's iPod Direct Connect Cable (469USBIPH, sold separately).
Note: If you have an iPod nano (7th gen), iPod touch (5th gen), or iPhone 5; use the Lighting-to-USB cable that came with your Apple device to connect to the head unit. These Apple devices only support audio playback (no video output).
iPod/iPhone DAC Bypass: Because the JVC KW-NT800HDT uses its USB connection for audio & control transfer, your iPod/iPhone's stored music is loaded instantly to the head unit and sound quality is maximized through the head unit's 24-bit D/A converter, allowing for a Signal-to-Noise ratio up to 100dB.
iPod/iPhone Control: You can choose to control your iPod/iPhone from the JVC head unit or from your iPod/iPhone's touchscreen or clickwheel. The KW-NT800HDT offers 3 control modes - Head Unit, iPod, and External.
Head Unit: From the head unit's front-panel controls you can search for music by Playlist, Artist, Album, Song, Podcast, Genre, Composer, and Audiobook. You can search video by Playlist, Movies, Music Videos, TV Shows, Video Podcasts, Rentals, and iTunesU. Once a Playlist or Category is selected, the content is listed in alphabetical order. The KW-NT800HDT also supports Repeat (file/all) and Random (album/all) playback functions of your iPod/iPhone.
iPod: You can choose to navigate your iPod or iPhone's stored music and videos from its clickwheel or touchscreen, like you are accustomed to during normal usage.
External (App Mode): External Mode lets you enjoy audio/video content from downloaded Apps (such as Netflix, or YouTube, etc..) streamed to your Apple iPhone, on the KW-NT800HDT (using the JVC KSU-49 cable; sold separately). Video can only be output from the iPhone 4/4S. This mode offers no control of your iPhone. You will continue to use your iPhone's touchscreen to navigate your Apps. The External Mode's video function can only be accessed when the vehicle's parking brake is engaged. Audio content from select music apps (such as Last.fm or Rhapsody) can also be enjoyed from any iPhone.
Note: Access to your iPhone's downloaded application will depend on the availability of a cellular and/or WiFi network for purposes of allowing your iPhone to connect to the Internet.
Pandora App: The Pandora App (free) lets you play music from the Pandora music service through the JVC KW-NT800HDT using your connected Apple iPhone, via the USB/iPod connector cable (included with your iPhone) or the JVC KSU-49 cable (sold separately). The JVC KW-NT800HDT provides control over the Pandora music service and displays Artist, Album, and Song information. You can select Pandora stations from your station list; you can sort the station list by date or A-Z. You can also skip song tracks within a station. In addition, you can also give songs a thumbs up/down and bookmark songs/artists. To access Pandora you must have an Apple iPhone (iOS3 or later) with the latest version of the Pandora application from Apple's iTunes App Store. Your iPhone will need an active Data Plan account with connection to the Internet via 3G, EDGE, or WiFi. You will also need a Pandora music service account.
Note: Access to the Pandora service will depend on the availability of a cellular and/or WiFi network for purposes of allowing your iPhone to connect to the Internet. Pandora is not supported in Canada and only available in the United States.
iHeartRadio Link for JVC: The iHeartRadio Link for JVC (free app) is an Apple iPhone application that delivers access to over 750 Clear Channel local radio stations in both AM and FM, as well as commercial-free and artist-programmed channels. The free iHeartRadio Link app lets you play music from the iHeartRadio music service through the JVC KW-NT800HDT using your connected Apple iPhone, via the USB/iPod connector cable (included with your iPhone) or the JVC KSU-49 cable (sold separately). All stations are streamed in high-quality AAC format. The JVC KW-NT800HDT will display song & artist information, as well as Album Art. You can select available stations from the unit's on-screen station list, which includes - Favorites (up to 100), Featured, Local Stations, All Cities, National Stations, Genres, and Personalities. You an also have the head unit randomly select stations for you. iHeartRadio even provides "tag" information for each song, so you can transfer "tag" information to your connected iPhone and purchase your "tagged" songs later from the online iTunes store.
Note: To access iHeartRadio you must have an Apple iPhone (iOS 4.2 or later) with the latest version of the iHeartRadio Link application from Apple's iTunes App Store. Your iPhone will need an active Data Plan account with connection to the Internet via 3G, EDGE, or WiFi.
NaviBridge for iPhone: NaviBridge is a free iTunes application that allows you to remotely control the JVC navigation head unit by setting a destination from your USB connected iPhone. You can set a destination from your iPhone's Google Map screen, or select one from your iPhone's stored Contacts or Bookmarks (up to 100). NaviBridge is compatible with the iPhone 3G/3GS/4/4S (running iOS ver. 4.3 or later).
iPod/iPhone Display: The KW-NT800HDT will display your iPod/iPhone's music file information of your stored music, regardless of control mode. The head unit will display Track number, Elapsed playing time, Artist name, Song/Album title, and Album Art. Pandora and iHeartRadio song/artist information will also be displayed. Other downloaded music apps will not display on the unit's LCD monitor.
iPod Charging: The head unit's USB connection provides 1A of current to power and charge your connected iPod/iPhone when your vehicle's ignition switch is set to the 'ACC' or 'On' position. This unit does not charge the iPad. If your iPod/iPhone has no initial battery charge, then the unit will not recognize it.
iPod/iPhone Compatibility Chart: The JVC KW-NT800HDT is "Made for iPod/iPhone" compatible and supports the following iPod/iPhone model features (as of 10/16/2012):
iPod/iPhone Model
Generation
Tested Version
Media Type
Control Type
Display Type
Apps
Charge
Audio
Video
Head Unit
iPod
App Mode
Album Art
Song/Artist Text
Track Info
NaviBridge
iHeartRadio
Pandora
dock connector
3rd
N/A
N
N
N
N
N
N
N
N
N
N
N
N
clickwheel
color
4th
N/A
N
N
N
N
N
N
N
N
N
N
N
N
mini
1st
N/A
N
N
N
N
N
N
N
N
N
N
N
N
2nd
N/A
N
N
N
N
N
N
N
N
N
N
N
N
video
5th
1.3
Y
Y
Y
N
N
Y
Y
Y
N
N
N
Y
classic
80GB
1.1.2
Y
Y
Y
Y
N
Y
Y
Y
N
N
N
Y
120GB
2.0.1
Y
Y
Y
Y
N
Y
Y
Y
N
N
N
Y
160GB
2.0.4
Y
Y
Y
Y
N
Y
Y
Y
N
N
N
Y
nano
1st
1.3.1
Y
N
Y
N
N
Y
Y
Y
N
N
N
Y
2nd
1.1.3
Y
N
Y
Y
N
Y
Y
Y
N
N
N
Y
3rd
1.1.3
Y
Y
Y
Y
N
Y
Y
Y
N
N
N
Y
4th
1.0.4
Y
Y
Y
Y
N
Y
Y
Y
N
N
N
Y
5th
1.0.2
Y
Y
Y
Y
N
Y
Y
Y
N
N
N
Y
6th
1.1 PC
Y
N
Y
Y
N
Y
Y
Y
N
N
N
Y
7th
1.2
Y
N
Y
Y
N
Y
Y
Y
N
N
N
Y
touch
1st
2.2.1
Y
Y
Y
Y
N
Y
Y
Y
N
N
N
Y
2nd
4.2.1
Y
Y
Y
Y
N
Y
Y
Y
N
N
N
Y
3rd
5.1.1
Y
Y
Y
Y
N
Y
Y
Y
N
N
N
Y
4th
6.0
Y
Y
Y
Y
N
Y
Y
Y
N
N
N
Y
5th
6.0
Y
N
Y
Y
N
Y
Y
Y
N
N
N
Y
iPhone
2G
3.1.3
Y
Y
Y
Y
Y
Y
Y
Y
N
N
Y
Y
3G
4.2.1
Y
Y
Y
Y
Y
Y
Y
Y
Y
Y
Y
Y
3GS
5.1.1
Y
Y
Y
Y
Y
Y
Y
Y
Y
Y
Y
Y
4
6.0
Y
Y
Y
Y
Y
Y
Y
Y
Y
Y
Y
Y
4S
6.0
Y
Y
Y
Y
Y
Y
Y
Y
Y
Y
Y
Y
5
6.0
Y
Y
Y
Y
Audio only
Y
Y
Y
N
Y
Y
Y
iPad
1
6.0
Y
Y
Y
Y
Y
Y
Y
Y
Y
Y
Y
N
2
6.0
Y
Y
Y
Y
Y
Y
Y
Y
Y
Y
Y
N
2
6.0
Y
Y
Y
Y
Y
Y
Y
Y
Y
Y
Y
N
Note: Apple iPod/iPhone software updates may change functionality results. If you download a newer software version, you may need to reset the head unit and your iPod/iPhone to regain functionality. If this doesn't work, you may need to wait until a newer software update is available.
Drive Change Mode (for Android/BlackBerry): The JVC KW-NT800HDT's USB port supports playback from Android & BlackBerry smartphones (via USB mass storage mode). JVC's Drive Change Mode lets you connect your Android or BlackBerry smartphone (that uses an external memory card) directly to the head unit, via USB. Drive Change Mode will let you switch between your Android or BlackBerry smartphone's internal and external memory (such as microSD Card), so you can listen to music stored on either memory. You'll continue to be able control basic playback functions; such as folder/file search, play/pause, and skip next/previous; regardless of memory type.
Audio Section
24 Bit D/A Converter: The JVC KW-NT800HDT utilizes a 24-bit digital to analog converter for superior sound quality.
MOSFET Amplifier: The KW-NT800HDT is equipped with a MOSFET amplifier. Compared to conventional power supplies, the MOSFET amplification circuit is smaller and more efficient, and it delivers increased power with less distortion and absolutely zero on/off switching noise. More power means louder and cleaner music at higher volumes because you're not pushing the limits of the amplification circuit.
CEA2006 Compliant: The power specifications for the KW-NT800HDT are compliant with the CEA2006 Mobile Amplifier Power Testing and Measurement standards from the Consumer Electronics Association (CEA). These standards were developed as a way to equitably compare power specs from model to model and between manufacturers. The power output specs for the KW-NT800HDT are as follows:
CEA2006 Specs: 20 watts RMS x 4 channels (at 4 ohms, 20Hz-20kHz, 1% THD-N)
Maximum Power Output: 50 watts x 4 channels (200 total watts)
Amplifier Gain Control: When you are using the KW-NT800HDT with factory speakers (or those rated to less than 50 watts peak), the Amplifier Gain Control can limit the amount of power being sent to those speakers. When the Amp Gain Control is set to low, the volume control ranges from 0 (minimum) to 30 (maximum). When using speakers rated higher than 50 watts peak, you can set the Amp Gain Control to high, and the volume control will range from 0 to 50. The internal amp can also be turned off when all the speakers are powered by outboard amplifiers.
Volume Adjust: The input level of each source (other than FM) is adjustable relative to the FM radio volume, so there isn't a significant volume difference when changing sources. Each source is individually adjustable from -5 to +5.
2.5V/6CH Preamp Output: The KW-NT800HDT is equipped with three pair of 2.5V preamp outputs (Front/Rear/Subwoofer). The front & rear preamp outputs offer balance/fade control and are designed to hookup to a full-range 4-channel amplifier. The subwoofer preamp output is non-fading and designed to hookup to a mono-block subwoofer amplifier. You can adjust the head unit's subwoofer level between -50 and +10.
Digital Crossover Network: The KW-NT800HDT features a variable high pass crossover for the front & rear speakers, as well as a low pass crossover for the subwoofer.
Front: Frequency (Through, 30/40/50/60/70/80/90/100/120/150/180/220/250Hz), Slope (-6/-12/-18/-24dB), Gain (-8 to 0dB), Tweeter Level (-8 to 0dB)
Rear: Frequency (Through, 30/40/50/60/70/80/90/100/120/150/180/220/250Hz), Slope (-6/-12/-18/-24dB), Gain (-8 to 0dB)
Subwoofer: Frequency (Through, 30/40/50/60/70/80/90/100/120/150/180/220/250Hz), Slope (-6/-12/-18/-24dB), Gain (-8 to 0dB), Phase (Normal/Reverse)
Equalizer: The JVC KW-NT800HDT provides both a Preset EQ for quick musical adjustment and 13-Band EQ for more advanced customization.
Preset EQ: Choose from Flat, Dynamic, Bass Boost, Natural, Vocal Boost, Vibrant, or User 1/2/3/4.
13-Band EQ: Each user mode lets you adjust the head unit's 13-band equalizer; 62.5Hz, 100Hz, 250Hz, 400Hz, 630Hz, 1kHz, 1.6kHz, 2.5kHz, 4kHz, 6.3kHz, 10kHz, and 16kHz (+/- 9dB).
Source Link EQ: This feature allows you to store EQ settings for each source (Disc, AM/FM, AV-IN, USB, iPod, Bluetooth, iHeart Radio, and Pandora).
DSP Control: The JVC KW-NT800HDT's Digital Sound Processor (DSP) offers various vehicle, audio, and driver settings to improve the sound in your car, truck, SUV, or van.
Vehicle Criteria: You are able select the type of vehicle, your seated position, and speaker distance to better quality your vehicle's sound.

Vehicle Type: can choose what type of vehicle you have; Compact, Full-size Car, Wagon, Minivan, SUV, or Van (full-size)
Seated Position: for a better sound-stage you can select your optimal listening position; choose from All, Front Left, Front Right or Front
Time Alignment: manually fine tune the sound stage by selecting the distance for each individual speaker in the vehicle compared to your listening position; select between 1.6-16.4' for the Left Front Speaker, Right Front Speaker, Left Rear Speaker, Right Rear Speaker, and Subwoofer

Speaker Settings: You can set the size and location of your vehicle's speakers.

Front: Size (OEM, 3.5", 4", 5", 5.25", 6.5", 6.75", 7", 4x6", 5x7", 6x8", 6x9", 7x10"); Location (Door, On Dash, Under Dash), Tweeter (None, Small, Medium, Large)
Rear: Size (None, OEM, 3.5", 4", 5", 5.25", 6.5", 6.75", 7", 4x6", 5x7", 6x8", 6x9", 7x10"); Location (Rear Deck, Door)
Subwoofer: Size (None, 6.5", 8", 10", 12", 15")

Sound Enhancements: The head unit provides further audio enhancement for better sound in your vehicle.

Space Enhancer: set the Space Enhancer to Small, Large, or Off. Each setting value indicates the soundscape level
Sound Stage Elevation: creates an affect of hearing the sound from a higher place than the actual position of your vehicle's speakers
Loud (Loudness): boosts low and high frequencies to produce a well-balanced sound at a low volume level
Bass Boost: four-step Bass Boost (Off/1/2/3) to enhance your music's lower frequencies

Compressed Music Enhancers: The head unit offers several audio adjustments dedicated to enhance the sound quality of your compressed digital music.

Audio Contrast: sharpens vague sound to make the audio more realistic; effective for compressed music data
D.T. Expander (Digital Track Expander): reproduces the natural sound of digital audio sources by restoring data that was lost and waves that were changed during audio compression to their original states; effective for compressed music data

Driver Sound Improvements: The KW-NT800HDT features various audio settings to help improve your driving and audio experience.

Start Up Sound Level: starts the head unit with a volume lower than when the system was turned off; you can then manually turn it up back to the previous level
Road Noise Compensation: increases the volume of little sound that can be easily washed out by road noise and boosts the bass
Adaptive Volume: automatically increases the volume level (both for Navigation and audio/video) as the car speeds up; you must connect the unit's Speed Signal wire (pink/gray) to your vehicle's speed sensor wire
Reverse Audio Reduction: attenuates the receiver's AV sound when you shift your vehicle into reverse, so you can concentrate more on backing up your vehicle safely
Dynamic Range Compression: The dynamic range can be adjusted by selecting either Normal, Wide or Dialog. Dialog makes the total sound volume become larger as compared with Wide and Normal, allowing you to listen to the movie's dialogue more clearly. This is effective only on Dolby Digital software.
Key-Touch Tone: The in-dash head unit provides an audible beep to confirm button operation. This function can be turned On or Off.
AV Connections
Audio/Video Input: The rear-panel audio/video input consists of left and right RCA audio jacks and an RCA composite video jack, allowing you to connect external equipment to this head unit. The audio/video input can be set to one of the following modes.
AV: Choose when connecting an audio/video component.
Audio: Choose when connecting an audio component.
Off: Select when no component is connected.
Camera In: The rear-panel Camera input consists of a composite video connector which allows you to connect an optional rear-view camera (105KVCM10, sold separately). The unit features a reverse gear signal wire (purple/white wire within 22-pin harness), that when connected to your vehicle's reverse light circuit, will automatically switch the KW-NT800HDT's display to the rear-view camera input. Automatic video switching takes approximately 1.2 seconds.
Note: Audio from your music source will continue playing, while the back-up camera is displayed.
Video Output: The rear-panel Video Output consists of a composite video jack that allows you to connect an optional external monitor. You can watch the same video source that is being played on the DVD receiver on your connected external monitor. You can choose one of the following monitor types for the output to the external monitor(s):
16:9: Select this when the aspect ratio of your monitor is 16:9.
4:3 Letter Box: Select this when the aspect ratio of your monitor is 4:3, when viewing a widescreen picture black bars appear on the top and bottom of the screen.
4:3 Pan Scan: Select this when the aspect ratio of your monitor is 4:3, when viewing a widescreen picture, the black bars do not appear; however, the left and right edges of the picture will not be shown on screen.
Remote Control
Steering Wheel Remote Compatibility: The head unit features an OEM steering wheel remote control input wire (blue/yellow) within the included wiring harness that lets you keep your vehicle's factory radio steering wheel remote controls when used with an optional steering wheel audio control adapter (sold separately). Please consult Crutchfield's Outfit My Car to see if your vehicle is compatible.
Our Product Research Team
At Crutchfield, you'll get detailed, accurate information that's hard to find elsewhere. That's because we have our own in-house Product Research team. They verify what's in the box, check the owner's manual, and record dimensions, features and specs. We stay on top of new products and technologies to help people make informed choices.