JVC KW-NT1
Navigation receiver
Item #: 105KWNT1
This item is no longer available.
Original Price: $899.99
Shop all In-dash GPS Navigation
Need help?
Does it fit my car?
Select your car

6.1" screen and awesome touchscreen control
The JVC KW-NT1 navigation receiver fits perfectly in your vehicle's double-sized (4" tall) dash opening, with a big 6.1" screen that gives you touchscreen control over your whole system. You'll get DVD and CD playback, plus built-in flash memory that brings up your navigation maps of North America quickly when you need them.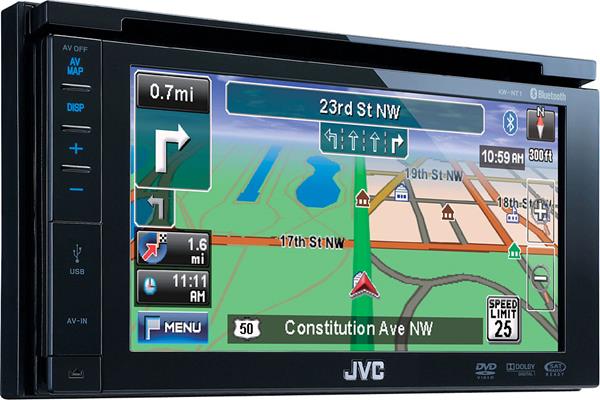 ---
Easy-to-use GPS navigation
You'll see turn-by-turn directions on the screen and enjoy access to over 6 million points of interest. Text-to-speech technology calls out the name of the street for your next turn, letting you keep your eyes on the road. You can update your maps through the SD™-card slot — you can even copy your own points-of-interest from Google Maps on your home computer, then load them onto the KW-NT1 using the SD card.
Music and movies
Watch your favorite DVDs while you're parked, or connect a screen in the back so your passengers can watch while you drive. Load your favorite MP3s on a CD, USB drive, or SD card — the KW-NT1 will play 'em all. Load a DVD full of music files and you'll have enough tunes for a road trip from Boston to San Diego.
---
Made for iPod®
JVC builds iPod control right into the USB slot — no adapter required. Just connect your iPod or iPhone® using the cable it came with, and you'll be using the receiver's controls to browse your tunes and playlists in no time. JVC's 2-Way Control lets your passengers use the iPod itself to control your music while it's connected to the radio — and you'll still see song details on the display.
A powerful amplifier belts out your music and movies, while a 7-band EQ adjusts the sound for your vehicle. Add an optional satellite radio tuner for access to a wealth of entertainment. Three sets of gold-plated preamp outputs let you add amps and subs for a complete car entertainment system.
---
Built-in Bluetooth®
Built-in Bluetooth technology lets you make safer hands-free calls in your vehicle. When a call comes in, the receiver mutes the music and you'll hear the caller over your vehicle's speakers. Mount the included microphone in a convenient spot for maximum sound quality.
---
Note: If you're going to use your iPod with this receiver, be sure to check Hands-on Research for specific iPod model compatibility with this receiver or its optional iPod adapter.
Note: Bluetooth compatibility of this device may vary, depending on your phone and service provider.
Product Highlights:
General features:
DVD/CD receiver with navigation and built-in amplifier (20 watts RMS CEA-2006/50 peak x 4 channels)
detachable face with 6.1" color screen
built-in Bluetooth
Audio/video features:
built-in control of iPod and iPhone
plays CDs, CD-Rs, CD-RWs, DVDs, DVD-Rs, DVD-RWs (including discs loaded with MP3 files)
24-bit digital-to-analog converter
7-band iEQ
Navigation features:
maps of Canada, Puerto Rico, and the entire United States
built-in flash memory for navigation, updates made using an SD card
add your own points-of-interest from Google Maps using the SD-card slot
6 million points of interest
voice guidance in 3 languages (English, French, Spanish)
Expandability:
compatible with: satellite radio tuner, rear-view camera
inputs: front-panel A/V and USB inputs, SD-card slot
outputs: video output, 6-channel preamp outputs (front, rear, subwoofer), optical digital output
Other features and specs:
Why install a car stereo with built-in GPS?
Imagine taking a trip as your car's receiver gives you directions, finds the best restaurant for dinner, and plays movies for your back seat denizens. Navigation receivers cover all the bases, with GPS guidance, DVD playback, and a host of other useful features. You can search through millions of points of interest to locate gas stations, restaurants, museums, and other interesting spots, wherever you are. Most receivers offer Bluetooth capability for hands-free calling, along with the ability to search through your iPod playlists with touchscreen controls.
JVC KW-NT1 Reviews
Average Customer Review:
4 Reviews
---
Great navigation; audio controls and settings very frustrating
Written by: Brooklyn Bear from Brooklyn, NY on November 13, 2009
I had this unit installed in my 2005 Honda CR-V. As far as Navigation is concerned, this unit is top-notch. I reminds you of the speed limit when you're going too fast (you can turn off the voice reminders, but it still displays a speed limit sign logo), and it even tells you what lane you should be in for your next turn or direction.

iPod/iPhone integration is not great. You have to wait for the album artwork to load (it reloads for each song!) before you can hit "next." Ugh! When you receive a call over Bluetooth, and hit "answer," the unit lags for a full 3-4 seconds before you are able to actually talk. There are too many menus, and they aren't streamlined at all.

The overall operation of the unit is sluggish and clunky, which makes any hopes of a hands-free experience dashed instantly.

I bought this unit because of the features it claimed to have and because it had a detachable faceplate, something you really need if you live in Brooklyn because thieves will jack your system in a second (I used to have an AVIC-D3...for 3 months). I stuck with it because it sounded good with my system, but using it was a constant frustration. Worth it for the nav, but the audio/video is a joke.


Pros:

Cons:
Written by: Jon from Irvine, CA on September 19, 2009
REVIEW: I was hesitant to make this purchase, because of the lack of reviews on the KW-NT1. I am glad I made this purchase.
Pros:
software fairly intuitive
No need for CDs any more - SD Slot to put/store all music.
USB port in front for more music expansion
Very fast route calculation, very effective navigation
bright navigation display
Expandability - can put backup camera, and external video source
Bluetooth pairs instantly

Cons:
Audible guidance too quiet
cant see DVD video if any direct sunlight
NO wma compatibility


Other reviewer said "no mute button" - there is a "Pause" button on lower right of screen.

Instillation Tips - be very careful removing the bezel. The plastic clips are very stiff in most cars - just don't use metal to pry off the dash trim.

I mounted the GPS antenna under the front of the dash, which i could easily reach once the OEM stereo was removed. Satalite reception is fine under the dash. No need for antenna out in open

Additional hardware purchased: METRA 95-8902 (COMBO) double din kit + Harness. All the harness wires are labeled, so you know exactly what wires to connect (solder) to the JVC harness.


Pros:

Cons:
slow to start and overly lawyered
Written by: Me from northern virginia on July 25, 2009

I got this because it's one of the only detachable faceplate double din nav units out there, and I've already had all my gear stolen once.

The unit definitely has a lot of nice features, the nav works great, no longer have to hook up a speed sensor like previous units. I do have a few beefs with the unit though.

1) You cannot use the navigation without hitting the "I'm not an idiot, and now I can't sue you screen" EVERY time you start the car. I suspect this is starting to be standard practice, but be forewarned.

2) The unit is slow to emit music from key on. I measured 15 seconds, but JVC calls it at 10. It's highly annoying if you're used to tunes coming on in a couple of seconds.

3) no real buttons, the buttons on the side are of the thermal touch type rather than physical switches, so it's hard to get the volume right. It could really use a mute button too.

Once it's up an running, it's a nice unit, but these things make it a 3/5 when it could have been a 5/5




Pros:

Cons:
Written by: sciolist from TX on June 27, 2009
I bought this for a TOYOTA CAMRY '06.

Bought it mid June 09

DVD playback is not bright enough under extreme sunlight. During sunset, the brightness is fine. And when your car is under any shade, the brightness is fine. Resolution looks good and the brightness adjusts to headlights.

Left side controls are touch sensitive buttons.

I have not installed HD radio, Satelite radio, or a Rear view camera

I did not install this unit myself

Steering wheel controls - Slow response time. This is NOT the fault of JVC

Pros:
-Detachable faceplate - added security
-Easy slot loading disc access
-Works with iphone. Fast
-Fast GPS, SD card reads, CD/DVD reads
-FRONT AV and USB - USB charges the iphone
-Reads burned CD / DVD+R discs
-Allows album art from iphone and SD card
-GPS reads out street names
-Can listen to music while being directed by the GPS navigation voice
-Can play audio books at normal and above average speeds
-Reads my Sandisk 16GB (class 2) SD memory card - this is not official by JVC though

Cons:
-No volume knob.
-Low brightness in DVD video playback under extremely sunny days
-Doesn't automatically tag song names from the RADIO
-No real time traffic GPS updates
-No video playback from an SD card
-Removing the faceplate takes getting used to. Not a big deal
-problems updating the firmware software
-must remove faceplate to access SD card slot
-Speed limits not always displayed... depends on your city

I recommend it. A+

Pros:

Cons:
What's in the box?
Double-Din Navigation/DVD receiver
6.1" touch panel display face
Soft fabric face case
Sleeve (installed with four screws)
Trim ring
Wiring harness
A/V harness
Magnetic GPS antenna with attached 16.25' cable
Self-adhesive GPS antenna mat
Microphone with attached 10.5' cord using a right-angle male 3.5mm minijack connector
Visor-clip
Self-adhesive bracket
39" AV minijack cable
8 Pan-head screws
8 Counter-sunk screws
Red plastic crimp splicer
Face fixing screw
Instructions (Eng/Fre/Spa)
Installation/Connection Manual (Eng/Fre/Spa)
USA Warranty sheet
Canada Warranty sheet
Product Registration card/Questionnaire
"Countries where you may use the Bluetooth function" sheet
"Caution" note (attached to wiring harness)
iPod/iPhone note
Sheet concerning face fixing screw
Digital Television Transition Notice
Product Research
General Features
DVD/CD Features
Navigation Features
External Device Controls
Input and Output Notes
General Features
Overview: The JVC KW-NT1 double-DIN all-in-one navigation unit gives precise navigation using high sensitivity WAAS GPS, and 6.1-inch wide touchpanel display. The unit features map coverage of the United States and Canada, Voice Guidance, Text-to-Speech, 6 million P.O.I, Lane Guide, and Speed Limit Alert. The head unit features an integrated CD/DVD player for audio and video playback in your vehicle. The JVC KW-NT1 even features built-in Bluetooth for wireless communication. You can also enjoy audio from your iPod, USB devices, and SD cards. In addition, this unit is compatible Satellite Radio tuners (optional devices required).
2-DIN Chassis: The KW-NT1 has a 2-DIN chassis (also known as "Double DIN" or size DD), and will fit in many vehicles with a large dash opening. Unlike many in-dash monitors, there is no hideaway box; all the inputs and outputs are included within the unit's chassis. The unit can be ISO-mounted using factory brackets, or Euro-mounted using the supplied mounting sleeve. As always, please check the Crutchfield Vehicle Selector to verify fit with your vehicle.
Detachable Motorized 7" TFT LCD Touch Screen Monitor: The KW-NT1 features a motorized 6.1" TFT Active Matrix, 16:9 touch screen monitor with an adjustable viewing angle. The pixel resolution of the display is 1440 horizontal x 234 vertical (336,960 pixels total). The LCD serves as a video monitor, system information display and touch-screen control panel. The unit has a front-loading disc-slot to make loading your disc easier because there is no panel to slide or fold-down. The screen is non-glare and smudge-resistant. You can detach the touch screen LCD monitor and place it in its supplied soft face case to prevent theft.
MOS-FET Amplifier: The JVC KW-NT1 features a MOS-FET amplifier that is CEA-2006 compliant and rated at 20 watts RMS x 4 channels in 4-ohm and 1% THD+N with a signal to noise ratio of 80 dBA.
Amplifier Gain Control: When you are using the KW-NT1 with factory speakers (or those rated to less than 50 watts peak), the Amplifier Gain Control can limit the amount of power being sent to those speakers. When the Amp Gain Control is set to "low," the volume control ranges from 0 (minimum) to 30 (maximum). When using speakers rated higher than 50 watts peak, you can set the Amp Gain Control to "high," and the volume control will range from 0 to 50.
7-Band Equalizer: Along with a flat preset, there are 8 preset EQ curves and three user programmable fields; Hard Rock, R&B, Pop, Jazz, Dance, Country, Reggae, Classic, User 1, User 2, and User 3. The user presets can be adjusted to your preference and stored in memory. For each User preset, you can independently adjust the following frequencies: 60 Hz, 150 Hz, 400 Hz, 1 kHz, 2.5 kHz, 6.3 kHz, and 15 kHz. The level of each frequency can be adjusted from -10dB to +10dB in 2dB increments.
Adaptive Volume: When this function is activate, the KW-NT1 automatically increase the volume level (both for Navigation and audio/video) as the car speeds up. You can set this feature to Min, Mid, Max, or Off.
Dynamic Range Compression: This function reduces a Dolby Digital soundtrack's dynamic range so you can hear quieter dialog without being overwhelmed by loud sections. You can choose a setting of Auto or On.
AM/FM Tuner With Title Assignment: The KW-NT1 features a built-in AM/FM tuner with three FM bands and one AM band. Each AM/FM band can hold up to six station presets. You can store these presets manually or have the radio store them automatically. If an FM stereo broadcast is hard to receive, you can manually switch the tuner to Mono operation. You can also switch the tuner's IF filter to Wide or Auto to increase/decrease the sensitivity.
Dimmer: When 12 volts is applied to the illumination lead and the dimmer set to Auto, the display dims. The dimmer can also be set to Off (normal brightness at all times), On (display is always dimmed), or Dimmer Time Set (you program the time for the dimmer to turn off an on). The unit also features 3 dimmer levels to choose from - Bright, Middle, or Dark.
DVD/CD Features
Disc Compatibility: The JVC KW-NT1 supports the playback of the following disc types: DVD-Video, DVD-R/RW, DVD+R/RW, CD-Audio, CD-R/RW and Video CD.
MP3/WAV Playback: The KW-NT1 can play MP3 and WAV audio files recorded on DVD-R, DVD-RW ,DVD+R, DVD+RW, CD-R, and CD-RW discs. The disc must be recorded in ISO 9660 Level 1/Level 2, Joliet, or Romeo. MP3 and WMA files with bit rates from 32-320 kbps are supported along with IDTag3 (version 1.0, 1.1, 2.2, 2.3 or 2.4) and WMA/WAV Tag for album and artist information. Each disc can have a maximum of 5000 files and 250 folders, with a maximum of 999 files per folder.
Scan Search: When playing a DVD or CD disc there are two fast-play speeds in both directions (2x or 10x).
Repeat Play: The KW-NT1 features Repeat modes for DVD, CD, and MP3 playback. When playing a DVD you can repeat the current chapter or title. When playing a CD you can repeat a single track. When playing a MP3/WAV disc you can repeat track or folder.
Random Play: The KW-NT1 features Random modes for CD and MP3 playback. When playing a CD you can randomly play back all tracks on a disc. When playing a MP3/WAV disc you can randomly play all tacks of a current folder or all tracks on the disc.
Selectable Aspect Modes: You can choose from four aspect modes for the in-dash display when viewing a still image or video:
Regular: for 4:3 source material, 4:3 and 16:9 pictures display with black bars on either side (16:9 images are compressed)
Full: expands 4:3 pictures horizontally to fill the entire width of the screen, distorting the picture slightly but retaining full image height
Auto: the correct aspect mode is automatically chosen based on the incoming signal
Multi-Angle Display: This function allows you to choose the viewing angle of scenes that were shot from a number of different angles.
Note: This function is limited to DVDs recorded with multiple camera angles.
Navigation Features
Built-In Navigation: The KW-NT1 features a built-in GPS Navigation system with maps of the United States (including Hawaii and Alaska), Canada, and Puerto Rico. Map data is stored on the unit's flash memory and the connected GPS antenna helps to pinpoint your vehicle's current location. Once a destination is set, the unit provides turn-by-turn voice and visual guidance through your vehicle's speakers and the unit's display monitor.
GPS Antenna: The KW-NT1 features a GPS antenna with a magnetic base designed to mount to the exterior of your vehicle. The GPS antenna comes supplied with a self-adhesive pad in case you cannot find a metal surface to attach the antenna directly to.
Visual/Voice Guidance: When you approach a turn, the KW-NT1 guides you with voice guidance (Text-to-Speech) through your vehicle's front speakers and visual indications on the KW-NT1's screen. The unit offers 3 voice guidance languages including English, Spanish and French; with adjustable volume.
Lane Guidance: The KW-NT1 provides Lane Guidance to help you along your route. The receiver uses the following color-codes to distinguish what lane you should be in - Yellow (recommended lane), White (lane leading to the destination), and Gray (not the lane for your destination).
Points of Interest: The built-in map database has 6 million points of interest from infoUSA. They can be searched by the following categories: Gas Station, Hotel, Parking, Restaurant, Shopping, Travel, Recreation, Entertainment, Medical, Financial, Automotive, and Community. Some of the categories are divided into sub-categories. The KW-NT1 can even alert you when you approach a selected POI category.
Street Director Assistant: With the Street Director Assistant feature, you can search P.O.I. data on your PC's Google Maps, and easily add to the unit via an SD card.
Note: Once the SD card is eject, the imported POI cannot be used.
Map Views: The map scrolls automatically so that your position is always at the center of the map. You can select from different map views:
2D Heading Up: The map rotates so that you are always displayed heading "upwards." The direction is displayed with a compass icon.
3D Map Heading Up: The map is displayed in a "heading up" mode, and in a three-dimensional view. The direction is displayed with a compass icon.
2D North Up: The map view is oriented with north "upwards," like normal paper maps. The direction you are heading to is displayed at the upper right corner of the screen with an icon such as "NE."
Night Map Mode: Night Map Mode dims the map display when driving at night. You can turn this feature On/Off or set to Auto so the map display dims when you turn on your vehicle's headlights (the unit's illumination control lead connect is required for Auto mode).
Split-Screen: In this mode, the unit's map display is split into two screens, and a magnified map of the next turn is displayed in the left pane.
AV Map Mode: When you are playing music and navigating at the same time, you can set the unit so the screen automatically switches to the map when you approach a turn or only select voice guidance sound (this will interrupt your music).
Destination Search: The JVC KW-NT1 offers the following Destination Search functions:
Home/Favorite Points: You can register one point as your home address and 100 off your favorite points so you can easily navigate to them from anywhere at any time.
Address: You can search by address using the unit's on-screen keyboard.
Phone: You can search a destination by entering its telephone number using the unit's on-screen keyboard.
POI Name: The POI Name feature allows you to search for points-of-interest by name from category listings or using the KW-NT1's on-screen keyboard.
POI Vicinity: The POI Vicinity feature search for POIs around the following places - your current position, the position selected on the map, the destination, or the route you are taking.
Quick Search: You can also search POI's from three user registered categories that you use most often such as gas stations, restaurants and hotels.
Previous: You can search from the history of previous destinations and via points from the last 50 points.
Coordinates: You can search by entering the latitude and longitude.
Browse Map: You can select a point on the map for your destination by touching the screen.
Routing Preferences: You can select how the unit will calculate your route by adjusting the following settings:
Route Priority: You can select the unit to either calculate the fastest timed route or shortest distant route.
Route Avoidance: You can select to use or avoid the following types of roads - Freeway, Toll Road, and Ferry.
Via Points: After selecting your destination, you can select up to four places (via points) to stop by along your route.
Detour: If you realize congestion exists along your route, you can select the Detour function which allows you to select the distance to avoid along your route so the KW-NT1 can route you around this congested area.
Auto Recalculate: The unit will automatically recalculate your route if you veer off from the original calculated route.
Adjusting Vehicle Position: If you find your current position is displayed incorrectly on the map, you can adjust your vehicle's position/location.
Speed Alert: The system sounds an alarm when you surpass the speed limit of the current road by a set value. You can choose for the unit to alert you when you are 3, 6, 10, 15, or 20 miles over the speed limit.
Simulate: You can simulate a desired rout to confirm what your trip will look like.
External Device Controls
Built-in Bluetooth: The JVC KW-NT1 features built-in Bluetooth which allows you to make and receive cellular phone calls through your Bluetooth enabled phone. This unit is Bluetooth 1.2 certified and supports the following Bluetooth profiles: HFP (Hands-Free Profile) and OPP (Object Push Profile). The JVC KW-NT1 supports Bluetooth hands-free operation of your Bluetooth enabled cell-phone. The KW-NT1 comes with an external microphone and uses your vehicle's speakers for cell-phone communication. When you receive a call, "Receiving Call", name and phone number appear on the head unit's touch screen monitor. You can answer an incoming call using the multimedia head unit's touch screen monitor. You can also set the receiver to automatically answer or reject all incoming phone calls. If your cellular phone is equipped with the call waiting function, you can put the current call on hold and answer the waiting call. You can also dial calls from the head unit by either entering a phone number from the unit's touch screen panel, selecting a phonebook entry (up to 100 entries), or selecting from the call history log of redial and received calls. You can register up to 5 Bluetooth devices to this unit, however, only one unit of each type can be used at a time.
Note: The JVC KW-NT1 is not compatible with all Bluetooth enabled phones or audio players. See JVC.com for complete list of compatible phones and players.
USB Input: The JVC KW-NT1 features a front panel USB type-A port.. This allows you to play USB mass storage and Media Transfer Protocol devices such as a USB thumbdrive, Digital Audio Player or portable HDD loaded with MP3 audio files. For the unit to recognize the USB medium, it must be specified as a mass storage device formatted using FAT 12, FAT 16, or FAT 32. The unit's USB port supports MP3 files with a bit rate of 32-320 kbps. The unit can recognize a total of 5,000 files and 250 folders (a folder may contain a maximum of 999 files). This unit will recognize a total of 25 characters for file/folder names. This unit cannot recognize a USB device whose rating is other than 5V and exceeds 500 mA. A USB cap is supplied to place over the USB input when it's not in use.
iPod/iPhone Compatible: The optional JVC KS-U29 USB Audio And Video Cable For iPod (105KSU29, sold separately) allows you to playback and control audio/video from your iPod on this JVC multimedia head unit. This cable also allows you to view iPod Artwork. You can search for music by Playlist, Artist, Album, Song, Podcast and Genre. You can also select Repeat (One/All) and Random (Song/Album) modes. The KS-U29 cable will also charge your iPod or iPhone when connected to the JVC head unit and is powered on. The cable features a proprietary Apple iPod dock connector on one end and a male 3.5mm AV connector on the other end along, with a USB type-A connector. The JVC KW-NT1 is "Made for iPod/iPhone" compatible and supports the following iPod model features, using the optional KS-U30 cable (as of Dec. 2009):
iPod/iPhone Model
Media Type
Control
Display
Charge
Audio
Video
Unit
iPod
Song/Artist
Track
dock-connector (3 gen)
N
N
N
N
N
N
N
click-wheel/color-display (4 gen)
N
N
N
N
N
N
N
mini (1/2 gen)
N
N
N
N
N
N
N
video (5 gen)
Y
Y
Y
N
Y
Y
Y
classic (80/120/160 GB)
Y
Y
Y
N
Y
Y
Y
nano
1 gen
Y
N
Y
N
Y
Y
Y
2 gen
Y
N
Y
N
Y
Y
Y
3 gen
Y
Y
Y
N
Y
Y
Y
4 gen
Y
Y
Y
N
Y
Y
Y
5 gen
Y
Y
Y
N
Y
Y
Y
iPod touch
1 gen
Y
Y
Y
N
Y
Y
Y
2 gen
Y
Y
Y
N
Y
Y
Y
3 gen
Y
Y
Y
N
Y
Y
Y
iPhone
2G
Y
Y
Y
N
Y
Y
Y
3G
Y
Y
Y
N
Y
Y
Y
3GS
Y
Y
Y
N
Y
Y
Y
Note: You can also connect your iPod's USB/Docking cable to the unit's USB port for audio only playback from your iPod. *Apple firmware updates may change functionality results.
SD Card Slot: The KW-NT1 features an SD-card slot, on the back-side of motorized touch-panel LCD monitor display, which will accept SD-cards up to 2GB (LCD panel must be detached to access SD-card slot). This unit can play MP3 audio files stored on an SD-card. You can control basic functions such as Play, Pause, Fast Forward, Rewind and Track Skip. You can also select advance functions such as Track Repeat, Folder Repeat, Folder Random and Random All. All tracks on the SD-card will be played repeatedly until you change the source. This unit supports data transfer rates up to 10Mbps and can recognize up to 5,000 files and 250 folders with a maximum of 999 files per folder. This unit will recognize a total of 25 characters for file/folder names. The SD-card slot can also be used for POI and mapping updates.
Satellite Radio Ready: There are several options for connecting an optional XM or SIRIUS Satellite Radio receiver to this receiver:
XM Satellite Radio: To receive XM Satellite Radio, you can connect the optional CNP2000UC XM Mini Tuner and the JVC CNP-JVC1 adapter cable (package item number 700XMJVC1).
SIRIUS: The JVC KW-NT1 is compatible with the SiriusConnect Universal Tuner and Plug & Play Dock:

SiriusConnect Tuner: Connect the optional SC-C1 SiriusConnect vehicle tuner (item number 607SCC1) and the JVC KS-SRA100 SIRIUS adapter (item number 105KSRA100).
SiriusConnect Dock: Select dock-and-play and portable SIRIUS radios can be controlled using the JVC KS-SRA100 SIRIUS adapter (item number 105KSRA100) and the SC-VDOC1 dock (item number 607SCVDOC1).

Auxiliary Input: A portable satellite radio receiver, such as the XM Delphi SkyFi3 or SIRIUS Sportster, can be connected to the head unit via the front panel auxiliary input.
Note: A subscription is also required to receive satellite radio programming from SIRIUS or XM.
Input and Output Notes
Parking Brake Detection: To prevent displaying video while the vehicle is in motion, the green wire in the supplied 16-pin harness must be connected to the vehicle's parking brake detection circuit. While the vehicle is in motion (parking brake off), you can still view all of the other displays and menus.
Video Output: The Video Output (RCA composite video jack) allows you to connect an optional external monitor. You can choose one of the following monitor types for the output to the external monitor(s):
16:9: select this when the aspect ratio of your monitor is 16:9
4:3 Letter Box: select this when the aspect ratio of your monitor is 4:3, when viewing a widescreen picture black bars appear on the top and bottom of the screen
4:3 Pan Scan: select this when the aspect ratio of your monitor is 4:3, when viewing a widescreen picture, the black bars do not appear; however, the left and right edges of the picture will not be shown on screen
Audio/Video Input: The head unit features a front and rear panel audio/video input. The unit's front audio/video input consists of a 3.5mm AV jack, while the rear panel audio/video input consists of left and right RCA audio jacks and an RCA composite video jack, allowing you to connect external equipment to this head unit. The audio/video inputs can be set to one of the following modes:
Audio + Video: choose when connecting an A/V component
Audio: choose when connecting an audio component
Off: select when no component is connected
Camera In: The Camera input consists of a composite video connector which allows you to connect an optional rear-view camera (sold separately). The unit features a reverse gear signal wire (purple), that when hooked up will switch the KW-NT1's display to the rear-view camera input.
Digital Out: You can enjoy 5.1-channel sound, including Dolby Digital and DTS, when you connect this unit's optical digital output to an external surround sound digital processor. You can select the signal format emitted through the Digital Optical Out.
PCM: select this when connecting an amplifier or a decoder incompatible with Dolby Digital, DTS, or MPEG Audio or when connecting to a recording device
Dolby D: select this when connecting an amplifier or a decoder compatible with Dolby Digital
Stream: select this when connecting an amplifier or a decoder compatible with Dolby Digital, DTS, or MPEG Audio
2.5V Preamp Outputs: The KW-NT1 features five 2.5V preamp outputs (Stereo Front, Stereo Rear, Mono Subwoofer). The Front and Rear set of preamp outputs fade in and out with the fader control and speaker level outputs on the stereo, while the Subwoofer preamp output is non-fading. The JVC multimedia head unit provides the following preamp level controls:
Subwoofer Level: adjusts the subwoofer output level from -6 to +8
High Pass Filter: select Through (when subwoofer is not connected) or On (when subwoofer is connected)
Crossover: adjusts crossover frequency between the front/rear speakers and the subwoofer; select from 80Hz, 120Hz, or 150Hz
GPS Antenna Port: The unit features a GPS antenna port on its rear chassis which allows you to connect the supplied GPS antenna.
OEM Steering Wheel Remote Input: The KW-NT1 has a steering remote control jack on the preamp output/video harness. When used with the optional SWI-JACK interface (item number 127SWIJACK), you can retain the use of your steering wheel and/or rear seat radio controls when replacing the factory head unit in select vehicles. The SWI-JACK is compatible with over 95% of the vehicles made from 1986 to the present. Compatible vehicles include many Acura, Audi, BMW, Buick, Cadillac, Chevrolet, Chrysler, Dodge, Ford, GMC, Honda, Hummer, Infiniti, Isuzu, Jaguar, Jeep, Kia, Land Rover, Lexus, Lincoln, Mazda, Mercury, Mini, Mitsubishi, Nissan, Oldsmobile, Plymouth, Pontiac, Saab, Saturn, Suzuki, Toyota, and Volkswagen vehicles and Harley Davidson motorcycles. Please consult "Outfit My Car" to see if your vehicle is compatible.
Our Product Research Team
At Crutchfield, you'll get detailed, accurate information that's hard to find elsewhere. That's because we have our own in-house Product Research team. They verify what's in the box, check the owner's manual, and record dimensions, features and specs. We stay on top of new products and technologies to help people make informed choices.