Why Choose Crutchfield?
Deep discounts on car installation gear
We offer vehicle-specific installation instructions, dash kits, wiring harnesses, and speaker accessories at deeply discounted prices with car stereo and speaker purchases. Available for most vehicles.
Learn more
Trusted since 1974
Our customers have trusted us with their business, and they've helped us win awards for our service.
Check out our most recent awards
Factory-authorized dealer
The manufacturer's warranty always applies.
See more details
Polk Audio LSi9
Bookshelf speakers (Ebony finish)
Item #: 107LSI9E
This item is no longer available.
Original Price: $999.99 pair
Enjoy engaging sound from these carefully crafted bookshelf speakers
Crisp classical music — check. Complex and layered jazz — got it. High-energy rock, vibrant R&B, lifelike country — no problem! That's because the Polk LSi9s are a part of the critically acclaimed LSi series — a line of speakers that's surprised audio reviewers and audiophiles alike with superb design and powerful, true-to-life sound reproduction. The LSi9 bookshelf speakers are a marvelous way to enjoy incredibly open, beautifully full, and above all, natural sound from a compact cabinet. After all, not everyone who loves great audio has the space (or budget) needed to fill a room with tower speakers.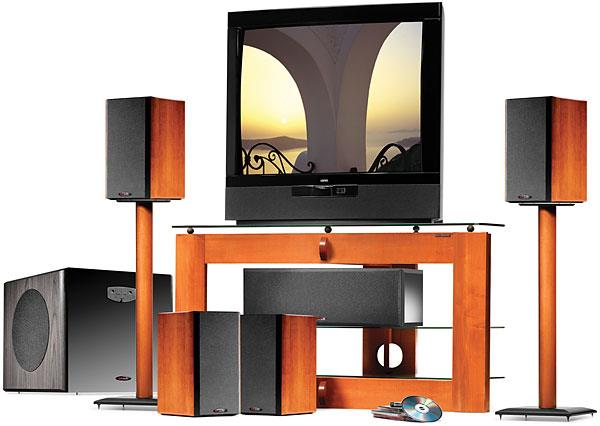 ---
Clear highs and smooth mids
From the 1" Ring Radiator tweeter you'll get the crystalline, transparent highs that give precision to music and home theater. Careful cabinet design and dual 5-1/4" drivers round out lower-end sound very nicely. Other innovations — an anti-diffraction grille for spacious, accurate imaging, ARC Ports for controlling cabinet resonances, and a Power Port for reinforcing bass — team up to bring you a deep, realistic soundstage. A Soundstage! review of April 2002 noted of the LSi9, "Both [its midrange and bass] were full — impressively full for such a small speaker — and smooth. . . . Not only is it an exceedingly refined, first-class performer, it has specific sound qualities that make it stand out in its price class."
---
Great for home theater or stereo music setups
With this extraordinary aptitude for rendering stereo music with stunning precision, the LSi9 will shine in a multichannel home theater setup as well. Use an LSi9 pair as front left and right speakers in a small setup, or surrounds in a large one. 2 pairs of 5-way, gold-plated binding post terminals let you biwire or biamp your speakers.
Recommended center channel speaker: Polk LSiC.
Recommended surround speakers: Polk LSi7, LSi9 or LSiFX.
Read our in-depth review of Polk's LSi9 speakers.
Product Highlights:
video-shielded
bass-reflex
frequency response 50-26,000 Hz (-3dB)
4-ohm impedance; these speakers must be powered using high-current amplification
sensitivity 88 dB
handles up to 200 watts
dual 5-way, gold-plated binding post terminals
real wood veneer
8-5/8"W x 14-15/16"H x 15-1/4"D
warranty: 5 years
Why choose bookshelf speakers?
Bookshelf speakers may be small in size, but they can deliver surprisingly big sound. Some ultra-compact models even fit on a desktop. Most are right at home in tight spaces like shelves, so they're usually good choices for your home theater's rear channels. For the best performance, try placing bookshelf speakers on solid speaker stands to help the sound really "open up." If you want full bass impact, add a powered subwoofer and enjoy punchy sound that's as deeply satisfying as that of floor-standing speakers.
Polk Audio LSi9 Reviews
Average Customer Review:
19 Reviews
---
great speakers, great purchase
Written by: Tim from Colorado Springs, CO on September 10, 2010
Crutchfield Customer Review
(
What's this?
)
I've had these speakers for two years now and have been very impressed. I have two LSi-9s for my fronts, LSi-C for the center and two LSi-7s for the rears and a Polk PSW-1000 subwoofer. It is all powered by an Onkyo TX-SR806 7.1 receiver. I have Monster heavy-guage (10 guage?) speaker wire and all monster cables. My LSi-C and LSi-7s are bi-wired and my LSi-9s are bi-amped.
I listen to a lot of music, including SACD and DVD-Audio. I have tried the LSi-9s both bi-wired and bi-amped and either way, they sound great for what are supposed to be bookshelf speakers. In listening to stereo SACD tracks with the speakers bi-amped, the clarity borders on freightening. Even with standard CDs, I routinely pick up details I miss with an inferior system.
Some people try to compare the bass response to that of tower speakers (with large powered woofers), but the bass is VERY good for bookshelf speakers. If your main use is for surround sound, you should have a subwoofer anyway and towers would be a waste of money. I use my subwoofer with stereo sources, but even without the subwoofer, they sound great. For what it's worth, I was toying with splurging on LSi-25s for my fronts so that I could use them for stereo, without the subwoofer. I actaully had a Polk technical rep ADVISE AGAINST IT, saying that the LSi-9s with my PSW-1000 sub give better sound!
Bottom line, the LSi-9s are a great buy and great performers for the size and cost.

Pros:

Cons:
Written by: Gabriel from Dallas, TX on February 6, 2010
I recently traded up from a pair of Polk RTi A3 to a pair of Polk LSi9 (to be fair, the LSi9's are exactly double the price of the RTi A3's). What a difference! The LSi9's have a deep, rich mid bass that I was missing out on the RTi A3's. When I crank up the volume, the speakers respond and fill out the sound spectrum. If you like to listed to music at a high volume, I would highly recommend the LSi9's. They deliver the sound of a much bigger pair of speakers. You will not be disappointed.

Pros:

Cons:
Big sound from a small package
Written by: Doug from Trabuco Canyon, CA on January 28, 2010
I'm no audiophile, but these little speakers really impress me. I believe they sound even better than my LSi15's that I moved to another room. Very clear mids and sparkling highs. Because the room is used primarily for my home theatre, I haven't just sat and listened to music in 20 years and now I can't wait to get home to do just that.

Pros:

Cons:
Written by: dasha007 from DENVER, COLORADO on August 13, 2009
Purchased Polk LSI9's and LSI center, anyone on the fence jump off and buy, I also own SUPERTOWERES, $2000 a piece, and these speakers come so close that it makes me wonder why I spent so much on that whole system, over 6k. Don't get me wrong you get what you pay for, however what I'm saying is they are darn close, thanks Polk Audio for adding to my fine collection of earful sin, cheers.

Pros:

Cons:
Written by: Bettye from Cordele, GA on October 12, 2008
Crutchfield Customer Review
(
What's this?
)
Incredible sound and superb "sound field"
Written by: Anonymous from California on August 19, 2008
Crutchfield Customer Review
(
What's this?
)
I have bought many speakers throughout the years but not one of them have ever given me such clean and superbly balanced sound. The mid range and treble is to "die for" and the bass that these speakers put out is absolutely incredible considering that they are bookshelf speakers. I have had these speakers for over 5 years now and I still love them! These speakers define what "Hi end" sound is all about. My "hat goes off" to all of the engineers at Polk.

Pros:

Cons:
Written by: Leo from Rosemount, Minnesota on June 17, 2008
Crutchfield Customer Review
(
What's this?
)
I bought these speakers and a Yamaha RX-797 2 channel receiver to go
with a Yamaha 697 CD player and couldn't be more pleased. I almost
exclusively use this system to listen to music and the sound is fanatastic.
For me the bass is perfect but if you are into big bass you might consider a
powered sub-woofer.

The speakers not only deliver a full rich sound, they also beautifully finished
and the build quality is excellent. If you compare these speakers to other
speakers in this price range you will find the LSI9's hard to beat. They also
compete favorably to speakers costing much more.

Pros:

Cons:
Written by: Luis from Puerto Rico on February 17, 2008
Recently i bought an Onkyo tx-sr805 and i've been looking for a good match of speakers. And then found these speakers and read, and read, and read about them a lot and nothing bad. I discover that these speakers have been a lot of time in the market, i believe like since 2002!. That mean one thing only, they didnt find to change anything. I mean, read the reviews all of the them says great things about these speakers.

For the price, let me tell you they sound great (for the price heh!, but remember these are highend speakers) the have a diferente look but extremely beautiful and elegant too. Black wood with looks like onyx finish, wow! These is a diferent looking bookshelve but gorgeous. Sound? believe me, they sound great with beautiful high's. I can hear things that im not use too hear with another speakers. You can hear good soundstage. Of course they have good bass but common! you now you will have too buy later on a sub woofer if you want to have high volumes and use it also for movies.

Pros:

Cons:
Written by: Mark B from New York, NY on February 8, 2008
Crutchfield Customer Review
(
What's this?
)
Look great. Sound fantastic. A great addition as my front L/R home theater speakers. One of the speakers was damaged in shipping and Crutchfield was great in getting a replacement out to me immediately. The service from Crutchfield has been some of the best I have ever experienced, web or otherwise. I would highly recommend them.

Pros:

Cons:
Written by: Skeeter from Juneau, AK on February 3, 2008
I recently got a chance to audition these speakers for two weeks and compared them head to head with a pair of speakers which cost the same, and a pair which cost $600. Most of the critical listening was between the $600 speakers and the Polks hooked to a C352 integrated amp with good cables. The polks weigh twice as much and the fact that they're 4 ohms is great for lower powered amps. Overall the sound is excellent. The bass was very powerful on the Polks, but I found the tweeter on either of the others was nicer sounding overall and a little more balanced. Not bad at all, just a little expensive.

Pros:

Cons:
Written by: Shotster36 from Morris, IL on January 21, 2007
Couple these speakers with the rest of the Lsi family and a nice subwoofer and the results will blow you right out of your recliner. Regardless if your listening to music or wathching a movie. Polk Audio IS the Best!

Pros:

Cons:
The sound is extraordinary!!!
Written by: Frank from Miami, FL on June 22, 2006
Crutchfield Customer Review
(
What's this?
)
I had bought the LSI7 before and where not very please because they lacked bass so I returned them.
I decided to try the LSI9 and they are great I have no complains. The sound is extraordinary!!!
They can reproduce every type of music to the very detail (except very deep bass).


Pros:

Cons:
Very happy with this product!
Written by: Joe from Mansfield,TX on May 16, 2006
I purchased these with the LSiC and LSiFX for a complete matched set and put them together an M&K sub and...HOLY COW!! I have never heard so much detail in movies before. And the musical reproduction is outstanding. You will do well to get these for yourself. My favorite sound so far is the THX intro thing...my kids say it's like getting a free massage when that plays. Of course, you and I know the massage wasn't exactly free!

Pros:

Cons:
The best bookshelf speakers I've ever heard!
Written by: Mark from Maryland on March 4, 2006
First, I couldn't believe how incredibly beautiful these speakers are! The cherry finish makes this a fine addition-beautiful to look at! Even if they weren't so beautiful they'd still be the best value. They create a smooth sound at low or high volume. I put them through their paces after I received them, using everything from classical to heavy metal. The only thing to remember is that these speaker cabinets are much deeper than most, over 15 inches, and they weight about 33 pounds each, much too large or heavy for most speaker stands. You'll need to invest in some heavy duty stands to make sure you protect this investment and get the best sound.

Pros:

Cons:
Written by: Diana from Orange, California on March 3, 2006
This is the spouse of Diana here. Just picked these up last night. My first foray into legitimate high-end speakers. Man these guys are heavy! And beautiful, piano black and cherry. Gorgeous. The sound? I guess I was a little concerned that even my beefy Outlaw would have trouble driving them, but they absolutely *sing.* Pull out all the words -- smooth, transparent, etc. etc. -- and you start getting the idea. Incredible bass from the small box. I have the sub turned off a good portion of the time with just some bass boost via the outlaw. Extremely detailed speakers but not fatiguing. Not harsh, although I haven't tried to rattle the walls yet. Like violins? You've never heard them like this. Wide, firm soundstage. They are, in the final analysis, extremely musical.

Pros:

Cons:
Written by: Kevin from Arlington, Tx on December 9, 2005
Crutchfield Customer Review
(
What's this?
)
Brilliantly clear sound, won't be dissapointed.. great for movies and music. I also bought the LSiC and love it all! Fills my living room wonderfully (25ftx20ft).

Only complaint is the price because I want to buy more for other rooms. Also to get the best sound it requires higher listening levels to get them to come alive. I'd say around 80 to 85 db which isn't asking for much seeing that one would easily turn up the volume to hear the LSi's great sound.

Pros:

Cons:
Written by: home theater a/v etc. from dalton,georgia on July 16, 2005
i got second experience with polk this year and got more power with polk,like sharp detail on high also un excepted mids and high like without floor standing speaker.it's make me a realty very best home theater in my front speaker.no have no words for it's performancce and it's crutchfield sales adviser. i been customer since 1996.and still never get any bed problem from their items.last,in my life,i can get crutchfield,if they carry my items.

Pros:

Cons:
Written by: Possum Willie from Washington DC on May 12, 2005
Crutchfield Customer Review
(
What's this?
)
The overall quality is good and the boxes are beautiful.
I will not go into technical comparisons as the other reviewer has done a good job in that regard. The speakers are great in a medium size room and amaze visitors with the sound quality vrs size. That said, by the time one adds a subwoofer - not necessary but desirable to "polish" the sound (I listen to a lot of acoustic jazz and like a clear bass sound from a stand-up) - and puts the speakers on stands - heavy for their size - and positions them - they require positioning which can be annoying - one starts to wonder why one did not buy floor standing speakers to start with. I move around a lot and they are easy to ship and the sub can come later. For others, it's a toss-up.

Pros:

Cons:
Written by: Steven-Gulfport from Mississippi on February 8, 2005
Crutchfield Customer Review
(
What's this?
)
The LSi 9s replaced my beloved Infinity RS4s.

That is a big requirement for any speaker. Replacing something that you call "beloved". For the LSi 9s, it it is a bigger requirement. The RS4s were part of the legendary RS series that Infinity made back in the early 80s. The RS-1s went for $50K, the RS4 were scaled down for us regular consummers. The RS4 had dual 8" woofers, a 3" soft dome midrange and the classic EMIT tweeter. And they were floor standing, with the corresponding floorstanding internal volume.

Now you know what I expected the LSi9s to compete against.

How did they do? Nearly a 5.

By the way, my LSi9 are my main speakers, and I have the speaker setting set to large.

Sure the bass is a bit lacking. Not insufficient, just lacking a bit compared to the output of the RS4s. The LSi 9s go deep enough to handle U2s "With or Without You", the bass is solid, the speaker cone does not audibly flatten out, but the bottom end lacks chest pounding bass. Move over to Bach Toccata and Fugue in D minor, and I quickly realize that the LSi9s are not going to try and reproduce those 16Hz, or 32Hz notes, (or even attempt those notes like my RS4s tried), but the bass output is only slightly distorted, with no rattle.

On Gladiator, I have heard some bass distortion at very, very high volume levels, but then, who besides me sets their bookshelf speakers to the large setting?

Mid bass and mid range is great. Smmmoooth and full without being boomy or chesty. Female vocals, male vocals. solo violin. Everything sounds great.

The tweeter is equally smooth and sweet, but suffers from off axis diminished sound, especially

Pros:

Cons:
What's in the box?
2 Ebony bookshelf speakers
8 Self-adhesive rubber feet
Owner's Manual
Product Registration Card
"Register Online" sheet
Product Research
Driver Technology
Enclosure Design
Connections
Driver Technology
Dynamic Balance: Dynamic Balance is a proprietary Polk Audio technology using laser imaging to determine what combination of speaker materials create the least amount of resonance. Eliminating resonance in speakers results in a wide, smooth response and low distortion.
Aerated Polypropylene Woofers: Each speaker uses an Aerated Polypropylene woofer cone for wide response and low distortion. For superior durability, the woofers use rubber surrounds.
1" Ring Radiator Tweeters: Each speaker features a 1" Ring Radiator tweeter for crisp, transparent highs. The ultra-light woven Ring Radiator Diaphragm delivers flat response, precise detail and overall accuracy. A High Frequency Waveguide prevents phase cancellations for smooth, uniform frequency response and wide dispersion. A Low Frequency Waveguide promotes laminar airflow between chambers to prevent air turbulence. This feature serves the same function as Power Port for Polk's bass systems.
Cast Aluminum Driver Baskets: Cast aluminum driver baskets resist flexing and "ringing" for ultra-tight bass and coloration-free midrange.
Cascade Tapered Crossovers: The Cascade Tapered Crossover array in each speaker ensures flat midrange response and improves imaging focus, and depth. One driver is crossed over much lower in frequency and is in essence a bass-only driver. Only one driver plays the upper midrange frequency range thereby eliminating the interference effects between the two drivers. This gives you the dynamic impact of double drivers with the accuracy and life-like imaging of a single driver system.
Frequency Response Note: The overall frequency response is 38Hz-27kHz and the -3dB frequency response is 50-26kHz.
Enclosure Design
Acoustic Resonance Control (ARC): Internal cabinet resonance can impart a "thick" character to voices. Polk's patented Acoustic Resonance Control port system overcomes this problem. In addition to the Power Port venting system, each speaker has a front-firing port that is tuned to suppress the internal cabinet resonance, resulting in smooth, natural midrange reproduction.
Low-diffraction Grilles: The speakers employ open architecture low-diffraction grilles for spacious imaging.
Power Port Venting System: Each speaker has a rear-firing Power Port venting system built into its back plate for precise deep bass response. This venting system allows air velocity to slow gradually, vastly reducing air turbulence, and delivering greater bass efficiency than conventional ports.
Connections
Dual 5-Way Binding Posts: Each speaker has two sets of gold-plated 5-way binding posts connected by gold-plated jumpers. Using the dual 5-way binding posts, you can bi-amp or bi-wire the speakers.
Our Product Research Team
At Crutchfield, you'll get detailed, accurate information that's hard to find elsewhere. That's because we have our own in-house Product Research team. They verify what's in the box, check the owner's manual, and record dimensions, features and specs. We stay on top of new products and technologies to help people make informed choices.