Why Choose Crutchfield?
Deep discounts on car installation gear
We offer vehicle-specific installation instructions, dash kits, wiring harnesses, and speaker accessories at deeply discounted prices with car stereo and speaker purchases. Available for most vehicles.
Learn more
Trusted since 1974
Our customers have trusted us with their business, and they've helped us win awards for our service.
Check out our most recent awards
Factory-authorized dealer
The manufacturer's warranty always applies.
See more details
Infinity Reference 1230w
12" 4-ohm subwoofer
Item #: 1081230W
This item is no longer available.
Original Price: $69.99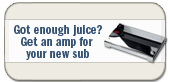 Make these Infinity Reference subwoofers part of your sound system's mix, and you'll get terrific low-note impact at an incredible price. These subwoofers incorporate a large 70-ounce magnet for excellent power handling. The innovative deep-draw I-beam basket eliminates sound-robbing resonances, and accommodates the extra-large motor structure for increased bass output.
The Reference 1230w 12" component subwoofer handles up to 300 watts RMS, and is designed for use in sealed or ported boxes. You'll enjoy deep, full-bodied bass, thanks to its durable polypropylene cone, high-roll rubber surround, and structure-reinforcing inverted dustcap.
Details:
12" 4-ohm subwoofer
polypropylene cone with rubber surround
deep-draw I-beam basket
70-ounce magnet structure
recommended power range: 50-300 watts RMS (1,200 watts peak power)
frequency response: 23-400 Hz
sensitivity: 90 dB
top mount depth: 6-1/4"
sealed box volume: 1.25 cu. ft.
ported box volume: 2.00 cu. ft.
warranty: 1-year
Priced per speaker
What's a component sub and why would I want one?
A component sub is simply a speaker that's designed to reproduce bass once it's installed in a compatible enclosure. Think about the impact of a movie soundtrack in a big theater or even in your own home HDTV setup. A component sub can add the same kind of power to the music in your car. And a car sub is not all about the boom that you hear on a street corner (although that's cool too) - you can pair a component sub with your choice of enclosure to get bass just the way you like it, from tight and punchy to fat and loose. And once you experience music in your car with a well-tuned subwoofer, you'll never go back.
Infinity Reference 1230w Reviews
Average Customer Review:
15 Reviews
---
Written by: Tempestwolf from Sterling CT on December 19, 2012
"Coolness Factor"

Build Quality

Ease of Use

Sound Quality

Value
I bought these subs back in 04-05 they been beaten on for years and years and still sound like the day I bought them.. I figure this would be a real review for a subwoofer. Especially being 7-8 years old. They have seen several amps from bazooka amps kenwood pioneer alpines. they have not given up nor fallen apart. I have run almost 300 watts rms through them for a few years .. they are not distorted. I have no reason to buy any new subs. They been in the trunk of my mustang since mid 06 before that they were in the cab of my Pickup. They still hit extremely hard as in you can hear me over a mile away by using 2 alpine mono blocks. i have lost my rear view mirror quite a few times. .. So this is a true review on a sub. A oldie and still strong and hard hitting.

Pros: Durable!!!!! Still sounding like the day i bought them. No rubber rot. very strong cones. very heavy.

Cons: none.
Written by: wookieeman from Milford, DE on June 13, 2005
Man i just got two of these things and I hooked them up to my kenwood amp and man did they hit hard. my mirror fell off my winshield. When i was standing behind my car listening to it my chest was rumbling. These are awsome subs, and you can't beat the price.

Pros:

Cons:
Written by: Michael from MADISON, WI. on June 11, 2005
THIs is a great sub. The sound is awesome! I can barely turn the amp gain up to half 'cause it rocks the car (and the block)! You can't go wrong for the price either. Money well spent!! I paired this up with a profile AP600 bridged to 300W and put the speaker in a Q-Logic box and it KICKS!! I love Crutchfield!!

Pros:

Cons:
Written by: kickeraudio21 from Stillwater, MN on June 9, 2005
I install many different subs weekly and i highly reccomend these. I was putting together a super budget system for a trip to chicago i was going on, and i bought a kicker 200.2 amp (250 RMS) and one infinity 1230W (300 RMS). At first i had it in a q-logic 1.2 cu. ft ported box and it blew me away how loud it was... it was much louder th an a kicker comp-VR is in a sealed box. THen i decided to build a ported box at 2 Cu. Ft. tuned to 34hz i think. And this is even louder... very loud, louder than an L5 in a sealed box wiht an audiobahn a8000t amp.

I reccomend a kicker 200.2 amp, and tehy sound pretty clean in ported boxes

Pros:

Cons:
Written by: sprint_9 from Iowa on June 6, 2005
I just put one of these subs in my car in a sealed box with a volume of around 1.20 cu. ft. My amp is a Sony pushing 200 rms to it, although thats not the new CEA complient number. In any case this sub blew me away last night when I got everything squared away, simply amazing how hard this sub hits all the notes, its tight, yet not to the point to where it wont bounce on certain types of rap, it also hits low notes suprisingly well. Before this setup I had an Audiobahn Flame Q 12" in a slot ported box, which blew out and is why up upgraded to Infinity, this Infinty is almost as good as far as spl goes, not as good but its pretty darn good for the price, I would have to say sound quality is far better, but I feel alot of that has to do with the sealed box but its still far better. Ive got another one of these subs on the way and cant wait to hear my set up with dual Infinitys, it will be awesome no doubt.

Pros:

Cons:
Written by: infinitylova from Madison, SD on May 26, 2005
i recently purchases 2 of these subs not knowing what to expect it is my 3rd stereo and by far the best they are being powered by a cheap 850 watt mono boss amp and even for a lower quality amp and low power amp they pound like crazy i havent heard anything this good for the price they sound good at high volumes although they rattle just about everything, and hopefully you have some good components because they drown out everything you can hear me comin from a block and a half at least...i would reccomend this sub to anybody that wants the best bang for your buck!

Pros:

Cons:
Written by: christo from New Albany, IN on May 10, 2005
These 12" Infinity's are the only subs i've ever had (2 years that is). In my little Dodge Avenger i have infinity kappa tweeters, kappa 6 1/2 components, kappa 6 by 9's along w/ a 800 watt P. Miller pushing these 2 infinity references. Let me tell you what these things will rock your socks off and make you deaf,like me. I recommend these bad boys. Im gonna up grade to the 12" Kappa Perfect Ohhh yEa , Hear me coming down the road.

Pros:

Cons:
Written by: ddcyr3 from Maine on May 7, 2005
My friend has one of these in his focus, and it pounds LOUD. He has it in a type 3 box with a 283rms infinity amp, and seriously in a compact car, there is no need, nor want, for anything louder. His gain is 2/3's the way up and bass boost on 6, and it is loud. I have friends with 2 pioneers, and they aren't even close to this one reference. And it's on sale. Seriously, if you are considereing something like an Alpine Type-S, or kicker, look at this sub. Nothing but positives.

Pros:

Cons:
Written by: no from madison, wi on April 5, 2005
I just got this sub and threw it in the back of my avenger powered with the Rockford P3001 amp and this little guy its harder; deeper and louder than my 3 kenwood w's that i had. When you buy this sub; you get every penny out of your money. THe rockford amp isnt to shabby either!

Pros:

Cons:
Written by: Speeddbuggy from CT on April 2, 2005
I bought one of these to replace the kicker comp woofer i had and what a difference these have, my kicker bumps but these bump harder espesialy for being underpowered and shake my truck :D Im glad to have bought them now its time for a new AMP :)


Pros:

Cons:
Written by: tony from bolivar, new york on March 16, 2005
well im from bolivar which is a little hick town, and i dont know much about subs, but i can tell you these subs kick a**. i have all ifinity speakers 6 1/2, 6x9, and these two infinity subs pushed by a 500 watt boss amp and they have rattled everything loose in my cab. i'm guessing im hitting around 165 decibals with all this and this is great where im from

Pros:

Cons:
Written by: Brennan from miami florida on March 13, 2005
Crutchfield Customer Review
(
What's this?
)
these subs are the best bang for your buck. they hit very hard and deep. best part is the price. i love loud bass and these subs do nothing but deliver. i just recently ordered another one cuz they sound so good. one of these subs alone make my rearview mirror shake so i cant see anything in it. i cant wait to see what 2 of them do bwuahahaha

Pros:

Cons:
Written by: Gary from Oshkosh, WI on March 11, 2005
These are incredible subs for the price, these subs hit harder and cleaner than my Kenwood W's. I put these subs in a friend of mine's Hyundai Elantra with the Profile 1200 Watt amp and the 2 Infinitys sound incredible.

Pros:

Cons:
Written by: Adam from elmwood,il on February 22, 2005
Now I rated these subs a 5 for the price, not over all performance. If I rated them to everything I would give them a 3 or so. They bottum out at high volumes, but do play fairly deep. Decent s/q. Very very good for the price! I had an issue with the wire hitting the cone, it was annoying with the trunk open, but was not audible in the car.

Pros:

Cons:
Written by: Jayson from Illinois on February 7, 2005
These things are very nice. With only 90 watts to each of two subs they shake my rear view mirror off.

Pros:

Cons:
What's in the box?
One 12" woofer
1 Self-adhesive foam gasket
Instructions
Technical Data sheet
Warranty card
One 8" x 2-1/2" Infinity sticker
Product Research
Features
Enclosure Compatibility
High-efficiency Polypropylene Woofer Cone: This lightweight and popular material is used to ensure maximum woofer efficiency. The benefit is high output with modest amplifier power.
Large-roll Rubber Surround: The large-roll rubber surround provides optimum cone-edge suspension and absorbs distortion that may travel up the cone edge, ensuring clean, tight bass.
Proprietary Deep-draw I-beam Basket: The deep-draw I-beam design allows room for a longer motor structure, which provides increased bass output. This basket is also more rigid and has a lower basket resonance.
Vented Polepiece: The vented polepiece provides additional cooling of the motor structure. The subwoofer's thermal capabilities are augmented, thus increasing power handling.
Progressive Spider: The subwoofer uses a progressive spider, which provides better control at excursion limits than more commonly used linear spiders. The result is reduced distortion at high output levels.
Gold-plated Binding Posts: The gold-plated binding posts will accept pin connectors, spade connectors, banana plugs, and bare wire.
Note: The binding posts are positioned too far apart to accept dual banana plugs.
Recommended Sealed Box Volume: Infinity recommends a sealed enclosure with an internal volume of 1.25 cu/ft.
Recommended Ported Box Volume: Infinity recommends a ported enclosure with an internal volume of 2.0 cu/ft with one 4" diameter x 12.26" long port.
Recommended Sealed Bandpass Box Volume: Infinity recommends a sealed bandpass enclosure with an internal volume of 2.5 cu/ft. The enclosure has a sealed chamber volume of 1.25 cu/ft and a ported chamber volume of 1.25 cu/ft with two 4" diameter x 8" long ports.
Our Product Research Team
At Crutchfield, you'll get detailed, accurate information that's hard to find elsewhere. That's because we have our own in-house Product Research team. They verify what's in the box, check the owner's manual, and record dimensions, features and specs. We stay on top of new products and technologies to help people make informed choices.