Why Choose Crutchfield?
Deep discounts on car installation gear
We offer vehicle-specific installation instructions, dash kits, wiring harnesses, and speaker accessories at deeply discounted prices with car stereo and speaker purchases. Available for most vehicles.
Learn more
Trusted since 1974
Our customers have trusted us with their business, and they've helped us win awards for our service.
Check out our most recent awards
Factory-authorized dealer
The manufacturer's warranty always applies.
See more details
JBL Studio 530
Bookshelf speakers (Cherry)
Item #: 109ST530C
This item is no longer available.
Original Price: $599.99 pair
From the studio to your home
With decades of experience in the recording studio under their belt, JBL knows professional sound. And with the Studio 530, they bring it home. These potent bookshelf speakers take advantage of technology developed by JBL engineers for pro-audio applications, and use it to deliver powerful, accurate sound in your listening room. Their versatile design makes them equally impressive whether you're watching a movie or listening to music.
---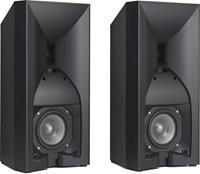 High-frequency horns for precise sound
All JBL Studio speakers feature a 1" high-frequency compression driver to achieve lower distortion and wider dynamic range than conventional speaker designs. This tweeter design uses a durable one-piece diaphragm and surround assembly fitted with a 1" voice coil to reproduce sparkling-clear highs. Because high-frequency sounds are more directional than bass frequencies, it's especially important to target them toward your ears. JBL places their tweeter inside a flared opening, known as a "horn," which directs sound to the listener with pinpoint accuracy, and helps eliminate reverberations, sound reflections off walls, and other artifacts. JBL's advanced glass-filled ABS bi-radial horn design delivers your movie soundtracks and music with professional-level realism.
Ribbed PolyPlas™ woofer for satisfying bass
The Studio 530 uses a JBL 5-1/4" PolyPlas woofer cone to deliver accurate low-frequency sound. The woofer's ribbed design helps improve strength and resist flexing while reducing distortion. JBL wraps all of this driver technology up in a rigid, heavily braced enclosure with non-parallel surfaces to eliminate sound interference and prevent unwanted resonance. The result is tight, articulate bass you can feel as well as hear.
Got wire?
Most speakers don't include any. Learn about
choosing and installing speaker wire
at the Crutchfield Learning Center.
Shop our selection of
speaker wire
.
Product Highlights:
frequency response: 45-40,000 Hz (-6dB)
recommended amplifier power: 125 watts
sensitivity: 86 dB
impedance: 6 ohms
1" compression driver with neodymium magnet and one-piece Teonex® diaphragm on a glass-filled ABS Bi-Radial® horn
5-1/4" PolyPlas™ cast aluminum frame woofer with symmetrical field geometry (SFG) magnet structure and rubber surround
bass-reflex (ported) design
cherry finish
dual gold-plated speaker binding posts (bi-wire capable)
port tube inserts included for attenuating bass in the 50-100Hz region to compensate for room placement
8-7/16"W x 18-3/8"H x 8-3/4"D
warranty: 5 years
Why choose bookshelf speakers?
Bookshelf speakers may be small in size, but they can deliver surprisingly big sound. Some ultra-compact models even fit on a desktop. Most are right at home in tight spaces like shelves, so they're usually good choices for your home theater's rear channels. For the best performance, try placing bookshelf speakers on solid speaker stands to help the sound really "open up." If you want full bass impact, add a powered subwoofer and enjoy punchy sound that's as deeply satisfying as that of floor-standing speakers.
JBL Studio 530 Reviews
Average Customer Review:
3 Reviews
---
JBL hits one out of the park
Written by: Audio Hobbyist from Denver on February 16, 2013
Make no mistake, JBL aimed this speaker directly at B&W, Paradigm, PSB and other "lower high-end" speakers. After nearly 48 hours of non-stop listening I can say these are exceptionally refined, dynamic and involving speakers. I have them set up in my 12x15 bedroom connected to an Adcom amp/preamp system and use a turntable, Sony ES SACD player and Apple AirportExpress as sources. In many ways these fly in the face of conventional speaker design. They are dominated by a massive horn but the horn isn't used for efficiency. These speakers are 6ohm and only 86 db sensitive, a design decision that allows for richer, tonally accurate mids and uppper bass. The complex compression driver is hidden behind a fine mesh screen but when viewed with a light, you can see inside this isn't your typical dome arrangement. Along with the amazingly fast doped paper cone, the 530 yields an incredibly realistic and holographic acoustic image. The coherent nature of these speakers is aided by the high-end crossover network tuned by the master, Greg Timbers. I'm not going so far to say the Studio 5 series is the poor man's Project Array, K2 or Everest, but you can easily see Greg's passion for real horns and why he must have really loved using them in a speaker at this price point. If you're looking for stand-mount speakers in the $500 to $1000 range, and especially if you're using separates, then the 530s should be on your short list. Such incredible speakers.

Pros: Tonally accurate and rich. Great dynamics with little-to-none compression. Surprising bass for such a tiny woofer, but many will enjoy using a sub for support. Holographic presentation. High SPL capable without distortion. Plays softly just as well. Refinement similar to B&W, Paradigm and PSB without sounding anything like them. Massive binding posts.

Cons: Aesthetics are certainly odd, these aren't a typical box. Cherry vinyl looks ok, real veneer would have looked better. Forward presentation might not be for those that prefer a more conservative, laid back soundstage. It isn't shouty like a Klipsch, but it isn't a Harbeth either.
Looking for speakers like this for a long time
Written by: willece1 from Morton, Illinois on December 28, 2012
Crutchfield Customer Review
(
What's this?
)
These are the ONLY affordable bookshelf speaks I have found that have such a large frequency range, up into super tweeter territory. Previously, I had to add a seperate super tweeter, which can be expensive and hard to come by, to get the crisp highs I expect out of the music I listen to. These speakers can handle it all and do it even better than most floor standing speakers I have experienced. Like the previous review, you can add the supplied damper to the bassport if the lows are too much. I personally like the lowest lows and the highest highs myself.

Pros: Best sounding bookshelf speakers on the market...you would have to spend 10 times as much to get a set of speakers that can deliver the range these do.

Cons: None
My first JBL's, my first horns
Written by: JohnMichael from Central Ohio on October 26, 2012
Crutchfield Customer Review
(
What's this?
)
I rated this speaker 5 stars for the performance level at a low price. I have two pairs of more expensive speakers and while the Monitor Audio RS 6's have more bass and the Mobile Fidelity OML 1's are smoother I find the Studio 530's to be superor in some ways. My listening room is small to medium sized and the speakers are placed on the 12 foot wall. Since the horn controls dispersion the lack of side wall reflections make this a very detailed speaker. I am happy to say the detail does not cause the sound to be bright. The Studio 530's sound open with no emphasis on high frequencies.

Low frequencies are very good from this speaker and again with my small room the bass extension of the Studio 530's seem to work well without any typical small room problems. Yes some would want a subwoofer but for the music I listen to it is enough. Bass does not sound artificially emphasized by the speaker design. Robert Plant and Allison Kraus's "Raising Sand" has good low end weight.

The midrange and highs are very nice with violins sounding very real and hearing all the detail of the hammer hitting the piano strings. Singers are never lost in the mix when they begin to sing softer or the music increases. Harmonies are easier to follow in recordings such as the Trio recordings of Linda, Dolly and Emmylou. Clarity is amazing.

Oh and if you love jazz you will love this speaker. The Studio 530 is my favorite affordable jazz speaker.

Pros: Very good imaging. The singer is in front and you can hear the position of the musicians on the stage. Vocals are accurate and on albums with various singers singing one song a piece there is no doubt whose voice you are hearing. To my ears no part of the frequency range is emphasized. The sound is balanced without any one frequency or range causing the sound to jump out of you. The sound is not in your face forward as if you were in the front row but more about a third way back in the hall.

Cons: My only criticism is that for best transparency I needed to use the half panel instead of the full grill. The grill shown in the pictures did not in my experience provide for best sound. I removed them and replaced them with the panel that completes the geometry of the horn. In this manner the mid/woofer is always exposed. The improvement in sound is more of an benefit than the bare driver is a detriment.
What's in the box?
2 Bookshelf loudspeakers
2 Removable cloth grilles (installed)
2 Horn covers
2 Port tube inserts
8 Self-adhesive rubber feet
Owner's Manual
Warranty sheet
Product Research
Driver Technology
Enclosure Design
Connections
Mounting Options
Driver Technology
JBL Studio Series: The JBL Studio 530 bookshelf speaker shares critical design characteristics with the JBL's Professional loudspeakers you find and hear in movie theaters and concert venues. The JBL Studio Series loudspeaker offers dynamic realism & dimensional accuracy that closely duplicates the experience of a movie theater or musical live performance.
Two-Way Bookshelf Speaker: The JBL Studio 530 bookshelf loudspeaker features a 5.25" low-frequency woofer and a high-frequency compression driver surrounded by a glass-filled Bi-Radial horn; a combination that delivers crisp, focused, dimensionally accurate sound.
High Frequency Compression Driver/Horn System: The JBL Studio 530 bookshelf loudspeaker features a 1" compression driver with a neodyminium magnet and one-piece Teonex diaphragm on a glass-filled ABS Bi-Radial horn.
1" High-Frequency Compressions Driver: The Studio 530 bookshelf loudspeaker's high-frequency compression driver lowers distortion and provides a wider dynamic range than is possible from conventional high-frequency and midrange drivers. The tweeter includes a one-piece Teonex diaphragm/surround assembly fitted with a 1" voice coil that can deliver enhanced vocal articulation.
Glass-Filled ABS B-Radial High-Frequency Horn: Horn-shaped loudspeaker designs optimize high-frequency output by directing the sound to the listener with pinpoint accuracy, thereby eliminating reverberations, reflections off walls, and other artifacts. The Studio 530 bookshelf loudspeaker features a glass-filled ABS Bi-Radial high-frequency horn that delivers professional-level sound to your home.
Low Frequency Woofer: The JBL Studio 530 bookshelf loudspeaker features a PolyPlas cone woofer with Symmetrical Field Geometry (SFG) magnet structures, cast-aluminum frames, and rubber surrounds.
5.25" Ribbed PolyPlas Woofer: The Studio 530 bookshelf loudspeaker delivers accurate low-frequency sounds from a single 5.25" ribbed PolyPlas woofer cone. The ribs improve strength while reducing distortion. The result is rich, articulate bass.
Symmetrical Field Geometry (SFG) Magnet Assembly: Thanks to a heavy-duty Symmetrical Field Geometry (SFG) magnet assembly, the Studio 530 bookshelf loudspeaker's low-frequency woofer delivers highly focused bass. The result is pristine, articulate sound.
Non-Resonant Cast-Aluminum Frame: The 5.25" woofer features a non-resonant cat-aluminum frame for clean, powerful bass response.
Rubber Surrounds: The ribbed PolyPlas woofer cone employs a rubber surround for long cone excursion and extended bass response.
Low-Loss, Two-Way Crossover Network: The Studio 530 bookshelf loudspeaker's low-loss, two-way crossover network ensures a clean transition for sound coming from individual low-frequency and high-frequency drivers, thereby reducing distortion while improving clarity.
Voice Matching: Engineered and voice matched to other speakers in the JBL Studio 5 Series, the Studio 530 bookshelf speaker is powerful, accurate, and styled to make a dramatic design statement in any listening environment.
Enclosure Design
Sturdy 3/4" MDF Enclosure: The JBL Studio 530 bookshelf loudspeaker utilizes a rigid, heavily-braced enclosure with non-parallel surfaces to reduce unwanted resonance.
Bass Reflex Design: The Studio 530 bookshelf loudspeaker employs a bass reflex (ported) design cabinet with a rear-facing bass port that increases output and extends bass response. There are two port tube inserts included to decrease the amount of bass output (50Hz-100Hz) from the cabinet.
Detachable Grille: The bookshelf loudspeaker can be used with or without its detachable cloth grille. A plastic cosmetic cover is provided when not using the cloth grille.
Colors: The 530 bookshelf speaker is available in a black or cherry wood-grain vinyl finish (both contain black grilles).
Connections
Dual Gold-Plated Binding Posts: The JBL Studio 530 bookshelf loudspeaker will work with various power amplifiers and home receivers, with single single-wire or bi-wire operation. The Studio 530 bookshelf loudspeaker is fitted two sets of gold-plated 5-way binding posts connected by gold-plated jumpers. Using the dual 5-way binding posts, you can bi-amp or bi-wire the speaker. The gold-plated 5-way binding posts will accept bare wire, pin connectors, spade connectors, or banana plugs (single/dual).
Note: Make sure to remove the gold-plated jumpers when bi-wiring/bi-amping the speaker.
Color-Coded: The dual 5-way binding posts terminals are color-coded (red/black) for easy identification between positive and negative.
Mounting Options
Application: The JBL Studio 530 bookshelf loudspeaker can be used as a stereo pair for music listening, or as front and rear channel speakers in a home theater system.
Placement as Front Speakers: For the best results, place the speakers 6' to 10' apart. Angling the speakers toward the listening position can improve the stereo imaging. The speakers will produce the most accurate stereo soundstage when the angle between the listener and the speakers is between 40° and 60°. Generally, bass output will increase as the speaker is moved closer to a wall or corner. For the best performance, JBL recommends that you place the speakers at least 20" away from the side walls. Position the Studio 530 bookshelf speakers so that the centers of their horns are approximately at ear level.
Placement as Rear Speakers: When you use the Studio 530 speakers as surround-channel speakers in a 5.1-channel system, place them slightly behind the listening position, facing each other. Ideally, they should be 3' to 4' above the floor. An alternate location would be on a wall behind the listening position, facing forward.
Rubber Feet: The JBL Studio 530 bookshelf loudspeaker comes with self-adhesive rubber feet for safe placement on a table-top, stand, or shelf. The rubber feet add 0.25" to the height of the bookshelf speaker.
Wall Mounting (optional): The JBL Studio 530 does not provide any keyhole slots or threaded inserts to wall mount the speaker. However, the optional PinPoint heavy duty side-grip wall-mounting bracket (121AM40B, sold separately) can be used to wall mount the speaker.
Magnetically Shielded: The speaker is magnetically shielded, allowing you to place it near any television without distorting the picture.
Our Product Research Team
At Crutchfield, you'll get detailed, accurate information that's hard to find elsewhere. That's because we have our own in-house Product Research team. They verify what's in the box, check the owner's manual, and record dimensions, features and specs. We stay on top of new products and technologies to help people make informed choices.