Jensen VM9125
DVD receiver
Item #: 110VM9125
This item is no longer available.
Original Price: $249.99
Shop all In-dash Video Receivers
Need help?
Does it fit my car?
Select your car

A big screen for smaller budgets
Jensen's VM9125 DVD receiver sports a bright 6.2" touchscreen display that gives you easy access to the receiver's functions, and its stylish looks will be a welcome change to any dashboard that's cursed with a bland-looking factory radio.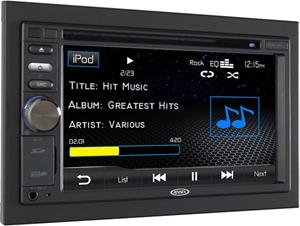 Style isn't the only upgrade
You can use the video screen to enjoy DVDs when you're parked, and the front-panel audio/video input provides a convenient connection for a camcorder, game console, or other sources. When you're ready for roll with some music, you'll find a front USB input — perfect for plugging in your iPod® or for thumb drives loaded with MP3 and WMA files. Fill an SD card with a bunch of songs, then store it in the front-panel slot — it's almost like having a CD changer in your dash. And of course you can play your favorite store-bought or recordable CDs, including discs you've loaded with MP3 and WMA files.
Get the sound you want
Adjust the audio output of the VM9125 with the 3-band equalizer, or keep it simple by selecting one of the eight preset EQ curves. You can get a little more kick by connecting an amp or powered subwoofer to the preamp outputs.
Product Highlights:
in-dash DVD receiver with AM/FM tuner
internal amp (13 watts RMS CEA-2006/40 peak x 4 channels)
6.2" touchscreen display
fits double-DIN (4" tall) dash openings
Audio/video features:
plays audio/video content from CDs, DVDs, SD cards, and USB memory devices (see Details tab for full capabilities)
3-band parametric equalizer with 8 preset EQ curves
low-pass filter and subwoofer level controls
Expandability:
iPod control: Jensen jLinkUSB cable required for full access to audio/video content
inputs: front A/V input, front USB input, front SD card slot, rear-view camera input
outputs: 5-channel preamp outputs (2-volt front, rear, and mono sub)
Other information:
Video receivers: They're not just for movies
Video receivers add a new level of entertainment to your vehicle. You can watch a movie on the screen when you're parked on a Saturday night, or play a DVD or downloaded video through your rear seat video setup on the road. Touchscreen receivers allow you to breeze through menus with the tip of your finger. Most video receivers feature a USB input for iPod audio, and the ability to add an adapter that allows video to display on the screen.
Jensen VM9125 Reviews
Average Customer Review:
4 Reviews
---
What's in the box?
Multimedia receiver with integrated 6.2" touchscreen monitor (15A fuse inserted in chassis)
Sleeve
2 Trim rings
Power/ground harness
Speaker harness
AV/Preamp harness
Parking brake/reverse harness
8.25' Parking brake light detection wire (pink)
Metal backstrap
Rear support stud
Rubber bushing
Self-tapping screw
Hex-head screw
6 Flat-head iso-mount machine screws
6 Pan-head iso-mount machine screws
Operating Instructions
Installation Guide
"STOP" sheet
Limited Warranty information
Product Research
Touchscreen Display
Disc/SD-Card Playback
USB/iPod Connectivity
AM/FM Radio
Audio Section
Audio/Video Connection
Touchscreen Display
6.2" Touchscreen Display: The Jensen VM9125 features a fixed 6.2" widescreen touchscreen LCD monitor. The screen has a resolution of 800 RGB x 234 with 1,152,000 total pixels. This unit has touchscreen controls with interactive video graphics, making menu navigation easy.
Aspect Ratio: You can choose from the following aspect ratio modes for the unit's integrated monitor:
Full: The entire screen is extended horizontally to the aspect ratio of 16:9.
Normal: The conventional display image has a 4:3 aspect ratio of horizontal to vertical, leaving a blank area on the right and left sides of the display.
Selectable Backgrounds: You can select from five background wallpapers (Black, Motor Sport, Space, Havoc, or Sheet Metal).
Picture Adjustments: You can adjust the picture's brightness & contrasts manually between -10 and +10.
12 or 24 Hour Clock: You can set the unit to display a 12 or 24 hour clock.
Hard-Key Controls: In addition to the unit's LCD touchscreen controls, the VM9125 also features hard-key controls on the left edge of the screen (including a 3-way rotary audio control).
Parking Brake Detection: For safety reasons, you cannot view a video source on the built-in monitor as long as the vehicle is in motion. In order to display video, the supplied pink wire must be hardwired into the vehicle's parking brake light circuit, and the vehicle's parking brake must be engaged. The pink parking brake wire is used to connect to your parking brake light wire (video on the LCD monitor can only be displayed when this unit's pink PRK SW wire senses that the parking brake has been engaged in the vehicle).
2-DIN Chassis: The Jensen VM9125 has a 2-DIN chassis (also known as Double DIN or size DD), and will fit in many vehicles with a large dash opening. The unit can be ISO-mounted using factory brackets, or Euro-mounted using the supplied mounting sleeve.
Note: As always, please consult Crutchfield's Outfit My Car to verify fit with your vehicle.
Disc/SD-Card Playback
Disc Slot: The unit has a front-loading disc-slot to make loading your disc easier, because there is no panel to slide or fold-down.
Disc Compatibility: The VM9125 is compatible with the following discs:
DVD: DVD Video, DVD-R, DVD-RW, DVD+R, DVD+RW, DVD+RW DL
CD: Audio CD (CD-DA), CD-R, CD-RW
Compressed Files: MP3, WMA, JPEG, MPEG 1/2
Note: 8 cm discs should not be used in this unit.
SD-Card Slot: The Jensen VM92125 is equipped with a front-panel SD-card slot. The head unit supports playback of audio & photo files recorded on SD/SDHC memory cards (up to 8GB).
MP3/WMA Playback: The VM9125 can play MP3/WMA files with ID3 Tag capability that have been recorded on CD-R, CD-RW, DVD-R, DVD-RW, DVD+R, and DVD+RW discs; as well as SD/SDHC memory cards. The files must be recorded in ISO 9660 or Joliet formats for discs and formatted in FAT 16/32 for SD-cards. The recommended bit rate is 128 kbps and sample frequency of 48 kHz. Up to 1500 songs/files can be supported from a compatible disc or SD/SDHC memory card. This unit will only recognize 3 folder levels.
JPEG Playback: The unit supports playback of JPEG still images recorded on CD-R, CD-RW, DVD-R, DVD-RW, DVD+R, and DVD+RW discs; as well as SD/SDHC memory cards. You can view a thumbnail display of available images as well as rotate a selected image 360-degrees in 90-degree increments.
DVD Touch-Screen Controls: While playing a DVD you can press the screen to access disc information and playback functions. The following are some of the playback controls that are displayed when the bottom of the screen is pressed while viewing a DVD disc.
Fast Forward/Fast Reverse: When playing a DVD, there are four fast-play speeds in both directions: 2x, 4x, 8x, and 16x.
Slow Motion: Plays the current title in slow motion.
Repeat Play: When playing a DVD, you can repeat the current chapter or title.
A-B Repeat: A-B Repeat allows you to repeat any portion of a DVD.
Note: When playing a Video CD, the repeat function is not available. For MP3/WMA, you can repeat the current file.
Direct Search: During DVD, VCD, or CD playback you can use the numeric keypad on the touch-screen display to access a chapter/track directly.
Random Play: When playing a CD disc, you can play the tracks or files in random order.
Intro Scan: During CD-audio playback you can play the first 10 seconds of each track or file.
Zoom: When playing DVDs and Video CDs, you can enlarge the picture using the zoom feature. You can choose one of four zoom settings.
Parental Lock: The DVD system has a built-in Parental Lock feature to prevent unauthorized persons from viewing restricted disc content. By default, the rating system is unlocked. You can choose from 8 different levels of Parental Lock. Once setup, the parental lock is released only by entering the user 4-digit password.
Off Eject: You can eject a disc with the unit powered off. You cannot insert a disc with the head unit powered off.
USB/iPod Connectivity
USB Port: The Jensen VM9125 features a front-panel USB type-A port for playback of MP3 (128kbps) and WMA (128kbps) audio files recorded in FAT16 or FAT32 on a connected USB mass storage class device. The head unit also supports JPEG still image playback via USB. Up to 1500 songs/files can be recognized from one USB mass storage device (it will only recognize 3 folder levels). The VM9125HD will also display ID3 tag information. In addition, the VM9125's USB port (5V/500mA) will charge your connected USB device.
iPod Control: The optional jLink-USB cable (110JLINUSB, sold separately) allows you to connect select iPods and iPhones to this unit through the head unit's front-panel USB port and 3.5mm AV input. Once an iPod/iPhone is connected, you can playback audio/video content from your iPod/iPhone on the VM9125. The Jensen head unit will also display text information such as song, track or artist name from your connected iPod. You can directly control audio/video functions of your iPod/iPhone from the head unit's touchscreen. You can search your music and videos by Playlists & Categories. You can even select a track directly from the on-screen keypad. Your iPod/iPhone's touchscreen or clickwheel controls will be locked while connected to the head unit. Your iPod/iPhone is also charged when it is connected to the head unit. If you only require iPod/iPhone audio playback, you can simply connect your iPod/iPhone to the VM9125 via the USB/Dock connector cable that came with your iPod/iPhone. The Jensen VM9125 and optional jLink-USB cable are "Made for iPod/iPhone" compatible and support the following iPod/iPhone model features (as of 5/10/2012):
iPod/iPhone
Generation
Tested Version
Media Type
Control Type
Display Type
Charge
Audio
Video
Head Unit
iPod/iPhone
Song/Artist Text
Track Info
Album Art
dock connector
3rd
N/A
N
N
N
N
N
N
N
N
clickwheel
color
4th
N/A
N
N
N
N
N
N
N
N
mini
1st
N/A
N
N
N
N
N
N
N
N
2nd
N/A
N
N
N
N
N
N
N
N
video
5th
1.3
Y
N
Y
N
Y
Y
Y
Y
classic
80GB
1.1.2
Y
Y
Y
N
Y
Y
Y
Y
120GB
2.0.1
Y
Y
Y
N
Y
Y
Y
Y
160GB
2.0.4
Y
Y
Y
N
Y
Y
Y
Y
nano
1st
1.3.1
Y
N
Y
N
Y
Y
Y
Y
2nd
1.1.3
Y
N
Y
N
Y
Y
Y
Y
3rd
1.1.3
Y
Y
Y
N
Y
Y
Y
Y
4th
1.0.4
Y
Y
Y
N
Y
Y
Y
Y
5th
1.0.2
Y
Y
Y
N
Y
Y
Y
Y
6th
1.1 PC
Y
N
Y
N
Y
Y
Y
Y
touch
1st
2.2.1
Y
Y
Y
N
Y
Y
Y
Y
2nd
4.2.1
Y
Y
Y
N
Y
Y
Y
Y
3rd
5.1.1
Y
Y
Y
N
Y
Y
Y
Y
4th
5.1.1
Y
Y
Y
N
Y
Y
Y
Y
iPhone
2G
3.1.3
Y
Y
Y
N
Y
Y
Y
Y
3G
4.2.1
Y
Y
Y
N
Y
Y
Y
Y
3GS
4.3.5
Y
Y
Y
N
Y
Y
Y
Y
4
5.1.1
Y
Y
Y
N
Y
Y
Y
Y
4S
5.1.1
Y
Y
Y
N
Y
Y
Y
Y
Note: Apple iPod/iPhone software updates may change functionality results. If you download a newer software version, you may need to reset the head unit and your iPod/iPhone to regain functionality. If this doesn't work, you may need to wait until a newer software update is available.
AM/FM Radio
AM/FM Tuner: The head unit features a built-in AM/FM tuner with manual, seek, preset, and direct tuning.
Preset Tuning: The unit features 3 FM bands and 2 AM bands with the capability of storing 6 presets for each band giving you a total of 18 FM presets and 12 AM presets (30 total). You can also automatically store the six strongest stations in your area inside the current selected band.
Preset Scan: In addition, the tuner features a Preset Scan function which allows you to preview your stored preset stations in the selected band.
Preview Scan: The Scan function will play the first five seconds of each station, until you find a station you like.
Local Seek: The unit's tuner also is equipped with a Seek mode that when used with the Local function, only allows radio stations with a strong local radio signals to be played.
Direct Tuning: The built-in AM/FM tuner also allows direct frequency tuning through the unit's touchscreen panel.
European Tuning: The tuner features selectable North America and European tuning.
Audio Section
D/A Converter: The VM9125 is equipped with a high-performance 24-bit, 192kHz digital-to-analog converter with a multi-bit Sigma-Delta modulator.
CEA2006 Compliant: The power specifications for the VM9125 are compliant with the CEA2006 Mobile Amplifier Power Testing and Measurement standards from the Consumer Electronics Association (CEA). These standards were developed as a way to equitably compare power specs from model to model and between manufacturers. The power output specs for the VM9125 are as follows:
CEA2006 Specs:13 watts RMS x 4 channels (at 4 ohms, 20Hz-20kHz, 1% THD-N)
Maximum Power Output: 40 watts x 4 channels (160 watts total)
2V/5CH Preamp Output: The VM9125 is equipped with five 2-volt preamp outputs (Front/Rear/mono-Sub). The front & rear preamp outputs offer balance/fade control and are designed to hookup to a full-range 4-channel amplifier. The mono-subwoofer preamp output is non-fading and designed to hookup to a mono-block subwoofer amplifier.
Subwoofer Controls: The Jensen VM9125 offers the following subwoofer controls, when you have the unit's subwoofer preamp output activated.
Low Pass Crossover: The receiver features a built-in Low Pass Crossover for subwoofer preamp output. You can select from 80Hz, 120Hz, 160Hz, or off.
Subwoofer Level: Once the Subwoofer preamp output is activated, you can independently control the subwoofer preamp output level (+/-14) from the DVD receiver.
Programmable Turn-On Volume: You can set the head unit to turn-on to the last volume level adjustment when turned off, or turn-on to a pre-defined volume level (0-40) every time you power up the radio.
EQ: The VM9125 features a Preset & Custom EQ. The built-in equalizer offers 8 preset sound modes (Acoustic, Urban, Rave, Latin, Dance, Hip Hop, Rock, or User) suitable for the music genre of your choice. The User mode allows you to manually adjust the head unit's 3-band parametric EQ (Frequency/Level).
3-Band EQ
Frequency
Level
Q
Bass
60, 80, 100, 200 Hz
- 14 to +14
1.0, 1.25, 1.5, 2.0
Midrange
0.5, 1.0, 1.5, 2.5 kHz
- 14 to +14
0.5, 0.7, 1.0, 1.25
Treble
10.0, 12.5, 15.0, 17.5 kHz
- 14 to +14
Fixed
Loudness: The Loudness feature compensates for deficiencies in the low and high sound ranges at low volume.
DRC: This function reduces a Dolby Digital soundtrack's dynamic range so you can hear quieter dialog without being overwhelmed by loud sections. You can choose a setting of Auto or On.
Source Level: You can increase the relative volume (+/-6dB) of the unit's source inputs to match the external source's output level. The Source Level can be used for the VM9125's Radio, Disc, USB, iPod, or AV input.
Beep Tones: An audible beep tone confirms each function selection. The beep tone can be disabled/enabled in the Setup Menu.
Heat Management: The unit has a heat management system which incorporates forced-air cooling to keep the chip-sets operating at nominal temperatures for reliable operation and sound quality.
Audio/Video Connection
Front-Panel AV Input: TheVM9125 features a front-panel 3.5mm AV input for connecting a portable audio/video device such as a portable digital media player. This input is also used to connect the optional jLink-USB cable for iPod/iPhone video playback.
Video Out: A single RCA composite video-output jack allows you to an add external monitor such as rear headrest monitor (sold separately). The video output will display whatever video signal that is being displayed on the head unit's touchscreen monitor.
Rear View Camera Input: The unit features a composite video input for connecting an optional rear view camera, such as the Jensen JCAM1 (110JCAM1, sold separately). The video from this connection will display automatically when the vehicle is shifted into Reverse gear. The green/white wire of the supplied wiring harness must be connected to the vehicle's reverse lamp circuit for automatic video switching. Automatic video switching takes approximately 2.0 seconds. You can choose for the monitor to display a Mirror mode image or a Normal mode image from the rear-view camera.
Our Product Research Team
At Crutchfield, you'll get detailed, accurate information that's hard to find elsewhere. That's because we have our own in-house Product Research team. They verify what's in the box, check the owner's manual, and record dimensions, features and specs. We stay on top of new products and technologies to help people make informed choices.