Kenwood DNN770HD
Navigation receiver with Wi-Fi®
Item #: 113DNN770H
16 Reviews | 4 questions - 9 answers
This item is no longer available.
Original Price: $999.99
Shop all In-dash GPS Navigation
Need help?
Does it fit my car?
Select your car

Connectivity like never before
Hitting the road has typically meant checklists, either physical or mental. Keys, wallet, phone, etc. — you know the drill. And if you're running errands or heading out for an extended period of time, there's going be the chance that you forget something, whether it's an appointment, a favorite CD, or to reply to an important email before you leave. Kenwood's DNN770HD navigation receiver helps you leave those fears behind: it connects to the cloud to let you access your favorite digital media sources right in your car, so your plugged-in lifestyle can continue uninterrupted when you're on the go. And you can still enjoy a laundry list of features ilke a 6.1" touchscreen display, accurate guidance with traffic reports, a built-in HD Radio™ tuner, Blueooth®, smartphone compatibility, and much more.
Wi-Fi® is your lifeline to information and entertainment
Kenwood built the DNN770HD to work with Wi-Fi hotspots, like ones you can create in your car with your smartphone or a mobile hotspot device (data charges may apply). From there, you can take advantage of access to web-based content, plus your favorite media across several platforms, including your phone's apps, your social media feeds, and music you've stored online. Once you've set up a Wi-Fi hotspot in your car, the receiver connects to the signal; that gets you into the cloud, which is where you can employ connected services for music, video (when parked), social media, navigation extras like traffic and parking help, and more.
Tap into your media through the Kenwood Server
You'll need to set up an account with Kenwood's server online to take full advantage of the DNN770HD's connected services. This server allows you to access your cloud-based music files, RSS and social media feeds, email, and calendar — all through the receiver. You can sync your account with any number of web-based services you use, and then enjoy them through the receiver as long as you're connected. You can also access music files from your own cloud-based digital locker accounts, so you won't have to remember to bring any tunes with you ever again. You can add up to four accounts for other drivers, and your Kenwood receiver will remember each user's preferences and content.
See everything at a glance, including weather, directions, audio sources, and media feeds.
Your favorites right at hand
The DNN770HD's home screen offers four primary categories: social, media search, main source, and apps. You'll have quick access to the web, email, weather, calendar, and all the different sound sources for the receiver, including CD, DVD, HD Radio broadcasts, Bluetooth streaming audio, built-in music apps like AUPEO!, YouTube, and iHeartRadio, and optional SiriusXM satellite radio. You can pull up your Facebook and Twitter accounts with one finger to learn what your friends are up to.
And you can even use your voice to do a cross-platform search for music. Simply say the name of an artist, and the receiver will search across all your connected sources (such as a thumb drive, iPod®, or your cloud-based music account) for what's available, saving you the hassle of looking through your devices for that one special song.
Have emails and status updates read to you
Text-to-speech capability reads arriving emails aloud, so you can concentrate on driving instead of looking at the screen. It also reads status updates from Facebook and Twitter, as well as RSS feeds you're subscribed to and your calendar events. An Internet connection is required to use text-to-speech functions.
When you're connected to the Internet, the DNN770HD is also able to convert your speech into written entries for emails and social media updates. All you have to do is push the speech-to-text button and speak aloud. You can even add reminders to your calendar this way.
Built-in Garmin navigation, plus helpful INRIX travel tools
The Kenwood DNN770HD features Insta-Search and Insta-Route, which will get you started on your journey fast and save you time searching for locations. It uses predictive text so you'll even save time typing in the name of your destination, while built-in trademark guidance from Garmin ensures your routes are accurate and easy to follow. When connected to the Internet, you'll also get real-time updates on traffic and weather along your route, plus fuel prices, parking information, and more from the experts at INRIX. When not connected to the Internet, you'll still receive traffic updates from NAVTEQ in most metropolitan areas.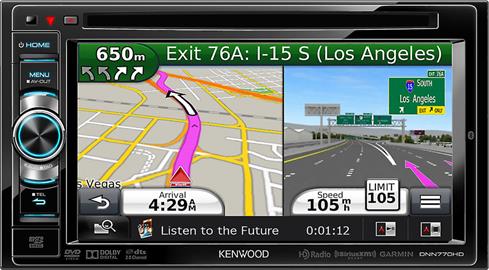 Let built-in guidance from Garmin keep you on the correct path with lane guidance.
Build your route ahead of time and transfer to the receiver
You can map a route of your next journey through Kenwood's secure website or through the Kenwood Route Collector app on your smartphone and have it automatically sent to the DNN770HD, so it's ready for you to follow when you hit the road. You can save up to ten custom routes, and you won't need the Internet on the road to access them once they've been loaded to the receiver. You can even have the receiver send navigation map data to the Kenwood Server for future reference.
Plenty of fun for smartphone fans
The DNN770HD connects you to many of your phone's favorite features on the road, but it works in different ways for different devices:
iPhone 4/4S: With a separate cable, you'll get control of your Pandora® Internet radio app through the receiver's touchscreen when connected. App Mode also gives you limited control over other select apps on your phone. The DNN770HD also offers compatibility with your iPhone's Siri® feature for select email, Bluetooth® calling, and iPod® commands.

Android™: You'll get control of your smartphone's Pandora app through Bluetooth, so no cable needed. The Kenwood Music Control app also gives you easy search and playback functions of your Android phone's music through the receiver.

BlackBerry®: You'll get Pandora Internet radio app control through Bluetooth, so no cable needed.
Stellar Kenwood audio, too
On top of all this, you'll still be able to play CDs and DVDs through the DNN770HD. You'll also be able to pull up high-fidelity AM/FM broadcasts where available though the HD Radio tuner. Kenwood also gives you a 7-band equalizer for sound personalization. And if you're a satellite radio fan, you can add SiriusXM programming to the receiver with an optional tuner and your paid subscription.
You'll also have a dedicated rear-view camera input at your disposal, plus a USB input for digital media sources.
iDatalink Maestro lets you keep your factory extras
If your vehicle comes with factory add-ons like Ford SYNC, Chrysler Uconnect®, or GM OnStar®, you don't have to worry about losing your favorite conveniences to get navigation and better sound — the DNN770HD offers compatibility you won't find in many other aftermarket radios, thanks to the iDatalink Maestro module (not included). For SYNC systems, you'll be able to retain voice-controlled features, steering wheel audio controls, and factory audio functions, plus enjoy expanded functionality including gauges, climate controls, a distance sensor, and tire pressure monitor. For OnStar systems, you'll keep your steering wheel audio controls, your factory amp, safety warning chimes, and OnStar, if present. With Chrysler Uconnect systems, you'll retain steering wheel controls, the factory amp, and Uconnect with voice command for select vehicles.
Want to keep your car's steering wheel audio controls?
In most vehicles, you can use an adapter (not included) to connect your vehicle's steering wheel controls to this Kenwood stereo. Connect a few wires, then program the adapter for your particular car and the Kenwood, and you'll retain the convenience of your steering wheel controls.
Note: The Kenwood Server requires a subscription: Kenwood gives you the first two years free, and after that it's just $60 for two more years. You can manage your Kenwood Server account through Kenwood's secure website or the Kenwood Route Collector smartphone app.
Note: Bluetooth compatibility of this device may vary, depending on your phone and service provider.
Note: If you're going to use your iPod or iPhone with this receiver, be sure to check "Details" for specific model compatibility with this receiver or its optional iPod adapter.
Check out this Kenwood site or Kenwood's Quick Start Guide for more info on what this impressive GPS receiver can do in your car.
Product Highlights:
General features:
DVD/CD receiver with 6.1" touchscreen and AM/FM tuner
fits double-DIN (4" tall) dash openings
built-in amplifier (22 watts RMS/50 peak x 4 channels)
built-in Wi-Fi adapter for access to Kenwood Server and connected features (see "Connected features")
built-in Bluetooth for hands-free calling and audio streaming
built-in HD Radio tuner
Connected features (subscription required after 2 years):
built-in streaming audio apps including AUPEO!, YouTube, and iHeartRadio
access to email, calendar, web browser, Facebook, Twitter, and RSS feeds
text-to-speech and speech-to-text for email, calendar, and social media updates
cross-platform music search with voice recognition
access to cloud-based media from personal digital locker account
online trip planning and trip log
Navigation features:
built-in Garmin navigation system with Insta-Route and Insta-Search
maps of the U.S., Canada, and Puerto Rico, plus 6 million points of interest
INRIX traffic and other updates when connected
free lifetime NAVTEQ traffic updates
lane guidance and junction view
Connectivity features:
App Mode for iPhone 4/4S and iPod touch: Kenwood cable required
built-in iPod control for iPhone 4/4S: Kenwood cable required for full access to audio/video content
Pandora control for iPhone (cable required), Android, and BlackBerry
compatible with Garmin Smartphone Link for Android
Audio/video features:
plays CDs, DVDs, SD cards, and USB memory devices (see Details for full capabilities)
24-bit digital-to-analog converter
high- and low-pass filters
7-band parametric EQ
Expandability:
compatible with SiriusXM satellite radio tuner
inputs: rear USB input, A/V input, rear-view camera input
outputs: 6-channel preamp outputs (2.5-volt front, rear, subwoofer), A/V output
Other information:
compatible with iDatalink Maestro to retain factory add-on functionality for SYNC and OnStar
compatible with most factory steering wheel audio controls (adapter required)
warranty: 1 year
Why install a car stereo with built-in GPS?
Imagine taking a trip as your car's receiver gives you directions, finds the best restaurant for dinner, and plays movies for your back seat denizens. Navigation receivers cover all the bases, with GPS guidance, DVD playback, and a host of other useful features. You can search through millions of points of interest to locate gas stations, restaurants, museums, and other interesting spots, wherever you are. Most receivers offer Bluetooth capability for hands-free calling, along with the ability to search through your iPod playlists with touchscreen controls.
Kenwood DNN770HD Reviews
Average Customer Review:
16 Reviews
---
Written by: Dlome from California on February 27, 2015
I have waited a few weeks to review this headunit and can say it is a really good indash system. I have it in a 2011 Silverado along with the idata maestro interface kit and most tings work perfect. Installation took about 4 hours from park to drive which is reasonable and everything fit in the dash no modifications needed which was a big concern.

No it is not an instant on machine an it could have used a faster processor but for everyone complaining about long turn on times then you are expecting too much from a off the shelf unit. It literally takes 45 seconds from key on to music playing (which is not even to the road from my apartment) which is pretty darn good considering it has to full boot every time. If you want instant then find a good installer and have an Nexus 7 tablet installed with the AutoDroid ROM (which is amazing btw) and go that route but that takes time, modding, and know how while this is plug and play.

The only real issue I have run into is the stereo seems to have trouble connecting to bluetooth sometimes, you hear a pop when it disconnects then next time it might hold it might not. not sure if this is a phone issue or deck but the few times it goes nuts it's really annoying. But that doesn't happen too often beyond one reconnection.

Pros: -Spot on GPS -Extremely good sound quality, while I use an external processor and amplifier system the signal to the system is clean and solid -Good fit and fairly factory look -Retention of steering wheel controls and on-star with the idata maestro add-on (though i couldn't get the factory mic to work so I used the included) -Auto starts spotify on my phone when bluetooth connects (have to disable stock phone media player for this to work)

Cons: -Intermittent bluetooth connectivity -- rare occurrence but annoying -Inability to install other google play applications -Have not found a way to add additional live wallpapers yet so a con for now -Even with the illumination wire connected the screen and lights stay full bright even at night, would like it to either auto dim or have a brightness slider on the screen (using the notification bar would be ideal as it doesn't interfere and is present during any screen function)
Written by: DaveS from Los Angeles on September 13, 2014
Bought about a year ago for my car. The feature-set is good, but the firmware is flakey. Randomly it will just lose all its settings and you have to reprogram it. Slow to boot. Sluggish operation, as though the CPU just isn't hardy enough. Check the reviews online at kenwoodforums. One person said that this complex device is just over Kenwood's head, and they just don't have the technical expertise to make it work well and reliably.

I'm not saying not to get it, but beware, know that it does have some problems and weaknesses. We use ours every day, and while it gets the job done, it can be frustrating. There is no indication that Kenwood will ever release a better firmware for it, so what you see is what you get.

Pros: Good feature set.

Cons: Can be unreliable, randomly loses all its settings, slow boot, somewhat sluggish operation.
Written by: RFBurhler from Lakeland,TN on September 3, 2014
I purchased my Kenwood in May of 2013. Two months later I had to have the unit replaced because the GPS would fail to locate satellites over half the time. Now the replacement unit has failed it sits at the initial setup screen and does not allow you to continue. I called Kenwood and they told me that it will need to be sent in and it is out of warranty. I had purchase two DNN770HD radios for my vehicles and the one in my second vehicle fails to connect to WIFI. that mean I have had three radios fail out of three in just over a years time. These units are totally unreliable.

Pros: Loved the GARMIN GPS

Cons: Units that I had both failed and would not recommend KENWOOD to anyone.
Written by: Randy from Robbinsville, NJ on March 26, 2014
Crutchfield Customer Review
(
What's this?
)
I bought this unit to install in a motor home I am restoring. Wow. What a great unit. I needed to upgrade the stock speakers in the Ford chassis, but it was well worth it.

Pros: Has everything soup to nuts....

Cons: Tough to see the labeling of controls that are not electronic and that are on the perimeter of the unit.
Written by: coachts from Granada Hills, CA on January 14, 2014
2003 Hummer H2
Crutchfield Customer Review
(
What's this?
)
Does everything it says and more. I bought this for my Son's Christmas present. I have a Pioneer navi in my truck and this thing blows it away. I hooked up navigation, XM, backup camera, bluetooth mic, subwoofer. It's amazing and easy to use. Even pairs with your phones pandora account without you actually having to turn on Pandora on your phone.

Pros: Attractive user friendly interface Does everything possible

Cons: Pricey Only 3 band EQ
Written by: I&E Specialist from Houston, Tx on November 15, 2013
2010 Ford Escape
Crutchfield Customer Review
(
What's this?
)
Yes the intial boot is slow, but not a deal breaker. The multiple functions and abilities work very well, except for the bluetooth phone connect. This is a problem for the Samsung Galaxy S4 and the Iphone 5, I have only been able to connect the Samsung once with bluetooth phone, and that was after I flashed and upgraded firmware and software, but the bluetooth media connect works great.

Pros: Easy connect and setup, functions well after boot.

Cons: Bluetooth phone connect sucks.
Written by: silver77 from florida on November 8, 2013
Radio has some nice features once you integrate it into the factory systems. downside to this radio is its slow boot up and weird behavior at times. (seems like it has a mind of its own, for example: while listening to a usb device, the radio would switch to another mode all on its own. ). I've been a kenwood fan for a long time but this product fails miserably. The touchscreen is slow to respond, sometimes i have to press it several times before it will select what i want.

Im already fed up with this radio and ready to buy another.....

Pros: Integrates nicely into factory vehicle systems with available adapters,

Cons: slow touch screen, slow boot up, sometimes switches modes on its own, for example: while listening to a usb device, the radio would switch to another mode all on its own.
Good unit but needs refinement..
Written by: A-team from Claymont, DE on October 20, 2013
2013 Honda CR-Z
Crutchfield Customer Review
(
What's this?
)
Kenwood unit looks great on paper but it's not very user friendly while trying to operate the unit when driving. Also start up time takes too long with a noticeable delay once the navable screen appears. Kenwood tried to make this unit into a app rich setup, but they need to remember this is a stereo head unit and not a iphone. I ended up returning the unit and got the JVC.

Pros: Garmin nav seems friendly to use. Feature rich and tons of apps.

Cons: Not user friendly and huge delay at start up even with the latest firmware. Lag Lag Lag on almost everything functionality.
Written by: Scott from Auburn, Ca on September 17, 2013
Crutchfield Customer Review
(
What's this?
)
So far I like it. Sounds great with a Kenwood amp and Kenwood 6x9's. With my MiFi Hot spot coupled with a IPod touch you get a wired Pandora in my Tuffy secured glovebox. Browse the Internet and get the up to date news and Doppler radar weather.

Pros: I like the volume knob. Easy to grab vs finding little buttons. Has wifi.

Cons: Unless you have it set on GPS Navigation it's otherwise hard to see the clock when you have it set to music display.
Very Glitchy-not worth it
Written by: Xw00dsrac3rX from Pennsylvania on September 1, 2013
Crutchfield Customer Review
(
What's this?
)
I was always a fan of the Kenwood Nav units and thought this would be the same. Unfortunately, it is very glitchy. It runs very lagged and is not responsive when you press on the touch screen. Additionally the nav screen froze my unit several times and after talking with Kenwood, they told me that I would have to pull the unit from the dash and update it manually. This was another long and drawn out set up of the Kenwood and they were not very helpful at all in the customer service dept.

This unit also only uses the XM tuners, not Sirius. I installed the SXV200 tuner as directed and it was the worst service Ive ever heard in any vehicle. It would cut out constantly and I swapped 3 different antennas and locations for every one and still had the problem. Sirius tuner SCC1 is way better but cannot be used with this Kenwood.

I returned the head unit to Crutchfield, who luckily were great about the return. I would go backwards and get a DNX unit from last year until these problems are looked into.

Pros: New features, updated design and interface, Garmin maps.

Cons: Buggy, slow, complicated menu options, no Sirius service/only XM
Written by: kevin from va on July 28, 2013
Crutchfield Customer Review
(
What's this?
)
Excellent. Except the start up time. But i guess its like a phone.

Pros: Quick response when started.

Cons: Wish there was an adapter or option to have built in hot spot.
Written by: Jef from wasilla alaska on July 2, 2013
2010 Nissan Titan
Crutchfield Customer Review
(
What's this?
)
Love this stereo.

Pros: Sounds great, easily connects with my samsung note 2. Excellent sound and noise reduction while talking on the phone. Great picture quality while watching DVD'S.

Cons: No blue ray support.
Works wish it booted up quicker
Written by: Greg from Norfolk VA on June 30, 2013
2006 Ford F-150
Crutchfield Customer Review
(
What's this?
)
I have had the 770HD installed for about 5 weeks now. I will break down each component so you can look for what interests you.

Installation: I installed in into a 2006 Ford F-150 FX4 that had a standard double Din stereo. Installation was fairly straight forward, Crutchfield directions provided were basic and had pictures. Installing an AMP and new speaker wires required cutting and splicing. I ended up soldering the speaker wires from the rear cabin area to the factory wires behind the HU. The RCA style connectors on the rear of the HU work great, except some of my connectors are loose connecting to the HU. Most likely poor design on the RCA Company and not Kenwood. Mic placement works great, as well as GPS cables are both long enough and get strong signals. The wire for the Wi-Fi is long enough and picks up my house Wi-Fi no problem, along with most of my neighbors. I'd say it has a 50-150 foot range to pick up any local HOTSPOT.

Sound: Sound is great, controls could use some more explaining what each setting is. The provided CD-ROM does not go into ANY depth on what Q means, Crossover etc. I last installed a stereo in a car in the late 1980s so this new level of depth in music and control should have had a little more depth of information. It's not like the CD couldn't fit the information.

Controls: My wife would hate the controls built into this unit. She has her Masters in Human Factors and screen control and usability are still severely lacking with this HU. 30 Seconds after starting this HU before you can touch anything. If you last had it on a FM channel it would start to play that, but still give you no control of any buttons. Except volume. (NOTE, reverse camera works right away) There are multiple ways to get to a sub screen, but once there little to no control of what you want the unit to do. Except for music control, then you have endless choices. I chose the 770 model due to a volume knob. I would hate to ever not have control of lowering music in a hurry only to find a tiny button on the bottom screen that would be used for volume control (as the 990 model has).

HD radio: If you understand HD as being something that has been around since the early 2000s than yes, it does broadcast channel info and artist etc. But, it is not the SUB CHANNEL HD music if that is what you are looking for. Which I thought it was. Only 6 channels can be saved on the screen at a time, or you have to switch to FM2 or FM3 to get to your next set of 6 channels. Why not make the button a double or triple tap button like my Chrysler had in 2002? Push once for channel 1, twice for channel 6. Instead you would have to push the next FM or AM button to get to your next set of favorites. The search system does work great for looking for your specific taste in music. I had a friend search for only Country music channels and he admitted that there were only two in the area. It found both of them and labeled t

Pros: Great sound, Wi-Fi Bluetooth, remote control all work as advertised

Cons: Slow boot up time, Kenwood could have spent a couple extra $ on RAM/ROM to get this HU up and running a lot faster like the 990 model does.
Written by: Brian from Granbury, TX on June 26, 2013
2013 Toyota Tacoma
Crutchfield Customer Review
(
What's this?
)
Overall it's a great improvement from the stock touchscreen without nav in my 2013 Tacoma.

The DNN770HD provides great sound, has a cool touchscreen interface, and the navigation has been excellent. The pre-installed apps are convenient, but I would like more control to download and install apps from the Google Play Store.

A prior review mentioned brightness settings, and I found that you can adjust the brightness...p 128 of the manual (search Kenwood forums for some other helpful hints from a few early adopting enthusiasts).

The unit does take a few seconds to boot up fully, but I haven't had to wait more than about 20 seconds or so if I'm outside. Haven't had connectivity issues either as some have mentioned. The unit did lock up once, but a hard reset fixed it.

My 80% satisfaction would go up to to 99-100% if a firmware update would allow me to connect and download from the Google/Android store.

Pros: Great sound Cool and responsive touchscreen interface Great Navigation Web Interface

Cons: My biggest complaint is that I can't download apps from Google Play/Store. Hopefully this will be addressed through updates, as this or smartphone mirroring is where the industry is inevitably heading. Why didn't Kenwood allow all Android features? If someone knows or if I am missing how to do this please advise. I have a (now a bit dated, but still very functional) Motorolla Xoom tablet, and this head unit is essentially my tablet with car audio, Garmin features, and a smaller screen.
Written by: TomC from Chicago, IL on June 2, 2013
2012 Ford Escape
Crutchfield Customer Review
(
What's this?
)
This thing has some good things going for it, but the bad outweighs these. The system is very slow to boot. You feel foolish waiting in a parking lot for this thing to boot up so that you can get the GPS going to actually go somewhere. I have also had a lot of problems with this. Firstly, the phone wont connect to the bluetooth. If I need to get it connected, I have to go into the bluetooth configuration and mess with it again. I was told by support that I need to wait up to 2 minutes for it to connect. That is nuts. However, I can say that after hours on a road trip it still didn't connect without screwing around with it. Although, I can get it to work, this is unusable. When my wife was on a recent road trip she pulled in to get gas. When it started, all of the addresses that I entered were gone including the home address. It took quite a while to enter all of these and I don't even feel like doing it again because I don't know if this is just going to happen again. Just today I started the car to look into some of the problems she ran into and it booted (after a long time) into a blank screen with just the background image. I waited quite a while thinking it was just being slow. I finally swiped the screen and it went to the home page. I swiped through all of the pages just to make sure thee wasn't a blank one and there was not. I retrospect, I should have waited for others to be the test pilot for this. Maybe I can at least save some others people.

Pros:

Cons: Screen is very dim and hard to read unless it is overcast. Phone wont connect on it own The route collector web site is very confusing The cloud storage is via dropbox. This service is very expensive. Slow boot time Bugs in the system
Not so great system... yet
Written by: GPSuser from LA, CA on May 30, 2013
Crutchfield Customer Review
(
What's this?
)
While all the basic functions work between the bluetooth, radio, navigation, it's all rough around the edges. The system takes roughly about 30-40 seconds to start up. The tiny fan is noisy and sometimes stays on way too long after shutdown(up to 15 minutes after shutdown). The screen brightness is not adjustable(even with illumination wire hooked up, the screen barely dims). I have a Garmin GPS which will at least invert the color scheme for night time operation which this Kenwood does not do. The video screen colors is a bit off as well. Youtube streaming is an effort as it will not load on the first or second try. If you're persistent, it will load eventually. Bluetooth audio streaming from iPhone does not show music title or allow you to skip tracks or fast forward(my wife's Prius GPS/sound system can do that). User interface will react smoothly once fully booted up but overall layout is messy and confusing(two different locations called setup?). Gmail sync doesn't seem to work. This unit is in dire need of a software update to address usability issues. When it is producing sound, it is clear and bright. If they can resolve most of these issues, I would've given it a 4 stars. Installing it wasn't too difficult, I wished the GPS antenna had a plug nearer to the antenna part rather than the head unit so that whatever part the antenna is attached to is more easily serviceable.

Pros: HD radio and Garmin GPS is a plus. Sound output is clean. Feature rich especially with online content.

Cons: Fan noise. Lack of screen adjustability. User interface issues. Time to boot is long. Account setup is not very straightforward or obvious.
What's in the box?
Double-DIN network/navigation receiver with built-in 6.1" monitor (10A fuse installed in chassis)
Sleeve (attached)
2 Trim rings
Wiring harness
Reverse/Brake harness
WiFi receiver (installed)
GPS antenna (with attached 11.5' cable terminated by a proprietary connector)
Self-adhesive base
Remote control (RC-DV331)
2 "AAA" batteries
Microphone with integrated bracket (attached 10' cable terminated by a 3.5mm connector)
2 Radio removal tools
6 Pan-head ISO-mount screws
6 Flat-head ISO-mount screws
4 Self-adhesive strips
Instruction Manual on CD-ROM
Quick Start Guide (En/Fr/Sp)
Warranty card
Software License Agreement
Product Research
Touchscreen Display
Onboard Navigation
Network Functions
HD Radio+Pandora+SiriusXM
iPod/iPhone Integration
Built-in Bluetooth
Disc/microSD/USB Playback
Audio Section
AV Connections
OEM/Remote Control
Touchscreen Display
6.1" Touchscreen Display (w/ Flick Scrolling): The Kenwood DNN770HD features a fixed 6.1" wide, 16:9 touchscreen display with a TFT active matrix system. The screen has a resolution of 800 (H) x 480 (V) x RGB with 1,152,000 total pixels. This unit has touchscreen controls with interactive video graphics, making menu navigation easy. You can scroll screen lists by simply flicking the screen up/down, or scroll screen pages by simply flicking the screen right/left.
Aspect Ratio: You can change the aspect ratio for video playback. You can select from Full (16:9), Just (4:3 LB), or Normal (4:3), or Auto (automatically selects to match incoming video signal)
Picture Adjustment: You can adjust the unit's display brightness, contrast, color, tint, sharpness, and black level to suit your viewing needs during video playback.
Custom Background Images: You can download a still image (800 x 600) for use as the unit's background from a connected USB thumbdrive or microSD card. You also choose between 3 preset wallpapers.
4-Panel Home Screen Menu: The unit's Home Screen Menu consists of four panels which you can swipe left or right to access. The first panel displays the date & time, along with access to weather, news, SNS, and RSS updates. The second panel displays song or station information, along with network media history and photo albums. The third panel provides source selection of Navigation, Disc, Telephone, HD Radio, iPod, or USB/SD. The fourth panel lets you access entertainment apps, internet browser, and social media apps. You can customize each panel to your liking.
Start Up Time: The Kenwood DNN770HD has a start up time of approximately 30.1 seconds from Off to the Home Menu Screen. Once the Home Menu creen appears, you can select the Navigation Map, a connected source, or network app by simply tapping the appropriate icon on the head unit's touchscreen.
Multi-Language Display: For your convenience, this unit is equipped with a multiple language display. You can select the language which is best suited to your first language; English, French, Spanish, or Portuguese.
Split Screen AV Control: The DNN770HD's screen views can be easily toggled from one to another simply be touching the screen or appropriate button. The Split Screen AV Control mode divides the screen into two screens, with navigation on the left and a control window on the right. With this Picture-in-Picture type function, the head unit can now display the navigation map screen and basic playback controls for the source screens (or rear-view camera) simultaneously.
Parking Brake Detection: To prevent the display of video while the vehicle is in motion, the light green wire (within 4-pin harness) must be connected to the vehicle's parking brake detection circuit. You cannot view video unless your vehicle's parking brake is engaged. If you attempt to view video without the parking brake engaged, the unit's LCD touchscreen will simply display a blue screen and "Parking Off". While your vehicle is in motion (parking brake off), you can still view the head unit's menu screens, source information, metadata, album artwork, and the navigation on-screen map. Entering log-in information requires that the parking brake is engaged.
Front-Panel Controls w/ Variable Color Illumination: In addition to the touchscreen controls, the unit includes frequently used buttons and a rotary-dial along the left edge of the screen. You can adjust the head unit's button illumination from the following preset colors - Blue, Purple, Sky Blue, Aqua, Yellow, Green, Amber, Red, Pink, White or Scan (Scans through all preset colors). You can also select a custom "User" color that is adjusted between Red, Green, and Blue (values range: 0-31). You can save up to 3 custom color presets. The Eject and Kenwood logo remain red, regardless of variable color illumination setting.
Dimmer: The dimmer function will dim this unit's display and button illumination automatically when the vehicle light switch is turned On when you connect orange/white Illumination wire of this player's harness. You can also manually dim the unit's display and button illumination.
Security Indicator: The Security Indicator feature helps to protect the Kenwood DNN770HD against theft. Turning this function "On" allows the security indicator light (red) on the front-panel of the head unit to flash when your vehicle's ignition is off.
2-DIN Chassis: The DNN770HD has a 2-DIN chassis (also known as Double DIN or size DD), and will fit in many vehicles with a large dash opening. The unit can be ISO-mounted using factory brackets, or Euro-mounted using the supplied mounting sleeve. As always, please consult Crutchfield's Outfit My Car to verify fit with your vehicle.
Onboard Navigation
Garmin/NAVTEQ Navigation: With built-in Garmin navigation software and NAVTEQ map data (CN North America NT 2013), the Kenwood DNN770HD features on-screen maps of the United States, Canada, and Puerto Rico. The built-in maps include over 6-million Points of Interest (POIs) such as hotels, restaurants, gas stations, attractions, parking, airports, ATMs, and more. The built-in navigation software provides you with calculated on-screen routes and audible directions to follow in order to reach your destination safely.
Note: Car navigation maps are frequently updated. While this database was judged to be as accurate as possible at the time of its release, a map database can never be 100% accurate. Road information that is maintained in the map databases, such as turn restrictions or road names may change over time.
Software/Map Data Updates: When the preloaded maps are considered out of date, the DNN770HD will provide periodic notification at startup. Garmin software and map updates can be downloaded as required, via microSD memory card. To find a software or map update, please go to www.garmin.com/kenwood.
Note: The unit's microSD-card slot is located on the front-panel hidden behind a flip-out cover.
GPS Receiver & Antenna: The Kenwood DNN770HD employs a high-sensitivity GPS receiver that is forgiving of less than optimal antenna placement, giving you additional placement options. The included GPS antenna that features a self-adhesive base and an attached 11.5' cable terminated by a proprietary plug which connects to GPS-input on the back of the head unit. The GPS antenna is designed to be mounted inside the vehicle on the dash. The GPS antenna measures 1.3125" (w) x 0.625" (h) x 1.4375" (d). The self-adhesive pad measures 2.5625" x 2.5625"
Update Rate: 1/second, continuous
Position Accuracy: <6 meters, typical
Note: The first time you turn on this unit, you must wait while the system acquires satellite signals for the first time. This process could take up to several minutes. Make sure your vehicle is outdoors in an open area away from tall building and trees for fastest acquisition. After the system acquires satellites for the first time, it will acquire satellites quickly each time thereafter.
NAVTEQ Traffic: NAVTEQ Traffic receives traffic information that is broadcast over the FM Radio Data System. The free FM TMC subscription activates automatically after the navigation system acquires satellite signals while receiving traffic signals from the service provider. NAVTEQ Traffic provides real-time traffic data for over 90 major cities in North America, including the United States and Canada. If traffic is congested up ahead or there is a road closure, the navigation system will automatically re-navigate the route to show you how to get to your destination, quickly and easily. Alternatively, in manual mode, the system will add delay time to your trip so you can decide to avoid or continue on your current route. When the unit is receiving traffic information, a traffic icon appears in the upper-left corner of the Map page. The traffic icon changes color to indicate the severity of traffic conditions on your route or on the road you are currently traveling.
| | | |
| --- | --- | --- |
| Color | Description | Meaning |
| Green | Low severity | Traffic is flowing normally |
| Yellow | Medium severity | Traffic slightly congested |
| Red | High Severity | Traffic is heavily congested or stopped |
| Gray | No data | Traffic data has not updated |
Note: NAVTEQ includes a lifetime service subscription. Because NAVTEQ traffic is subsidized by unobtrusive pop-up advertising there is no subscription fees.
On-Screen Map: The Kenwood DNN770HD displays a real-time moving map illustrating your current position and intended route. It will show map scale and geographic details such as lakes, rivers, highways and towns. Your route is marked with a magenta line. A checkered flag marks your destination. As you travel the DNN770HD guides to your destination with arrows on the map and directions at the top of the screen. The upper-left corner of the screen indicates the distance to your next maneuver. During your calculated route, your arrival time is displayed in the lower left corner, your current speed is shown in the lower right corner. The posted speed limit for most major roads is displayed near the lower right corner as well. The unit allows you to zoom, pan, and point using the touchscreen during navigation. If you depart from the original route, the navigation system recalculates the route and provides new directions.
Map Detail: You can adjust the amount of detail shown on the map screen. More detail may cause the map to be slower.
2D/3D Map View: You can changes the perspective of the map from 2D North-Up (displays the map in 2 dimensions with North at the top), 2D Track-Up (displays the map in 2 dimensions with your direction of travel at the top of the screen), 3D Track-Up (displays the map in 3 dimensions with your direction of travel at the top of screen).
Vehicle Type: You can change the icon (arrow, station wagon, sports car, compact car, SUV, jeep, RV, or sled) used to display your position on the map.
Color Mode: Select between Day (for a bright background), Night (for a black background) or Auto (to automatically switch between the two) for the on-screen map.
Text-To-Speech Voice Prompts: The unit's text-to-speech voices "read and speak" the same words that are displayed on the unit's screens. The voices have an extensive vocabulary and they pronounce the street names as you approach turns. Voice prompts can heard from both of your front speakers, only the left front speaker, or only the right front speaker. You can independently adjust the volume (0-35) of the voice prompts without affecting the main volume. The unit only offers English voice prompts in a male or female voice.
Note: You can continue to listen to your music source while navigating. The DNN770HD will mute the music source, when there is a text-to-speech voice prompt. Once the voice prompt has ended, your music volume will automatically raise to previous setting.
Turn/Lane Assistant: While navigating a route, a preview of the next turn, lane change, or other maneuver appears in the upper-left corner of the map. The preview includes the distance to the turn or maneuver and the lane in which you should be traveling, if available.
Exit Services: While navigation a route, you can find gas, food, lodging, and restrooms near upcoming exits. Services are listed under the following categories - Gas, Food, Lodging, and Restrooms. You must be on a major highway or road to use this feature.
Speed Limit Icon: A speed limit icon may appear as you travel on major roadways. This icon displays the current speed limit of the roadway. The unit's speed limit icon feature is for information only and does not replace the driver's responsibility to abide by all posed speed limit signs and to use safe driving judgment at all times.
Where Am I?: The "Where Am I?" feature gives you instant access to important information in case of an emergency. When you select "Where Am I?" from the menu, you get the coordinates (including elevation) of your current position, plus the nearest address and intersections. There are also menus to help you locate the nearest hospitals, police stations, gas stations, and roadside assistance. You can also save the location for future reference.
Where To? Screen: The Where To? screen provides several different categories for you to use when searching for addresses, cities, and other locations. The detailed map loaded in the navigation system also contains millions of points of interest to choose from.
| | |
| --- | --- |
| Destination Search | Description |
| Browse Map | Allows you to search for a destination by touching and dragging the map. |
| Go Home | You can store one home location to allow you to calculate a route home from any current location. |
| Address | Input your destination address by house number, street, city, and zip-code. |
| Cities | Allows you to search by city's name. |
| Intersections | Allows you to search where to streets intersect. |
| Category | The detailed maps loaded in this navigation system contain locations, such as restaurants, hotels, auto services, and other POIs (points-of-interest). You can use these categories to browse for nearby businesses and attractions. |
| Favorites | You can save all of your favorite places in the navigation system, so you can quickly navigate to them later. |
| Recent | Choose from one of your most recent destinations or waypoints. |
| Coordinates | Allows you to search your destination by longitude and latitude values. |
| Search Bar | You can use the Search Bar to search for locations by entering a category, brand name, address, or city name. |
| Shortcuts | You can add up to 36 shortcuts to the Where to? menu. A shortcut can point to a location, a category, or a search tool. |
Note: The navigation system automatically searches for places near your current location. You can also choose to have the DNN770HD search for places in a different city, a recent destination, a favorite destination, projected destination, or along your current route.
Route Preferences/Avoidances: When calculating a route, you can select the following preferences; faster time, shorter distance, less fuel, or off road. You can also program the unit to avoid certain things that may be undesirable on your route; such as U-Turns, Highways, Toll Roads, Carpool Lanes, Unpaved Roads, and Ferries.
Auto Reroute/Detour: If you happen to depart from your original route, the internal navigation system recalculates the route and provides new route instructions. You can also select a specific area to detour around. The navigation system will attempt to get you back on your original route as quickly as possible, after calculating a detour. If the route you are currently taking is the only reasonable option, the DNN770HD might not calculate a detour.
Trip Planner (Multiple Destination Routing): You can create and save a trip with multiple destinations (up to 500 via points) using the Trip Planner. Once you have entered your destinations, you can manually set them in the order of your preference, or allow the device to calculate the most efficient route. Trip itineraries can be saved in memory for future use.
Where I've Been/Trip Log: The Where I've Been application allows you to view your previous routes and places you have stopped on the map. In addition, the device keeps a Trip Log, which is a record of the path you have traveled. The Travel History setting must be enabled in order for the Where I've Been and Trip Log features to function.
Trip Computer: The trip information page displays your current speed and direction, and provides helpful statistics about your trip. Dual trip odometers keep up with your total mileage. The page also indicates the distance and driving time to your next maneuver, as well as the distance and driving time to your destination. Your maximum speed and moving average speed are also displayed. The information can be reset in advance of your next trip.
Trends: The DNN770HD has the ability to recall frequent destinations and historic traffic information to help calculate your route faster.
myTrends: The myTrends feature senses when you are driving to a common destination and displays the destination and estimated time of travel in the navigation bar on the map. myTrends does not work when you first begin using your navigation system. To effectively use the myTrends feature, your frequent destinations must be marked as favorites, and a regular pattern of driving habits must be established with three days of regular driving usage.
trafficTrends: When the trafficTrends feature is enabled, the navigation system uses historic traffic information to calculate more efficient routes. Different routes may be calculated based on traffic trends for the day of the week or based on the time of day.
ecoRoute: The ecoRoute feature calculates your vehicle's fuel economy, carbon footprint, the fuel price of navigating to your destination, and offers tools for improving fuel efficiency. The first time you access the ecoRoute features, you will be asked to enter fuel and mileage information (Fuel Type, City Fuel MPG, HWY Fuel MPG, Fuel Price) about your vehicle.
Fuel Economy: If you have entered your vehicle profiles and the current fuel price, the DNN770HD calculates fuel used, the average fuel economy for your vehicle, your carbon footprint, and the cost of the fuel consumed.
At The Pump: At your next fill-up, you can enter in fuel price, amount of fuel used, and the distance you traveled to calculate your vehicle's miles-per-gallon (MPG).
ecoChallenge Tool: The ecoChallenge tool helps you maximize your fuel economy by scoring your driving habits. The higher your overall score for a driving challenge, the more fuel you could save. You overall score is the average of these 3 scores:

Speed: gain points for driving at the best speed for conserving fuel, which is 45-60mph for most vehicles.
Acceleration: gain points for gradual acceleration; lose points for rapid acceleration
Braking: gain points for gradual braking; lose points for hard braking

Mileage Report: Mileage reports provide the distance, the time, the average fuel economy, and the fuel cost of navigation to a destination. A mileage report (up to 20) is created for every route that you drive. If you stop a route on your navigation system, a mileage report is created for the distance you traveled.
Note: The data provide by the ecoRoute feature is only an estimate. The data is not actually read from your vehicle.
Tools: The DNN770HD offers tools you can use as you travel.
World Clock: The world clock allows you to display the current time for four locations throughout the world. You can also display a map of the world showing which portions are in daylight and which are in darkness.
Unit Converter: You can convert distance, speed, area, currency, temperature, volume, and weight.
Calculator: The calculator allows you to perform simple arithmetic.
Safe Mode: Safe Mode disables all navigation system functions when the vehicle's parking break is disengaged, that require significant operator attention and could become a distraction while driving. You will need to engage the parking brake to enter addresses or other advance navigation functions when you have the unit set to Safe Mode.
Network Functions
WiFi Hotspot: The Kenwood DNN770HD connects to your WiFi-enabled smartphone (iPhone/Android/Blackberry/etc.) or mobile hotspot (data charges may apply) to enhance mobile navigation, access content across multiple media sources, receive and send Facebook/Twitter updates, as well as manage e-mail hands-free, and share audio/video content in the vehicle with other WiFi-enabled devices. Your WiFi-enabled smartphone will need an active Data Plan account with connection to the Internet via 3G, LTE, or EDGE.
Note: The DNN770HD includes a WiFi receiver which is pre-installed in the unit's second rear-panel USB port. This USB port cannot be used for anything else.
Route Collector: To use internet services via the DNN770HD, you will need to create an account via Kenwood's Route Collector Site. The Route Collector website can be accessed from your computer or laptop using Chrome20+ or Firefox16+. A Route Collector App is also available for Apple iOS (5.0+) devices from Apple's App Store. Route Collector is a web service site where you can store and share your trip log, route, and photos taken while traveling on your home computer or smartphone app.
Route Planner: You can plan out and customize a route from your computer or smartphone app, and then send the customized route to the DNN770HD when you are ready to leave for your trip.
Trip Log: You are able to upload and review your information such as music, video, twitter, and GPS log during your trip. This information can be uploaded to the Kenwood Server and reviewed via the Route Collector website on your computer or smartphone app.
Photo Album: You can take pictures along the route, create an album after your return from your trip, and share your album with friends and family on your computer or smartphone app.
Note: Up to four Route Collector accounts can be added for other drivers, with their unique travel and entertainment preferences and content stored by the Kenwood cloud server.
INRIX Traffic: While in the navigation mode, the DNN770HD pulls real-time data services from the INRIX Traffic Intelligence Platform to provide you with up-to-the-minute traffic, weather, parking, speed camera, and travel advisory information. INRIX's strategic partnership with Clear Channel Radio and Total Traffic Network extends the delivery of the highest quality data and broadest coverage available for in-vehicle navigation. These enhancements to the DNN770HD's built-in Garmin navigation provide an accurate, intuitive, and safe navigation experience.
Digital Traffic: Traffic information is updated every 2 minutes and receives more than 1,000 messages every update cycle in order to help you navigate around traffic safely and quickly.
PhotoLive: Look up real-time photos from traffic cameras to see traffic and weather conditions.
Dynamic Parking: Find parking close to your destination. See the number of spots available and parking prices.
Fuel Prices: Find the best prices for any grade of fuel in your area or on your route.
Weather: Displays the updated weather forecast supported by INRIX. You get today's weather forecast and the weather forecast for the next 6 days in your selected region. You can enter a region using the voice recognition function.
Movie Times: You can find theaters and showtimes by entering movie titles or theater names.
Note: This unit comes with a free 2 year subscription to INRIX Traffic. To use after those two years, a usage fee is required ($24.95 per month).
Hands-Free Social Media: You are able to sync your Facebook, Twitter, E-mail account, Google Calendar, and RSS Feeds with the DNN770HD for hands-free social media interaction. The DNN770HD can receive and send messages over Facebook and e-mail, as well as manage Twitter and RSS feeds hands-free via voice command. Advanced speech recognition, text-to-speech, and speech-to-text conversion processing via the dedicated Kenwood cloud server make this possible. A simple intuitive layout allows easy access to your social media.
Facebook: Check friends' status updates and post your own messages on Facebook using the head unit's touchscreen or voice recognition.
Twitter: Check tweets and post your own tweets on Twitter via touchscreen control or voice recognition.
Email: You may check your mail box on G-mail, Hotmail, Yahoo mail, etc..
Google Calendar: You can display today's schedule registered in your Google Calendar. You can also edit your schedule from the head unit..
RSS Feeds: RSS is a web feed format used to publish frequently updated works such as blog entries, news headlines in a standardized format.
Note: You can create different user accounts to maintain privacy when using email and social media. You can register up to 4 user accounts. User accounts can be assigned as Administrator, Guest, Owner, or User.
Cloud Storage (via Dropbox): You can download your music files to Dropbox through Kenwood's Route Collector site and your computer, and then play these same music files through the Kenwood DNN770HD via its "Kenwood Storage" source selection. You can store up to 2GB of music for free (fees apply for larger storage). The unit supports playback of MP3, AAC, WMA, and WAV music files from your Cloud storage (copyrighted content is not supported). You can search your music files by Artist, Album, Song, or Genre. To narrow the search even more, you can search the selected category alphabetically (A-Z). Basic playback functions (such as Play/Pause, Next/Previous Track, Random/Repeat) are also supported.
Entertainment Apps: The Kenwood DNN770HD includes pre-installed entertainment apps which allows you to enjoy videos and music from various online music services such as YouTube, Aupeo!, and iHeartRadio.
YouTube: You can play videos uploaded to YouTube. You can search YouTube video content by Keywords, Categories, or your Favorites. Searches can be done through the unit's touchscreen controls or voice recognition function. You are able to control basic video playback functions, such as Play/Pause and Fast Forward/Rewind. Your vehicle's parking brake must be engaged to watch YouTube videos.
Aupeo!: You can listen to music from the online radio service, Aupeo!. With Aupeo! Personal Radio, you can listen to free music on the internet. Aupeo! lets you play lots of music and choose the playlist based on your personal taste. The basic concept is based on personal music DNA, which allows you to 'love' or 'ban' songs. The highly advanced software then remembers this and adjusts as necessary. As a result, Aupeo! offers over 100 compilation genre channels, as well as thousands of artist channels. Listen to music online based on your tastes and preferences or use the one-of-a-kind 'Mood Tuner' to fit how you're feeling.
iHeartRadio: The iHeartRadio music service provides access to more than 1,500 live radio stations from coast-to-coast (including pop, country, urban, rock, talk, and sports). The DNN770HD will provide control over the iHeartRadio music service, as well as display station identification and song/artist information. You can search stations by My Stations, Recently Played, Stations Near You, Stations by Location, Music & Entertainment Genres, Talk Radio, and Featured Artists.
Note: You can continue to listen to the Aupeo! or iHeartRadio music app while you access your Facebook, Twitter, or email accounts, as well as view the navigation map or activate menu settings.
Internet Browser: The DNN770HD provides an Internet web browser so you can surf the internet and access your favorite websites in your vehicle. You may enter a URL address or keyword search to find websites. The player will archive your web browser history and allows you to bookmark your favorite sites. The Web Browser supports audio, video, and still image playback and is optimized to fill up the unit's touchscreen monitor.
TTS (Text-to-Speech) + STT (Speech-to-Text): The Kenwood DNN770HD supports Text-to-Speech and Speech-to-Text for various network applications, letting you keep your eyes on the road. Text-to-Speech is available for Facebook, Twitter, E-mail, RSS Feeds, and Google Calendar. Speech-to-Text is available for Facebook, Twitter, E-mail, Mixed Media Search, Weather, YouTube, and AUPEO!.
Note: User account & log-in information cannot be done through voice recognition, and must be entered using the head unit's touchscreen.
Mixed Media Search: As an entertainment device, the DNN770HD can perform a cross-platform media search for audio content stored on your WiFi-connected smartphone, connected USB device, inserted microSD card, Cloud "Dropbox" storage. You can search for content by artist or album name. Enter your search using the head unit's touchscreen keypad or voice commands.
Kenwood Wireless Link: The DNN770HD's WiFi hotspot capability allows it to act as a Media Server and Media Player in the car. The Media Server function allows you to stream audio/video content from its connected USB device or inserted microSD card to another network media player, such as your Android smartphone or tablet. The Media Player functions allows the DNN770HD to receive and play audio/video content stored in another media server device, such as your Android smartphone or tablet. MP3, AAC, WMA, and WAV audio files are supported. MPEG-1/2, MPEG-4, and WMV video files are supported.
Kenwood's External Touchscreen Monitor (optional): The DNN770HD will also share audio/video content from a compatible USB storage device or microSD/SDHC memory card with Kenwood's 7" external touchscreen monitor (113LZT700, sold separately). The handheld LZ-T700 can be mounted in the rear of the vehicle using Scosche's IPDHM2 mounting kit (142IPDHM2, sold separately), and will control and display content wirelessly transmitted from the in-dash network/navigation receiver. MP3, AAC, WMA, and WAV audio files are supported. MPEG-1/2, MPEG-4, and WMV video files are supported.
HD Radio+Pandora+SiriusXM Ready
Built-In HD Tuner: With its built-in HD Radio tuner, you can receive digital AM/FM broadcasts from local stations where available. HD Radio significantly improves AM/FM audio quality and reception, as well as includes information such as artist name and song titles or traffic news, viewable on the receiver's display. HD Radio Technology will deliver high-quality digital sound. AM digital will have FM-like quality in stereo (70dB SN @ 40-15kHz), while FM digital will have CD-like quality (70 dB SN @ 20-20kHz) with static free and clear reception. The unit's built-in HD Radio tuner allows analog AM/FM tuning as well.
Tuning: The DNN770HD network/navigation offers a variety of tuning options; including Seek, Tuner, and Direct Access.

Seek Modes: You can choose one of three seek modes: Auto 1 (seek tuning), Auto 2 (cycles through and tunes the selected band's preset stations only with each button press), or Manual. You can also setup the DNN770HD to search only HD Radio stations.
Tuner Presets: The DNN770HD's tuner features 3 FM banks (1, 2, 3) and 1 AM bank for storing presets. You can store 6 presets for each AM/FM bank giving you a total of 18 FM presets and 6 AM presets (total of 24). Not only does the DVD receiver's tuner allow you manually enter your desired presets you can choose to have the unit automatically put stations with good reception in the memory banks automatically; this is a handy feature when traveling.
Direct Access Tuning: You can directly access an AM/FM station by entering in the frequency number using the unit's LCD touchscreen.

Multicasting: In addition to conventional broadcasts, with HD Radio broadcasting it is possible to choose from up to 8 multicast programs (HD1 to HD8).
Station Text + Album Art: AM/FM digital stations can offer text and data such as artist names and song titles. The DNN770HD also supports Album Art from select HD Radio stations.
iTunes Tagging: It is possible to save the song's information (tag) from and HD Radio broadcasting station to your USB-direct connected iPod/iPhone. The songs will show up in a playlist called "Tagged" in iTunes (7.4 or later) the next time you sync your iPod/iPhone. Then you can directly buy the songs you want from the iTunes Music Store. Your iPod/iPhone must have at least 50MB of free space to "tag" and transfer songs. You can "tag" up to 50 songs.
Note: HD Radio is the system for digital AM and FM broadcasting in the U.S. More than 2,000 radio stations are broadcasting their primary signals in digital HD Radio technology, as a free service. Go to HDRadio.com to check for HD Radio stations in your area.
Pandora Internet Radio: Pandora is the leading Internet Radio music service in the United States, giving people music they love anytime, anywhere, through personalized radio stations. The Kenwood DNN770HD provides complete access to your Pandora account using your iPhone (iOS 5.0+), via the head unit's rear-panel USB port; download the Pandora App from the Apple App Store. The Kenwood DNN770HD also lets you playback and control Pandora Internet Radio streamed from your Android or Blackberry smartphone, via Bluetooth (no hard-wired connection required); download the Pandora App from the Google Play App Store or BlackBerry App World. Your iPhone, Android, or Blackberry smartphone will need an active Data Plan account with connection to the Internet via 3G, EDGE, or WiFi. In addition, you will need an active Pandora music service account. The Kenwood DNN770HD will display Artist, Album, & Song information provided by the Pandora app on your iPhone or Android/Blackberry smartphone. The Kenwood DNN770HD also provides control over the Pandora music service streamed to your USB-connected iPhone or Bluetooth-enabled Android/Blackberry smartphone.
Station/Genre List: You can select Pandora stations from your Station List by date or alphabetically (A-Z). You can also select from Pandora's Genre Stations.
Create New Station: New stations can be created based on the current songs or artists playing on Pandora.
Shuffle: Randomly selects artists/songs from your Pandora Station List for playback.
Skip Songs: You can skip song tracks within a station. You cannot skip back to a previous song. Pandora limits the number of skips allowed.
Thumbs Up/Down: You can give songs a thumbs up or thumbs down to help Pandora personalize stations to suit your preferences.
Bookmarking: The song or artist currently being played can be bookmarked & stored in your Pandora account.
Note: Access to the Pandora service will depend on the availability of a cellular and/or WiFi network for purposes of allowing your iPhone or Android/Blackberry smartphone to connect to the Internet. Pandora is not supported in Canada and only available in the United States.
SiriusXM Ready: The Kenwood DNN770HD comes ready for SiriusXM programming with access to XM and Sirius Satellite Radio stations. Thanks to its proprietary SiriusXM Connect port, you can add the optional SXV200V1 SiriusXM Connect tuner and receive more than 150 channels of exclusive programming directly from SiriusXM, via the "SiriusXM All Access" package (subscription required). Visit SiriusXM.com for a complete list of subscription options and channel guide. Additional features of the SXV200 SiriusXM Connect tuner include:
Channel list displays a list of all available channels

Category Search searches for channels in a certain category

Displayed Information such as Channel Name, Channel Logo, Artist Name, & Song Title can be viewed on the head unit's LCD

Up to 24 SiriusXM Satellite Radio station presets

Supports the SiriusXM Instant Replay function, so you can pause, rewind, and replay up to 60 minutes of live content

GameAlert will display an on-screen message if your favorite teams' games are being broadcast

Song/Artist Alert notifies when your favorite songs or artists are being broadcast on any SiriusXM station

iTunes Tagging lets you 'tag' songs you hear on SiriusXM and stores the info on your USB-connected iPod/iPhone, so the next time you connect your iPod/iPhone to iTunes you will be able to preview your selections, purchase songs, and download them directly from iTunes

Channels containing unsuitable content for children can be blocked
Note:
A separate SiriusXM Satellite Radio subscription is required (operates on the XM Network). However, you can easily add this SiriusXM tuner to an existing Sirius or XM account for a Multi-Radio Discount Plan.
iPod/iPhone Integration
iPod/iPhone Connectivity: The Kenwood DNN770HD supports audio/video playback from select Apple iPods and iPhones.
Audio/Video Playback: The Kenwood DNN770HD's rear-panel USB (type-A) port and rear-panel 3.5mm A/V AUX input allow you to connect select Apple iPod/iPhones using the Kenwood KCA-IP202 iPod cable (113IP202, sold separately). The unit's USB port handles the control, metadata display, and charging of your iPod/iPhone. You can navigate through your music and video files using the head unit's touchscreen controls and view song and movie info on its display, while your iPod/iPhone charges. The 3.5mm AV input handles audio and video transfer from your iPod/iPhone to the Kenwood DNN770HD. By using the Auxiliary input, the music travels to the receiver as an analog signal, so you can even play the Digital-Rights-Protected files you've stored on your iPod/iPhone. The unit's rear-panel AV input must be set to "iPod" in order to playback audio/video from your connected iPod/iPhone. Video can only be displayed while the vehicle is in park.
Audio Only Playback: If you only want to playback audio from your iPod or iPhone, you can simply connect it to the DNN770HD's USB port using either the USB/iPod dock cable that came with your iPod/iPhone or Kenwood's iPod Direct Connect Cable (113KCIP102, sold separately). This 1-wire USB connection bypasses the iPod/iPhone's DAC and sound quality is maximized through the head unit's 24-bit D/A converter, allowing for a Signal-to-Noise ratio up to 98dB. The unit's rear-panel AV input must be set to "AV-IN2" in order to use the 1-wire USB connection. You will not be able to play Digital-Rights-Protected files.
Note: If you have a newer iPhone with a Lightning-connector, use the Lighting-to-USB cable that came with your Apple device to connect to the head unit. These Apple devices only support audio playback (no video output).
iPod Control: You can choose to control your connected iPod/iPhone from the head unit, from the iPod/iPhone's clickwheel or touchscreen, or from select apps streamed to your iPhone.
Head Unit Control Mode: The Kenwood head unit allows you to navigate your iPod's music library by Playlist, Artists, Album, Genre, Composer, Song, Podcast, or Audiobook. Your iPod's video library can be searched by Video Playlist, Movie, Music Video, TV Show, Video Podcast, Rented Movie, or iTunesU. You can then search each of these categories alphabetically (A-Z) using the head unit's touchscreen slider function. You can even search your iPod's music library by Album Art and create a Favorite List, which contains an original playlist of your favorite 10 albums. In addition, the head unit offers Link Search, which allows you to play songs related to the currently playing song. Link Search lets the head unit create an album list of the currently playing artist, a song list of the currently playing album, a artist list of the currently playing genre, or a album list of currently playing composer. You can also select Random & Repeat functions for a certain song or specific folder.
iPod/App Control Mode: The iPod/App control mode allows you to control stored audio/video content from your connected iPod/iPhone's clickwheel or touchscreen. This is very useful for the person riding in your passenger seat. The iPod/App mode also lets you listen to your favorite music apps, such as iHeartRadio, SiriusXM, Rhapsody, & Slacker streamed to your iPhone (iOS 3.0+) through the Kenwood head unit and your vehicle's speakers. You can even watch video on the Kenwood network/navigation's touchscreen from streaming movie apps, such as Netflix & YouTube, downloaded on your iPhone 4/4S (iOS 4.0+), via the Kenwood KCA-IP202 iPod cable (sold separately).The App Mode's video functions can only be accessed when the vehicle is in park and the hand-brake is fully engaged. Not all apps will be compatible with App Mode and App Mode will provide only limited (basic), if any, control over the app. Available controls may include - Play/Pause & Skip Previous/Next.
Note: Access to your iPhone's downloaded applications will depend on the availability of a cellular and/or WiFi network for purposes of allowing your iPhone to connect to the Internet.
iPod/iPhone Display: The Kenwood DNN770HD will display your iPod/iPhone's music file information when you are controlling your iPod or iPhone from the Kenwood multimedia head unit. The head unit will display Track number, Elapsed playing time, Artist name, Song title, and Album label. The unit will also display Album Art. If you choose to operate your connected iPod/iPhone in iPod/App Control Mode, the DNN770HD will not display your iPod/iPhone's music information (the head unit will instead display 'iPhone App/iPod Control Mode + Parking Off').
iPod Charging: The head unit's USB connection provides 1A of current to power and charge your connected iPod/iPhone when your vehicle's ignition switch is set to the 'ACC' or 'On' position. This unit does not charge the iPad. If your iPod/iPhone has no initial battery charge, then the unit will not recognize it.
iPod/iPhone Compatibility Chart: The Kenwood DNN770HD is "Made for iPod/iPhone" compatible and supports the following iPod/iPhone model features (as of 9/30/2014):
Apple Device
Generation
Tested Version
Media Type
Control Type
Bluetooth
Display Type
WiFi Hotspot
iTunes Tagging
Charge
Audio
Video
Head Unit
iPod/App
Pandora
Phone
Audio
Siri
Song/Artist Text
Track Info
Album Art
iPhone
2G
3.1.3
Y
Y
Y
Y
Y
Y
N
N
Y
Y
Y
Y
Y
Y
3G
4.2.1
Y
Y
Y
Y
Y
Y
Y
N
Y
Y
Y
Y
Y
Y
3GS
5.1.1
Y
Y
Y
Y
Y
Y
Y
N
Y
Y
Y
Y
Y
Y
4
7.12
Y
Y
Y
Y
Y
Y
Y
N
Y
Y
Y
Y
Y
Y
4S
8.0
Y
Y
Y
Y
Y
Y
Y
Y
Y
Y
Y
Y
Y
Y
5/5C/5S*
8.0
Y
N
Y
Y
Y
Y
Y
Y
Y
Y
Y
Y
Y
Y
6/6+*
8.0
Y
N
Y
Y
Y
Y
Y
Y
Y
Y
Y
Y
Y
Y
touch
1st
2.2.1
Y
Y
Y
Y
N
N
N
N
Y
Y
Y
N
Y
Y
2nd
4.2.1
Y
Y
Y
Y
N
N
Y
N
Y
Y
Y
N
Y
Y
3rd
5.1.1
Y
Y
Y
Y
N
N
Y
N
Y
Y
Y
N
Y
Y
4th
6.1.3
Y
Y
Y
Y
N
N
Y
N
Y
Y
Y
N
Y
Y
5th*
8.0
Y
N
Y
Y
N
N
Y
N
Y
Y
Y
N
Y
Y
nano
1st
1.3.1
Y
N
Y
N
N
N
N
N
Y
Y
Y
N
N
Y
2nd
1.1.3
Y
N
Y
Y
N
N
N
N
Y
Y
Y
N
N
Y
3rd
1.1.3
Y
Y
Y
Y
N
N
N
N
Y
Y
Y
N
Y
Y
4th
1.0.4
Y
Y
Y
Y
N
N
N
N
Y
Y
Y
N
Y
Y
5th
1.0.2
Y
Y
Y
Y
N
N
N
N
Y
Y
Y
N
Y
Y
6th
1.2 PC
Y
N
Y
Y
N
N
N
N
Y
Y
Y
N
Y
Y
7th*
1.02 PC
Y
N
Y
Y
N
N
Y
Y
Y
Y
Y
N
Y
Y
classic
80GB
1.1.2
Y
Y
Y
Y
N
N
N
N
Y
Y
Y
N
Y
Y
120GB
2.0.1
Y
Y
Y
Y
N
N
N
N
Y
Y
Y
N
Y
Y
160GB
2.0.4
Y
Y
Y
Y
N
N
N
N
Y
Y
Y
N
Y
Y
video
5th
1.3
Y
Y
Y
N
N
N
N
N
Y
Y
Y
N
N
Y
iPad
1
5.1.1
Y
Y
Y
Y
Y
N
Y
N
Y
Y
Y
Y
Y
N
2
8.0
Y
Y
Y
Y
Y
N
Y
N
Y
Y
Y
Y
Y
N
3
8.0
Y
Y
Y
Y
Y
N
Y
N
Y
Y
Y
Y
Y
N
4/air*
8.0
Y
N
Y
Y
Y
N
Y
Y
Y
Y
Y
Y
Y
N
mini*
8.0
Y
N
Y
Y
Y
N
Y
Y
Y
Y
Y
Y
Y
Y
Notes:

*Requires the Lighting-to-USB cable that came with your Apple device to connect to the head unit. These Apple devices only support audio playback (no video output).
Apple iPod/iPhone software updates may change functionality results. If you download a newer software version, you may need to reset the head unit and your iPod/iPhone to regain functionality. If this doesn't work, you may need to wait until a newer software update is available.
Built-in Bluetooth
Bluetooth Technology: The Kenwood DNN770HD is equipped with built-in Bluetooth (2.1+EDR) allowing you to make and receive phone calls wirelessly through the receiver; as well as stream music wirelessly from your smartphone to the head unit. In order to use Bluetooth wireless technology, your phone must also be Bluetooth compatible and be able to interpret certain profiles. This unit is compatible with the following Bluetooth Profiles:
Hands-Free Communication: HFP 1.5 (Hands Free Profile), OPP 1.1 (Object Push Profile), PBAB 1.0 (Phone Book Access Profile).
Audio Streaming: A2DP 1.2 (Advanced Audio Distribution Profile), AVRCP 1.3 (Audio/Video Remote Control Profile).
Note: Due to the differences in Bluetooth technology, some Bluetooth enabled devices may be incompatible, function improperly, or may not support all features when used with the Kenwood DNN770HD. Visit Kenwood's Support Site for a complete list of compatible Bluetooth enabled phones
SPP (Secure Simple Pairing): With Secure Simple Pairing (SSP), you can easily pair a Bluetooth enabled phone to the Kenwood DNN770HD without having to enter pin codes or go through complicated settings. When a registered Bluetooth device is in close proximity to the receiver, the auto connection function automatically pairs the two units. You can register up to five Bluetooth-enabled devices with the Kenwood head unit (only one paired phone can be used at a time).
Bluetooth Hands-Free Communication: The head unit supports Bluetooth hands-free communication for your Bluetooth enabled mobile phone. The touchscreen controls of the DNN770HD can be used to dial a number, answer an in-coming call, or end a call. The unit also includes an external microphone (featuring adjustable gain), so you can carry on your side of the conversation while listening to the caller through your vehicles speakers (All or Front only). During a conversation, you can switch between the Private Mode (talking directly on your cell phone) and the Hands Free Mode.
Answering a Call: When a call comes in, a ring-tone will be heard through your vehicle's speaker and the caller's name or phone number will be displayed. You can answer the call from the head unit's touchscreen, or setup the head unit to automatically answer the incoming call immediately (within 0-99 seconds). The DNN770HD also supports the Call Waiting function, so you can answer another incoming call while suspending the current call you are on. Your compatible cell-phone must also support this feature.
Dialing a Number: Using the DNN770HD, you can dial a phone number in one of the following ways:

Entering a Phone Number: Allows you to directly dial a phone number up to 32 digits from the head unit's touchscreen (your vehicle's parking brake must be engaged).
Speed (Preset) Dialing: Allows you to register up to 6 phone numbers for quick dialing. The preset numbers can be accessed from the head unit's touchscreen.
Phone Book: You can dial by using the downloaded phone book. You can download phone book data from your cell phone to the DNN770HD. Up to 600 numbers can be stored for each registered cell phone. Each number can be up to 32 digits long and each name can be up to 50 characters long. You can search the phone book in alphabetical order.
Call History: The Call History is a list of calls that have originated from and were received by this unit that you can dial. You can select Outgoing, Incoming, or Missed calls (up to 50 each).
Voice Dialing: If your mobile phone supports voice recognition, then you can dial out by voice command. Simply speak into the included microphone.
External Microphone: The Kenwood DNN770HD includes an external microphone to carry on your side of your phone conversation and voice command dialing. The external wired microphone offers improved audio quality versus an integrated microphone, so you can be heard easier over noisy traffic and road noise. You can adjust the volume level and noise cancellation of the microphone without affecting the other sources. The external microphone features an attached 10' cable terminated by a right-angle 3.5mm connector which plugs into the mic input on the rear-panel of the head unit. The microphone offers an integrated mounting bracket which can be clipped to your vehicle's sun-visor or taped to your dash. The external microphone measures 0.525" (diameter) x 1.505" (depth).
Note: This unit does not offer an integrated front-panel microphone.
SMS: You can wirelessly download a SMS text-message arrived at your cell-phone so that it can be read on the Bluetooth-connected Kenwood head unit. You can reply to a SMS test-message by using the head unit's touchscreen to enter alphanumeric text. There is a limited amount of text that can be downloaded or entered. You can also select a quick reply from the head unit's template list; such as "I'm driving right now" or "I will call you later", etc.. Your cell-phone must support SMS via Bluetooth for this feature to function. Do not read incoming messages or reply while driving.
Wireless Audio Streaming (w/ Metadata Display): The Kenwood DNN770HD also supports wireless audio playback (AD2P) and control (AVRCP) of a Bluetooth enabled audio player or smartphone. The DNN770HD will be able to control basic playback functions of your Bluetooth device's stored music; such as Play/Pause, Skip Next/Previous, Fast Forward/Rewind and Random/Repeat. The head unit will also display your stored music's song information; such as Artist name and Song/Album title. The DNN770HD also supports audio streaming of music apps downloaded on your smartphone with metadata display and limited control. Advanced music control of your music apps will still need be done via your Bluetooth-enabled smartphone. When an incoming call or outgoing call is in progress from your Bluetooth enabled mobile phone, audio streaming will be paused so you can take your call. Once the call is finished, your streaming music will resume.
Siri Digital Assistant Control: When paired and connected to an iPhone with Siri via Bluetooth (not USB), the Kenwood DNN770HD has the ability to access Siri through its front-panel controls and external microphone. Simply press-and-hold down on the head unit's "VOICE/TEL" button to engage Siri and use the included microphone to communicate with Siri. Siri's voice will heard through your vehicle's speakers. All Siri functions including hands-free calling, music search, setting reminders, text-messaging, audible navigation, and more can be done through the DNN770HD and its microphone. The head unit's LCD touchscreen will only display hands-free calling and Bluetooth audio information (all other functions of Siri are only audible through the Kenwood DNN770HD; visual data will still need to be viewed from your iPhone device).
Note: You can ask Siri to get directions to a destination and the turn-by-turn instructions will heard through your vehicle's speakers, while the on-screen map still displays on your iPhone with Siri. The head unit's audio is attenuated while Siri provides audible directions.
Bluetooth Detailed Settings: The DNN770HD offers the following Bluetooth Detailed Settings, so you can configure the unit to suit your needs.
Speaker Output: You can select whether the call beep/caller's voice is heard through only the front speakers or all speakers.
Mic Level: Adjusts the volume of the external microphone.
NR Level: Reduces the noises generated by the surrounding environment without changing the mic volume.
EC Level: Adjusts the level of echo cancellation.
Disc/microSD/USB Playback
Multimedia Playback: The Kenwood DNN770HD offers a front-loading disc slot, rear-panel USB port, and hidden front-panel microSD-card slot.
Compatible Discs: The unit has a front-loading disc-slot to make loading your disc easier because there is no panel to slide or fold-down. The Kenwood DNN770HD supports playback of DVD-Video, DVD-R/RW, DVD+R/RW, CD-Audio, CD-Text, CD-R/RW, DTS-CD, and VCD discs. The unit supports MPEG1/MPEG2 video recorded on to CD-R/RW, DVD-R/RW and DVD+R/RW discs. It also supports playback of MP3, WMA, AAC, and WAV music files loaded onto a CD-R/RW, DVD-R/RW, or DVD+R/RW disc.
MicroSD Card Slot: The network/navigation head unit is fitted with a front-panel microSD card slot hidden behind a flip-out cover. The microSD card slot supports both microSD memory cards and microSDHC memory cards (up to 32GB). The unit supports playback of MP3, WMA, AAC, and WAV audio files; as well as JPEG/PNG/BMP still-picture files stored on a compatible microSD/SDHC memory card. The DNN770HD also supports video playback of MPEG1/MPEG2, H.264, and WMV video files from an inserted microSD/SDHC memory card.
USB Port: The Kenwood DNN770HD features a rear-panel Full-Speed 2.0 USB type-A port (attached to the unit's rear-chassis by a 39" cable) for connection and control of a portable USB mass-storage class (MSC) device; such as select Android smartphones (Froyo/Gingerbread OS only), portable digital audio players, or USB thumbdrives. The USB port enables playback of MP3, WMA, AAC, and WAV audio files; as well as JPEG/PNG/BMP still-picture files stored on a compatible USB memory device. The DNN770HD also supports video playback of MPEG1/MPEG2, H.264, and WMV video files from a connected portable USB MSC device. USB portable audio devices that can be charged via USB will be charged when plugged into the network/navigation's USB port (5V/1A), and the vehicle's ignition switch is set to ACC or On.
File Compatibility: The Kenwood DNN770HD supports the following types of audio, video, and photo files recorded onto a disc, loaded onto a USB mass storage class device, or stored on a microSD/SDHC memory card..
Media Type
Disc (CD-R/RW or DVD-R/RW, DVD+R/RW)
USB
microSD/SDHC
File System
ISO9660 Level 1/Level 2, Joliet, Romeo, Long File Name
FAT 16/32
Playable File Types
Audio
MP3: bit rate of 8-320kbps w/ sampling rates of 8-48kHz
WMA: bit rate of 48-192kbps w/ sampling rates of 32-48kHz
AAC: bit rate of 16-320kbps w/ sampling rates of 16-48kHz
WAV: bit rate of 8-or16-bit w/ sampling rate of 32-48kHz
Video
MPEG-1: 352 x 240 or 352 x 288 (1.5Mbps)
MPEG-2: 720 x 480, 720 x 576 (10.0Mbps)
MPEG-1: 352 x 240 or 352 x 288 (1.5Mbps)
MPEG-2: 720 x 480, 720 x 576 (2.0Mbps)
H.264: 352 x 240, 352 x 288, 720 x 480, 720 x 576 (8.0Mbps)
WMV: 640 x 480 (2. Mbps)
Photo
N/A
JPEG/PNG/BMP: 8192 x 7680 (baseline), 1600 x 1000 (progressive)
Maximum # of Folders/Files
254 folders/64,770 files (255 files per folder)
255 folders/65,025 files (255 files per folder)
Tags
MP3 ID3-tags (ver. 1.0/1.1/2.2/2.3/2.4), WMA-tags, AAC-tags, and WAV-tags
Dolby Digital/DTS: The DNN770HD supports playback of Dolby Digital and DTS 2.0 DVD discs and will convert multi-channel Dolby Digital sources to 2-channel.
Folder/Track List: The Folder/Track List allows you to search folders and audio/video/picture files stored on a disc or USB device.
Highlight Control (DVD Playback): During DVD playback, you can control certain operations simply by touching an area of the screen. The touchscreen has 4 functions areas. You can touch the left of the screen to start the current chapter over, or the right of the screen to skip to the next chapter. Pressing the top center of the screen activates the DVD disc menu control buttons, while pressing the bottom center activates the source control screen.
Search Functions (USB/microSD only): The Kenwood DNN770HD offers unique search functions for USB & microSD playback.
Category Search: You can navigate music stored on your USB memory device or microSD card by Playlist, Artist, Song, or Album. Once a category is selected, you can search the contents alphabetically.
Link Search: Link Search allows you to play songs related to the currently playing song. The head unit can create an album list of the currently playing artist, a song list of the currently playing album, a artist list of the currently playing genre, or a album list of currently playing composer.
Favorite List: You can create an original playlist of your favorite 10 albums by selecting album artworks.
Zoom: The DNN770HD features a 3 level zoom when playing back video and still images.
Parental Control (DVD only): Parental Control allows you to restrict DVD playback according to a predetermined level. You can select a parental control rating from 0-8, which is protected by a 4-digit password.
Disc Auto Reload: The unit will automatically reinsert a disc if it's ejected, but not removed for 20 seconds or more.
Firmware Updates (via USB): The unit's operating system is updateable via free downloadable software from Kenwood's support site. Firmware downloads assist in maintaining system performance when using external devices and emerging technologies. Firmware/software updates can be downloaded onto a USB thumbdrive from your computer and then inserted into the head unit's USB port and uploaded. The tested unit contained firmware version 30201300 (v1.0.0). Go to Kenwood's Support Site for the latest firmware/software updates.
Audio Section
24 Bit D/A Converter: The Kenwood DNN770HD utilizes a 24-bit digital to analog converter for superior sound quality.
MOSFET Amplifier: The Kenwood DNN770HD is equipped with a MOSFET amplifier. Compared to conventional power supplies, the MOSFET amplification circuit is smaller and more efficient, and it delivers increased power with less distortion and absolutely zero on/off switching noise. More power means louder and cleaner music at higher volumes because you're not pushing the limits of the amplification circuit. The power output specs for the DNN770HD are as follows:
Full Bandwidth Power: 22 watts RMS x 4 channels (at 4 ohms, 20-20kHz, 1% THD)
Maximum Output Power: 50 watts x 4 channels
6ch/2V Preamp Outputs: The DNN770HD features front, rear and subwoofer 2.0-volt preamp outputs. The front and rear speaker preamp outputs are balance and fade adjustable. The subwoofer preamp output is non-fading. The front, rear, and subwoofer preamp outputs are fixed to the rear chassis of the head unit.
Front & Rear High-Pass Filter: The DNN770HD features an independent High-Pass Crossover for the front & rear channels when your front & rear speakers are connected by the unit's speaker-outputs or preamp-outputs. You can adjust the high-pass crossover from 'Through' (off), 40, 60, 80, 100, 120, 150, 180, or 220 Hz. The "Through" selection is a full-range setting. This feature is very helpful when you have smaller-type speakers in the front and larger-type speakers installed in the rear of the vehicle.
Subwoofer Controls: The Kenwood DNN770HD offers the following subwoofer controls, when you have the unit's subwoofer preamp output activated.
Low Pass Filter: The receiver features a built-in Low Pass Filter control for the preamp-output, when the output is set to Subwoofer. You can select from 50, 60, 80, Hz, 100 Hz, 120 Hz, or 'Through' (off).
Subwoofer Phase: You can adjust the phase of the subwoofer output between 180-degrees (Reverse) or 0-degrees (Normal).
Subwoofer Level: Once the Subwoofer preamp output is activated, you can independently control the subwoofer preamp output level (-50 to +10) from the network/navigation.
Speaker Type Setting: This feature tailors the DNN770HD according to the type of front speakers in your vehicle. You may select Standard (for speakers with a general diameter), Narrow (for speakers with a small diameter), Middle (for speakers with a medium diameter), or Wide (for speakers with a large diameter).
Preset EQ: Eight EQ curves are preset into memory, allowing you to recall the best preset EQ curve for different types of music. Each preset has its own level settings for bass (100Hz), midrange (1kHz), and treble (12.5kHz). You can choose from the following preset EQ curves - Rock, Pops, Easy, Top 40, Jazz, Natural, Flat, and User.
EQ Pro: The DNN770HD features independent Bass, Treble, and Midrange control when the Preset EQ is in User mode. EQ Pro allows you to adjust the following settings for the Bass, Treble and Mid frequency levels.
EQ Pro
Center Frequency
Q-Factor
Bass Extension
Level
Bass
40, 50, 60, 70, 80, 100, 120, or 150 Hz
1.00, 1.25, 1.50, or 2.00
On/Off
-8 to +8
Midrange
0.5k, 1.0k, 1.5k, or 2.0k Hz
1.00 or 2.00
N/A
Treble
10.0k, 12.5k, 15.0k, or 17.5k Hz
N/A
N/A
Note: You can store bass, middle and treble tone settings for each source (Disc, Tuner, AV, USB, iPod, Bluetooth, and Pandora).
Loudness: This function enhances low and high frequencies to make the sound clearer lower volumes.
Volume Offset: The level of each source may be independently adjusted to prevent radical leaps in output volume when switching from one source to another. The available settings range from -8 to +6.
Dynamic Range: The dynamic range can be adjusted by selecting either Normal, Wide or Dialog. Dialog makes the total sound volume become larger as compared with Wide and Normal, allowing you to listen to the movie's dialogue more clearly. This is effective only on Dolby Digital software.
Key Beep: The in-dash multimedia head unit provides an audible beep to confirm button operation. This function can be turned On or Off.
AV Connection
Dual A/V Inputs: The Kenwood DNN770HD network/navigation is fitted with two rear-panel 3.5mm audio/video inputs. The AV2 input also serves as the A/V input for your USB-connected iPod (using proprietary Kenwood cable). The optional Kenwood AV cable (113CAC3AV, sold separately) provides composite video/stereo RCA audio inputs. You can label each AV Input.
A/V Output (with Dual Zone): The unit features a composite video jack and 3.5mm audio jack to output A/V signals to an optional monitor and headphone system; you can also route the audio of the the dual zone source to the head unit's rear speakers. . The unit's A/V output can be set to Disc, Video, iPod, or Off. You can adjust the volume of the 2nd Zone independently from 0 to 35. You can select between a 16:9, 4:3 LB, or 4:3 PS Aspect Ratio for the unit's video output to match your connected monitor.
Note: You cannot select iPod as the A/V Output source when you select Pandora as a main source in dual zone function.
Camera Input: The unit features a composite video input for connecting an optional rear view camera, such as the Kenwood CMOS-220 (113CMOS220, sold separately). The video from this connection can be set to display when switched to this input, or display the rear view camera video automatically when the vehicle is shifted into Reverse gear. The purple/white wire (attached to the rear chassis) must be connected to the vehicle's reverse lamp circuit for automatic video switching. Automatic video switching takes approximately 1.2 seconds. Audio from your music source will continue playing, while the back-up camera is displayed.
OEM/Remote Control
Remote Control: The included IR remote control (KNA-RCDV331) is designed for wireless operation of this Kenwood network/navigation receiver. The wireless remote controller operates off of two supplied "AAA" batteries. The remote operates off of IR transmission, so the KNA-RCDV331 must be pointed at the front-panel of the Kenwood head unit within direct line of sight. The remote operates Audio, Video, Navigation, and Bluetooth functions.
Steering Wheel Remote Compatibility: The head unit features an OEM steering wheel remote control input wire (blue/yellow) within the included wiring harness that lets you keep your vehicle's factory radio steering wheel remote controls when used with an optional steering wheel audio control adapter (sold separately). Please consult Crutchfield's Outfit My Car to see if your vehicle is compatible.
OEM Integration: This Kenwood multimedia head unit is compatible with the iDatalink Maestro RR (794ADSMRR, sold separately); a web programmable module that will permit the aftermarket Kenwood head unit to work with select Ford, Lincoln, and Mercury vehicles that feature the factory SYNC system; as well as select GM vehicles with factory OnStar. The iDatalink Maestro RR lets Ford or GM owners swap out their factory radio for this aftermarket Kenwood multimedia head unit; while retaining the Ford Sync system, GM OnStar, steering wheel controls, hands-free Bluetooth, USB interface (Ford only), Satellite Radio, and 911 assist. You also get to keep the hands-free mic that comes with the car (which is specially tuned to that particular vehicle). In addition, the Kenwood multimedia head unit can be configured to operate interior climate controls, distance and proximity sensors, tire pressure sensors, and vehicle gauges such as engine temperature, RPM, and other performance indicators (if factory equipped).
Ford Installation: The iDatalink Maestro RR module must first be connected to your Windows PC via USB and "flashed" with the (SR)-FOR01-DS2 firmware from iDatalink's Weblink site, prior to installation. The iDatalink Maestro RR (MRR) requires the use of the iDatalink Maestro ADS-HRN(SR)-FOR01 installation harness (794HRNSRF1, sold separately) when installed in your compatible Ford, Lincoln, Mercury vehicle.
GM Installation: The iDatalink Maestro RR module requires the use of the iDatalink Maestro ADS-HRN(SR)-GMS05 installation harness (794HRNGMS5, sold separately). The module must also be connected to your Windows PC and flashed with the SR-GMS05-DS firmware update.
Note: The Kenwood head unit features an OEM Setup menu that must be configured with your Ford SYNC or GM OnStar factory system before initial operation.
Our Product Research Team
At Crutchfield, you'll get detailed, accurate information that's hard to find elsewhere. That's because we have our own in-house Product Research team. They verify what's in the box, check the owner's manual, and record dimensions, features and specs. We stay on top of new products and technologies to help people make informed choices.
Customer Q&A
4 questions already asked